Mount Everest
Earth's highest mountain, part of the Himalaya between Nepal and China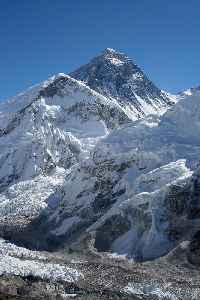 Mount Everest, known in Nepali as Sagarmatha (सगरमाथा) and in Tibetan as Chomolungma (ཇོ་མོ་གླང་མ), is Earth's highest mountain above sea level, located in the Mahalangur Himal sub-range of the Himalayas. The international border between Nepal and China runs across its summit point.


Jammu & Kashmir: Female mountaineer forced to ask donation to fulfil her Mt. Everest dream
Kashmir's daughter Nahida Manzoor's only desire is to climb world's highest mountain, Mount Everest and to fulfill her passion, she has started a online crowd funding campaign to achieve her dream.
DNA - Published
Search this site and the web:
You Might Like