Meenakshi Lekhi
Indian politician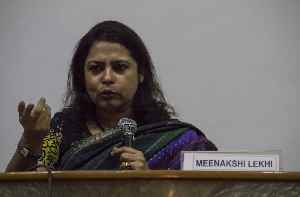 Meenakshi Lekhi is an Indian politician belonging to the Bharatiya Janata Party (BJP) and is a Member of Parliament from New Delhi constituency in the 16th Lok Sabha. She is the national spokesperson of Bharatiya Janata Party and a Supreme Court of India lawyer. She won the high-profile New Delhi parliamentary constituency with over 4.5 lakh votes as a BJP candidate in the 2014 elections. In July 2016, she was appointed as chairperson of the Committee on Privileges of the Lok Sabha in Parliament and is continuing since then in that position. Besides writing articles in journals, periodicals and newspapers on socio-political issues, she participates in various television shows on matters on national and international importance. Lekhi writes 'Forthwrite', a fortnightly column in The Week magazine. With her equal command over English and Hindi, she comes as a good debater in the parliament where she has participated in numerous debates on matters of national importance in the Lok Sabha, such as debates on "intolerance" in India and the Triple Talaq Bill. She has also distinguished herself as an active participant in the various parliamentary processes and was awarded with the "Best Debut Women Parliamentarian" award by Lokmat in 2017.


PM changes name on Twitter to 'Chowkidar Narendra Modi', other BJP leaders follow
Prime Minister Narendra Modi on Sunday renamed his Twitter handle to "Chowkidar Narendra Modi" in a bid to amplify the BJP's campaign ahead of the Lok Sabha elections. Soon after this, BJP leaders,..
IndiaTimes - Published
Search this site and the web:
You Might Like