Pune
Metropolis in Maharashtra, India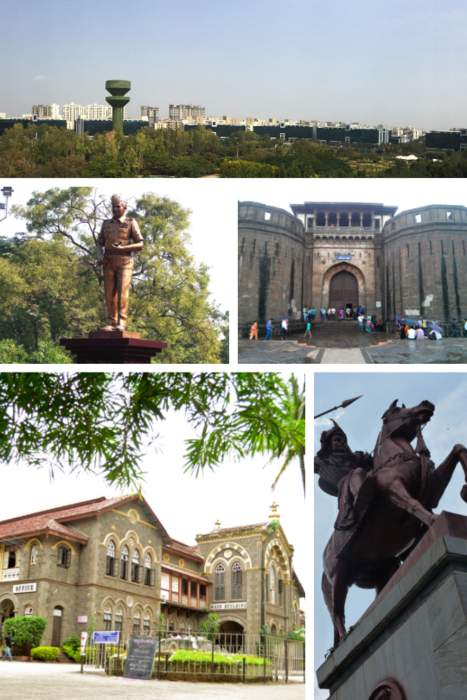 Pune, known as Poona until 1978, is the second-largest metropolitan city in the Indian State of Maharashtra and the eighth most populous city in India, with an estimated population of 7.4 million as of 2020. It has been ranked as "the most livable city in India" several times. Along with the municipal corporation limits of PCMC and the three cantonment towns of Camp, Khadki and Dehu Road, Pune forms the urban core of the eponymous Pune Metropolitan Region (PMR). According to the 2011 census the urban area had a combined population of 5.05 million whilst the population of the metropolitan region was estimated at 7.4 million. Situated 560 metres above sea level on the Deccan plateau on the right bank of the Mutha river, Pune is also the administrative headquarters of its namesake district.


Delta Covid variant yields unfamiliar symptoms in patients; Most infectious variant | Oneindia News

The Delta variant identified as B.1.617.2 of SARS-CoV-2 coronavirus detected in India is believed to be the most infectious to have emerged so far; According to the vaccination distribution plan of the..
Credit: Oneindia Duration: 02:30
Published
Pune fire: At least 8 dead after blaze engulfs sanitizer factory | Oneindia News

At least eight persons have died in an incident of fire reported at a private company in pune; The Indian Medical Association (IMA) on Monday sought Prime Minister Narendra Modi's intervention to..
Credit: Oneindia Duration: 03:19
Published
IAF airlifts 2 more oxygen tankers from Pune to Jamnagar

The Indian Air Force (IAF)'s C-17 aircraft airlifted two more oxygen tankers from Pune and will land in Gujarat's Jamnagar. IAF has started airlifting big oxygen tankers from their place of use to the..
Credit: ANI Duration: 01:01
Published
Father gone and family hospitalised, Pune doctor still on duty

Healthcare workers across the country are working under tremendous pressure amid the second wave of COVID-19. So excruciating is the condition that a doctor in Pune continues to look after patients..
Credit: ANI Duration: 02:24
Published
NGOs in India giving dignified send off to COVID-19 victims as per their religion

Samaritans across Indian cities have taken upon themselves to carry out the funeral ceremonies of COVID-19 patients, whose bodies are refused by their families for their last rites. Few among them are..
Credit: ANI Duration: 03:10
Published
'Will return to India in a few days': Adar Poonawalla after alleged threat calls

Serum Institute of India CEO Adar Poonawalla, who has been in the UK on extended stay to evade alleged threats in India over ever-increasing demand for COVID-19 vaccines, has said he will return in a..
Credit: HT Digital Content Duration: 01:50
Published
Maharashtra Day: Dy CM Ajit Pawar unfurls national flag at DM office

Maharashtra Deputy Chief Minister Ajit Pawar unfurled national flag on the occasion of 'Maharashtra Day' at DM office in Pune. May 01 is celebrated across state to commemorate formation of Maharashtra..
Credit: ANI Duration: 01:06
Published
Phase 3 vaccination drive to delay in Karnataka due to vaccine shortage

Karnataka Health Minister K Sudhakar indicated delay in phase 3 of COVID vaccine inoculation, which is supposed to get started from May 01 and also requested people from 18-44 age group to refrain from..
Credit: ANI Duration: 01:38
Published
Pune's Ganesh Kala Krida Manch converts into COVID facility

Ganesh Kala Krida Manch is being converted into a COVID facility in wake of the surge in cases. The facility is situated at Swargate in Pune. Pune Municipal Corporation, with the help of doctors, has..
Credit: ANI Duration: 03:22
Published
Centre asks Serum Institute, Bharat Biotech to lower Covid vaccines' price

The central government on Monday asked the Serum Institute and Bharat Biotech to lower price of their COVID-19 vaccines amid criticism from various states who accused the companies of profiteering..
Credit: HT Digital Content Duration: 01:28
Published
Pune's dog house comes to rescue of pets in COVID +ve households

Maharashtra being the epicentre of the deadly second wave of the pandemic, all members of several households are becoming infected from COVID-19. However, people who have pets are finding it difficult..
Credit: ANI Duration: 02:34
Published
You Might Like



Home minister Amit Shah condoles deaths in fire at Pune chemical factory




IndiaTimes - Published





Major fire guts sanitizer factory in Pune, 17 dead

The reason behind the fire is said to be short circuit.




DNA - Published





Covishield produces more antibodies than Covaxin, finds study

Covishield, from the Oxford-AstraZeneca stable, is manufactured by the Serum Institute of India in Pune. Covaxin is the indigenously manufactured vaccine by Hyderabad-based Bharat Biotech in..




IndiaTimes - Published





Ethanol-petrol-blending deadline advanced to 2025

PM Modi on Saturday raised his bet on ethanol in India's fight against climate change by advancing the date for 20% blending of petrol by five years to 2025 and launching a pilot project at three..




IndiaTimes - Published





TOI finds 'The Seeker' who made the world rethink Covid's origins

Among the three Indians – Pune-based scientist couple Monali Rahalkar and Rahul Bahulikar being the other two -- who made the world rethink on the origins of the coronavirus is an enigmatic person in..




IndiaTimes - Published





Pune airport handled domestic transportation of over 10 crore Covishield doses till May 27: AAI




IndiaTimes - Published





COVID-19: Serum Institute applies to DCGI to manufacture Sputnik V vaccine in India

Pune-based Serum Institute has also sought approval for test analysis and examination. Sputnik V is currently being manufactured by Dr Reddy's Lab.




DNA - Published





Covid-19: Maharashtra crosses 25,000 deaths in May alone, Pune tops

With the addition of 832 deaths on Saturday, Maharashtra-'s toll for May crossed the 25,000 mark, which is higher than the toll of most states for the entire pandemic. It reported 443 deaths on..




IndiaTimes - Published





Lt Col held in Army recruitment exam paper leak case

The Pune police crime branch arrested on Monday a serving lieutenant colonel, posted with an Army unit in Secunderabad, in connection with the leaking of question papers for the an all-India Army..




IndiaTimes - Published





MP and close Rahul aide Satav dies of Covid in Pune

Congress MP Rajeev Satav succumbed to Covid-related complications at a private hospital in Pune on Sunday, bringing gloom in the party which called him a "rising star". A Rajya Sabha MP who was..




IndiaTimes - Published





Congress MP Rajeev Satav dies after recovering from COVID-19, Rahul Gandhi says 'big loss'

Congress Rajya Sabha MP Rajeev Satav passed away in Pune on Sunday (May 16) due to coronavirus-related complications.




DNA - Published





Pune man donates plasma 14 times in 9 months, creates record

Munot says that as long as antibodies are made in the body, he will keep donating plasma.




DNA - Published





Pune witnesses Zero Shadow Day virtually due to COVID-19

These are the two days when the sun will not cast a shadow of the object on the ground, which takes place in regions along between the tropics.




DNA - Published





Curbs on mass gatherings key to checking spread: Government

The Centre on Tuesday said stricter measures, such as restrictions on mass gatherings, no intermingling of people, closing non-essential activities for a period of 15 days, are crucial to reduce the..




IndiaTimes - Published





Ahead of India-UK summit, Boris Johnson announces 1 billion pound trade deal

The UK-India trade deals include an investment of 240 million pounds by the Pune-based Serum Institute of India (SII).




DNA - Published





Serum Institute CEO Adar Poonawalla: Will return to India in a few days

"Had an excellent meeting with all our partners & stakeholders in the UK. Meanwhile, pleased to state that Covishiled's production is in full swing in Pune. I look forward to reviewing operations upon..




IndiaTimes - Published





Maharashtra: Pune deploys 'Vaccine On Wheels' mobile units for COVID-19 jabs

The VOW's first such COVID-19 vaccination contribution was taken up with Pimpri-Chinchwad Municipal Corporation (PCMC) from April 7.




DNA - Published





Serum Institute of India CEO Adar Poonawalla to get 'Y' category security

Serum Institute of India's CEO Adar Poonawalla will get 'Y' category security across India by the CRPF, the Union government officials said on Wednesday. The Union government's decision came after..




IndiaTimes - Published





Bengaluru is country's district with highest active caseload

With nearly 1.5 lakh Covid active cases, Bengaluru Urban has become the district with the highest active caseload in the country, way ahead of Pune (1,16,602) as of Friday. The surging count triggered..




IndiaTimes - Published





IISc, Pune firm develop patent management software




IndiaTimes - Published





Maharashtra COVID-19: Nearly 50,000 cases in 24 hours, Pune alone records 10,000 infections

5 districts in Maharashtra- Mumbai (60,846), Pune (73,599), Thane (48,660), Nagpur (52,408), and Nashik (31,512) reported highest jump in COVID cases.




DNA - Published





Night curfew, new restrictions imposed in Pune, check what's allowed, what's not

While the authorities did not impose a lockdown in the city, they decided to implement certain restrictions to contain the spread of the COVID-19.




DNA - Published




Maharashtra COVID-19 news: Partial lockdown in Pune as tough restrictions imposed - What's open, what's not

Seeing the COVID-19 spike, the district administration has decided to implement certain restrictions in Pune city.




DNA - Published





India v England: Sam Curran heroics not enough in Pune

England are beaten in a thrilling one-day series decider against India, despite Sam Curran's heroic 95 not out.




BBC Sport - Published





Fire guts over 500 shops at Pune's Fashion Street market

No casualties have been reported as of now. However, hawkers and shop owners have suffered heavy losses.




DNA - Published





India v England: Jonny Bairstow and Ben Stokes led chase of 338

Jonny Bairstow strikes a magnificent century and Ben Stokes a brutal 99 in an emphatic England chase of 337 to beat India in the second ODI in Pune.




BBC Sport - Published





India v England: Jonny Bairstow says any side in the world would miss not having Joe Root

Jonny Bairstow says "any side in the world would miss Joe Root," after England's 66-run loss to India in the first one-day-international in Pune.




BBC Sport - Published





India v England: Krunal Pandya propels hosts to win in Pune

England squander the chance to win a fluctuating first one-day international against India, losing by 66 runs in Pune.




BBC Sport - Published





COVID-19: Lockdown in Mumbai, Pune? Here's what Maharashtra's Health Minister Rajesh Tope said

Restrictions have been imposed in a few cities of Maharashtra, including lockdown in Nagpur, and night curfew in Pune and Latur.




DNA - Published





UK PM Boris Johnson to visit Delhi on April 26, to go to Pune also

British PM Boris Johnson's India visit will be his first visit abroad since the UK left the European Union.




DNA - Published





Vaccinate all above 18 in Pune: Maharashtra deputy CM Ajit Pawar




IndiaTimes - Published





COVID-19: Lockdown, curfew extended in THESE districts of Maharashtra - check details

Night curfew has been imposed in Pune from 11 am to 6 pm. Strict lockdown has been declared in Akola from 8 am to 6 am on Monday




DNA - Published





SII seeks home minister's intervention for smooth operation of non-scheduled planes in Pune




IndiaTimes - Published





Chaos on Pune-bound flight after passenger claims of being Covid positive




IndiaTimes - Published





Findings of paper leak probe will be used to strengthen process: Army

Five persons including two Army personnel have been arrested after the paper of Army Relation Recruitment exam, scheduled for February 28, was found to have been leaked. The exam, which was to take..




IndiaTimes - Published





This city is cleanest in India, check others on the list

In this category, Surat came second, followed by Bhopal, Pimpri Chinchawad, Pune, Ahmedabad, Raipur, Greater Mumbai, Visakhapatnam and Vadodara.




DNA - Published





Railway Recruitment 2021: 2532 posts up for grabs, get govt job without any exam

The Central Railway is offering these vacancies at various locations like Pune, Mumbai, Solapur, Nagpur and Bhusawal.




DNA - Published





Pune: Army recruitment exam cancelled after paper leak, 3 including two ex-army personnel held

The police said that the accused had promised recruitment in the Army to those appearing for exams and had asked them to pay Rs 2 lakhs to Rs 3 lakhs.




DNA - Published





COVID-19: After Pune, Maharashtra govt imposes restrictions in Nagpur, shuts down schools, colleges till March 7

In wake of rising COVID-19 cases, all weekly markets, schools, colleges and coaching centres have been closed till March 7.




DNA - Published





Over 1,100 new COVID-19 cases recorded in Pune in last 24 hours, Maharashtra CM Uddhav Thackeray bans all gatherings

CM Thackeray on Sunday that he was closely monitoring the situation and next eight days will decide whether there will be a lockdown in state or not.




DNA - Published





Curbs on night movement in Pune; administration shuts schools, colleges




IndiaTimes - Published





COVID-19: Schools, colleges shut down in Pune till February 28, restrictions on public movement

Maharashtra government is planning to impose a night curfew in Yavatmal, Amravati and Nagpur districts to curb the spread of the deadly viral disease.




DNA - Published





Covid-19: Can our vaccine fight new strains? India to test

The efficacy of the two Indian vaccines currently in use — Covishield and Covaxin — is likely to be tested against the Brazil and South Africa variants soon, scientists have said. The Indian..




IndiaTimes - Published





Former SC judge P B Sawant dies in Pune




IndiaTimes - Published





Pune cops book AMU student for Elgar speech




IndiaTimes - Published





Pune civil court rejects plea to restrain SII from using 'Covishield' trademark

Cutis Biotech claimed it was using the trademark of 'Covishield' before the SII and filed a suit in the civil court to restrain the SII from using it.




DNA - Published





Sharad Pawar visits Serum Institute in Pune in wake of fire

NCP chief Sharad Pawar on Saturday visited the city-based Serum Institute of India (SII), where a major fire had broken out two days ago, killing five persons. Sources in the SII said, Pawar visited..




IndiaTimes - Published





Serum Institute fire: Adar Poonawalla explains why he tweeted, 'no lives lost'

Adar Poonawalla has given an explanation on his tweet that he did after fire broke out at Serum Institute's facility in Pune on Thursday afternoon.




DNA - Published





Adar Poonawalla reassures Covishield production won't be affected, tweets 'no lives lost' in SII fire

A major fire broke out at a building inside Terminal Gate 1 of the Serum Institute of India (SII) in Maharashtra's Pune on Thursday afternoon.




DNA - Published





Fire breaks out at Serum Institute in Pune; vaccine manufacturing plant safe

A fire broke out at Terminal 1 gate of Serum Institute of India in Pune on Thursday. Ten fire tenders have been rushed to the institute. Details regarding the cause of the fire are awaited. No..




IndiaTimes - Published