Pune
Metropolis in Maharashtra, India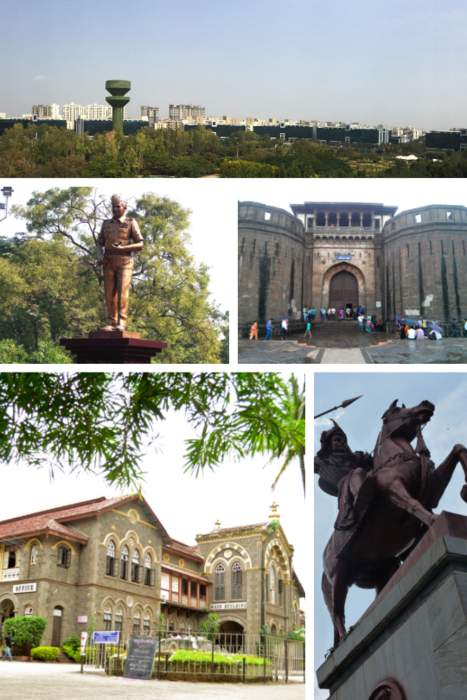 Pune, known as Poona until 1978, is the second-largest metropolitan city in the Indian State of Maharashtra, and the eighth most populous city in India, with an estimated population of 7.4 million as of 2020. It has been ranked as "the most livable city in India" several times. Along with the municipal corporation limits of PCMC and the three cantonment towns of Camp, Khadki and Dehu Road, Pune forms the urban core of the eponymous Pune Metropolitan Region (PMR). According to the 2011 census the urban area had a combined population of 5.05 million whilst the population of the metropolitan region was estimated at 7.4 million. Situated 560 metres above sea level on the Deccan plateau on the right bank of the Mutha river, Pune is also the administrative headquarters of its namesake district.


Four notorious burglars nabbed by Delhi Police

Delhi Police Crime branch apprehended four notorious burglars. The burglars were nabbed after the Crime Branch received a tip-off that some burglars would gather at Siri Fort Road, and might commit a..
Credit: ANI Duration: 01:12
Published
Mansukh Hiren death case: CCTV footage shows Sachin Waze going to CSMT

In the latest development in Mansukh Hiren death case, a CCTV footage has surfaced purportedly showing Sachin Waze going to Chhatrapati Shivaji Maharaj Terminus at 7 pm on March 05. Waze had taken a..
Credit: ANI Duration: 00:45
Published
Covid: 12-hour curfew in Pune | All you need to know about week-long curbs

Eateries, bars and restaurants in Pune district of Maharashtra will remain shut for seven days starting April 3 in view of the spike in coronavirus cases. A curfew will be in place across the district..
Credit: HT Digital Content Duration: 01:52
Published
COVID-19: Pune goes under mini-lockdown

A mini lockdown was announced in Pune as COVID cases are on rise in Maharashtra. The order was implemented in the city from April 03 for next seven days. Restrictions will be in place from 6pm to 6am...
Credit: ANI Duration: 01:40
Published
Pune temples closed, dine-in services at hotels restricted following spike in COVID cases

Due to surge in COVID-19 cases in Maharashtra, restrictions have been imposed in the state. Being the topmost district with most coronavirus cases, several restrictions have also been imposed in Pune...
Credit: ANI Duration: 02:22
Published
Rakesh Tikait's convoy attacked in Rajasthan's Alwar, alleges BJP's hand| Oneindia News

Bharatiya Kisan Union leader Rakesh Tikait's convoy was allegedly attacked in Rajasthan's Alwar on Friday. Chief Minister Arvind Kejriwal said on Friday that Delhi will not go into lockdown again...
Credit: Oneindia Duration: 02:28
Published
Pune curfew from April 3rd | Details of 7-day restriction | Oneindia News

In order to contain the coronavirus resurgence, Pune is going under partial lockdown. For the next 7 days, Pune will witness a curfew from 6 pm to 6 am, which is essentially a night travel ban and..
Credit: Oneindia Duration: 01:19
Published
Delhi among 10 worst-hit COVID districts, Maharashtra has 8: Health Ministry

Union Health Secretary Rajesh Bhushan on March 30 informed about the current status of COVID-19 pandemic in the country. He said that Delhi features in the 10 districts worst-hit by COVID-19. Of the 10..
Credit: ANI Duration: 01:19
Published
This is our country's culture: Chandrakant Patil on Amit Shah-Sharad Pawar meeting

While speaking to media in Pune, Maharashtra's Bharatiya Janata Party (BJP) chief Chandrakant Patil said, "Such meetings take place at this level. This is our country's culture, we must meet besides..
Credit: ANI Duration: 01:00
Published
Chemical leak in Pune mall creates brief panic

A minor chemical leak was reported in Central Mall parking near Abasaheb Garware College in Pune on March 29. Two fire tenders were rushed to the spot and mall was evacuated. A bag containing 2..
Credit: ANI Duration: 01:08
Published
Pune fire: 500 shops gutted by fire at Fashion Street | Oneindia News

More than 500 shops were gutted in a fire that engulfed fashion street in Pune last night. No loss of life has been reported yet but loss of livelihood will cause damage to shop owners and hawkers who..
Credit: Oneindia Duration: 01:01
Published
Massive fire engulfs Pune's fashion street market

A massive fire engulfed Pune's fashion street market in Camp area during night hours of March 26. 15 fire tenders rushed to the spot to douse off the fire. No casualties have been reported yet. Further..
Credit: ANI Duration: 01:27
Published
Jonny Bairstow insists England will continue to be aggressive and hit maximums

Centurion Jonny Bairstow backed England to keep swinging for the fences after the tourists put India to the sword with 20 sixes in the second one-day international in Pune.
Credit: PA - Press Association STUDIO Duration: 01:11
Published
Watch: Pune restaurant employs specially-abled staff, supplies come from farmers

A restaurant in Pune is in its first kind which employed specially-abled staff to cater to its customers. Terrasinne is a social initiative to provide employment to specially-abled and farmers. The..
Credit: HT Digital Content Duration: 03:39
Published
Maharashtra has 9 of 10 districts with most active COVID cases: Centre

While addressing a joint press conference in the national capital on March 24, the secretary of Health and Family Welfare Department in the Health Ministry, Rajesh Bhushan spoke about the top 10..
Credit: ANI Duration: 01:46
Published
You Might Like



IISc, Pune firm develop patent management software




IndiaTimes - Published





Maharashtra COVID-19: Nearly 50,000 cases in 24 hours, Pune alone records 10,000 infections

5 districts in Maharashtra- Mumbai (60,846), Pune (73,599), Thane (48,660), Nagpur (52,408), and Nashik (31,512) reported highest jump in COVID cases.




DNA - Published





Night curfew, new restrictions imposed in Pune, check what's allowed, what's not

While the authorities did not impose a lockdown in the city, they decided to implement certain restrictions to contain the spread of the COVID-19.




DNA - Published




Maharashtra COVID-19 news: Partial lockdown in Pune as tough restrictions imposed - What's open, what's not

Seeing the COVID-19 spike, the district administration has decided to implement certain restrictions in Pune city.




DNA - Published





India v England: Sam Curran heroics not enough in Pune

England are beaten in a thrilling one-day series decider against India, despite Sam Curran's heroic 95 not out.




BBC Sport - Published





Fire guts over 500 shops at Pune's Fashion Street market

No casualties have been reported as of now. However, hawkers and shop owners have suffered heavy losses.




DNA - Published





India v England: Jonny Bairstow and Ben Stokes led chase of 338

Jonny Bairstow strikes a magnificent century and Ben Stokes a brutal 99 in an emphatic England chase of 337 to beat India in the second ODI in Pune.




BBC Sport - Published





India v England: Jonny Bairstow says any side in the world would miss not having Joe Root

Jonny Bairstow says "any side in the world would miss Joe Root," after England's 66-run loss to India in the first one-day-international in Pune.




BBC Sport - Published





India v England: Krunal Pandya propels hosts to win in Pune

England squander the chance to win a fluctuating first one-day international against India, losing by 66 runs in Pune.




BBC Sport - Published





COVID-19: Lockdown in Mumbai, Pune? Here's what Maharashtra's Health Minister Rajesh Tope said

Restrictions have been imposed in a few cities of Maharashtra, including lockdown in Nagpur, and night curfew in Pune and Latur.




DNA - Published





UK PM Boris Johnson to visit Delhi on April 26, to go to Pune also

British PM Boris Johnson's India visit will be his first visit abroad since the UK left the European Union.




DNA - Published





Vaccinate all above 18 in Pune: Maharashtra deputy CM Ajit Pawar




IndiaTimes - Published





COVID-19: Lockdown, curfew extended in THESE districts of Maharashtra - check details

Night curfew has been imposed in Pune from 11 am to 6 pm. Strict lockdown has been declared in Akola from 8 am to 6 am on Monday




DNA - Published





SII seeks home minister's intervention for smooth operation of non-scheduled planes in Pune




IndiaTimes - Published





Chaos on Pune-bound flight after passenger claims of being Covid positive




IndiaTimes - Published





Findings of paper leak probe will be used to strengthen process: Army

Five persons including two Army personnel have been arrested after the paper of Army Relation Recruitment exam, scheduled for February 28, was found to have been leaked. The exam, which was to take..




IndiaTimes - Published





This city is cleanest in India, check others on the list

In this category, Surat came second, followed by Bhopal, Pimpri Chinchawad, Pune, Ahmedabad, Raipur, Greater Mumbai, Visakhapatnam and Vadodara.




DNA - Published





Railway Recruitment 2021: 2532 posts up for grabs, get govt job without any exam

The Central Railway is offering these vacancies at various locations like Pune, Mumbai, Solapur, Nagpur and Bhusawal.




DNA - Published





Pune: Army recruitment exam cancelled after paper leak, 3 including two ex-army personnel held

The police said that the accused had promised recruitment in the Army to those appearing for exams and had asked them to pay Rs 2 lakhs to Rs 3 lakhs.




DNA - Published





COVID-19: After Pune, Maharashtra govt imposes restrictions in Nagpur, shuts down schools, colleges till March 7

In wake of rising COVID-19 cases, all weekly markets, schools, colleges and coaching centres have been closed till March 7.




DNA - Published





Over 1,100 new COVID-19 cases recorded in Pune in last 24 hours, Maharashtra CM Uddhav Thackeray bans all gatherings

CM Thackeray on Sunday that he was closely monitoring the situation and next eight days will decide whether there will be a lockdown in state or not.




DNA - Published





Curbs on night movement in Pune; administration shuts schools, colleges




IndiaTimes - Published





COVID-19: Schools, colleges shut down in Pune till February 28, restrictions on public movement

Maharashtra government is planning to impose a night curfew in Yavatmal, Amravati and Nagpur districts to curb the spread of the deadly viral disease.




DNA - Published





Covid-19: Can our vaccine fight new strains? India to test

The efficacy of the two Indian vaccines currently in use — Covishield and Covaxin — is likely to be tested against the Brazil and South Africa variants soon, scientists have said. The Indian..




IndiaTimes - Published





Former SC judge P B Sawant dies in Pune




IndiaTimes - Published





Pune cops book AMU student for Elgar speech




IndiaTimes - Published





Pune civil court rejects plea to restrain SII from using 'Covishield' trademark

Cutis Biotech claimed it was using the trademark of 'Covishield' before the SII and filed a suit in the civil court to restrain the SII from using it.




DNA - Published





Sharad Pawar visits Serum Institute in Pune in wake of fire

NCP chief Sharad Pawar on Saturday visited the city-based Serum Institute of India (SII), where a major fire had broken out two days ago, killing five persons. Sources in the SII said, Pawar visited..




IndiaTimes - Published





Serum Institute fire: Adar Poonawalla explains why he tweeted, 'no lives lost'

Adar Poonawalla has given an explanation on his tweet that he did after fire broke out at Serum Institute's facility in Pune on Thursday afternoon.




DNA - Published





Adar Poonawalla reassures Covishield production won't be affected, tweets 'no lives lost' in SII fire

A major fire broke out at a building inside Terminal Gate 1 of the Serum Institute of India (SII) in Maharashtra's Pune on Thursday afternoon.




DNA - Published





Fire breaks out at Serum Institute in Pune; vaccine manufacturing plant safe

A fire broke out at Terminal 1 gate of Serum Institute of India in Pune on Thursday. Ten fire tenders have been rushed to the institute. Details regarding the cause of the fire are awaited. No..




IndiaTimes - Published





Breaking: Fire breaks out at COVID-19 vaccine maker Serum Institute of India's building

Fire breaks out at Terminal 1 gate of Serum Institute of India in Pune




DNA - Published





All about India's first indigenous 9 mm machine pistol jointly developed by DRDO, Army

Army's infantry school in Mhow and the DRDO's Armament Research and Development Establishment (ARDE) in Pune have designed and developed the weapon.




DNA - Published





Police arrest another China national in loan apps case

Rachakonda police commissioner Mahesh Bhagawat said they came across the names of Jian, alias Mark, 26, and his Indian associate Vivek Kumar, as key operators of the Instant loan business after..




IndiaTimes - Published





J&K receives 1.46 lakh doses of coronavirus vaccine

Jammu and Kashmir on Wednesday received the first consignment of 1.46 lakh doses of coronavirus vaccine from Pune-based Serum Institute of India (SII), officials said. While 79,000 doses were received..




IndiaTimes - Published





Ahead of Covid-19 vaccination drive, states across India receive first consignments of 'Covishield'

Ahead of the first phase of the Covid-19 vaccination drive scheduled to start from January 16, India's first consignment of Covid vaccine "'Covidshield" was transported from Pune to 13 locations across..




IndiaTimes - Published





First Covishield vaccine consignment from Pune reaches Delhi

The government had announced on January 9 that the vaccination program will start from January 16 across the country.




DNA - Published

Also reported by •IndiaTimes


SpiceJet carries India's first consignment of Covid vaccine 'Covidshield' from Pune to Delhi




IndiaTimes - Published





Vaccine movement begins, 4 airlines to fly 56.5 lakh doses from Pune to 13 cities on Tuesday: Hardeep Singh Puri




IndiaTimes - Published





QR-coded 'vaccine pass' may help in foreign travel

A 'vaccination certificate' with a QR code, which acts as a digital pass or a 'facilitating tool', can work not just within the country but abroad too, a top public health official said in Pune..




IndiaTimes - Published





Covid vaccine: Pune set to see major air ops as 80% of SII vax will be flown out

With the first phase of Covid inoculations less than a week away, at least 80% of India's lead vaccine — Covishield — will be moved out of Pune by air, it has emerged. Officials said transport of..




IndiaTimes - Published





Serum's vaccine despatch delayed another 48 hours

The massive airlift of the Covishield vaccine doses from here has been delayed by another 48 hours. It is now likely to happen only by Monday. Vaccine manufacturer Serum Institute of India has..




IndiaTimes - Published





Vaccine take-off from Pune waits for govt to place order

Pune airport was ready on Thursday night to begin facilitating a massive airlift of Covid-19 vaccines, perhaps the largest such exercise in the world, but its manufacturer here, Serum Institute of..




IndiaTimes - Published





COVID-19 vaccines available soon in India, says Health Minister

Pune will be the central hub from where the distribution of vaccine will take place and 41 destinations across India are finalised for its delivery.




DNA - Published





Viral: Ratan Tata travels from Mumbai to visit ailing former employee in Pune, wins hearts

Rata Tata was photographed at Pune's Friends society where he was seen with the family of one of the former employees.




DNA - Published





All-India vaccine rollout set for next week: Govt

The government will roll out the Covid-19 vaccine next week, with health secretary Rajesh Bhushan saying this was set to happen within 10 days of emergency use authorisation being granted. The Indian..




IndiaTimes - Published





In a 1st, NIV-Pune isolates, cultures Covid's UK variant

Pune's National Institute of Virology (NIV) has isolated and cultured the new UK variant of SARS-CoV2, the Indian Council of Medical Research (ICMR) said on Saturday underlining that no other country..




IndiaTimes - Published





Maharashtra: BMC all set for COVID vaccination drive, dry run begins in 4 districts

The full-fledged dry runs shall be carried out at multiple locations in Jalna, Nandurbar, Nagpur and Pune.




DNA - Published





AP flyer who fled IGI has UK strain; 109 untraced in Pune

VISAKHAPATNAM/PUNE/BHUBANESWAR: The Andhra Pradesh government is on high alert after laboratory reports confirmed that the woman (47) who had evaded health authorities at Delhi airport on returning..




IndiaTimes - Published





3 with UK variant in Karnataka; 3 more in Hyderabad, Pune

At least six of the more than 100 UK returnees who've tested Covid-19 positive so far have been found to be infected by the new UK variant, with three of them in Karnataka. According to the ministry..




IndiaTimes - Published