Parkash Singh Badal
Indian politician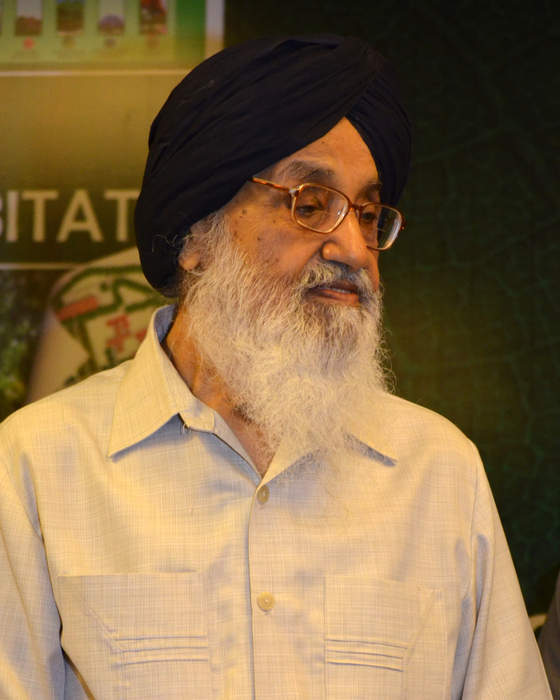 Parkash Singh Badal is an Indian politician who was Chief Minister of Punjab state from 1970 to 1971, from 1977 to 1980, from 1997 to 2002, and from 2007 to 2017. He is also the patron of Shiromani Akali Dal (SAD), a Sikh-centered regional political party. He was the president of the party from 1995 to 2008, when he was replaced by his son Sukhbir Singh Badal. As the patron of SAD he exercises a strong influence on the Shiromani Gurdwara Parbandhak Committee and Delhi Sikh Gurdwara Management Committee. The Government of India awarded him the second-highest civilian award, Padma Vibhushan, in 2015.


You Might Like
PM Modi speaks to Parkash Singh Badal, extends birthday greetings
Prime Minister Narendra Modi on Tuesday spoke to Shiromani Akali Dal patriarch Parkash Singh Badal, who has been severely critical of the Centre over the contentious farm sector laws, and extended best..
IndiaTimes - Published
Show magnanimity on farm laws, Parkash Singh Badal tells PM Modi
IndiaTimes - Published
Parkash Badal, Dhindsa to return Padma awards in protest
IndiaTimes - Published
Parkash Singh Badal sent strong message to government by returning Padma Vibhushan award: Sukhbir Singh Badal
Shiromani Akali Dal (SAD) President Sukhbir Singh Badal on Thursday said his father and SAD patriarch Parkash Singh Badal has sent a strong message to the union government by returning his Padma..
IndiaTimes - Published
Shiromani Akali Dal patriarch, ex-Punjab CM Parkash Singh Badal returns Padma Vibhushan to protest 'betrayal of farmers'
Badal wrote that betrayal of the farmers by the government is like "bolts from the blue on the already beleaguered peasantry of the country".
DNA - Published
Present situation in country matter of grave concern: Akali stalwart Parkash Badal
"It is a matter of grave concern that the present situation in the country is not that good. I will say that all religions should be respected and take along minorities, take along your allies if you..
IndiaTimes - Published
Modi, Shah greet Parkash Singh Badal on his birthday
Prime Minister Narendra Modi and Union home minister Amit Shah greeted former Punjab Chief Minister Parkash Singh Badal on his birthday on Sunday. The Akali Dal patriarch, a five-time chief minister,..
IndiaTimes - Published