Telangana
State in southern India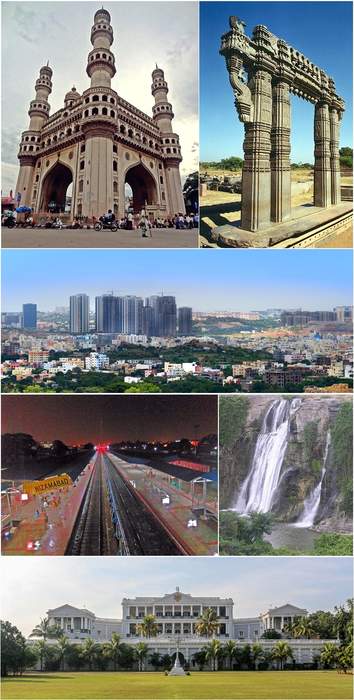 Telangana is a state in India situated on the south-central stretch of the Indian peninsula on the high Deccan Plateau. It is the eleventh-largest state and the twelfth-most populated state in India with a geographical area of 112,077 km2 (43,273 sq mi) and 35,193,978 residents as per 2011 census. On 2 June 2014, the area was separated from the northwestern part of Andhra Pradesh as the newly formed state with Hyderabad as its capital. Its other major cities include Warangal, Nizamabad, Khammam and Karimnagar. Telangana is bordered by the states of Maharashtra to the north, Chhattisgarh to the east, Karnataka to the west, and Andhra Pradesh to the east and south. The terrain of Telangana region consists mostly of hills, mountain ranges, and thick dense forests covering an area of 27,292 km2 (10,538 sq mi). As of 2019, the state of Telangana is divided into 33 districts.


This trailblazing chef is exploring India's culinary map

Garima Arora is the first and only female Indian chef to earn a Michelin star for her restaurant in Bangkok, Thailand. Now she's putting the spotlight back on India, starting with Telangana – the..
Credit: Bleacher Report AOL Duration: 02:14
Published
COVID-19 vaccines arrive at Kerala, Leh

Malappuram District received COVID-19 vaccines, ahead of pan-India vaccination drive. The first consignment of Covishield also arrived at Leh. So far, several states including Karnataka, New Delhi,..
Credit: ANI Duration: 01:08
Published
Chinese national among 3 arrested in instant loan apps fraud: Telangana Police

Three people including a Chinese national were arrested in connection with instant loan apps fraud case in Telangana, informed Rachakonda Commissioner of Police, Mahesh Bhagwat on January 13. "One..
Credit: ANI Duration: 02:08
Published
Jammu, Kanpur receive Covisheild vaccine

A consignment of COVID-19 vaccine, Covishield arrived at Jammu airport from Serum Institute of India, Pune on January 13. Covishield vaccines were shifted to the storage rooms. Kanpur also received its..
Credit: ANI Duration: 02:01
Published
Covisheild vaccine reaches Kochi

A consignment of COVID-19 vaccine, Covishield arrived at Kochi airport from Serum Institute of India, Pune on January 13. Vaccine consignments were shifted to Ernakulam General Hospital. SII had..
Credit: ANI Duration: 01:39
Published
Hyderabad's good samaritans helping needy across faiths

India has a fabulous tradition and culture of giving. It has been found that number of Indians helping a stranger, giving money and volunteering their time is more than any other country. Examples of..
Credit: ANI Duration: 03:23
Published
Telangana Health Minister inaugurates reconstructed and redeveloped oncology centre in Hyderabad

The reconstructed and redeveloped oncology centre at Nizam's Institute of Medical Sciences (NIMS) by MEIL was inaugurated on January 09 in Hyderabad. The centre was inaugurated by Telangana Minister..
Credit: ANI Duration: 02:10
Published
'Agent sold my daughter in Dubai': Hyderabad woman pleads for govt help

A woman in Hyderabad alleged that her daughter Noor Jahaan was sold by an agent to a Sudan citizen in Dubai. She urged the Telangana government to bring her daughter back. She alleged that the agent..
Credit: ANI Duration: 02:00
Published
Watch: Rajinikanth discharged from hospital, car mobbed by fans & paparazzi

Actor Rajinikanth was discharged from hospital on December 27. He had been hospitalised two days earlier due to 'severe hypertension' and 'exhaustion'. He was released after his blood pressure..
Credit: HT Digital Content Duration: 01:16
Published
Watch: Temple for Sonu Sood built in Telangana, locals raise 'Jai Ho' slogans

A temple was built in honour of actor Sonu Sood in Telangana. The temple was built reportedly in Siddipet's Dubba Tanda village. Locals were seen doing 'aarti' at the bust of Sonu Sood. They also..
Credit: HT Digital Content Duration: 02:46
Published
Fans builds temple for philanthropist Sonu Sood in Telangana

A temple has been built for Sonu Sood in Telangana's Siddipet on December 20. People are overwhelmed by 'selfless deed' done by Sood during the pandemic. The temple has been constructed in Dubba Tanda..
Credit: ANI Duration: 02:19
Published
Rajnath Singh arrives at IAF Academy in Telangana's Dundigal

Defence Minister Rajnath Singh arrived at Indian Air Force Academy at Dundigal in Telangana on December 18. He will be the chief guest of passing out parade at Air Force Academy on December 19. The..
Credit: ANI Duration: 01:13
Published
Watch: Explosion, fire at Hyderabad chemical factory, many hospitalised

A massive explosion occurred at a chemical factory in Telangana's Hyderabad on December 12. Over 10 workers were hospitalised with authorities searching for more in the rubble. The mishap occurred at a..
Credit: HT Digital Content Duration: 01:12
Published
TRS leaders hold protest in support of 'Bharat Bandh' in Telangana

Telangana Rashtra Samithi (TRS) leaders extended support to 'Bharat Bandh' on December 08. Minister KT Rama Rao, Kavitha Kalvakuntla and others staged protest in Telangana's Ranga Reddy. Farmer unions..
Credit: ANI Duration: 01:23
Published
You Might Like



How Owaisi's AIMIM is striving to become first pan-India Muslim party

The 2020 Bihar assembly elections may be called the turning point of Hyderabad Lok Sabha MP Asaduddin Owaisi-led All India Majlis-e-Ittehadul Muslimeen (AIMIM). The party may well be on its way to..




IndiaTimes - Published





Telangana: 22 family members test COVID positive at post-funeral ceremony

38 people who stayed back for the ceremonies of an elder member of the family, underwent screening on Thursday, of which 22 were tested positive.




DNA - Published





Loan apps scam: Chinese held at IGI before flight

The Telangana police on Wednesday arrested yet another Chinese national from Delhi in the illegal instant loan app case. He was picked up in dramatic fashion from Delhi airport minutes before he was to..




IndiaTimes - Published





Instant loan apps: Chinese woman, 2 others held in Pune

Three persons, including a Chinese woman, have been arrested by Telangana police from a Pune call centre in connection with the instant loan case. ​​"We have seized 101 laptops, 106 mobile phones..




IndiaTimes - Published





Rythu Bandhu Scheme: MSP loss of Rs 7,500 crore but Telangana govt to give free grant of Rs 7,515 crore

The CM has instructed the officials concerned to ensure that every farmer gets assistance in his bank account directly for each acre.




DNA - Published





Telangana cops ask Google to block 158 instant loan apps

Google has been asked to block 158 instant financing apps on its Play Store by the Telangana police after the companies behind these were found harassing and shaming defaulters. ​​​​Enforcement..




IndiaTimes - Published





279 UK returnees in Telangana untraceable

At least 279 passengers recently returned from the UK to Telangana are untraceable, state health officials said on Saturday, while 59 new cases recorded taking the number of newly caught infections in..




IndiaTimes - Published





Andhra, Telangana HC CJs shifted in major reshuffle

At a time when the Andhra Pradesh high court has ordered inquiries into vilification of the judiciary through social media posts and CM Y S Jaganmohan Reddy has written a letter to CJI S A Bobde for..




IndiaTimes - Published





Higher % of men drink in 'dry' Bihar than Maharashtra: Govt survey

You might associate Goa with booze and partying, but a higher proportion of people in Telangana consume alcohol than in the former. And a larger percentage of men drink in Bihar, a state under..




IndiaTimes - Published





Telangana to notify 50,000 government job vacancies of teachers, police: KCR

Telangana Chief Minister KCR and his party Telangana Rashtra Samithi (TRS) have been criticised by many for not providing enough jobs in the state.




DNA - Published





Congress wants Sonia Gandhi's biography in Telangana's school syllabus

Sravan Dasoju had made this appeal to the Telangana government at an intellectual summit organised on Wednesday at Gandhi Bhavan.




DNA - Published





Nine states implement 'One Nation One Ration Card' system: Finance ministry

As many as nine states have completed One Nation One Ration Card reform following which the central government has allowed them to raise an additional Rs 23,523 crore, said an official release on..




IndiaTimes - Published





Bharat bandh disrupts a few states; 4 farm protesters die

The Bharat bandh called on Tuesday in support of farmers got a lukewarm response across the country, with reports of disruptions of normal life from only a few states like Telangana, Andhra and Odisha...




IndiaTimes - Published





Jolt for Telangana Congress: Telugu superstar Vijayashanti quits party to join BJP

The return of Vijayashanti to BJP comes at a time when the party is preparing hard for the 2023 Telangana election.




DNA - Published





BJP leaps from 4 to 48 wards in Hyderabad polls

Asaduddin Owaisi's AIMIM held on to its 2016 tally of 44. The result of one ward has been held back because of a case in the HC. BJP has effectively dethroned Congress as the main opposition in..




IndiaTimes - Published





Women can't climb poles, says power co; Telangana HC orders test




IndiaTimes - Published





BJP goes local to establish itself as a factor in Telangana




IndiaTimes - Published





People angry with TRS, AIMIM 'alliance'; Hyderabad will elect BJP Mayor, claims Amit Shah

Asserting that the people of Telangana are angry and upset with the ruling TRS in Telangana and Owaisi's "alliance", Union home minister and top BJP leader Amit Shah on Sunday predicted this time..




IndiaTimes - Published





GHMC polls: Amit Shah arrives in Hyderabad for roadshow; offers prayers at Bhagyalakshmi temple

Shah will be addressing public programs today in Telangana and is also scheduled to attend a roadshow in Secunderabad.




DNA - Published





Ministries & several states deploying facial recognition tech systems: Study

At least 32 Facial Recognition Technology (FRT) systems, estimated at Rs 1,063 crore, are in various stages of deployment by union ministries, central agencies and several state governments, including..




IndiaTimes - Published





Strike impacts normal life in Kerala, West Bengal; banking operations hit

A nationwide strike by trade unions in protest against the BJP-led Centre's economic policies on Thursday hit normal life in Kerala, parts of West Bengal, Assam and Telangana as public transport went..




IndiaTimes - Published





Amit Shah speaks to CMs of TN and Puducherry on post-Cyclone relief measures, IMD's 'perfect forecast' appreciated

Even as the Cyclone 'Nivar' weakened into a depression after making landfall near Puducherry on early Thursday morning, the India Meteorological Department (IMD) said the system was under..




IndiaTimes - Published





Is Hyderabad in Pakistan, asks KTR after Telangana BJP chief's 'surgical strike' remark




IndiaTimes - Published





Covid-19: Telangana ready to vaccinate people when ready, KCR tells Modi




IndiaTimes - Published





Now, BJP eyes Telangana, TN; decides to go all out




IndiaTimes - Published





Buoyed by Telangana bypoll win, BJP to go all out in south India

After consolidating its presence in the northeastern and eastern regions where it was considered a fringe outfit until a couple of years ago, BJP is now planning to make electoral gains in South Indian..




IndiaTimes - Published





CBI carries out searches at 25 locations in Andhra Pradesh, Telangana




IndiaTimes - Published





Unicef: 25% of schoolkids from Covid-hit families may drop out

Community volunteers who reached out to 300 habitations in 12 districts across seven states in August- September found children engaged as paid worker or pushed into child labour, the situation being..




IndiaTimes - Published





SC allows use of green crackers for 2 hours

The Supreme Court on Friday endorsed the NGT order allowing bursting of green crackers for two hours for Diwali, Chhath Puja, Gurupurab, Christmas and New Year celebrations and modified a Telangana..




IndiaTimes - Published





Bypoll results 2020: Counting and results to be declared on 56 assembly seats in 11 states including MP

Bypoll results 2020 to 56 assembly seats in 11 states will be declared on Tusday. Bypolls to the states of Chhattisgarh, Gujarat, Haryana, Jharkhand, Karnataka, Madhya Pradesh, Manipur, Nagaland,..




DNA - Published





Covid-19: India performed better than any big developed country: Harsh Vardhan

Union health minister Dr Harsh Vardhan held a virtual meeting with Health Ministers of Andhra Pradesh, Assam, Haryana, Himachal Pradesh, Kerala, Punjab, Rajasthan, Telangana, and West Bengal to review..




IndiaTimes - Published





NGT widens ambit of firecracker pollution cases beyond NCR, notices to 18 states, UTs

The green panel sought response from Andhra Pradesh, Assam, Bihar, Chandigarh, Chhattisgarh, Gujarat, Himachal Pradesh, Jammu and Kashmir, Jharkhand, Karnataka, Madhya Pradesh, Maharashtra, Meghalaya,..




IndiaTimes - Published





Telangana bypoll: TRS, BJP leaders clash at Siddipet hotel

The by-election to Dubbaka assembly constituency is currently underway.




DNA - Published





Voting underway for bypolls on 54 Assembly seats in 10 states

A total of 28 seats in Madhya Pradesh, 8 in Gujarat, 7 in Uttar Pradesh, 2 each in Odisha, Nagaland, Karnataka and Jharkhand, and one seat each in Chhattisgarh, Telangana and Haryana going to polls..




DNA - Published





TS EAMCET 2020 results out on official website eamcet.tsche.ac.in

The Telangana Engineering Agricultural and Medical Common Entrance Test, commonly called as TS EAMCET, is an entrance examination held separately in the Indian States of Telangana for admission into..




DNA - Published





Assam, Telangana too promise free Covid vaccine




IndiaTimes - Published





Telangana floods: Delhi announces Rs 15 crore for flood relief assistance

Delhi Chief Minister Arvind Kejriwal on Tuesday announced Rs 15 crore financial assistance to flood-hit Telangana for relief and rehabilitation work in the areas affected by heavy rain and flash..




DNA - Published





Hyderabad floods: Tamil Nadu govt contributes Rs 10 crore to Telangana CMRF

As a token of support and solidarity, Tamil Nadu CM K Palaniswami ordered the immediate contribution of Rs 10 crore from the Chief Minister's Public Relief Fund to rain-hit Telangana.




DNA - Published





Flood situation grim in parts of Telangana, Karnataka




IndiaTimes - Published





190 kids from marginalised families in Telangana clear NEET

As many as 190 students from marginalised families who received free coaching at social and tribal welfare educational institution societies have qualified in the National Eligibility cum Entrance Test..




IndiaTimes - Published





Telangana rains, flash floods: 50 dead, losses estimated at Rs 5,000 crore

The total losses, however, are estimated to be around Rs 5000 crores.




DNA - Published





Telangana suffered Rs 5,000 crore loss due to floods: KCR

In a letter to Prime Minister Narendra Modi, he urged the Centre to release Rs 1,350 crore immediately for rehabilitation and relief works.




DNA - Published





Heavy rainfall leaves 32 dead in Telangana; Hyd streets flooded

At least 23 people were killed in Telangana on Wednesday after a deep depression passed over the state, unleashing heavy rain and widespread destruction. Heavy rain was reported in Andhra Pradesh,..




IndiaTimes - Published





Centre to provide help to rain-hit Telangana, Andhra Pradesh: Shah

Union home minister Amit Shah on Wednesday said the Ministry of Home Affairs (MHA) is closely monitoring the situation in Telangana and Andhra Pradesh in the wake of heavy rains and the central..




IndiaTimes - Published





31 people dead in rain-related incidents in Telangana, AP, Maharashtra; heavy damage in Karnataka

Twenty-five deaths in rain-related incidents were reported in Telangana and Andhra Pradesh on Wednesday and heavy downpour wreaked havoc in Karnataka as a deep depression in the Bay of Bengal crossed..




IndiaTimes - Published





Telangana government declares holiday due to heavy rainfall: Latest developments




IndiaTimes - Published





Heavy rains lash Telangana, CM orders administration to remain on high alert

Hyderabad has witnessed heavy showers on Tuesday leading to water-logging and traffic jams in several areas of the city.




DNA - Published





15 killed as heavy rains lash Andhra Pradesh, Telangana & Odisha




IndiaTimes - Published





Telangana man, ardent follower of Donald Trump, who starved & prayed for US President's recovery dies of cardiac arrest

A resident of Konne village in Jangaon district, he also used to keeps a picture of Trump with him at all times and walked around with Trump's photo around his neck.




DNA - Published





Karnataka opposes Telangana demand on Krishna tribunal




IndiaTimes - Published