Telangana
State in Southern India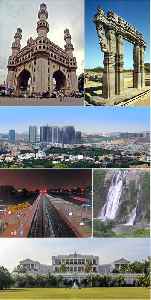 Telangana is a state in India situated on the centre-south stretch of the Indian peninsula on the high Deccan Plateau. It is the twelfth largest state and the twelfth-most populated state in India with a geographical area of 112,077 km2 (43,273 sq mi) and 35,193,978 residents as per 2011 census. On 2 June 2014, the area was separated from the northwestern part of Andhra Pradesh as the newly formed 29th state with Hyderabad as its historic permanent capital. Its other major cities include Warangal, Nizamabad, Khammam and Karimnagar. Telangana is bordered by the states of Maharashtra to the north, Chhattisgarh to the east, Karnataka to the west, and Andhra Pradesh to the east and south. The terrain of Telangana region consists mostly of hills, mountain ranges, and thick dense forests distribution of 27,292 sq. km. As of 2019, the state of Telangana is divided into 33 districts.


BJP announces 10 LS candidates in Telangana
IndiaTimes - Published
One more Telangana Congress MLA quits party, joins ruling TRS
In a fresh jolt to the Telangana Congress, party MLA Beeram Harshavardhan Reddy from Kolhapur Assembly constituency Wednesday announced his decision to join the ruling Telangana Rashtra Samiti (TRS).
DNA - Published
Lok Sabha polls: Congress releases 5th list of candidates
The Congress has released its fifth list of 56 candidates for the Lok Sabha election, including 22 from Andhra Pradesh and 11 from West Bengal. The list, released late on Monday night, also included..
IndiaTimes - Published
Also reported by •DNA
Will unite entire country by founding national party if necessary: TRS chief
Accusing the BJP and the Congress of failing to meet the aspirations of the people, Telangana chief ninister K Chandrasekhar Rao has said that he would start a national party "if necessary" to herald..
IndiaTimes - Published
From 19 seats to 11: 8th Congress MLA in Telangana switches loyalty to TRS
Vanama Venkateswara Rao, representing Kothagudem, announced his support to Chief Minister K Chandrasekhar Rao.
DNA - Published
New Zealand terror attack: One of 5 Indians killed hailed from Hyderabad
One more victim of the terror attack on two mosques in Christchurch belonged to Telangana and family members of him and of another feared dead are on their way to New Zeland.
DNA - Published
Five Indians among 50 killed in terror attack at New Zealand's Christchurch; victims hailed from Gujarat, Telangana, Kerala
At least five Indians, including three from Gujarat have died in Friday's terror attacks in New Zealand's Christchurch, the Indian High Commission in New Zealand said on Sunday.
Firstpost - Published
7 from India killed in mosque massacre in New Zealand, say families
Four Indians — one from Hyderabad, a woman from Kerala and two from Gujarat—were among those killed in the Christchurch terror attack in New Zealand on Saturday, their families confirmed to TOI on..
IndiaTimes - Published
Lok Sabha Election 2019: Pallam Raju, JD Seelam among Congress candidates from Andhra Pradesh
Senior Congress leaders Pallam Raju, JD Seelam, Rajya Sabha MPs T Subbarami Reddy and Sirivella Prasad, Mastan Vali, Chinta Mohan are some of the people who will contest the Lok Sabha elections from..
DNA - Published
TDP's fight in Telangana to be symbolic (Dangal 2019)
IndiaTimes - Published
Congress Telangana list likely after March 15
IndiaTimes - Published
BJP Telangana chief throws down challenge to Rama Rao
Rao recently said during campaigning that neither the NDA nor UPA would be able to form a government on its own post Lok Sabha polls and that TRS should get 16 Lok Sabha seats (leaving Hyderabad..
IndiaTimes - Published
You Might Like