Telangana
State in southern India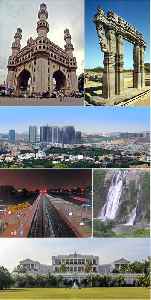 Telangana is a state in India situated on the centre-south stretch of the Indian peninsula on the high Deccan Plateau. It is the twelfth largest state and the twelfth-most populated state in India with a geographical area of 112,077 km2 (43,273 sq mi) and 35,193,978 residents as per 2011 census. On 2 June 2014, the area was separated from the northwestern part of Andhra Pradesh as the newly formed 29th state with Hyderabad as its historic permanent capital. Its other major cities include Warangal, Nizamabad and Karimnagar. Telangana is bordered by the states of Maharashtra to the north, Chhattisgarh to the east, Karnataka to the west, and Andhra Pradesh to the east and south. The terrain of Telangana region consists mostly of hills, mountain ranges, and thick dense forests covering an area of 27,292 sq. km. As of 2019, the state of Telangana is divided into 33 districts.


Telangana consumer forum orders Rs 8 lakh relief to man for botched up piles surgery
The victim had moved the consumer forum on June 29, alleging medical negligence by a doctor at the clinic
DNA - Published
Telangana: 13-yr-old, belittled for losing class poll, kills self
An unknown body, mutilated beyond recognition, was found on the railway tracks near Chityal Railway Station by railway staff on Friday morning.
DNA - Published
Telangana: Class 8 student kills himself after losing class representative election to a girl
It is alleged that the boy was belittled by his classmates "for losing the post to a girl".
DNA - Published
Telangana home minister Mahmood Ali appeals against cow sacrifice
In Hyderabad and in almost all parts of the state, thousands of animals are sacrificed every year on Bakrid.
DNA - Published
Many from other parties willing to join BJP in Telengana: BJP National General-Secretary
Many leaders from other parties are willing to join the BJP out of faith in its ideology and leadership, partys general secretary Muralidhar Rao said Monday.
DNA - Published
BJP to contest in all wards in municipal elections in Telangana
IndiaTimes - Published
You Might Like