Telangana
State in southern India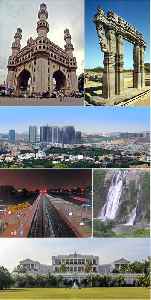 Telangana is a state in India situated on the south-central stretch of the Indian peninsula on the high Deccan Plateau. It is the eleventh-largest state and the twelfth-most populated state in India with a geographical area of 112,077 km2 (43,273 sq mi) and 35,193,978 residents as per 2011 census. On 2 June 2014, the area was separated from the northwestern part of Andhra Pradesh as the newly formed state with Hyderabad as its historic permanent capital. Its other major cities include Warangal, Nizamabad, Khammam and Karimnagar. Telangana is bordered by the states of Maharashtra to the north, Chhattisgarh to the east, Karnataka to the west, and Andhra Pradesh to the east and south. The terrain of Telangana region consists mostly of hills, mountain ranges, and thick dense forests covering an area of 27,292 km2 (10,538 sq mi). As of 2019, the state of Telangana is divided into 33 districts.


Watch how this 51-year-old passed class 10 after 33 failed attempts

The Covid pandemic has turned out to be a blessing in disguise for this 51-year-old Hyderabad resident. Mohd Nooruddin had failed the 10th board exams 33 times, but he has now benefited from Telangana..
Credit: HT Digital Content Duration: 03:11
Published
Telangana TV channel chairman arrested for cheating people by promising govt flats

Cyberabad Police arrested a man on the charges of cheating people on pretext of allocating houses under state government's double bedroom flats scheme. Accused name is Guthula Prashanth and he is the..
Credit: ANI Duration: 01:14
Published
Woman dies after auto slipped into overflowing stream in Telangana

A woman died after the auto she was travelling in lost its balance and felled into overflowing stream in Telangana's Nalgonda. The driver and few others managed to escape from the auto. The streams in..
Credit: ANI Duration: 01:11
Published
'Why Congress took 16 yrs to appreciate Narasimha Rao's contributions?' asks grandson

The grandson of former prime minister PV Narasimha Rao hits out at Congress party and asked that why Congress took16 years to appreciate Narasimha Rao's contributions? "Sonia Gandhi and Rahul Gandhi..
Credit: ANI Duration: 01:51
Published
Watch: Pregnant woman carried on shoulders to cross a lake in Telangana

In yet another case of lack of basic amenities, a pregnant woman was carried on shoulders to cross a lake. Temporary bridge on Mallanna Vagu Lake in Telangana's Gundala mandal area washed away due..
Credit: ANI Duration: 01:21
Published
Flash flood submerges houses of Vikarabad villages in Telangana

In Telangana, the houses in Tandur area of Vikarabad district submerged in floodwater. Normal lives have been badly affected due to flood. People are forced to take shelter at rooftop. Telangana comes..
Credit: ANI Duration: 02:13
Published
4275 liquor bottles seized during vehicle checking in Andhra Pradesh, 1 held

A person was arrested and 4275 liquor bottles were seized during vehicle checking in Andhra Pradesh's West Godavari. The liquors were being illegally transported from Telangana to Andhra Pradesh. The..
Credit: ANI Duration: 01:11
Published
'Anti-corona tea' gets massive public attention in Telangana's Warangal

In the time of pandemic, 'anti-corona tea', introduced by a local tea seller in Telangana's Warangal, is getting massive public attention. While speaking to ANI, tea shop owner Shiva said, "We sell tea..
Credit: ANI Duration: 02:26
Published
Woman delivers baby under tree after hospital denies admission in Telangana's Jangaon

A woman delivered a baby under a tree outside a hospital after she was denied admission even after she complained of labor pain at Jangaon in Telangana. Fatima Bee, the mother of the pregnant Women..
Credit: ANI Duration: 01:10
Published
5 arrested after locals tie Electricity Dept officials to pole in Telangana's Medak

The residents of a village under Alladurgam Police Station limits in Medak tied Electricity Department officials to a pole when they were visiting the area to collect payments of electricity bills. The..
Credit: ANI Duration: 01:14
Published
Telangana Governor inspects plasma therapy arrangement at Hyderabad hospital

Telangana Governor Tamilisai Soundararajan inspected plasma therapy arrangement at ESIC Medical College in Hyderabad. She also appealed COVID-19 survivors to come forward and donate plasma to help..
Credit: ANI Duration: 01:21
Published
COVID: Hyderabad entrepreneur develops software to track availability of beds

Hyderabad-based entrepreneur Arun Varma, has developed 'covidbedavailability.in', a software to help COVID-19 patients to locate hospitals with bed availability. He said, "This solution is designed for..
Credit: ANI Duration: 02:08
Published
Demolition of old Telangana Secretariat begins after HC order

Following the High Court decision clearing the way for the construction of the new Secretariat of Telangana government, the demolition of the old Secretariat complex began in Hyderabad. The demolition..
Credit: ANI Duration: 01:54
Published
STelangana Health Minister inspects TIMS amid COVID-19 crisis

The Health and Family Welfare Minister of Telangana Eatala Rajender visited Telangana Institute of Medical Sciences. He visited the institute in Hyderabad amid coronavirus pandemic on June 24. There..
Credit: ANI Duration: 02:07
Published
You Might Like



Amid Covid, NREGS demand soars

On Thursday, MGNREGS clocked 106 days of active work in the 2020-21 financial year. On the same day, Telangana generated 106% mandays compared to the work done in 365 days of 2019-20. ​​As many as..




IndiaTimes - Published





Telangana govt asks Centre to come out with guidelines on Covid-19 vaccine development




IndiaTimes - Published





Telangana BJP leader invites Asaduddin Owaisi to participate in 'bhoomi poojan' of Ram temple

Telangana BJP Leader and Chief Spokesperson Krishna Sagar Rao has invited AIMIM chief Asaduddin Owaisi to participate in the 'bhoomi poojan' of the Ram temple in Ayodya.




IndiaTimes - Published





Online rummy to be banned in Tamil Nadu? Madras HC says govt can pass laws banning online games involving money

Central and state governments can pass laws that ban online games involving real money, such as online rummy, card games and others, Madurai bench of the Madras High Court has observed. The court drew..




DNA - Published





Telangana: HC remarks have affected morale of health workers




IndiaTimes - Published





Telangana to launch app for asymptomatic Covid-19 patients

The Telangana government is all set to introduce an app for monitoring the health of asymptomatic Covid-19 patients who are in home isolation, a senior official of the state government said on..




IndiaTimes - Published





Telangana encounter inquiry delayed by pandemic lockdown




IndiaTimes - Published





50% dip in national permit fee for tourist buses?

The all India permit fee for tourist buses is likely to fall by over 50% of what the operators currently pay to state governments such as in Gujarat, Karnataka, Telangana and Andhra Pradesh, once the..




IndiaTimes - Published





Place 2-child cap for panchayat polls, Union minister tells UP

Union minister Sanjeev Balyan has made an appeal to the Uttar Pradesh government to bring a law and bar those having more than two children from contesting panchayat polls in the state. Several states,..




IndiaTimes - Published





Uttam Kumar Reddy urges Sonia Gandhi to write to PM Modi about gross undertesting for Covid-19 in Telangana




IndiaTimes - Published





8 states account for 90% active coronavirus cases in India: GoM on Covid-19 informed

Eight states, including Maharashtra, Tamil Nadu, Delhi, Karnataka and Telangana, account for around 90 per cent of the active Covid-19 cases in the country and 80 per cent of the active cases have been..




IndiaTimes - Published





One lakh govt-funded houses ready to be let out to migrants

The Centre hopes to get its ambitious plan to provide rental accommodation for migrants — devised after workers left cities in lakhs — rolling with around 70,000 government-funded houses in..




IndiaTimes - Published





Delhi's positivity rate falls, Telangana and Maharashtra on top




IndiaTimes - Published





In biggest surge, India records 22,000 Covid cases in a day

India's Covid-19 death toll crossed the 18,000 mark on Thursday amid a big surge in fresh infections. More than 22,000 new cases were recorded, nearly 2,000 more than the previous single-day record..




IndiaTimes - Published





Govt budgeted free grain for 8cr migrants but only 2.1cr benefited

Only 2.14 crore of migrant workers who returned to their home states picked up the 5 kg free foodgrain (wheat or rice) in May and June each, though the government had estimated nearly eight crore would..




IndiaTimes - Published





Manipur extends lockdown, Maharashtra and Telangana to follow suit




IndiaTimes - Published





Will urge PM Modi to honour late PV Narasimha Rao with Bharat Ratna: Telangana CM

Telangana Chief Minister K Chandrasekhar Rao on Sunday said that he will lead a delegation to Prime Minister Narendra Modi and will urge him to honour late former Prime Minister PV Narasimha Rao with..




IndiaTimes - Published





Decision to be taken whether lockdown should be reimposed in GHMC limits: Telangana CM

Telangana chief minister K Chandrashekhar Rao has said that a decision will be taken on the proposals whether lockdown should be re-imposed in the Greater Hyderabad Municipal Corporation (GHMC) limits..




IndiaTimes - Published





Central team to visit Maharashtra, Gujarat, Telangana to bolster Covid-19 management efforts

A central team, led by joint secretary in the health ministry Lav Agarwal, will visit Gujarat, Maharashtra and Telangana between June 26 and 29 to coordinate with the state officials in strengthening..




IndiaTimes - Published





5 security personnel of Telangana minister test coronavirus positive

As many as 891 new positive cases were reported in Telangana on Wednesday, taking the total count in the state to 10,444.




DNA - Published





Coronavirus: India adds 17,000+ new cases, day's toll remains above 400

Covid-19 cases surged in Maharashtra (3,890 fresh infections), Delhi (3,788), Tamil Nadu (2,865), Telangana (891), UP (700), Gujarat (572), Andhra Pradesh (497), Haryana (490), Bengal (445) and Assam..




IndiaTimes - Published





As cases rise, several states go slow on data

The data on Covid-19 in India put out on a daily basis by the Centre and states is severely limited, with few states being notable exceptions. Among the states, the worst offenders are Uttar Pradesh..




IndiaTimes - Published





Telangana announces Rs 5 crore, state govt job to Col Santosh Babu's wife

KCR attended the all-party meeting as the president of the TRS and expressed his views.




DNA - Published





Why only Muslims booked for violating curbs, look at US crisis: HC to Hyd cops

Telangana high court on Wednesday asked Hyderabad police officials why it had booked a disproportionally high number of Muslims for violating lockdown rules.




IndiaTimes - Published





Telangana workers in Saudi unable to return as no special flight landing permission given in Hyderabad




IndiaTimes - Published





India needs one million tests daily: CCMB chief

India needs to ramp up Covid-19 testing by roughly 10 times — at least one million samples daily — to fight the Covid-19 pandemic.This was stated on Monday by Rakesh Mishra, the director of the..




IndiaTimes - Published





Telangana finally approves private testing, hospitalisation for COVID-19

However, keeping a tight leash on private players, the government has fixed rates for testing and treatment.




DNA - Published





IMD predicts heavy rain in Konkan, Goa, Telangana in next 24 hours

The India Meteorological Department (IMD) on Friday predicted heavy to very heavy rainfall in Konkan, Goa and Telangana in the next 24 hours. hya Maharashtra, Marathawada, coastal Andhra and Yanam,..




IndiaTimes - Published





HC to Telangana: Publish Covid info in newspapers




IndiaTimes - Published





UP, Delhi, Telangana ask for railway Covid-19 care centres as cases in India inch closer to 3 lakh

After almost two months, the railways' isolation coaches have finally found takers -- UP has asked for 240 such coaches for 24 locations, Telangana has requisitioned 60 for three places and Delhi has..




IndiaTimes - Published





Telangana govt allows resumption of film and TV shootings as per Covid-19 norms

The Telangana government on Monday permitted resumption of film and TV shootings in the state in accordance with Covid-19 lockdown norms, but refused permission for reopening film theatres as Central..




IndiaTimes - Published




Class X students to be promoted without exams in Telangana: CM K Chandrasekhar Rao

Telangana chief minister K Chandrasekhar Rao on Monday said all class X students would be promoted to the next class without any examination, as it would not be possible to hold the exam due to the..




IndiaTimes - Published





4 killed, 3 injured in explostion at Telangana coal mine




IndiaTimes - Published





COVID-19 puts a damper on Telangana Formation Day celebrations this year

Telangana Formation Day is observed by people of the state to celebrate the birth of the state and remember the struggle that preceded the carving out of the new state of Telangana from Andhra Pradesh.




DNA - Published





200 Telangana workers evacuated from Nepal, 100 still waiting to reach home from Lucknow




IndiaTimes - Published





It's 'Mission Begin Again' for Maharashtra as states plan to unlock in phases

Maharashtra, Tamil Nadu and Telangana on Sunday extended the lockdown till June 30 even as other states like Karnataka and Uttar Pradesh released a roadmap to restore normalcy after 68 days of shutdown..




IndiaTimes - Published





Telangana may see another surge in Covid-19 cases: Health officials

Coronavirus cases increased in Telangana as a result of movement of people following the relaxations in the lockdown norms and there may be another surge in the coming days, but the state government is..




IndiaTimes - Published





Coronavirus in India LIVE: Telangana reports 60 new cases, total climbs to 2499

Maharashtra continues to be the epicenter of the coronavirus spread




DNA - Published





Rains lash Delhi, parts of Punjab, Haryana; IMD says no heat wave for most of India from May 30-June 2

Rains lashed the national capital and parts of Haryana and Punjab bringing relief to people from scorching temperatures on Friday, even as many places in Uttar Pradesh and central India reeled under..




IndiaTimes - Published





Kerala coronavirus tally touches 1,088 with 84 fresh cases, Telangana man dies of Covid-19

In the biggest single day spike, Kerala reported 84 COVID-19 cases on Thursday taking the infection tally to 1,088, while a man hailing from Telangana, who reached here from Rajasthan and tested..




IndiaTimes - Published





Lockdown effect: 99 Indian workers from Telangana without work and accommodation forced to live under trees in Sharjah and Dubai

During Covid lockdown, 99 Indian workers from Telangana pushed out of their jobs and having no accommodation too are taking refuge under trees and under construction buildings in Sharjah Industrial..




IndiaTimes - Published





7 states/UTs to remain shut if WHO advisory is followed

At least seven states and Union Territories — Maharashtra, Gujarat, Delhi, Telangana, Chandigarh, Tamil Nadu and Bihar — would remain under lockdown with an increase in confirmed coronavirus cases..




IndiaTimes - Published





Over 3.15 lakh migrant workers return to Jharkhand, many more on way back home

Over 3.15 lakh migrant workers have been brought back to Jharkhand since May 1, when the first shramik special train reached Hatia railway station from Telangana, officials said on Friday, adding the..




IndiaTimes - Published





India records biggest single-day spike of 6,088 Covid-19 cases; death toll mounts to 3,583

The number of active Covid-19 cases stood at 66,330, while 48,533 people have recovered and one patient has migrated, health ministry has said. Of the 148 deaths reported since Thursday morning, 64..




IndiaTimes - Published





Migrant workers should not walk back home; trains, buses arranged: Telangana CM

Telangana Chief Minister K. Chandrashekhar Rao has instructed officials concerned to ensure that no migrant worker should undergo the unfortunate situation of walking back to his\her native place.




DNA - Published





Telangana cabinet to meet on Monday on new lockdown guidelines

The cabinet is likely to hold discussions on the fresh guidelines issued by the Centre on lockdown.




DNA - Published





Indian Navy's INS Jalashwa rescues 588 Indians stranded in Maldives

Among the returnees include 568 from Kerala and the rest from Tamil Nadu, Telangana, and Lakshadweep




DNA - Published





40 new cases take Telangana's tally to 1,454




IndiaTimes - Published





Most Shramik trains from Gujarat, Punjab and Telangana




IndiaTimes - Published





Two more deaths take Telangana's Covid-19 toll to 34




IndiaTimes - Published