Paschim Medinipur district
District of West Bengal in India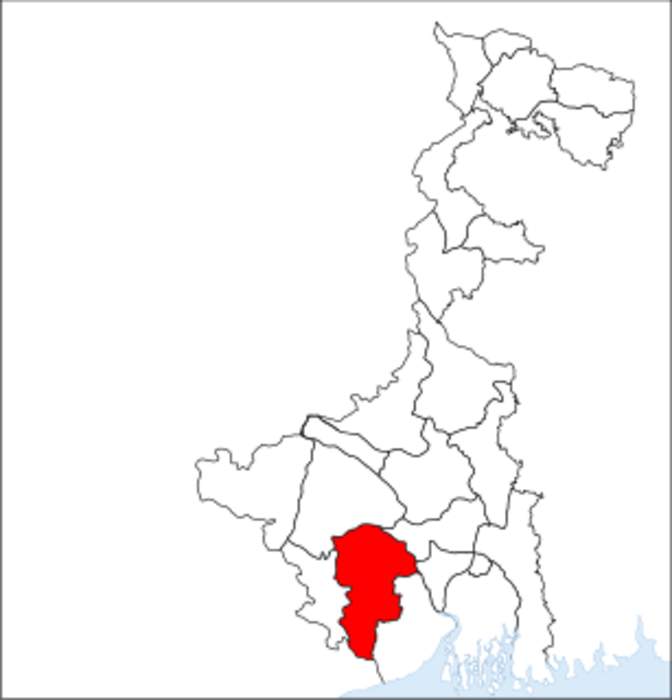 Paschim Medinipur district or West Midnapore district is one of the districts of the state of West Bengal, India. It was formed on 1 January 2002 after the Partition of Midnapore into Paschim Medinipur and Purba Medinipur. On 4 April 2017, the Jhargram subdivision was converted into a district.


You Might Like
Jagdeep Dhankhar to attend PM Narendra Modi-Mamata Banerjee meeting to review Yaas devastation
The meeting is scheduled to be held at Kalaikunda in Paschim Medinipur district on Friday afternoon after PM Modi undertakes an aerial survey of the affected areas, they said. Dhankhar will receive the..
IndiaTimes - Published
Union minister V Muraleedharan's car attacked in Bengal, alleges TMC hand
V Muraleedharan, the minister of state for external affairs & parliamentary affairs, on Thursday alleged that he was attacked by TMC goons in West Midnapore. The minister took to Twitter to allege that..
IndiaTimes - Published
Video: 'TMC goons attacked my convoy in West Midnapore,' alleges Union Minister V Muraleedharan
In a fierce battle of sorts against the Bharatiya Janata Party (BJP), the TMC won the recently concluded West Bengal Assembly elections.
DNA - Published
NIA nabs TMC leader Mahato in 12-year-old case
NIA arrested Trinamool Congress state secretary and former Maoist-backed Lalgarh activist Chhatradhar Mahato early on Sunday for allegedly getting armed tribals to hold a trainload of Rajdhani Express..
IndiaTimes - Published
Mamata asks 'Marxist friends' not to vote for CPM, Congress
West Bengal chief minister Mamata Banerjee campaigning in tribal Paschim Medinipur district on Thursday for the coming state election asked "Marxist friends" not to vote for either the CPM or Congress,..
IndiaTimes - Published
Amit Shah had lunch at house of farmer in Bengal
Union Home minister Amit Shah on Saturday had lunch at the house of a farmer in West Bengal's Paschim Medinipur district as part of his exercise to strengthen relations with the agriculturists ahead of..
IndiaTimes - Published
BJP govt at Centre should withdraw farm laws or steps down, says Mamata Banerjee
Addressing a rally in West Midnapore district, Banerjee asserted that she would rather stay in jail than "remain silent or put up with BJP's misrule".
IndiaTimes - Published
Highway to hell? Bengali youngsters aren't getting married because of their village's road condition
In West Midnapore, there are many villages under Rajnagar Gram Panchayat area of number 2 block of Daspur which have been facing problems of bad road conditions.
DNA - Published
After LS debacle, Congress, CPI(M) share seats for Bengal bypolls
The state leadership of the two parties decided in a meeting late on Friday that while the Congress will contest North Dinajpur district's Kaliaganj seat and West Midnapore district's Kharagpur seat,..
IndiaTimes - Published
TMC worker found dead, party blames BJP
A TMC worker was found dead at Narayangarh in West Medinipur district of West Bengal, police said on Tuesday. The body of 42-year-old Ganesh Bhuniya was found on a road beside a field near his..
IndiaTimes - Published