Sakshi Malik
Indian freestyle wrestler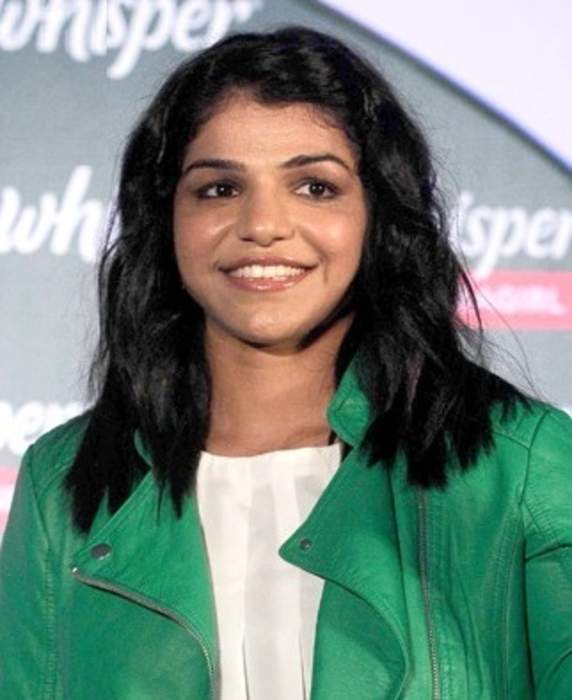 Sakshi Malik is an Indian freestyle wrestler. At the 2016 Summer Olympics, she won the bronze medal in the 58 kg category, becoming the first Indian female wrestler to win a medal at the Olympics. She is a part of the JSW Sports Excellence Program, along with fellow female wrestlers Vinesh Phogat, Babita Kumari and Geeta Phogat.


You Might Like
'Will be in court and not on road': Protesting wrestlers say fight against WFI chief a legal battle now
Vinesh Phogat, Sakshi Malik and Bajrang Punia posted identical tweet where they said the government has fulfilled its promise of filing a chargesheet against Singh.
DNA - Published
Babita Phogat hits back after Sakshi Malik accuses her of trying to weaken wrestlers' protest
Sakshi, in a tweet on Sunday, wrote, "In the video (posted on Saturday), we had taunted Teerath Rana and Babita Phogat that how they were trying to use wrestlers for their selfishness and how when the..
DNA - Published
Wrestlers' protest: WFI elections to be held by Jun 30, says Anurag Thakur after meeting protesting grapplers
Olympic medallists Bajrang Punia and Sakshi Malik met Union Sports Minister Anurag Thakur three days after Union Home Minister Amit Shah met them and discussed their demands.
DNA - Published
Why have wrestlers suspended their protest till June 15? Sakshi Malik, Bajrang Punia go back to govt jobs
Wrestler Bajrang Punia spoke about suspending the wrestlers' protest till June 15 after holding several meetings with top-ranking government officials, including Anurag Thakur.
DNA - Published
Wrestlers protest: Bajrang Punia, Sakshi Malik meet Union Sports Minister Anurag Thakur
Bajrang Punia, Rio Olympic bronze medallist Sakshi Malik and her wrestler husband Satyawart Kadiyan, arrived at the minister's house for the meeting.
DNA - Published
'Fulfilling my responsibility': Sakshi Malik on resuming Railway job amid reports of withdrawal from wrestlers' protest
Following news of her leaving from the wrestlers' protest, the Olympian wrestler Sakshi Malik took to Twitter.
DNA - Published
Wrestlers' protest: Olympic Committee breaks silence on 'disturbing' treatment of Sakshi Malik, Vinesh Phogat
"The treatment of the Indian wrestling athletes over the weekend was very disturbing. The IOC insists that the allegations by the wrestlers are followed up on by an unbiased, criminal investigation in..
DNA - Published
Wrestlers' protest: Vinesh Phogat, Sakshi Malik, Bajrang Punia and others call off medal immersion, know why
The wrestlers have been protesting for over a month now against WFI chief and BJP MP Brij Bhushan Sharan Singh over sexual harassment allegations.
DNA - Published
Sakshi Malik, Vinesh Phogat, Bajrang Punia to throw medals in Ganga at 6 pm, sit on hunger strike at India Gate
At 6 o'clock, wrestlers protesting Brij Bhushan Singh over charges of sexual harassment plan to throw their medals into the Ganga in Haridwar.
DNA - Published
DNA Verified: Viral photo of Delhi Police officer stomping wrestler Sakshi Malik's face fake? Know truth here
A photo is being circulated from the wrestlers'' protest in Delhi, which shows a police officer stomping on Olympic medal winner Sakshi Malik's face.
DNA - Published
Wrestlers say won't leave protest site till Singh is arrested; unfair to cast aspersions on integrity of oversight committee: Ministry
Welcoming the filing of an FIR against Brij Bhushan Sharan Singh, the group of protesting wrestlers led by Bajrang Punia, Vinesh Phogat and Sakshi Malik, on Friday, said that they will continue with..
IndiaTimes - Published
'7 wrestlers, 1 minor sexually harassed by WFI Chief Brij Bhushan, no action yet': Wrestlers protesting at Jantar Mantar
Sakshi Malik, Vinesh Phogat, and Bajrang Punia have resumed protest against WFI Chief Brij Bhushan at Jantar Mantar in New Delhi.
DNA - Published