Liverpool F.C.
Association football club in England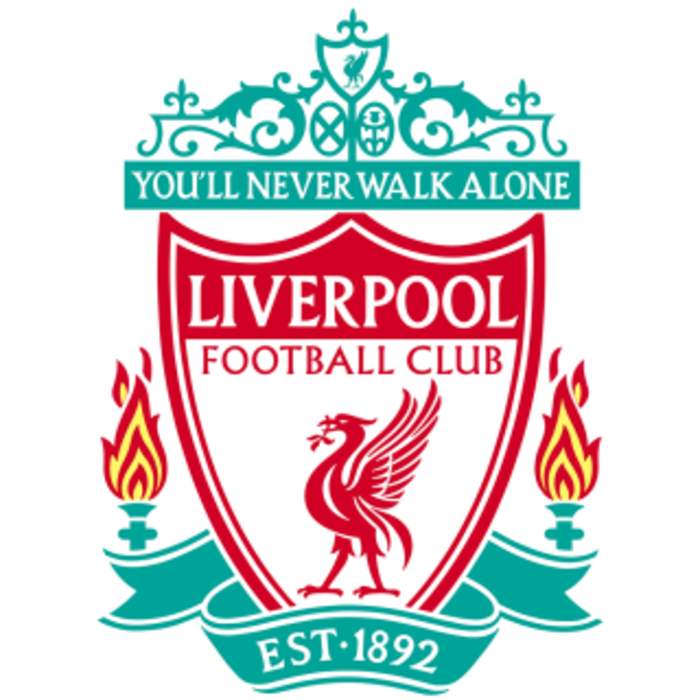 Liverpool Football Club is a professional football club based in Liverpool, England, that competes in the Premier League, the top tier of English football. Domestically, the club has won nineteen League titles, seven FA Cups, a record nine League Cups and fifteen FA Community Shields. In international competitions, the club has won six European Cups, more than any other English club, three UEFA Cups, four UEFA Super Cups, and one FIFA Club World Cup. In terms of trophies won, it is the joint-most successful club in English football.


Chelsea and Liverpool fans confident ahead of cup final

Fans of Liverpool and Chelsea make confident predictions ahead of the 2022 FA Cup Final as they congregate outside Wembley Stadium ahead of kick-off. Report by Blairm. Like us on Facebook at..
Credit: ODN Duration: 01:09
Published
You Might Like



Jurgen Klopp: Liverpool boss says there is no pressure despite quadruple on the line

Jurgen Klopp says there is no pressure on Liverpool as they put their historic quadruple pursuit on the line on the final day of the Premier League season.




BBC Sport - Published





'Not likely but possible' - Liverpool manager Jurgen Klopp on title hopes

Liverpool boss Jurgen Klopp says the title is "not likely but possible" after their 2-1 win at Southampton sends it down to the final day.




BBC Sport - Published





Southampton 1-2 Liverpool: Defeat by Liverpool 'frustrating' - Ralph Hasenhuttl

Southampton head coach Ralph Hasenhuttl says his side gave their "maximum", but it was "frustrating" to concede in the second half during their 2-1 defeat by Liverpool.




BBC Sport - Published





Southampton 1-2 Liverpool: Jurgen Klopp praises 'unbelievable' Liverpool performance

Liverpool boss Jurgen Klopp says his side were "outstanding" during their 2-1 win over Southampton but admits winning the Premier League title is "unlikely".




BBC Sport - Published





Southampton 1-2 Liverpool: Takumi Minamino and Joel Matip goals take title race to final day

Liverpool defeat Southampton to ensure the Premier League title race will go to the final day of the season.




BBC Sport - Published





Thiago Alcantara shines in Liverpool midfield evolution

Thiago is playing a pivotal role in Liverpool's bid to win a quadruple, with the Spain international benefitting from the Reds' midfield evolution.




BBC Sport - Published





Jurgen Klopp: Liverpool boss on booing of national anthem at FA Cup final

Liverpool boss Jurgen Klopp says fans booing the national anthem before the FA Cup final was "not something I enjoyed" but that they "wouldn't do it without a reason".




BBC Sport - Published




Andreas Christensen: Chelsea defender withdrew from squad on morning of FA Cup final

Chelsea defender Andreas Christensen declared himself not ready to play on the morning of Saturday's FA Cup final defeat by Liverpool.




BBC Sport - Published





Liverpool win FA Cup: How Jurgen Klopp sets the tone for everything Reds do - Alan Shearer

There is so much to admire about FA Cup winners Liverpool at the moment, and all of it is down to one man - Jurgen Klopp, says MOTD pundit Alan Shearer.




BBC Sport - Published





FA Cup final: 'It hurts' - Thomas Tuchel on Chelsea's shootout loss to Liverpool

Chelsea manager Thomas Tuchel admits it 'hurts' to lose again to Liverpool in a final following their 6-5 penalty shootout loss in




BBC Sport - Published





FA Cup final: Watch every penalty of Liverpool's shootout win

Watch every penalty of Liverpool's thrilling shootout win as they beat Chelsea to lift the FA Cup for the first time since 2006.




BBC Sport - Published





FA Cup final: 'My nails are gone!' - Jurgen Klopp on Liverpool's penalty shootout win

Liverpool manager Jurgen Klopp says it was 'nerve-wracking' watching his side beat Chelsea 6-5 on penalties to win the 2021-22 FA Cup.




BBC Sport - Published





FA Cup final: Liverpool beat Chelsea on penalties - highlights

Watch highlights as Liverpool beat Chelsea in a thrilling penalty shootout to win the FA Cup at Wembley after the final had finished goalless following a host of missed chances.




BBC Sport - Published





FA Cup final: Liverpool boss Jurgen Klopp says he 'could not be more proud' after beating Chelsea

Liverpool boss Jurgen Klopp "could not be prouder" of his side after they again outlast Chelsea on penalties to win the FA Cup.




BBC Sport - Published





FA Cup final: Konstantinos Tsimikas scores winning penalty for Liverpool against Chelsea

Konstantinos Tsimikas scores the winning penalty to seal Liverpool a 6-5 shoot-out victory against Chelsea to win the FA Cup after the final had finished goalless at Wembley.




BBC Sport - Published





FA Cup final: Liverpool hit post twice in 63 seconds against Chelsea

Liverpool hit the post twice in 63 seconds through Luis Diaz and Andrew Robertson as the FA Cup final against Chelsea finishes 0-0 after 90 minutes.




BBC Sport - Published





FA Cup final: Marcos Alonso free-kick hits bar for Chelsea against Liverpool

Chelsea's Marcos Alonso hits the Liverpool crossbar with a free-kick early in the second half as the FA Cup final at Wembley goes to extra-time after remaining goalless in 90 minutes.




BBC Sport - Published





Liverpool win FA Cup after beating Chelsea in penalty shootout at Wembley

Liverpool have won the FA Cup after beating Chelsea in a penalty shootout during the final at Wembley.




Sky News - Published





FA Cup Final: Chelsea v Liverpool: The story of Andy Robertson's amazing rise.

BBC Sport profiles defender Andy Robertson, from his early years in Scottish football, to the glory days with Jurgen Klopp's Liverpool who face Chelsea in this season's FA Cup final.




BBC Sport - Published





FA Cup: Watch all the goals from Liverpool's route to FA Cup final

Watch all the goals from Liverpool's route to the FA Cup final with victories over Shrewsbury Town, Cardiff City, Norwich City, Nottingham Forest & Manchester City.




BBC Sport - Published





FA Cup Final: Chelsea v Liverpool: Jurgen Klopp explains 'mentality monsters' tag

Liverpool manager Jurgen Klopp explains the meaning behind the "mentality monsters" tag his players have been given ahead of their FA Cup final clash with Chelsea.




BBC Sport - Published





2022 FA Cup final: Watch Chelsea v Liverpool on BBC One

All you need to know about Saturday's FA Cup final at Wembley between Chelsea and Liverpool, which is live on BBC One.




BBC Sport - Published





FA Cup final: Watch the last time Chelsea and Liverpool met in showpiece

BBC Sport looks back at the last time Chelsea faced Liverpool in the FA Cup final, back in 2012 - as the Blues won the trophy for the seventh time thanks to goals from Ramires and Didier Drogba.




BBC Sport - Published





Philippe Coutinho: Barcelona player joins Aston Villa permanently

Aston Villa sign former Liverpool playmaker Philippe Coutinho on a permanent deal from Barcelona.




BBC Sport - Published





FA Cup final: Chelsea's Mason Mount & Erin Cuthbert dream of FA Cup double

Chelsea have two FA Cup finals this weekend, with Mason Mount's men facing Liverpool and Erin Cuthbert's women facing Manchester City. Can they make it a double?




BBC Sport - Published





Premier League: How Man City & Liverpool could play off to decide title

With the Premier League title race set to go to the wire, BBC Sport look at how a 39th-match play-off is a real possibility.




BBC Sport - Published





Aston Villa 1-2 Liverpool: Sadio Mane winner keeps Reds title hopes alive

Sadio Mane scores the winner as Liverpool come from behind to beat Aston Villa and keep their Premier League title hopes alive.




BBC Sport - Published





Jurgen Klopp: Liverpool boss was looking for excuse, says Spurs' Antonio Conte

Antonio Conte says Jurgen Klopp was looking for an "excuse or an alibi" when he criticised Spurs' style in Saturday's 1-1 draw with Liverpool.




BBC Sport - Published





Premier League Archive: How Aston Villa stunned champions Liverpool in nine-goal thriller

Relive the nine goal thriller between Aston Villa and Liverpool, as Villa stunned the Premier League champions beating them 7-2 at Villa Park in October 2020.




BBC Sport - Published





Steven Gerrard: 'My job is to win games for Aston Villa' - but could he decide title race?

With his Aston Villa side still to play Liverpool and Manchester City, Anfield legend Steven Gerrard could still have a decisive say in the title race.




BBC Sport - Published





MOTD Top 10: Liverpool's Mohamed Salah's dilemma

This week's MOTD Top 10 looks at PFA Players of the Year. One of those - Mohamed Salah - has a big decision to make this summer, as does his club. So, will Mo stay at Liverpool?




BBC Sport - Published





'Everyone supports Liverpool', says Manchester City boss Pep Guardiola

Pep Guardiola says "everyone in the country supports Liverpool" after Manchester City moved three points clear in the Premier League.




BBC Sport - Published





Man City 5-0 Newcastle: Man City three clear of Liverpool in title race

Manchester City thrash Newcastle United to go three points clear of Liverpool at the top of the Premier League.




BBC Sport - Published





Match of the Day analysis: How 'brilliant' Tottenham gameplan frustrated Liverpool

Match of the Day's Alan Shearer explains how Tottenham manager Antonio Conte's perfectly executed gameplan frustrated Liverpool in the 1-1 draw at Anfield.




BBC Sport - Published





Liverpool 1-1 Tottenham Hotspur: Antonio Conte 'happy' with Anfield draw

Tottenham manager Antonio Conte says his team should be happy with a 1-1 draw against Liverpool at Anfield, which keeps Spurs' top-four hopes alive.




BBC Sport - Published





Liverpool 1-1 Tottenham Hotspur: Jurgen Klopp vows Liverpool will 'keep going'

Liverpool manager Jurgen Klopp says the number of games his team have had to play makes winning four trophies "unlikely" after the draw with Tottenham.




BBC Sport - Published





Liverpool 1-1 Tottenham Hotspur: Luis Diaz equaliser sends Reds top

Luis Diaz salvages a point for Liverpool against Tottenham to take the Reds top of the Premier League on goal difference.




BBC Sport - Published





Champions League final: Liverpool manager Jurgen Klopp questions ticket allocation

Liverpool boss Jurgen Klopp questions why almost half the tickets for the Champions League final against Real Madrid are not allocated to the clubs.




BBC Sport - Published





Liverpool v Tottenham: Victor Wanyama & Mohamed Salah star in best goals at Anfield

Watch five great goals scored in Liverpool-Tottenham games at Anfield over the past 12 years, including Victor Wanyama's wonder strike and Mohamed Salah's magic feet.




BBC Sport - Published





Liverpool shareholder RedBird seeks €1bn extra-time winner with AC Milan bid

An investment vehicle which owns a stake in Liverpool Football Club's parent company is trying to gatecrash a €1bn-plus takeover of AC Milan, one of the giants of Italian football.




Sky News - Published





Villarreal 2-3 Liverpool: Champions League - Jurgen Klopp on his mentality monsters

Liverpool manager Jurgen Klopp praises his side for surviving a first-half scare against Villarreal to win 3-2 and reach the Champions League final.




BBC Sport - Published





Liverpool beat Villarreal: How the Reds came back from the brink in Champions League semi-final

Liverpool's quadruple hopes were hanging in the balance at half-time against Villarreal but they found a way to make it to the Champions League final.




BBC Sport - Published





Villarreal v Liverpool: Does Unai Emery get respect he deserves?

Unai Emery has a record to rival many of Europe's top managers yet he has faced regular criticism this year, writes Guillem Balague.




BBC Sport - Published





Villarreal v Liverpool: Jurgen Klopp warns Reds will have to 'be ready to suffer' in Champions League semi-final

Liverpool will have to "be ready to suffer" in their Champions League semi-final second leg against Villarreal, warns boss Jurgen Klopp.




BBC Sport - Published





Liverpool quadruple bid: How the Reds are closer than any other English club to historic haul

There have been 120 other attempts by 15 English clubs to win the quadruple since 1960 - Liverpool are now closer than any of them to a historic clean sweep.




BBC Sport - Published





Newcastle 0-1 Liverpool: 'Role model' James Milner underlines strength in depth

James Milner's 'outstanding' display against Newcastle highlighted the quality of Liverpool's strength in depth - and that may serve them well in their hunt for a quadruple.




BBC Sport - Published





Newcastle 0-1 Liverpool: Jurgen Klopp says Reds display 'really special'

Liverpool boss Jurgen Klopp says they played a "top class game" in a 1-0 win at Newcastle which saw them go top of the Premier League.




BBC Sport - Published





Newcastle 0-1 Liverpool: Naby Keita scores as Reds go top

Liverpool stay in contention for the quadruple as they overcome a spirited Newcastle to move back to the top of the Premier League.




BBC Sport - Published





Football Focus: Sadio Mane wants to win 'everything' with Liverpool

Liverpool striker Sadio Mane describes himself as a "fighter" and says he wants to "go for everything" in terms of trophies with Liverpool this season.




BBC Sport - Published





Jurgen Klopp: Liverpool boss signs contract extension until 2026

Liverpool manager Jurgen Klopp signs a two-year contract extension that commits him to the club until 2026.




BBC Sport - Published