Taslima Nasrin
Poet, columnist, novelist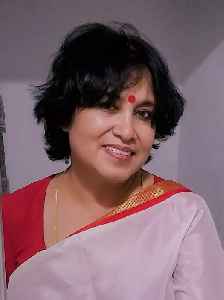 Taslima Nasrin is a Bangladeshi-Swedish writer, physician, feminist, secular humanist and human rights activist. She is known for her writing on women's oppression and criticism of religion, despite forced exile and multiple fatwas calling for her death. Nasrin's works have been translated into 30 different languages. Some of her books are banned in Bangladesh. She has been blacklisted and banished from the Bengal region.


You Might Like
Taslima Nasreen, AR Rahman's daughter spar over burqa
On February 11, Nasreen shared a picture of Khatija in a black veil on Twitter and wrote around 11am, "I absolutely love A R Rahman's music. But whenever i see his dear daughter, i feel suffocated...
IndiaTimes - Published
'Even my cat is Indian': 'Daughter of the soil' Taslima Nasreen hopes to make India her home forever
Relieved after getting a one- year extension on her residence permit, Bangladeshi writer Taslima Nasreen has expressed hope that the government will consider giving her either a longer permit or a..
DNA - Published
I'm daughter of this soil, hope to get permanent or longer resident permit: Taslima
IndiaTimes - Published
Taslima Nasreen gets one-year Indian residence permit
Taslima, a citizen of Sweden, has been getting residence permit on a continuous basis since 2004. A home ministry official told PTI that her residence permit has been further extended for one more year..
IndiaTimes - Published
Bangladeshi author Taslima Nasreen completes 25 years in exile
Apart from being a writer, Nasreen is also a physician, having studied medicine in her early years in Bangladesh.
DNA - Published
Search this site and the web: