Raj Kundra
British businessman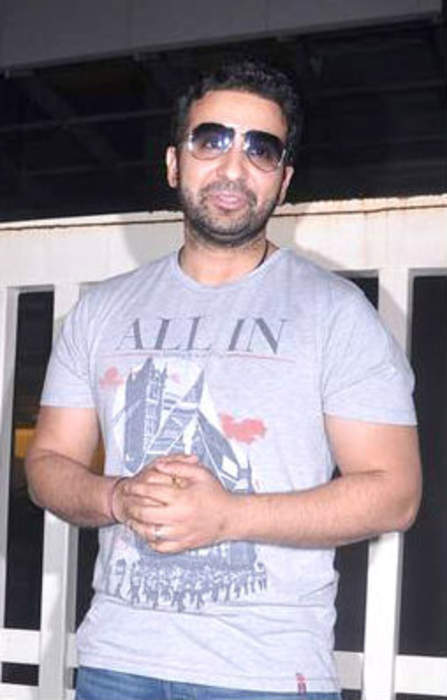 Raj Kundra is a British Indian businessman. In 2004, he was ranked as the 198th richest British Asian by Success. His father, Bal Krishan Kundra was a middle-class businessman and his mother Usha Rani Kundra was a shop assistant when he was a child. Kundra has had various investment interests, including cricket and mixed martial arts. He has been married to Shilpa Shetty, a Bollywood actress, since 2009.


Sherlyn Chopra accuses Raj Kundra of sexual misconduct: 'Tried to kiss me' | Oneindia News

The Dhanbad judge hit and run case has taken a chilling turn after CCTV footage points at murder, case raised in Supreme Court; Kerala has extended its weekend lockdown after it experiences a worrying..
Credit: Oneindia Duration: 02:48
Published
Raj Kundra's rise to fame: Bus conductor's son to one of Britain's richest Asians | Oneindia News

Businessman Raj Kundra popularly known for being actor Shilpa Shetty's husband, finds himself in the middle of a legal storm over a pornstreaming app case. How did he rise to become one of UK's richest..
Credit: Oneindia Duration: 02:22
Published
6 Assam Police personnel dead in Assam-Mizoram border, says CM Himanta Biswa Sarma | Oneindia News

According to virologists and epidemiologists. the Delta variant is capable of infecting fully vaccinated people at a greater rate than previous versions; Today, violence broke out at the disputed..
Credit: Oneindia Duration: 02:43
Published
Imran Khan's shrill election campaign in PoK, rakes up Kashmir referendum | Oneindia News

The death toll in Maharashtra owing to rain-related incidents went up to 100 at least while 59 remained missing; Indian weightlifter Mirabai Chanu bagged the country's first medal at the ongoing Tokyo..
Credit: Oneindia Duration: 03:47
Published
Shilpa Shetty's first post after Raj Kundra's arrest| Pornographic Film Case | Oneindia News

Actress Shilpa Shetty, late on Thursday night, shared a cryptic Instagram story, which appears to be a page out of one of author James Thurber's books. Shilpa Shetty's Instagram story arrives days..
Credit: Oneindia Duration: 02:12
Published
Raj Kundra was running operations for a London-based firm: Mumbai Police| Oneindia News

India reported 42,015 new Covid cases in the past 24 hours, much higher than Tuesday's 30,000. Allegations that hundreds of numbers in India were potential targets of Pegasus spyware supplied to..
Credit: Oneindia Duration: 03:07
Published
Lok Sabha: Day 2 of chaos| Opposition members stoop to well of house| Pegasus Row| Oneindia News

In another day of chaos, some opposition members stooped to the well of the lower house, raising placards and shouting slogans like snooping government. Prime Minister Narendra Modi today said the..
Credit: Oneindia Duration: 02:42
Published
You Might Like
Search this site and the web: