Constitution
Fundamental principles that govern a state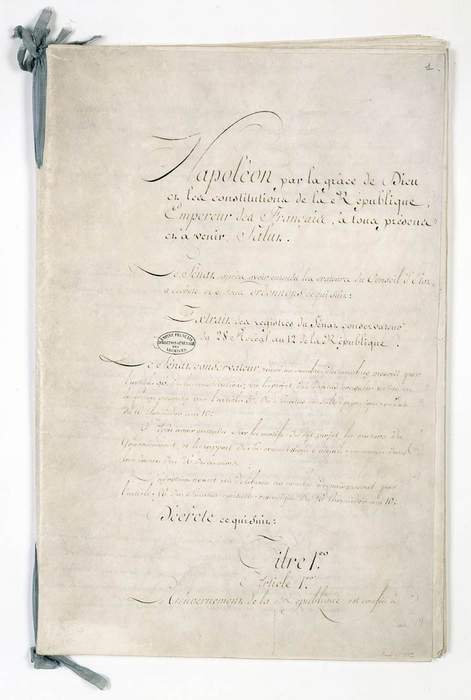 A constitution is an aggregate of fundamental principles or established precedents that constitute the legal basis of a polity, organisation or other type of entity and commonly determine how that entity is to be governed.


You Might Like
PM Modi slams 'colonial mindset', highlights India's efforts towards environmental conservation
Prime Minister Narendra Modi said that India's Constitution is the biggest strength and inspiration to counter the colonial mindset.
DNA - Published
Govt finalises 3 tweaks for state OBC powers
Aiming to overturn the Supreme Court judgment and restore the rights of states to identify the OBCs for local purposes, the Modi government is embracing the very changes to the 102nd Constitutional..
IndiaTimes - Published
Constitution supreme for me, there is no pressure: Rajasthan governor Kalraj Mishra
"The Constitution is supreme for me," Rajasthan Governor Kalraj Mishra said on Thursday, and refuted allegations that he had acted under the Central government's pressure in the political tussle.
IndiaTimes - Published
Bennett University's global webinar on Constitutional and legal challenges on June 12; HRD minister to give inaugural address
IndiaTimes - Published
25 foreign envoys to be taken on J&K visit, Russia declines invite
The Russian envoy in New Delhi said "those who are concerned about the situation in Kashmir, those who have doubt about Indian policy in Kashmir can travel to Kashmir." Russia did not feel the need to..
IndiaTimes - Published
Giriraj fires 'extremist, Pakistan' barb at Owaisi after he attacks BJP over action against Jamia students
BJP leader Giriraj Singh on Monday accused AIMIM chief Asaduddin Owaisi of "poisoning" educational institutes like Jamia Millia and AMU. "Owaisi and other anti-Constitution people like him must be..
IndiaTimes - Published
No force can take away freedom of our forefathers, Constitution: Pavan Verma
IndiaTimes - Published
Citizenship on religious basis 'antithetical' to Constitution: Owaisi
AIMIM president Asaduddin Owaisi on Saturday claimed that citizenship granted on "religious basis" was "antithetical" to the Constitution, which was enough reason to oppose the controversial CAA.
IndiaTimes - Published
Modi govt committed to ensure country's unity, integrity; serve 130 crore Indians: Amit Shah
In a series of tweets on the occasion of the Constitution Day, Amit Shah said the Constitution is the soul of Indian democracy. "A tribute to Babasaheb Ambedkar, who gave the country a progressive..
IndiaTimes - Published
Maharashtra governor made 'mockery' of Constitutional process: Congress on President rule recommendation
IndiaTimes - Published
Today, BJP has murdered the Constitution, democracy: Azad after Centre scraps Article 370
"I strongly condemn the act of 2-3 MPs (PDP's Mir Fayaz and Nazir Ahmed Laway who attempted to tear constitution). We stand by the Constitution of India. Hum Hindustan ke samvidhaan ki raksha ke liye..
IndiaTimes - Published
Cong urges govt not to precipitate crisis in J&K, maintain state's Constitutional guarantees
IndiaTimes - Published