Locust
Swarming grasshoppers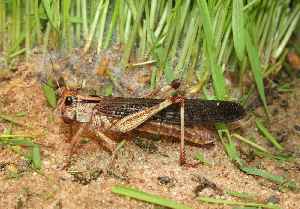 Locusts are a collection of certain species of short-horned grasshoppers in the family Acrididae that have a swarming phase. These insects are usually solitary, but under certain circumstances they become more abundant and change their behaviour and habits, becoming gregarious. No taxonomic distinction is made between locust and grasshopper species; the basis for the definition is whether a species forms swarms under intermittently suitable conditions.


Swarms of locusts attack Rajasthan's Chomu

Swarms of locusts attacked Hasteda village in Rajasthan's Chomu. Locusts have caused severe damage to the crops. One of the farmers said, "Locusts have attacked our village for the 4th time. They have..
Credit: ANI Duration: 02:11
Published
Swarm of locusts hit Madhya Pradesh's Shivpuri

A swarm of locusts hit Shivpuri district of Madhya Pradesh on May 30. A farmer said, "Locusts destroyed our crop. We took precautionary measures like spraying of pesticides, producing sound with the..
Credit: ANI Duration: 01:21
Published
Jabalpur farmers to use sound of tin cases, tractors to keep locusts at bay

Swarms of desert locusts have reached around the border of Jabalpur district of Madhya Pradesh. The farmers have been asked to be prepared for the locusts attack by using tin cases, tractors' sound..
Credit: ANI Duration: 01:28
Published
You Might Like
Search this site and the web: