Guru Purnima
Spiritual tradition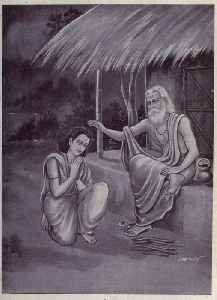 Guru Purnima (Poornima) is also known as Vyasa Purnima marks the birthday of Ved Vyasa. It is a tradition dedicated to all the spiritual and academic Gurus, who are evolved or enlightened humans, ready to share their wisdom with very little or no monetary expectation, based on Karma Yoga. It is celebrated as a festival in India, Nepal and Bhutan by the Hindus, Jains and Buddhists. This festival is traditionally observed by Hindus, Buddhists and Jains to revere their chosen spiritual teachers / leaders and express their gratitude. The festival is celebrated on the full moon day (Purnima) in the Hindu month of Ashadha (June–July) as it is known in the Hindu calendar.


You Might Like
Guru Purnima 2020: Date, time, significance of festival
On this devout day of Guru Purnima, where people attach immense religious significance to this festival here in India, we recount here the best ways to celebrate this revered day with whole-hearted..
DNA - Published
PM Modi extends greetings on 'Guru Purnima'
"Many wishes on Guru Purnima. Today is a special day to honour the gurus who make life meaningful," the prime minister said in a tweet. He paid his respect to all the gurus on the occasion.
IndiaTimes - Published
Rahul Gandhi extends wishes on Guru Purnima
"Three things that cannot be hidden for long - Sun, Moon, and Truth - Gautam Buddha. Best wishes to all of you on the occasion of Guru Purnima," the Congress leader wrote on the microblogging site..
IndiaTimes - Published
PM Modi meets Vishvesha Teertha Swami of Pejawara Matha on Guru Purnima
PM Narendra Modi on Tuesday met Vishvesha Teertha Swami of the Pejawara Matha, Udupi, on the occasion of Guru Purnima. Vishvesha Teertha Swami is the 32nd head of the Pejavara Matha, which is one of..
IndiaTimes - Published
PM Modi, other leaders wish nation on Guru Purnima
"On the auspicious day of Guru Purnima, we bow in reverence to all our Gurus who have played an important role in inspiring, moulding and shaping our society" the Prime Minister tweeted.
IndiaTimes - Published
Search this site and the web: