United States Capitol
Seat of the United States Congress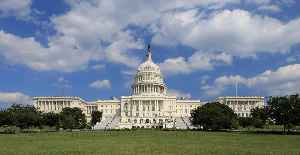 The United States Capitol, often called the Capitol Building, is the home of the United States Congress and the seat of the legislative branch of the U.S. federal government. It is located on Capitol Hill at the eastern end of the National Mall in Washington, D.C. Though no longer at the geographic center of the Federal District, the Capitol forms the origin point for the District's street-numbering system and the District's four quadrants.


House backs release of Trump whistleblower complaint 421-0
The U.S. House of Representatives voted 421-0 on Wednesday for a resolution calling on President Donald Trump to release a whistleblower complaint to Congress, despite the administration letting them..
Reuters - Published
Search this site and the web:
You Might Like