Central America
Region of the Americas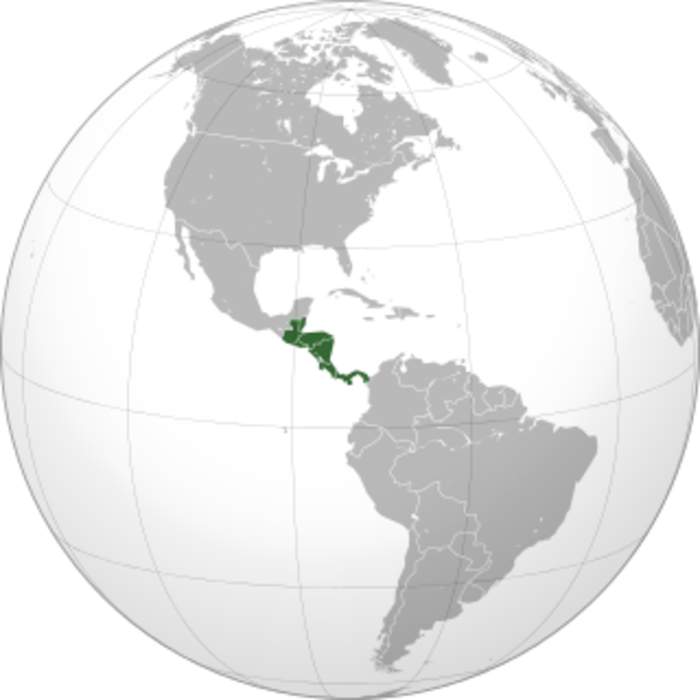 Central America is a region of the Americas. It is bordered by Mexico to the north, Colombia to the southeast, the Caribbean Sea to the east and the Pacific Ocean to the west and south. Central America consists of seven countries: Belize, Costa Rica, El Salvador, Guatemala, Honduras, Nicaragua and Panama. Their combined population is estimated at 44.53 million (2016).


Fighting corruption key to U.S. migrant strategy

The United States must fight corruption in Central America and help its economies in order to stem migration, Vice President Kamala Harris said on Friday in a call with Mexico's president. Gavino Garay..
Credit: Reuters - Politics Duration: 02:04
Published
U.S. considering cash payments to stem migration

The United States is considering a conditional cash transfer program to help address economic woes that lead migrants from certain Central American countries to trek north, a senior White House..
Credit: Reuters - Politics Duration: 01:21
Published
Mexico suggests U.S. citizenship for reforestation

Mexican President Andres Manuel Lopez Obrador on Thursday suggested the U.S. government offer temporary work visas and eventually citizenship to those who take part in a vast tree planting program he..
Credit: Reuters - Politics Duration: 01:13
Published
White House tensions rise over migrant kids

Top aides to President Joe Biden are ramping up pressure on the agency that shelters thousands of unaccompanied migrant children, voicing frustration that kids are not being released quickly enough..
Credit: Reuters - Politics Duration: 01:53
Published
Iota downgraded to tropical storm after pummeling Nicaragua

Iota is now a tropical storm, but the downgrade will do nothing to minimize the devastation it brought when it barreled into Central America as it was still recovering from Eta. CNN's Karen Maginnis..
Credit: Bleacher Report AOL Duration: 01:40
Published
American dream dashed for migrants deported to Mexico

Central American families who sought asylum in the U.S. instead found themselves sleeping on bunks in a migrant shelter in Mexico. This report produced by Zachary Goelman.
Credit: Reuters - Politics Duration: 02:11
Published
Migrants face long paths to the U.S.-Mexico border

Maritza Hernandez arrived at this Guatemalan border town tired and broke, with two young kids and more than a thousand miles to go. She was motivated by a simple, if not entirely accurate, story. Bryan..
Credit: Reuters - Politics Duration: 02:09
Published
Students bring their voices to the fight against modern slavery

Dozens of students from North, South and Central America join modern slavery experts and CNN's Donie O'Sullivan for the #MyFreedomDay Global Forum.
Credit: Bleacher Report AOL Duration: 59:46
Published
Biden taps Harris to lead border efforts

President Joe Biden on Wednesday named Vice President Kamala Harris to lead U.S. efforts with Mexico and Central America's Northern Triangle countries to try to stem the flow of migration to the United..
Credit: Reuters - Politics Duration: 02:18
Published
House passes immigrant protections for 'Dreamers'

The U.S. House of Representatives on Thursday voted to give young immigrants nicknamed "Dreamers," who came to the United States illegally as children, protections against deportation and a pathway to..
Credit: Reuters - Politics Duration: 02:31
Published
You Might Like



Honduras 'responsible' for kidnapping indigenous activists over territorial dispute

Honduras has become one of the world's most dangerous places for environmental land rights activists after a series of murders in the Central American country over the past two years.




Sky News - Published




Honduran president hospitalized for Covid-19, treated for pneumonia

Honduran President Juan Orlando Hernandez has been hospitalized for Covid-19 and is being treated for pneumonia, a health official said on Wednesday, a day after the Central American leader's diagnosis..




Reuters - Published





Salvadoran president vetoes coronavirus law again - legal team

Salvadoran President Nayib Bukele has for the second time vetoed emergency legislation passed to regulate the Central American country's coronavirus policy and usher in a gradual reopening of its..




Reuters - Published





Panama reinstates some curbs on people movement to fight coronavirus

Panama's government on Saturday said it would reimpose curbs on the movement of people in two provinces with the highest incidence of coronavirus following the latest increases in new infections in the..




Reuters - Published





Stranded in Central America, migrants demand passage to U.S. border

Panama has stepped up border controls in the vast and wild Darien Province that neighbors Colombia, authorities said on Thursday, after some members of a group of 1,900 migrants from as far afield as..




Reuters - Published





African, Caribbean migrants continue trek towards U.S. border

Migrants from Africa and the Caribbean, stranded in Honduras after Central American countries closed their borders to curb the spread of the novel coronavirus, on Wednesday kept marching north in an..




Reuters - Published





Deaths from Storm Amanda rise to 20 in Central America

Torrential rains at the weekend caused by Tropical Storm Amanda have killed at least 20 people in Central America, authorities said on Monday, as remnants of the weather front moved north into Mexico..




Reuters - Published





El Salvador's Congress OKs law to reopen economy, President Bukele vows veto

El Salvador's Congress passed a new emergency bill to address the impact of the coronavirus crisis and gradually reopen the Central American nation's economy, while President Nayib Bukele has vowed to..




Reuters - Published





Defying pandemic, gay couples hold first marriages in Costa Rica

Marco Castillo and his boyfriend, Rodrigo Campos, waited just a few hours to take advantage of a new law in Costa Rica that made the country the first in Central America to allow same-sex marriage.




Reuters - Published





Guatemala president scolds U.S. for deporting migrants with coronavirus

Guatemalan President Alejandro Giammattei criticized the United States on Thursday for sending back migrants infected with the novel coronavirus to his Central American country and straining its weak..




Reuters - Published





At centers for stranded migrants in Panama, 59 test positive for coronavirus

Fifty-nine migrants in Panamanian migration centers have tested positive for the coronavirus, a health official said, as thousands of migrants in the Central American nation wait to advance on their..




Reuters - Published





El Salvador's president proposes re-opening of economy from June 6

El Salvador's President Nayib Bukele said on Monday he would propose to lawmakers to gradually re-open the economy from June 6, in the wake of strict curbs to prevent the spread of the coronavirus in..




Reuters - Published





Nicaragua reports more pneumonia deaths, some tied to COVID-19

Nicaraguan President Daniel Ortega said on Monday that 309 people have died of pneumonia since January in the Central American country, 87 more people than in the same period last year, but that only..




Reuters - Published





U.S. charges ex-Honduran police chief 'El Tigre' with drug conspiracy

U.S. prosecutors on Thursday announced drug trafficking charges against a former chief of the Honduran National Police, the latest in a string of U.S. drug cases against officials of the Central..




Reuters - Published





Guatemala says 50 migrants deported from U.S. test positive for coronavirus

Guatemalan President Alejandro Giammattei said on Sunday a total of 50 migrants deported by the United States to Guatemala have tested positive for coronavirus, including 14 sent to the Central..




Reuters - Published




Honduras extends curfew by one week in fight against coronavirus

The government of Honduras on Sunday extended a curfew through April 26 in an effort to contain the coronavirus which has infected 472 people and killed 46 in the impoverished Central American country.




Reuters - Published





Guatemala says 32 on deportation flight from U.S. infected with coronavirus

Thirty-two Guatemalan migrants on a deportation flight from the United States earlier this week have now tested positive for the coronavirus, according to the Central American nation's health ministry.




Reuters - Published





Deported from U.S., Guatemalans fear infection in mass quarantine

More than 230 deported Guatemalans being held in mass quarantine at a sports center in the Central American nation's capital are fearful they may have been exposed to the coronavirus after compatriots..




Reuters - Published





Cuba will send medical team to Honduras to fight the coronavirus: health minister

Honduran Health Minister Alba Consuelo Flores said on Thursday that a Cuban medical brigade would join local medics in the fight against the novel coronavirus as it spreads in the poor Central American..




Reuters - Published





El Salvador's congress extends national coronavirus emergency law

El Salvador's congress on Sunday extended a national emergency law that allows the government to prolong certain health measures aimed at curbing the spread of the novel coronavirus in the Central..




Reuters - Published





Guatemala registers 16 new coronavirus cases, infections rise to 153 - president

Guatemala reported 16 new cases of the coronavirus on Saturday, bringing the Central American nation's total to 153 cases, President Alejandro Giammattei said.




Reuters - Published





Nicaraguan president missing in action for nearly one month and counting

During Nicaragua's devastating civil war in the 1980s, youthful revolutionary Daniel Ortega toured every town in the Central American nation, clad in his green Sandinista uniform.




Reuters - Published





Guatemala seeks curbs on U.S. deportation of immigrants

Guatemala has asked the United States to limit its deportations of immigrants to the Central American country to 25 persons per plane because of concerns over the spread of the coronavirus, Health..




Reuters - Published





Guatemala bans internal travel for Easter to curb coronavirus spread

Guatemalan President Alejandro Giammattei has banned travel between the different departments of the Central American country before and during Easter to curb the spread of the novel coronavirus.




Reuters - Published





Thousands of Central Americans detained for flaunting coronavirus rules

Thousands of people have been detained across Central America for violating rules put in place by their governments to curb the fast-spreading new coronavirus in a region that has fewer medical..




Reuters - Published





Panama registers 1,475 coronavirus cases, 37 deaths

Panama's health ministry said on Thursday it had registered 1,475 coronavirus cases in the Central American country, an increase of 158 from a day earlier.




Reuters - Published





Migrants in Central American limbo as coronavirus relocation plans falter

Thousands of African, Haitian and Asian migrants bound for the United States have amassed in immigration shelters in Panama and Costa Rica as plans to relocate them to less crowded areas to lower the..




Reuters - Published





Nicaragua reports first death from coronavirus

Nicaragua has registered the Central American country's first death from coronavirus, an HIV-positive person with multiple health conditions, the health ministry on Thursday




Reuters - Published





Panama reports 116 new coronavirus cases and nine total deaths

Panama registered 116 new cases of coronavirus on Thursday, health officials said, bringing the Central American country's total number of cases to 674.




Reuters - Published




Costa Rica confirms 30 new coronavirus cases, total now at 231

Costa Rican Health Minister Daniel Salas said on Thursday that there are 30 new confirmed coronavirus cases in the Central American nation, bringing the total number or cases to 231.




Reuters - Published





Panama reports nearly 30% jump in new coronavirus cases

Panama health officials reported 68 new coronavirus cases on Sunday, up 28% from the previous day, bringing the total number of infected persons in the Central American country to 313.




Reuters - Published





'Zero season': Costa Rica tourism industry braces for coronavirus meltdown

Hoteliers, tour operators and restaurant owners in Costa Rica are bracing for their worst season on record after the Central American country closed its border until mid-April to tackle the coronavirus..




Reuters - Published





Honduran government says confirmed coronavirus cases rise to 24

The Honduran government said on Thursday the number of registered cases of coronavirus infection in the Central American country had risen to 24.




Reuters - Published





New York, Los Angeles shut bars, restaurants, world's central banks coordinate on coronavirus

Bars, restaurants, theaters and movie houses in New York and Los Angeles were ordered to shut down and several nations in South and Central America closed their borders in the latest moves around the..




Reuters - Published




South, Central American nations tighten borders to combat coronavirus

Guatemala logged its first fatality from coronavirus on Sunday as nations in South and Central America ramped up measures to contain the infection, with Panama banning entry of non-resident foreigners..




Reuters - Published




Guatemala reports first coronavirus death, an elderly man back from Spain

Guatemala has registered its first fatality from coronavirus infection, an elderly man who had recently visited Madrid, Health Minister Hugo Monroy said on Sunday, in one of the first deaths from the..




Reuters - Published





Costa Rica closes bars and discos over coronavirus, infections rise

The Costa Rican government has ordered the closure of all bars and discos to combat the spread of coronavirus as the tally of registered infections in the Central American country rose to 35, the..




Reuters - Published





Central American countries up fight against coronavirus

Central American countries took further and tougher steps to contain the fast-spreading coronavirus on Saturday with measures ranging from bans on large gatherings to travel restrictions.




Reuters - Published




El Salvador Congress backs emergency measures to stop coronavirus

El Salvador's Congress on Saturday approved a series of emergency measures sought by President Nayib Bukele to prevent the spread of coronavirus into the Central American country and to off the risk of..




Reuters - Published




Honduras registers third coronavirus case, president says

Honduran authorities have detected the Central American country's third case of coronavirus infection, President Juan Orlando Hernandez said on Friday.




Reuters - Published





Panama coronavirus tally rises to 36, includes three foreigners

Panama's Health Minister Rosario Turner on Friday said the number of confirmed coronavirus cases in the Central American country has risen to 36, and includes three foreigners.




Reuters - Published





Honduras' biggest university suspends operations to contain coronavirus

Honduras' National Autonomous University, the largest university in the Central American country with about 87,000 students, will suspend operations indefinitely to prevent the spread of coronavirus,..




Reuters - Published





Salvadoran police face trial for murder of trans woman deported from U.S.

Three police officers in El Salvador will be tried for the murder of a transgender woman who was deported from the United States two years ago after failing to prove her life was at risk in the violent..




Reuters - Published





Panama orders short-term closure of all schools due to coronavirus

Panama's government ordered the temporary closure of all schools, public and private, due to coronavirus concerns, officials with the Central American nation's education and health ministries said on..




Reuters - Published





Costa Rica reports 22 coronavirus cases, nearly double prior tally

Costa Rica's health ministry confirmed on Wednesday that the number of coronavirus cases in the Central American country increased to 22, up from 13 previously reported.




Reuters - Published





Panama confirms first coronavirus case after woman showed symptoms

A 40-year-old woman in Panama has tested positive for coronavirus, the country's health minister said on Monday, marking the first such case in the Central American nation.




Reuters - Published





Panama's health ministry confirms first coronavirus case

A 40-year-old women in Panama has tested positive for coronavirus, the country's health minister said on Monday, marking the first such case in the Central American nation.




Reuters - Published





Costa Rica confirms first coronavirus case in Central America

Costa Rica's government on Friday said it confirmed its first case of coronavirus, in a 49-year-old woman from the United States who is in the Central American nation with her husband.




Reuters - Published





Exclusive: Guatemala seeks to limit migrants returned under U.S. asylum agreement

Guatemala's new government is trying to limit the number of foreign migrants the United States sends its way under an agreement that makes the Central American nation a buffer zone to reduce U.S...




Reuters - Published