Brisbane
Capital city of Queensland, Australia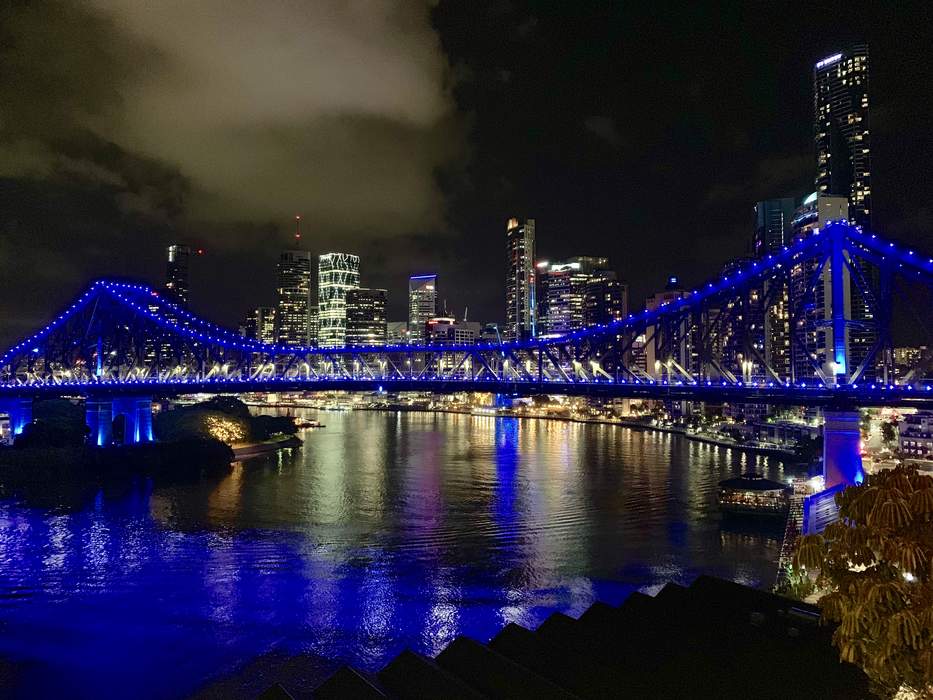 Brisbane is the capital of and the most populated city in the Australian state of Queensland, and the third most populous city in Australia. Brisbane's metropolitan area has a population of over 2.5 million, and the South East Queensland metropolitan region, centred on Brisbane, encompasses a population of more than 3.6 million. The Brisbane central business district stands on the historic European settlement and is situated inside a peninsula of the Brisbane River, about 15 kilometres from its mouth at Moreton Bay, a bay of the Coral Sea. The metropolitan area extends in all directions along the hilly floodplain of the Brisbane River Valley between Moreton Bay and the Taylor and D'Aguilar mountain ranges. It sprawls across several of Australia's most populous local government areas (LGAs)—most centrally the City of Brisbane, which is by far the most populous LGA in the nation. The demonym of Brisbane is "Brisbanite", whilst common nicknames include "Brissy", "River City" and "Brisvegas".


Olympics-Brisbane the frontrunner to land 2032 Games as talks with IOC start

Queensland is now the frontrunner to host the 2032 Olympic Games after the IOC confirmed it's their preferred bid.
Credit: Reuters - Sports Duration: 01:44
Published
Brisbane leads race to host 2032 Olympics

Brisbane took a major step towards being named 2032 Olympic hosts after the International Olympic Committee said on Wednesday that the Australian city had been picked as the preferred partner to start..
Credit: Reuters Studio Duration: 01:18
Published
'Budget 2021 like Chennai loss, not Brisbane win': Tharoor mocks Sitharaman

Congress MP Shashi Tharoor on Wednesday said that the central government's Union Budget 2021-22 deceived people with respect to the allocation in defence and health sectors. During the discussion on..
Credit: HT Digital Content Duration: 07:26
Published
My career has just begun, don't want to relax: Siraj

After returning from Australia tour, cricketer Mohammed Siraj said, "My family gave me confidence which motivated me. My mom used to say to stay back in Australia and to fulfil dad's dream...I think my..
Credit: ANI Duration: 01:07
Published
Celebrating India's series victory in Australia

A detailed look at how India managed to beat Australia in consecutive overseas tours with a special focus on the team's incredible "miracle in Brisbane" Test.
Credit: HT Digital Content Duration: 30:53
Published
Watch: Indian cricket team returns after historic series win in Australia

Members of the Indian cricket team arrived in Mumbai from Australia tour on January 21. The players have been advised to remain in 7-day home quarantine, an official informed. Ajinkya Rahane, Rohit..
Credit: HT Digital Content Duration: 02:02
Published
It was simply unreal: Ravi Shastri on Rahane taking over captaincy

After winning the Border-Gavaskar Trophy, team India coach Ravi Shastri said "Feeling defeated is one thing but giving up is not in our vocabulary, team showed it. Virat (Kohli) may not be here but his..
Credit: ANI Duration: 01:46
Published
Winning in Australia significant achievement: Rajeev Shukla

BCCI vice-president Rajeev Shukla hailed team India's performance at Gabba Stadium in Australia's Brisbane on January 19. "Winning in Australia is a significant achievement, I would like to..
Credit: ANI Duration: 01:30
Published
Those are my shots, will keep playing them: Rohit Sharma on his dismissal

Australian bowlers put India on backfoot as they have removed both the Indian openers on Day 2 of fourth test at Brisbane. Both Shubham Gill and Rohit Sharma lost their wickets as India closed at 62/2..
Credit: ANI Duration: 01:39
Published
Ind vs Aus 4th Test: 'Don't see any reason why we can't bat well,' assures Rohit Sharma

Australia had set up a total of 369 on the second day of the fourth test match against India in Brisbane. Heavy thundershowers prevented the play to advance in the post tea session; India ended Day 2..
Credit: ANI Duration: 01:30
Published
India give injured players every chance to be fit for Brisbane test

Batting coach Vikram Rathour confident team can perform despite key players being under injury cloud
Credit: Reuters - Sports Duration: 03:08
Published
Brisbane Test would be tough nut to crack for India in Ashwin, Bumrah's absence: Madan Lal

Former Indian cricketer Madan Lal said that if R Ashwin and Jasprit Bumrah will not play due to their injuries, Brisbane Test would be a tough nut to crack for Indian Cricket Team and Australian..
Credit: ANI Duration: 02:03
Published
You Might Like