North India
Group of Northern Indian states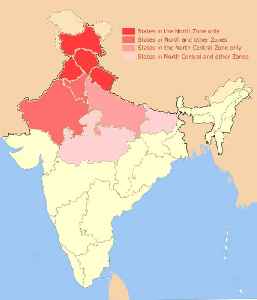 Northern India is a loosely defined region consisting of the northern part of India. The dominant geographical features of Northern India are the Indus-Gangetic Plain and the Himalayas, which demarcate the region from the Tibetan Plateau and Central Asia.


Locusts hit Bikaner following Pokhran district in Rajasthan

Swarms of locusts on May 30 hit Rajasthan's Bikaner following Pokhran district. Locusts, also known as 'Tiddi Dal' in North India, are a type of grass hoppers that move in a large number. Cotton crops..
Credit: ANI Duration: 01:46
Published
Heat waves hit Odisha's Bhubaneswar

Country witnessing a rise in mercury across the state, the people of Odisha's Bhubaneswar is having a tough time in beating the heat. To tackle the scorching heat, people are drinking coconut water on..
Credit: ANI Duration: 01:23
Published
North India reels under heat wave

North Indian states are witnessing a high rise in mercury during summers. Delhiites are facing a tough time beating the heat. People in Uttar Pradesh's Kanpur are suggested not to go out in the sun...
Credit: ANI Duration: 02:30
Published



North India experiences above-normal temperatures

Parts of north India sweltered under stifling heat on Friday as the mercury settled at above-normal levels, while the IMD said the conditions are likely to become more favourable for further..




IndiaTimes - Published





North India swelters under stifling heat, mercury touches 46 degree Celsius mark

Several parts of north India reeled under scorching heat on Thursday as mercury touched the 46 degrees Celsius-mark, with the weatherman predicting severe heatwave in some parts of Rajasthan. ​​In..




IndiaTimes - Published





Monsoon covers whole of Maharashtra; hot, humid weather in most of North India

Safdarjung Observatory, which provides representative figures for Delhi, recorded a maximum of 40.8 degrees Celsius, which was a notch above the normal. The weather stations at Palam and Pusa recorded..




IndiaTimes - Published





North India globe's hottest region on Tuesday

As super-hot winds continued to pump into the region from the northwest ever since cyclone Amphan hit Bengal, severe heat wave conditions gripped many parts of north India on Tuesday, with Delhi..




IndiaTimes - Published





New year begins on chilly note for north; mercury drops below 1°C at several places

The New Year began on a chilly note for North India as several places, from the plains to the hills, recorded temperatures below 1 degree celsius with Rajasthan's Sri Ganganagar, which nearly touched..




IndiaTimes - Published





North India shivers in cold, temperature likely to rise from tomorrow




IndiaTimes - Published





North India in frigid grip of cold; schools closed, rail, air traffic hit

North India continued to reel under intense cold on Sunday with authorities in Haryana deciding to close schools, and reduced visibility due to dense fog hampering the movement of flights and trains.




IndiaTimes - Published





Cold wave sweeps North India, schools shut in several places

A thick fog envelops the national capital, accompanied by a cold wave, as Delhi is forecasted to recorded a minimum temperature of 5 degrees and a maximum temperature of 17 degrees on 26-27 Dec.




DNA - Published





Floods in North India killed over 1,900 people in 2019, displaced over 3 million: Report




IndiaTimes - Published





North India continues to shiver, Srinagar records coldest night of season

Cold wave conditions continued unabated in north India on Tuesday as temperatures plummeted in several places with Srinagar experiencing the coldest night of the season so far. Kashmir is currently..




IndiaTimes - Published





North India reels under cold wave, 'harshest winter' period begins in Kashmir




IndiaTimes - Published





North India shivers in cold wave as fog affects rail, air traffic in Delhi




IndiaTimes - Published





North India shivers under severe cold, several flights disrupted in Chandigarh

Himachal Pradesh received fresh snowfall and several other areas in northern India were in the frigid grip of cold wave on Monday even as the maximum temperature in Delhi settled 10 notches below the..




IndiaTimes - Published





North India continues experiencing winter chills, Dal lake in Srinagar freezes partially

The cold wave conditions continued unabated in large parts of north India on Sunday, with Drass in Ladakh reeling at minus 26 degrees Celsius, and Srinagar witnessing its coldest night of the season at..




IndiaTimes - Published





Karwa Chauth 2019: 5 gift ideas to make your wife feel special!

Thursday will be an important day for the married Hindu women in North India as they will observe "Karva Chauth", a day-long fast for the love and longevity of their husbands.




DNA - Published





Rain wreaks havoc in North India, disrupts life

Indian Meteorological Department issues alert for heavy rains in Odisha




DNA - Published





Pakistan airspace closure stretches transit pain for passengers

The Pakistan airspace closure has not only impacted airlines as they are forced to fly longer routes and burn more fuel, but on ground, it has hit transit passengers too, especially those from North..




IndiaTimes - Published