Matteo Salvini
Italian politician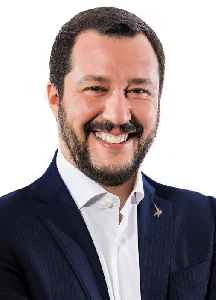 Matteo Salvini is an Italian politician who served as Deputy Prime Minister of Italy and Minister of the Interior from 1 June 2018 to 5 September 2019. He has also been Federal Secretary of the Northern League since December 2013. He has been a Senator in the Italian Senate since March 2018. He previously served as a Member of the European Parliament (MEP) for the constituency of North-West Italy from 2004 to 2018.


Salvini votes in Italy's first COVID election

Leader of the far-right League party Matteo Salvini cast his vote on Monday for a constitutional referendum to reduce the number of lawmakers in the lower and upper house.
Credit: Reuters Studio Duration: 01:19
Published
Italians vote in first polls since lockdown

Despite Italians generally approving of the government's response to the coronavirus pandemic, the ruling coalition is expected to make losses to the rightist opposition in a raft of regional votes...
Credit: Reuters - Politics Duration: 01:25
Published
Matteo Salvini: Will Italy's far-right leader lose his parliamentary immunity?

If Salvini loses his parliamentary immunity he could face trial for refusing to let scores of migrants disembark from a rescue ship stranded in the Mediterranean last year.View on euronews
Credit: euronews (in English) Duration: 01:28
Published
You Might Like



Italy Senate panel votes down Salvini probe over stranded migrants

An Italian Senate committee on Tuesday rejected a request by magistrates to investigate Matteo Salvini, head of the rightwing League party, for refusing a migrant rescue boat permission to land last..




Reuters - Published





Italy's far-right League hurt by response to coronavirus in heartland

The coronavirus crisis has left Italy's northern economic powerhouse a disaster zone and raised awkward questions for far-right opposition leader Matteo Salvini's League party, which has dominated the..




Reuters - Published





Looking to moderate image, Italy's Salvini says his League party isn't far right

Italy's Matteo Salvini denied on Thursday that his League party is a far-right group, instead portraying it as a moderate force that wants to broaden its appeal to metropolitan voters who have..




Reuters - Published





Italy's Salvini says might back revoking Atlantia's motorway license

The head of Italy's opposition League party, Matteo Salvini, said on Thursday he would back any move to strip Atlantia of its motorway concession if there were the legal grounds to do so.




Reuters - Published





Italian Senate lifts immunity of defiant Salvini over migrant boat

Italian senators voted on Wednesday to lift immunity for far-right leader Matteo Salvini, opening the way for a potentially career-ending trial over accusations that he illegally detained migrants at..




Reuters - Published




Put me on trial, defiant Salvini says in Italian migrant boat case

Matteo Salvini, leader of Italy's right-wing League party, defiantly asked on Wednesday to be put on trial for detaining migrants at sea last year, even though the case could potentially sink his..




Reuters - Published





Italy's Salvini risks new trial over alleged migrant kidnapping

A special tribunal has recommended that far-right League leader Matteo Salvini should stand trial for holding scores of people on board a charity ship last August, in one of his last migrant standoffs..




Reuters - Published





Italy's Salvini loses 'aura of invincibility' in Emilia setback

Matteo Salvini's surprisingly clear defeat in a key regional election on Sunday brusquely halts what seemed an unstoppable rise for the Italian hard-right leader and disrupts his progress toward..




Reuters - Published





Italy's Salvini loses key regional vote, in relief for government

Italy's right-wing League leader Matteo Salvini failed to overturn decades of leftist rule in the northern region of Emilia-Romagna on Sunday in an election that brought relief to the center-left and..




Reuters - Published





Italy's Salvini fails in bid to seize left's northern stronghold

Italy's right-wing leader Matteo Salvini failed in his effort to overturn decades of leftist rule in the northern region of Emilia-Romagna on Sunday in an election that brought huge relief to the..




Reuters - Published





Italy's center-left seen beating League in key regional vote: exit poll

Italy's center-left Democratic Party (PD) looked on course to beat Matteo Salvini's rightist League party in a closely watched election in the northern region of Emilia-Romagna, an exit poll said on..




Reuters - Published




Salvini seeks redemption in Italian regional elections

Voters in two Italian regions, Emilia Romagna in the north and Calabria in the south, went to the polls on Sunday in local elections that could help propel far-right opposition leader Matteo Salvini to..




Reuters - Published




Don't close ports to migrants, pope says after Salvini case

Pope Francis on Wednesday said politicians should not close ports to desperate migrants, speaking after a court got a green light to pursue an investigation of Matteo Salvini, Italy's anti-immigrant..




Reuters - Published





Seeking path back to power, Salvini targets Italian left's fiefdom

In a country where governments have a life expectancy of barely a year, the northern Italian region of Emilia Romagna has been a beacon of stability, run non-stop by the left for almost 75 years.




Reuters - Published





Italy Senate panel says Salvini kidnapping probe should go ahead

An Italian Senate committee on Monday approved a court's request to pursue an investigation into far-right League leader Matteo Salvini, a move that could give rise to a trial for alleged kidnapping of..




Reuters - Published





Italian Sardines square off against Salvini ahead of crucial vote

The "Sardines" grassroots movement protesting against the populism of far-right Italian leader Matteo Salvini staged a mass rally in the northern city of Bologna on Sunday ahead of a regional vote that..




Reuters - Published





Italy's constitutional court rejects League's bid to change electoral law

Italy's Constitutional Court on Thursday rejected a request by the hard-right League party to hold a referendum to introduce a first-past-the-post electoral system, triggering the ire of League chief..




Reuters - Published





Italy's Salvini looks to avoid trial over migrant standoff

Italy's far-right League leader Matteo Salvini, looking to avoid trial for alleged kidnapping, has defended his decision to detain migrants on a coastguard boat last July, saying the move had been..




Reuters - Published





Italy's Salvini faces new trial risk for holding migrants on ship

A special tribunal has recommended that former Italian interior minister and far-right League party leader Matteo Salvini face trial for holding scores of migrants on board a coastguard ship docked in..




Reuters - Published





Italy's Salvini drops calls for government to quit, urges unity on reforms

Matteo Salvini, the leader of Italy's right-wing League party, has suddenly dropped his calls for the government to resign and is instead proposing that all the main parties work together to solve the..




Reuters - Published





Italy's anti-Salvini 'sardines' take protest to Rome

Tens of thousands of people joined a demonstration in central Rome on Saturday organized by a grassroots movement known as "the sardines", launched only a month ago to protest against far-right leader..




Reuters - Published




Italy's Salvini investigated over use of state flights

Matteo Salvini, the leader of Italy's right-wing League party, has been placed under criminal investigation by Rome prosecutors over suspicions he improperly used state flights, a judicial source close..




Reuters - Published





Italy places more migrants round Europe, Salvini focuses on economy

Italy has increased relocation of migrants around Europe, official figures showed on Wednesday, reducing frictions around the issue and enabling far-right leader Matteo Salvini to steer his focus more..




Reuters - Published





From euro to ESM, Italy's Salvini re-trains his eurosceptic fire

Matteo Salvini has recently dropped threats to take Italy out of the euro zone but the hard-right leader is now alarming European authorities with a new target for his eurosceptic anger: a planned..




Reuters - Published





A can-do challenge? Italian 'sardines' take on Salvini

Italy has had many colorful political symbols over the years, including oak trees, olive trees and daisies. Now, a new one has suddenly swum into view and is posing a problem for far-right leader..




Reuters - Published





Italy's Salvini triumphs in Umbria as government alliance slumps

League leader Matteo Salvini led the opposition center-right to a crushing victory in the Italian region of Umbria, results on Monday showed, raising questions about how long the national government in..




Reuters - Published





Italy's Salvini triumphs in regional elections in Umbria

A right-wing coalition scored a net victory in a local election in the central Italian region of Umbria, official data from the Interior Ministry showed on Monday, giving a boost to Matteo Salvini's..




Reuters - Published





Italy's Salvini set for victory in Umbria local vote: exit poll

A right-wing coalition is set for victory in an election on Sunday in the central Italian region of Umbria, according to an exit poll, giving a boost to Matteo Salvini's League party.




Reuters - Published





Salvini eyes victory in central Italy after government heartache

After 50 years governing the green heart of Italy, the center-left looks set to lose control of Umbria in a regional vote on Sunday that is expected to revitalize far-right League leader Matteo..




Reuters - Published





Salvini's right rallies in Rome to protest against Italy government

Tens of thousands of supporters of Italy's right-wing opposition parties, spearheaded by Matteo Salvini's League which was ousted from power two months ago, gathered in central Rome on Saturday to..




Reuters - Published





Italy's euroskeptic leader Salvini says euro is 'irreversible'

League leader Matteo Salvini said on Monday the euro was here to stay and he hoped that nobody in his far-right, euroskeptic party would ever again raise doubts over Italy's membership of the single..




Reuters - Published





League leader Salvini promises referendums to counter new Italy government

Italy's far-right League will unleash a battery of referendums to try to sink reforms planned by the new government, party leader Matteo Salvini said on Sunday, denouncing his former coalition allies..




Reuters - Published





How Italy's 'Captain' Salvini steered his ship onto the rocks

At a closed-door meeting on Aug. 6, Matteo Salvini's advisers told the populist Italian politician he was trapped in an unproductive coalition government and should bring it down.




Reuters - Published





Italy's Salvini issues new migrant ban as seeks to derail new coalition

Italy's outgoing interior minister, Matteo Salvini, has banned another migrant-rescue ship from docking in the country, using the issue of immigration to pile pressure on his main two political rivals..




Reuters - Published





Italy's Salvini bans latest migrant ship entering waters

Italy's outgoing Interior Minister Matteo Salvini has signed a decree banning a rescue ship carrying about 100 migrants picked up off the Libyan coast from entering Italian waters.




Reuters - Published





Italy bans German-flagged rescue ship to enter its waters: sources

Italy's Interior Minister Matteo Salvini has signed a decree to ban a migrant rescue ship operated by the German charity Mission Lifeline from accessing Italian waters, sources at the ministry said on..




Reuters - Published





Explainer: Italy's PM Conte resigns. What comes next?

Prime Minister Giuseppe Conte handed in his resignation on Tuesday after accusing his interior minister, Matteo Salvini, of putting his League party before the needs of Italy.




Reuters - Published





Italian PM resigns, denounces Salvini for sinking government

Italy's prime minister resigned on Tuesday after launching a blistering attack on his own interior minister, Matteo Salvini, accusing him of sinking the ruling coalition and endangering the economy for..




Reuters - Published




Italy's Salvini says ready to pass budget before elections

Italy's League leader Matteo Salvini said on Tuesday he was ready to keep the coalition government alive to approve a 2020 budget and vote in a reform of parliament before heading to early elections.




Reuters - Published





Italy's 5-Star says Salvini no longer a credible partner

Italy's anti-establishment 5-Star Movement said on Sunday that Matteo Salvini, leader of the far-right League, was no longer a credible partner, apparently closing the door on any possibility of..




Reuters - Published





Spain offers port to stranded migrants, Italy's Salvini claims victory

Spain on Sunday offered Algeciras as a port to disembark more than a hundred migrants on a charity rescue ship stranded off the coast of Italy after the vessel had spent more than two weeks waiting for..




Reuters - Published





Italy's Salvini dismisses fears for health of stranded migrants

A charity rescue ship carrying 134 migrants, mostly Africans, was stranded off the coast of Italy on Friday as a political battle in Rome stopped it from docking and even the medical conditions of..




Reuters - Published





Italian PM blasts immigration-'obsessive' Salvini as League's election bid falters

Italian Prime Minister Giuseppe Conte on Thursday accused his far-right interior minister, Matteo Salvini, of disloyalty and being obsessed with blocking immigration, intensifying the open warfare in..




Reuters - Published





Rome court says migrant ship can enter Italy's waters, overriding Salvini

An administrative court in Rome ruled on Wednesday that a Spanish rescue ship carrying around 150 migrants should be allowed to enter Italian territorial waters in defiance of a ban imposed by Interior..




Reuters - Published




Explainer: Italy's Salvini snarled in political crisis of his own making

Italian Deputy Prime Minister Matteo Salvini, who heads the far-right League party, announced last Thursday that he would file a motion of no-confidence in the government and wanted early elections.




Reuters - Published





Italy's Salvini says citizen's income scheme needs reviewing: paper

Italy's Deputy Prime Minister Matteo Salvini said on Wednesday the citizen's income scheme introduced earlier this year would need reviewing if the League won elections.




Reuters - Published