Communist Party of India (Maoist)
Illegal Maoist political party and militant group in India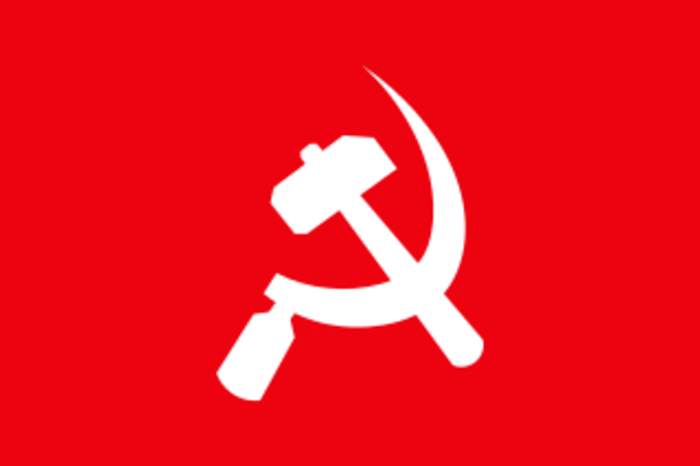 The Communist Party of India (Maoist) is a Maoist communist political party and militant organization in India which aims to overthrow the government of India through people's war. It was founded on 21 September 2004, through the merger of the Communist Party of India (Marxist–Leninist) People's War and the Maoist Communist Centre of India (MCCI). The CPI (Maoist) are often referred to as the Naxalites in reference to the Naxalbari insurrection conducted by radical Maoists in West Bengal in 1967. CPI (Maoist) has been designated as a terrorist organisation in India under the Unlawful Activities (Prevention) Act since 2009.


Maoist explosive dump unearthed in Odisha's Koraput

Odisha police busted an explosive dump of Maoist in Koraput area. They also recovered arm and ammunitions including 6 SBML guns, 50 gelatine sticks and iron pipes. Koraput SP V Guntupalli said, "In an..
Credit: ANI Duration: 01:39
Published
Woman Maoist surrenders before Malkangiri SP, BSF

A woman Maoist surrendered before the Superintendent of Police (SP) and Border Security Force (BSF) on January 24 in Odisha's Malkangiri. The ultra, Lachchi Khara alias Lachhi alias Gita, was an active..
Credit: ANI Duration: 01:59
Published
You Might Like



Elgar Parishad case: Bombay HC grants interim bail for six months to poet Varavara Rao on medical grounds

Varavara Rao, 82, an accused in the Elgar Parishad-Maoist links case being probed by the NIA, is currently undergoing treatment in the Mumbai-based Nanavati Hospital where he had been admitted by the..




IndiaTimes - Published





Maoist leader who held 'people's court' nabbed




IndiaTimes - Published





Maharashtra orders probe into 'denial' of specs to Navlakha by jail

Maharashtra home minister Anil Deshmukh has ordered a probe into Taloja prison authorities allegedly denying Elgar Parishad-Maoist links case accused Gautam Navlakha spectacles after they refused to..




IndiaTimes - Published





6 'Maoists' held, thousands protest in Bastar




IndiaTimes - Published





Stan Swamy given straw, sipper by jail authorities: His lawyer

The advocate of activist Father Stan Swamy, an accused in the Elgar Parishad-Maoist links case, on Friday told a special court here that Swamy has been given a straw and sipper by the Taloja jail..




IndiaTimes - Published





HC orders Varavara Rao's examination by doctors of private hospital

The Bombay high court on Thursday directed a panel of doctors from a private hospital here to conduct medical examination of the jailed poet-activist Varavara Rao through video link. 81-year-old Rao,..




IndiaTimes - Published





Congress-RJD alliance with CPI(ML) will revive naxalism in Bihar: Yogi Adityanath

The Congress-RJD combines poll pact with ultra-Left CPI(ML) in Bihar is deplorable and unfortunate as it can lead to a resurgence of naxalism in the state which has reeled under Maoist violence for..




IndiaTimes - Published





CPI(Maoist) gets Rs 3cr funding a year: NIA




IndiaTimes - Published





NIA arrests Stan Swamy; says he is member of CPI(Maoist)




IndiaTimes - Published




Mamata govt providing protection to terrorists, naxalites in West Bengal: Vijayvargiya

"West Bengal has become a place of refuge for terrorists and Maoists. It is very unfortunate that the state government is providing protection to such people. Recently, a Maoists was given a post in..




IndiaTimes - Published





Ganapathy's 'surrender story' a brutal lie, says CPI (Maoist)




IndiaTimes - Published





Maoist condemn propaganda about Ganapathy surrender, says Modi govt diverting attention from its failures




IndiaTimes - Published





Nine years after Malloula Koteswar Rao's killing, Maoists make their presence felt in West Bengal

Nearly nine years since Maoist top gun Malloula Koteswar Rao alias Kishenji was killed in West Bengal, the red rebels are making a comeback into the state's forested districts bordering Jharkhand.




DNA - Published





NIA court in Guwahati rejects bail plea of activist Akhil Gogoi

Gogoi was arrested on December 12 last year amid protests against the CAA in Assam. According to NIA, the case against him pertains to a larger conspiracy hatched by CPI (Maoist) wherein Akhil Gogoi..




DNA - Published





2 Maoists gunned down in Dantewada

Security forces gunned down two hardcore Maoists in an encounter in the forests of Dantewada of Bastar on Thursday.A 5kg IED was found at the encounter site.




IndiaTimes - Published





PM Modi condemns Maoist attack in Chhattisgarh




IndiaTimes - Published





Pune court transfers Elgar Parishad case to Mumbai's NIA court; Bombay HC rejects pre-arrest bail pleas of 2 activists

Navlakha, Teltumbde and several other activists have been booked by the Pune Police for their alleged Maoist links and several other charges following the violence at Koregaon Bhima village in Pune..




DNA - Published





HC rejects pre-arrest bail pleas of Navlakha & Teltumbde

The Bombay high court on Friday refused to grant anticipatory bail to civil rights activists Gautam Navlakha and Anand Teltumbde in the Elgar Parishad- alleged Maoist links case.




IndiaTimes - Published





Chhattisgarh: 2 CRPF men martyred, one Maoist killed in encounter

The exchange of fire between Central Reserve Police Force's CoBRA battalion and Maoists broke out around 10.30am at a forest in Irapalli village on the border of Bijapur and Sukma districts in Bastar..




IndiaTimes - Published





Centre gives Elgar case to NIA day after Sharad Pawar presses for SIT

The Centre on Friday transferred the Koregaon-Bhima case to the National Investigation Agency. This comes a day after it emerged that Sharad Pawar had written to Maharashtra CM asking him to set up an..




IndiaTimes - Published





Koregaon-Bhima: Congress, NCP want withdrawal of cases; BJP dubs it 'support for Maoists'




IndiaTimes - Published





'17 villagers killed by forces in Sarkeguda not Maoists'

​​A joint team of CRPF and Chhattisgarh Police had gunned down 17 people in Sarkeguda in Bijapur on the night of June 28, 2012. Security forces claimed they had launched an operation on the basis..




IndiaTimes - Published





Chhattisgarh: NIA arrests naxalite Sumitra Punem who was involved in 2013 attack on Congress leaders

At least 26 people were killed on May 25, 2013, when a convoy of Congress leaders and workers by CPI (Maoist) were attacked in the hilly areas of Darbha Valley in Sukma district of the state.




DNA - Published





WB: Amidst peace talks, Nagaland Armed Police companies to be withdrawn from once Maoist hotbed Ayodhya hills

Ayodhya hills housed a 34-member platoon of elite People's Liberation Guerilla Army (PLGA) members - the military component of CPI(Maoists), let alone a squad and saw the highest bloodshed between..




DNA - Published





Three Jharkhand cops killed in Maoist attack

Three Jharkhand police personnel were on Friday killed in a Maoist attack in the state's Latehar district, officials said. The attack by armed Maoists occurred at about 8:30pm when a police party was..




IndiaTimes - Published





Islamic extremists backing Kerala Maoists: CPM leader

CPM Kozhikode district secretary P Mohanan has stoked a fresh controversy by saying that Islamic extremist organisations are supporting Maoists in Kerala. The remarks came against the backdrop of the..




IndiaTimes - Published





Maoists in Kerala working with Islamic terrorists: CPI(M) leader

Muslim terror outfits who are nurturing Maoists by offering "water and fertilizer", he said




DNA - Published





TSRTC employees strike: 7 cops injured, over 1200 arrested; police say protests supported by 'Maoists'

TSRTC employees have been on strike and protesting since October 5, demanding the merger of the RTC with the government.




DNA - Published





Bhima Koregaon case: Supreme Court extends protection to Gautam Navlakha till October 15

Navlakha who is a journalist and a civil liberties activist has been accused by the Maharashtra Police of having links with the banned Naxal outfit - Communist Party of India (Maoist).




DNA - Published





Bhima Koregaon Violence: Inspiration from Marxist ideology cannot incriminate me, says Arun Ferreira

Ferreira was arrested in August last year for alleged linked with the CPI (Maoist).




DNA - Published





Amit Shah chairs meeting of CMs of LWE-affected states to discuss anti-Maoist operations

Chief Ministers of LWE-affected states and officials from security agencies attended the meeting chaired by Amit Shah.




DNA - Published





Amit Shah to review ongoing operations against Maoists on Monday




IndiaTimes - Published





Activist Gautam Navlakha was liaising with Hizbul on behalf of Naxals, says Pune Police

On Wednesday, Pune Police claimed in Bombay High Court that activist Gautam Navlakha was liaising with the terrorist organisation Hizbul Mujahideen on behalf of Maoists groups.




DNA - Published





Varavara Rao taken into custody in 2005 Naxal attack case

Bhima Koregaon violence accused P Varavara Rao on Wednesday was taken into custody by Karnataka police in connection with an alleged 2005 Naxal attack case. Rao was in judicial custody at Yerwada jail..




IndiaTimes - Published





Maoist rebels kill five policemen in eastern India

Maoist rebels killed five policemen in the eastern Indian state of Jharkhand on Friday, a senior police official said, the latest in a series of attacks on security forces.




Reuters - Published





Five policemen shot dead by Maoists in Jharkhand

Five police personnel were shot dead by Maoists on Friday while they were patrolling the area, officials said. Additional Director General of Police said the Maoists gheraoed the policemen and shot..




IndiaTimes - Published





Top Maoist commanders Narmada, her husband Kiran arrested in Gadchiroli IED blast case

"We intercepted Narmada and Kiran in Sironcha town on Monday evening while they were returning from Hyderabad and arrested them later," said Superintendent of Police, Gadchiroli Shailesh Balkawde .




DNA - Published





Jharkhand: At least 4 Naxals killed, 1 jawan martyred in Dumka encounter

A search operation was going on when Maoists opened fire on jawans around 3.30 AM, Superintendent of Police YS Ramesh said.




DNA - Published