Metropolitan Police
English territorial police force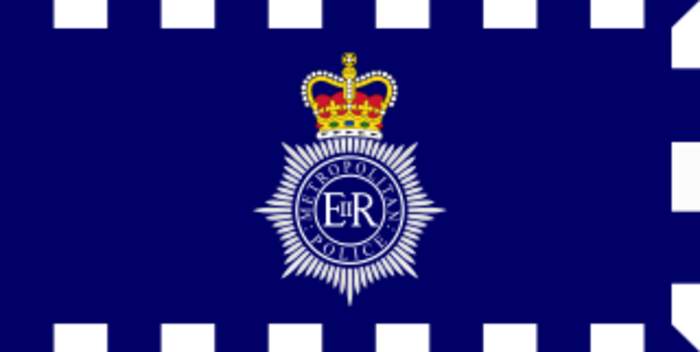 The Metropolitan Police Service (MPS), formerly and still commonly known as the Metropolitan Police, is the territorial police force responsible for law enforcement and the prevention of crime in Greater London. In addition, the Metropolitan Police is also responsible for some specialised matters throughout the United Kingdom; these responsibilities include co-ordinating and leading national counter-terrorism measures and the personal safety of specific individuals, such as the Monarch and other members of the Royal Family, members of the Government, and other officials.


Zara Aleena 'had every right to feel safe' say Met Police

Detective Chief Inspector of the Metropolitan Police, David Whellams, says Zara Aleena "had every right to feel safe", but instead, "was a victim of shocking violence". It comes as Jordan..
Credit: ODN Duration: 01:28
Published
Terrifying CCTV shows knifemen rob woman in own home

Pictures released by the Met Police show two knife-wielding men moments before they forced their way into a family home in Wandsworth. Police are hunting the young men who attempted to rob a woman..
Credit: ODN Duration: 01:08
Published
Kevin Spacey Faces 7 New Sexual Assault Charges

Kevin Spacey Faces , 7 New Sexual Assault Charges. In July, Spacey pleaded not guilty to four sexual assault charges and one charge of forcing penetrative sexual activity... ... regarding offenses..
Credit: Wibbitz Top Stories Duration: 01:30
Published
Moped driver caught up in fatal Brixton shooting

A man has died after being unintentionally caught up in a car chase, before a second male was fatally shoot. The Metropolitan Police says one of the victims was "out driving his moped when he was..
Credit: ODN Duration: 02:39
Published
Police confirm fatal shooting of two men in Ilford

Met Police inspector Dave Holgate confirms the death of two men who were "tragically" shot in Ilford, east London. Officers were called to Henley Road at around 12.15am on Tuesday morning following..
Credit: ODN Duration: 01:41
Published
Damning report finds corrupt Met officers still in the force

Hundreds of Metropolitan Police officers have been getting away with misconduct and breaking the law. An interim report says officers accused of racism, misogyny and homophobia are escaping justice...
Credit: ODN Duration: 02:28
Published
Met Police misconduct system takes too long, report finds

A damning report has found the Metropolitan Police's misconduct system takes "too long" with author Baroness Louise Casey finding many claims of sexual misconduct, misogyny, racism and homophobia were..
Credit: ODN Duration: 02:13
Published
Met Police: Just Stop Oil protest cannot be shut down

The Met Police say protesters blocking main roads in central London have not yet caused major disruption despite "enormous" policing resources being taken up dealing with the demonstrations. Officers..
Credit: ODN Duration: 01:51
Published
You Might Like



Tory MP Julian Knight has whip removed after complaint made to police

Tory MP Julian Knight has had the whip removed after a complaint about him was made to the Metropolitan Police.




Sky News - Published





Harry and Meghan faced 'disgusting, real threats' from extremists, says ex-police chief

The Duke and Duchess of Sussex faced "credible threats" from far-right extremists, the Met Police's former head of counterterrorism has said.




Sky News - Published





Met Police officer charged with 44 crimes faces nine more counts including rape

A Metropolitan Police officer, who is already charged with 44 offences, has been charged with a further nine, including six counts of rape.




Sky News - Published





Met Police officer and ex-PC jailed for sharing offensive messages in WhatsApp group with Sarah Everard's killer

A Metropolitan Police officer and his former colleague have been sentenced to 12 weeks in jail for sharing grossly offensive messages in a WhatsApp group with Sarah Everard's killer.




Sky News - Published




Two men dead and one critically injured in east London shooting

Two men have died and a third has been left critically injured in a shooting in Ilford, east London, the Metropolitan Police said.




Sky News - Published





Scores of environmental activists arrested during weekend of protests including pouring milk in shops

More than 100 people have been arrested by the Metropolitan Police after a weekend of protests by environmental groups in the capital.




Sky News - Published





New Met Police chief says he would be 'happy' for his daughters to walk around London at night

The new Metropolitan Police commissioner has said he would be "happy" for his daughters to walk around London at night, as he vowed to make the capital's streets safer.




Sky News - Published





Metroplitan Police must make 'urgent improvements' after watchdog raises 'serious concerns'

The Metropolitan Police has been told to make urgent improvements after a watchdog raised "serious concerns" about its performance.




Sky News - Published





'Chris Kaba. Say his name!' Hundreds protest after black man is shot dead by police

The chants echoing along London's Victoria Embankment would have been clearly heard in the headquarters of the Metropolitan Police.




Sky News - Published





Met Police preparing 'truly immense operation' for Queen's funeral

The Queen's funeral will be the largest police operation ever undertaken in the UK.




Sky News - Published





Queen's funeral presents 'massive challenge' to Met Police, says new commissioner

Scotland Yard's new commissioner says the Queen's funeral presents "a massive challenge to the Metropolitan Police and to me personally".




Sky News - Published





Stormzy joins protesters demanding justice for man shot dead by police

Stormzy has joined protestors in support of the family of Chris Kaba, who was shot dead by armed Metropolitan Police officers in south London.




Sky News - Published





Met officer subject to homicide investigation over fatal shooting of soon-to-be father

A firearms officer at the Metropolitan Police is the subject of a homicide investigation over the fatal shooting of soon-to-be father Chris Kaba.




Sky News - Published





Home Sec tells new Met Police boss: 'Get basics right and promote better standards'

The home secretary has spelled out to the new Scotland Yard commissioner the vast improvements she is demanding in his force's culture and performance.




Sky News - Published





Families of serial killer Stephen Port's victims get payouts from the Met over investigation failings

The families of three of the victims of serial killer Stephen Port have been given compensation by the Metropolitan Police over the force's handling of the investigation into the killings.




Sky News - Published





Police watchdog won't investigate Met after sprinter pulled over again in London

The police watchdog will not investigate a complaint against the Metropolitan Police after stopping Portuguese sprinter Ricardo Dos Santos for the second time.




Sky News - Published





Met Police investigated after previously speaking to missing student nurse

The Met Police is being investigated after the watchdog learnt officers had previously been in contact with missing student nurse Owami Davies.




Sky News - Published





Elderly man on mobility scooter stabbed to death

An elderly man riding a mobility scooter has been stabbed to death in west London, the Metropolitan Police has said.




Sky News - Published





New CCTV footage shows last known images of missing student nurse

New CCTV footage showing the last known images of missing student nurse Owami Davies has been released by the Metropolitan Police.




Sky News - Published





650 children – mostly black boys – strip-searched by Met Police in just two years, with some as young as 10

Children are being strip-searched by the Metropolitan Police without an appropriate adult present in almost a quarter of cases, with black boys disproportionately targeted, new data shows.




Sky News - Published





Fifth man arrested over disappearance of student nurse as police renew appeal

A fifth man has been arrested over the disappearance of student nurse Owami Davies, with the Met Police renewing their appeal for information a month on from the last confirmed sighting of her.




Sky News - Published





Investigation launched after Metropolitan Police officers shoot armed suspect

The police watchdog has launched an investigation after an armed suspect was shot by Scotland Yard officers during a "serious incident" in the capital.




Sky News - Published





Third man arrested on suspicion of murder over missing student nurse

A third man has been arrested on suspicion of murder by detectives searching for a student nurse who went missing in south London, the Metropolitan Police said.




Sky News - Published




Man charged with intending to injure or alarm the Queen on Christmas Day at Windsor Castle

A man has been charged with intending to injure or alarm the Queen under the Treason Act following an incident at Windsor Castle on Christmas Day last year, the Metropolitan Police said.




Sky News - Published





Police watchdog 'concerned' by cases of child strip searches by Met officers

The police watchdog has studied another 13 cases of child strip searches by Metropolitan Police officers in the wake of the Child Q scandal.




Sky News - Published





Man in his 50s stabbed to death in pub

A man, believed to be in his 50s, has been stabbed to death inside a pub in west London, Met Police say.




Sky News - Published





Police open investigation into Sir Mo Farah trafficking revelation

The Metropolitan Police has started an investigation into Sir Mo Farah's revelation that he was trafficked to the UK illegally under the name of another child.




Sky News - Published





Metropolitan Police officer charged with rape and faces court hearing today

A serving Metropolitan Police special constable has been suspended after being charged with rape.




Sky News - Published





Sir Mark Rowley replaces Dame Cressida Dick as new Met Police commissioner

Sir Mark Rowley is the new commissioner of the Metropolitan Police, the Home Office has said.




Sky News - Published





Met Police apologises to dead teen's family after watchdog finds multiple 'failings'

London's Metropolitan Police has apologised to the family of a teenager found dead in a lake after an investigation found multiple failings in how the case was handled.




Sky News - Published





Met Police being 'monitored' over poor performance, independent inspectors say

The Metropolitan Police is being "monitored" over its recent performance, the independent inspectorate has confirmed.




Sky News - Published





Met Police 'have blood on their hands', say families of men murdered by Grindr killer Stephen Port

The families of four men murdered by Grindr killer Stephen Port after basic police failures say officers have blood on their hands and must "put things right".




Sky News - Published





Met Police to be investigated again over its handling of deaths of Stephen Port's victims

The police watchdog is to investigate the Metropolitan Police again over their handling of the inquiry into the murders of four young men by serial killer Stephen Port.




Sky News - Published





Man and woman charged with conspiring to bring child to the UK to harvest organs

Two people have been charged with conspiring to bring a child to the UK in order to harvest organs, the Metropolitan Police said.




Sky News - Published





Kevin Spacey charged with four counts of sexual assault

Kevin Spacey is due to appear in court on Thursday after being charged with four counts of sexual assault, the Metropolitan Police has confirmed.




Sky News - Published





Harvey Weinstein to be charged with indecent assault against woman in London in 1996

The Metropolitan Police has been authorised to charge Harvey Weinstein with two counts of indecent assault against a woman in August 1996 in London.




Sky News - Published





Third Metropolitan Police child strip-search case under investigation, watchdog says

A third Metropolitan Police strip-search of a child is being investigated by the police watchdog.




Sky News - Published





Two Metropolitan Police officers facing rape allegations

A Metropolitan police officer has been charged with raping a woman on Brighton beach, while another is being sent for trial, accused of 21 counts of rape over 17 years.




Sky News - Published





Dominic Cummings says Met Police never sent him a partygate questionnaire

Dominic Cummings has said the Metropolitan Police never asked him for evidence as part of its investigation into lockdown-breaking parties in Downing Street.




Sky News - Published





'Officers acted with integrity': Met Police chief defends partygate investigation

The Metropolitan Police acted with "integrity" during its partygate investigation and officers made decisions "based on the facts and were proper", the force's acting commissioner has said.




Sky News - Published




Sadiq Khan demands 'detailed explanation' from Met Police after photos of PM at lockdown drinks emerge

London mayor Sadiq Khan has written to the Met Police asking for a "detailed explanation" of its partygate probe - after claiming photos showed the PM was "caught red-handed" at an event for which he..




Sky News - Published





Police investigation into partygate concludes with 126 fines issued

The investigation into lockdown breaking parties in Downing Street and around Whitehall has concluded, the Met Police has announced.




Sky News - Published





Six-year-old twins reported missing in south London

The Metropolitan Police are searching for six-year-old twins who have been reported missing in south London.




Sky News - Published





Wayne Couzens among five murderers set to have their prison sentence reviewed by senior judges

Former Metropolitan Police officer Wayne Couzens is one of five murderers set to have their prison sentence reviewed by senior judges in the Royal Courts of Justice on Wednesday.




Sky News - Published





Metropolitan Police seeking second appeal against High Court ruling over Sarah Everard vigil

The Metropolitan Police is seeking another appeal against a High Court ruling, which found the force breached the rights of organisers at a vigil held for Sarah Everard last year.




Sky News - Published





At least one No 10 official fined for lockdown-busting 'bring your own booze' party, Sky News understands

At least one Number 10 official has received a fixed penalty notice from the Metropolitan Police for attending a lockdown-busting "bring your own booze" event held in the Downing Street garden, Sky..




Sky News - Published





Met Police will not issue any partygate updates until after local elections

The Met Police have confirmed that they will not issue any further partygate updates before the May local elections.




Sky News - Published





Job advert for new Metropolitan Police commissioner published with £293,000 salary

A job advert to find Dame Cressida Dick's successor as head of the Metropolitan Police has been published.




Sky News - Published





Boris Johnson offers 'full apology' but won't resign over partygate fine

Boris Johnson has apologised after being fined by the Met Police for breaking lockdown rules but said he would not resign.




Sky News - Published





Sunak could put huge pressure on Johnson if he quits over partygate fines

The Metropolitan Police has just launched a pair of missiles at the two occupants of Downing Street.




Sky News - Published