Indonesia
Country in Southeast Asia and Oceania

Indonesia, officially the Republic of Indonesia, is a country in Southeast Asia and Oceania between the Indian and Pacific oceans. It consists of over 17,000 islands, including Sumatra, Java, Sulawesi, and parts of Borneo and New Guinea. Indonesia is the world's largest archipelagic state and the 14th-largest country by area, at 1,904,569 square kilometres. With around 279 million people, Indonesia is the world's fourth-most populous country and the most populous Muslim-majority country. Java, the world's most populous island, is home to more than half of the country's population.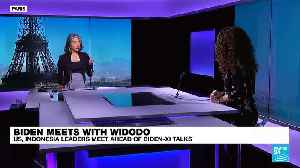 Indonesian president Widodo urges Biden to help end Gaza 'atrocities'


Credit: FRANCE 24 English Duration: 04:50
Published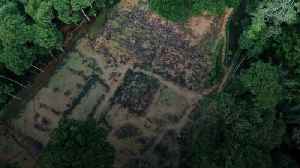 Researchers in Indonesia Claim Prehistoric Pyramid Could Rewrite Human History

Researchers in Indonesia , Claim Prehistoric Pyramid , Could Rewrite Human History. Vice reports that new research regarding Gunung Padang, a pyramid in Indonesia, may rewrite the history of human..
Credit: Wibbitz Top Stories Duration: 01:31
Published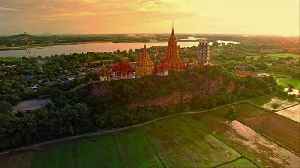 Top Travel Destinations in Southeast Asia

Top Travel Destinations , in Southeast Asia. 'The Independent' spoke with travel experts , for their top destinations in , Southeast Asia. Southeast Asia is home to some of the most incredible..
Credit: Wibbitz Top Stories Duration: 01:53
Published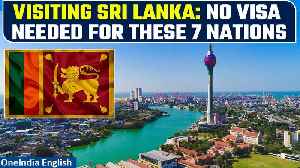 Sri Lanka Approves Free Visas for Tourists from Seven Countries| India one of them| Oneindia News

Sri Lanka's cabinet approves free visas for tourists from India, China, Russia, Malaysia, Japan, Indonesia, and Thailand. The pilot project, effective immediately until March 31, aims to boost tourism..
Credit: Oneindia Duration: 01:27
Published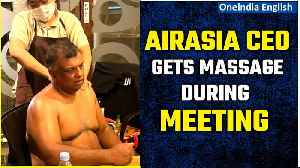 AirAsia CEO Tony Fernandes gets massage during meeting, draws heavy criticism | Oneindia News

AirAsia CEO Tony Fernandes attended a virtual meeting shirtless while getting a massage. In his LinkedIn post where he shared a shirtless picture, Fernandes praised Indonesia and the work culture at..
Credit: Oneindia Duration: 02:01
Published
You Might Like



India launches five-day Millets festival in Indonesia to raise awareness and create markets for millets-based products in Asean

India has launched a five-day Millets Festival here in the Indonesian capital to raise awareness for millets as a farmer-friendly and sustainable food choice and create a market for millets-based..




IndiaTimes - Published





Bizarre mammal named after David Attenborough and believed to be extinct is rediscovered by scientists

A long-beaked echidna, named after David Attenborough and thought to be extinct, has been rediscovered in the mountains of Indonesia. 




Sky News - Published




Bagnaia regains MotoGP lead as Martin crashes out

Italy's defending champion Francesco Bagnaia regains the MotoGP championship lead, winning in Indonesia as rival Jorge Martin crashes out.




BBC Sport - Published





TikTok star jailed after saying Islamic prayer before eating pork in viral video

A woman in Indonesia has been jailed for two years after saying an Islamic prayer before eating pork in a viral TikTok video.




Sky News - Published




Para-badminton player crowdfunds her way to bronze at international meet in Indonesia

Prema Biswas, a para-badminton player from Uttarakhand, won a bronze medal at the Fox Indonesia Para-badminton International tournament in Kuala Lumpur. Prema, who has 100% disability in her legs,..




IndiaTimes - Published





'Wagh nakh' that Shivaji used to kill Afzal Khan to come home from UK

PM Modi gets rousing welcome from Indian diaspora in Indonesia: The 'wagh nakh' is coming home. With the UK authorities agreeing to give back the dagger shaped like tiger claws—used by..




IndiaTimes - Published





PM Modi returns to India after attending ASEAN-India, East Asia Summits

Prime Minister Narendra Modi arrived in India after his "very short but fruitful" visit to Indonesia where he attended the 20th ASEAN-India and 18th East Asia Summits.At the ASEAN-India Summit, the..




IndiaTimes - Published

Also reported by •DNA


'Act East in action': PM Modi announces decision to open embassy in Dili

Prime Minister Narendra Modi, who is in Indonesia for the ASEAN-India Summit has announced India's decision to open its embassy in Dili. The decision upholds India's commitment to its Act East policy...




IndiaTimes - Published





History and geography unite Bharat and ASEAN, PM Modi says in Indonesia

Prime Minister Narendra Modi who is in Indonesia to attend the ASEAN-India Summit in Jakarta on Thursday said "history and geography unite Bharat and ASEAN". The Prime Minister was speaking at the..




IndiaTimes - Published





PM Modi gets rousing welcome from Indian diaspora in Indonesia

Prime Minister Narendra Modi, who landed in Jakarta on Thursday early morning, received a grand welcome from the Indian community. Upon reaching, PM Modi greeted the members of the Indian diaspora who..




IndiaTimes - Published





PM Narendra Modi to visit Indonesia today for Asean-India Summit

Prime Minister Narendra Modi will be attending the 20th Asean-India Summit and the 18th East Asia Summit in Indonesia. The visit is at the invitation of President Joko Widodo and comes ahead of the G20..




IndiaTimes - Published





India-Bharat name row: PM of Bharat at ASEAN-India summit? Congress calls government 'confused'

PM Modi will be leaving for Indonesia on Wednesday night to attend the 20th ASEAN-India Summit and the 18th East Asia Summit.




DNA - Published





BRICS: The emerging market bloc that wants to shake up the world order

The BRICS bloc (Brazil, Russia, India, China and South Africa) are looking to increase their global influence by adding new members. At an annual summit in Johannesburg, the group will begin the..




IndiaTimes - Published





Australian PM Albanese to visit India to attend G20 summit

The Australian prime minister's visit to India will be part of his three-nation tour. The other two countries that he will be visiting are Indonesia and the Philippines. "From September 9-10, the Prime..




IndiaTimes - Published





India, Brazil push back against China over BRICS expansion

India and Brazil are resisting a Chinese proposal to extend the BRICS group of emerging market countries, which aims to counterbalance the influence of the US. The group which includes Brazil, Russia,..




IndiaTimes - Published





India world's number 1 in registered two-wheelers

India, according to the latest Road Transport Year Book, has the maximum number of registered two-wheelers, followed by Indonesia. India ranks eighth in the world in number of passenger cars, while..




IndiaTimes - Published





The 1975 cancels Indonesia, Taiwan shows after Malaysia LGBT controversy

The 1975 has said it has cancelled shows in Taiwan and Indonesia - a day after Malaysia banned it from performing there after its frontman kissed a male bandmate on stage and criticised the country's..




Sky News - Published




Now, India plans currency, UPI deal with Indonesia

After the United Arab Emirates, India is looking to seal a deal for bilateral trade in domestic currency, real-time card recognition and digital payments, a move that will promote the use of UPI and..




IndiaTimes - Published





Professional Hawaii surfer dies aged 44 after being injured by own board

A professional Hawaii surfer known for shooting photos and videos of himself inside massive waves has died after a surfing accident in Indonesia.




Sky News - Published




Traffickers hold 4 of family hostage in Indonesia, seek Rs 10 lakh ransom




IndiaTimes - Published





5 nations roped in on ex-WFI chief Brij Bhushan Sharan Singh case

Delhi Police is learnt to have written to wrestling federations of around five countries seeking information related to allegations of sexual harassment levelled by wrestlers against the Wrestling..




IndiaTimes - Published





IndiGo to start flights to six destinations in Africa, Central Asia

Embarking on "massive" international expansion plans, the carrier will connect Nairobi in Kenya and Jakarta in Indonesia, with direct flights from Mumbai in late July or early August. "Delhi will get..




IndiaTimes - Published





PM Modi meets British PM Rishi Sunak, Indonesian President Widodo & UN chief Guterres in Japan




IndiaTimes - Published





Chaotic final results in mass brawls and red cards

Watch as the Southeast Asian Games final between Indonesia and Thailand descends into chaos, with two mass brawls and four players being sent off.




BBC Sport - Published





Two mass brawls and four red cards in chaotic final

Indonesia win the Southeast Asian Games gold medal as Thailand finish the game with eight players on the field.




BBC Sport - Published





Trichy-Singapore flight diverted to Indonesia due to 'burning smell in cabin'




IndiaTimes - Published





'Mind-blowing' rare solar eclipse wows in Australia and Indonesia

Thousands of stargazers gathered in a remote Australian town to witness a "spectacular" rare solar eclipse.




Sky News - Published




Argentina replaces Indonesia as U20 World Cup host

Argentina is chosen to host the Under-20 World Cup after Fifa strips Indonesia of the right to stage the tournament.




BBC Sport - Published





Indonesian teams meet for first time since disaster

Two Indonesian football teams play for the first time since their last match ended with one of sport's worst stadium disasters.




BBC Sport - Published





Fifa removes Indonesia as hosts of U20 World Cup

Fifa has stripped Indonesia of hosting rights for the Under-20 World Cup.




BBC Sport - Published





Shocking Video Shows Indonesian Volcano Erupting

Check out this dramatic footage showing the moment Mount Merapi erupted on the island of Java, shooting heavy dark plumes of gas into the atmosphere as burning lava flowed down the mountainside..




TMZ.com - Published





Bautista wins to extend lead as Rea crashes out

Alvaro Bautista extends World Superbike lead while a frustrating weekend for Jonathan Rea ends with the Northern Irishman crashing out in Indonesia.




BBC Sport - Published





Bautista wins as Rea's struggles continue

Alvaro Bautista continues his winning start to the new World Superbike season in Indonesia as Jonathan Rea's early-season struggles continue,




BBC Sport - Published





Indian submarine visits Oman, after another one docked at Jakarta

After Indonesia, an Indian submarine has now visited Oman as part of the Navy's continuing "active long-range deployments" to enhance maritime security in the Indian Ocean Region (IOR). The..




IndiaTimes - Published





Rematch postponed after Indonesia stadium disaster

Indonesian police postpone the rematch of the game that ended in one of football's worst stadium disasters due to concerns over further crowd trouble.




BBC Sport - Published





In a 1st, Indian sub docks in Indonesia amid SCS conflict




IndiaTimes - Published




Pilot pictured after being taken hostage by Indonesia rebels who burnt his plane

A New Zealand pilot taken hostage by separatist rebels in Indonesia has been pictured alive in images released by the group.




Sky News - Published




Rohingya mother and daughter rescued after being adrift on boat for almost a month

A Rohingya mother and her five-year-old daughter have been found among 200 people rescued in Indonesia after being adrift on a boat for almost a month.




Sky News - Published




Dozens of Rohingya refugees wash up on Indonesia beach as 180 others feared drowned

Dozens of Rohingya refugees have been found on a beach in Indonesia after weeks at sea in a rickety boat.




Sky News - Published




Bali bombmaker apologises for 2002 attack that killed 202 people

An Indonesian bombmaker has apologised to victims' families for making the explosives used in the 2002 Bali bombings.




Sky News - Published




Ahead of India missile test, Chinese spy vessel in IOR

Chinese research and space-tracking vessel Yuan Wang-5, the docking of which at Hambantota in August had led to a diplomatic spat between India and Sri Lanka, is being closely tracked by Indian Navy..




IndiaTimes - Published





At G20, SDG, food security top emerging market agenda

At a late evening meeting of the emerging markets group on sidelines of the G20 meeting, Indonesia, which was the host, complimented India for helping evolve a consensus at the recent leaders' summit..




IndiaTimes - Published





Volcanic ash plume from Indonesia eruption reaches 50,000ft

An erupting volcano in Indonesia has spewed rivers of lava and sent a plume of ash 50,000ft into the air, as the authorities raised the alert to its highest level.




Sky News - Published