Statue of Unity
Monument to Sardar Vallabhbhai Patel in Narmada, Gujarat, India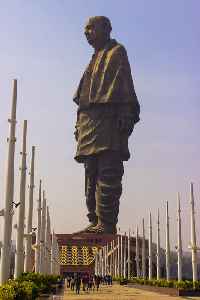 The Statue of Unity is a colossal statue of Indian politician and independence activist Sardar Vallabhbhai Patel (1875–1950), who was the first Deputy Prime Minister and Home minister of independent India and the chief adherent of Mahatma Gandhi during the non-violent Indian Independence movement. Patel was highly respected for his leadership in uniting the 552 princely states of India to form the single Union of India. It is located in the state of Gujarat, India. It is the world's tallest statue with a height of 182 metres. It is located on a river island facing the Sardar Sarovar Dam on river Narmada in Kevadiya colony, 100 kilometres (62 mi) southeast of the city of Vadodara and 150 km from Surat.


PM expresses happiness over Deve Gowda's visit to Statue of Unity; Gowda praises Modi for constructing tallest statue
Former prime minister and Janata Dal (Secular) chief H D Deve Gowda has praised Prime Minister Narendra Modi for the making of the world's tallest statue of Sardar Vallabhai Patel in Gujarat.
IndiaTimes - Published
Post Devegowda's visit to State of Unity, PM tweets happy to see him there
Taking to Twitter, Modi tweeted: "Happy to see our former PM H D Devegowda Ji visit the Statue of Unity."
DNA - Published
PSI shoots self amid Prime Minister Narendra Modi's bandobast duty
PM Modi was inspecting the tourist facilities at the Statue of Unity when the incident happened.
DNA - Published
30-foot-tall dinosaur replica built near Statue of Unity collapses in a heap
The under-construction replica of a dinosaur was built at the cost of Rs 2 crore as part of a tourist attraction plan of the Gujarat government
DNA - Published
Watch: Giant dinosaur near Statue of Unity collapses
The model cost around Rs 2 crore rupees and had taken more than month to make. Thankfully, no casualties were reported.
DNA - Published
Gujarat High Court stays eviction of tribals for tourism development near Statue of Unity
The direction came from the division bench of Acting Chief Justice AS Dave and Justice Biren Vaishnav
DNA - Published
Lord Ram statue to be installed in Ayodhya
The statue would be taller than the Sardar Vallabhbhai Patel's Statue of Unity in Gujarat
DNA - Published
Sardar Patel's statue to tower over MEA conference
The foreign ministry's annual Heads of Missions (HoMs) conference is likely to be held next to Patel's Statue of Unity in Gujarat's Narmada district in September. The conference is a gathering of all..
IndiaTimes - Published
Rain drips inside Statue of Unity's viewing gallery
IndiaTimes - Published
You Might Like