Scott Morrison
Current Prime Minister of Australia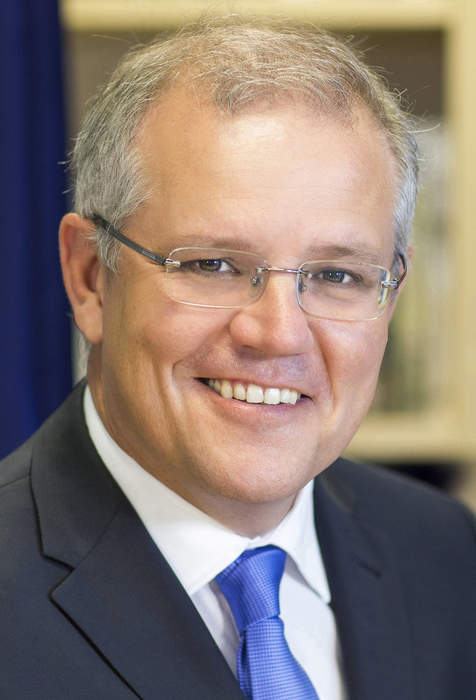 Scott John Morrison is an Australian politician who is the 30th and current prime minister of Australia. He took office in August 2018 upon his election as leader of the Liberal Party, and subsequently led the Coalition to victory at the 2019 federal election.


War crimes tweet further sours China-Australia relations

The tweet sparked outrage from Australia PM Scott Morrison, who called on Twitter to remove it from its platform. View on euronews
Credit: euronews (in English) Duration: 02:52
Published
Academic freed by Iran thanks supporters

[NFA] A British-Australian academic on Thursday thanked her supporters and diplomatic efforts to secure her freedom after she was released from jail in Iran following more than two years of..
Credit: Reuters - Politics Duration: 01:23
Published
You Might Like



Australian PM Scott Morrison extends Independence Day greetings to Indian PM

"Warm wishes to PM Narendra Modi and the people of India on their #IndependenceDay. The deep friendship and partnership between Australia and India is founded on bharosa (trust), samman (respect) and..




IndiaTimes - Published





Australia hints at Chinese cyberattack; Japan, Vietnam too riled by Beijing

India isn't the only country in China's crosshairs right now. On Friday, Australian PM Scott Morrison said his government and some private sector entities in the country had been under a sustained..




IndiaTimes - Published





Australia seeks to engage China over actor sentenced to death

Australia is seeking to engage China over the case of Karm Gilespie, an Australian man sentenced to death for drug trafficking, Prime Minister Scott Morrison said on Monday, amid escalating tensions..




Reuters - Published




Australia won't be intimidated in row with China: PM Morrison

Prime Minister Scott Morrison said on Thursday he would not be intimidated by "coercion" after China restricted some Australian exports and urged Chinese tourists and students to avoid Australia.




Reuters - Published

Also reported by •Reuters India


Australian PM on China tensions: country won't trade values in response to 'coercion'

Australian Prime Minister Scott Morrison said that he would not be intimidated or give into coercion when asked on Thursday whether Australia would keep taking hits on exports from major trading..




Reuters - Published





Australians urged not to take part in Black Lives Matter protests

Australian Prime Minister Scott Morrison urged people not to attend planned Black Lives Matter protests around the country this weekend, citing the risk of spreading the coronavirus.




Reuters - Published





Australia PM tells locals to avoid Black Lives Matter protests due to COVID-19 threat

Australians should not attend planned protests against the death of black American George Floyd in U.S. police custody due to the risk of spreading coronavirus, Prime Minister Scott Morrison said on..




Reuters - Published





India, Australia sign on 'comprehensive strategic partnership'

India and Australia elevated their ties to a 'comprehensive strategic partnership' as the first virtual summit between PM Narendra Modi and his Australian counterpart Scott Morrison saw the two..




IndiaTimes - Published





Aus-India virtual summit wraps up with 'Samosa-Khichadi' diplomacy; Morrison misses 'Modi hug'

After trying his hand on the crunchy samosas and delicious mango chutney, Australian Prime Minister Scott Morrison on Thursday promised his Indian counterpart Narendra Modi that he will prepare..




IndiaTimes - Published





What Australian PM said on 'Modi hug'

Addressing the first India-Australia bilateral virtual summit, Australian Prime Minister Scott Morrison said that if he would have been travel to India for the summit he would not have missed out on..




IndiaTimes - Published





PM Modi holds virtual summit with Aussie counterpart Scott Morrison

In his opening remarks, Modi said he believed that it is the "perfect time and perfect opportunity" to further strengthen the relationship between India and Australia.




IndiaTimes - Published





PM Modi holds India-Australia virtual summit with PM Scott Morrison: Key points




IndiaTimes - Published





India, Australia PMs to hold online summit, seal military logistics pact

India and Australia are set to seal a military logistics pact at an online summit between Prime Ministers Narendra Modi and Scott Morrison on Thursday that will lay the ground for greater military..




Reuters - Published

Also reported by •Reuters India


'Get off the grass!' Australian PM told to move on during stimulus announcement

A media conference by Australian Prime Minister Scott Morrison to announce a new stimulus package briefly turned comical on Thursday when he and reporters were told by a homeowner to get off a newly..




Reuters - Published





PM Modi to hold 'bilateral virtual summit' with Australian PM

In a first, Prime Minister Narendra Modi will be holding a 'Bilateral Virtual Summit' with his Australian counterpart Scott Morrison on June 4, signifying the strengthening of ties with Australia and..




IndiaTimes - Published





Australian PM accepts G7 invitation during call with Trump

Australia will accept an invitation to attend a Group of Seven (G7) nations meeting, Australian Prime Minister Scott Morrison told U.S. President Donald Trump on Tuesday.




Reuters - Published





PM Modi rejuvenates 'samosa diplomacy' with Australia's Scott Morrison ahead of video summit

"Connected by the Indian Ocean, united by the Indian Samosa! Looks delicious, PM @ScottMorrisonMP! Once we achieve a decisive victory against COVID-19, we will enjoy the Samosas together. Looking..




IndiaTimes - Published





Australia PM Scott Morrison makes samosa, mango chutney; wishes to share with PM Modi

Australia Prime Minister Scott Morrison on Sunday took to Twitter to share an image of 'ScoMosas'—samosas made by him—and tagged PM Modi in the social media post expressing his desire to share with..




IndiaTimes - Published





Australia would welcome official invitation to G7, says government spokesman

Australia would welcome an official invitation to the Group of Seven (G7) nations and there has been contact on the matter between Prime Minister Scott Morrison and the United States, a government..




Reuters - Published





Australia's 'war cabinet' shifts focus to jobs: PM

Australia's "war cabinet" will meet every month to focus on bringing unemployment down after successfully slowing the spread of the novel coronavirus, Prime Minister Scott Morrison said on Friday.




Reuters - Published





Some sectors of Australian economy will need additional support - PM Morrison

Some sectors of Australia's economy will require additional stimulus, Prime Minister Scott Morrison said on Friday.




Reuters - Published





Australian PM calls for economic overhaul to fuel post-coronavirus recovery

Australian Prime Minister Scott Morrison on Tuesday called for an ideological truce between employers and workers to revive the country's A$2 trillion ($1.3 trillion) economy, which has been badly..




Reuters India - Published

Also reported by •Reuters


Australia's borders will not open 'anytime soon': PM Morrison

Australia will not open the country's borders "anytime soon", Prime Minister Scott Morrison said on Tuesday, but added the country will continue its discussions with neighbouring New Zealand for a..




Reuters - Published





Australia to outline economic recovery plans as lockdowns ease

Australian Prime Minister Scott Morrison will on Tuesday outline his government's plans to revive the sputtering economy, but is expected to warn a recovery will take between three to five years.




Reuters India - Published

Also reported by •Reuters


Australians warned worse still to come after job losses hit record high

Australian Prime Minister Scott Morrison warned citizens to brace for more bad news as data released on Thursday showed the country's monthly job losses rose to a record high because of coronavirus..




Reuters - Published





Australia sets plan to end most COVID-19 restrictions by July

Australia will ease social distancing restrictions in a three-step process, Prime Minister Scott Morrison said on Friday, as Canberra aims to remove most curbs by July and get nearly 1 million people..




Reuters - Published





Opening up, Australia maps out staged easing of COVID-19 curbs

Australia will ease social distancing restrictions in a three-step process, Prime Minister Scott Morrison said on Friday, as Canberra aims to remove all curbs by July and get nearly 1 million people..




Reuters - Published





Australia to ease COVID-19 curbs in three stages, targets July for full removal

Australia will ease social distancing restrictions implemented to slow the spread of the coronavirus in a three-step process, Prime Minister Scott Morrison said on Friday, with the aim of removing all..




Reuters - Published





Australian PM says no evidence coronavirus originated in China laboratory, urges inquiry

Australian Prime Minister Scott Morrison, who has angered Beijing by calling for a global inquiry into the coronavirus outbreak, said he had no evidence to suggest the disease originated in a..




Reuters - Published





Australia to consider next Friday easing of coronavirus containment measures

Australia will consider next Friday whether to relax coronavirus-related mobility restrictions, as the growth rate of new infections slows, Prime Minister Scott Morrison said on Friday following a..




Reuters - Published





Australia moving towards 'COVID-safe' society, but travel ban stays: PM

Australia's prime minister Scott Morrison said on Wednesday bans on international travel and large gatherings would stay in place even as the government eases lockdowns and moves towards a "COVID-safe"..




Reuters - Published





Australia says COVID-19 inquiry is 'reasonable', not targeted at any country

Australia's calls for an independent inquiry into the origins of COVID-19 is "reasonable" and not targeted at any specific country, Prime Minister Scott Morrison said on Wednesday.




Reuters - Published





Nearly 2 million Australians download coronavirus tracing app within hours of its release

Nearly two million Australians rushed to download an app designed to help medical workers and state governments trace close contacts of COVID-19 patients, as Prime Minister Scott Morrison's approval..




Reuters - Published





Australians rush to download coronavirus tracing app, PM's popularity soars

More than a million Australians rushed to download an app designed to help medical workers and state governments trace close contacts of COVID-19 patients, as Prime Minister Scott Morrison's approval..




Reuters - Published





Australia will make it a crime to use coronavirus tracing data for non-health purposes

Australia will make it illegal for non-health officials to access data collected on smartphone software to trace the spread of the coronavirus, Prime Minister Scott Morrison said on Friday, amid..




Reuters - Published





Australia says all WHO members should back coronavirus inquiry

All member nations of the World Health Organization (WHO) should support a proposed independent review into the coronavirus pandemic, Australia's Prime Minister Scott Morrison said on Thursday, further..




Reuters - Published




Australia urges probe into origins of coronavirus, France says not now

Australian Prime Minister Scott Morrison sought support for an international investigation into the origins of the coronavirus pandemic in phone calls with U.S. President Donald Trump and the German..




Reuters - Published





Australia, U.S. leaders discuss investigation into coronavirus pandemic

Australian Prime Minister Scott Morrison has sought support for an international investigation into the coronavirus pandemic in phone calls with U.S. President Donald Trump, and the German and French..




Reuters - Published





Road to recovery: Australia eases restrictions as coronavirus spread slows

Declaring Australia was on the road to recovery with new coronavirus infections almost stamped out, Prime Minister Scott Morrison said on Tuesday hospitals will resume many elective surgeries and..




Reuters - Published





Australia eases restrictions on elective surgeries after slowing coronavirus spread

Australia will relax restrictions on elective surgeries after slowing the spread of coronavirus, Prime Minister Scott Morrison said on Tuesday.




Reuters - Published





Australia may keep coronavirus restrictions for a year, schools could adopt roster

Australian public life could be constrained for another year because of the coronavirus pandemic, Prime Minister Scott Morrison warned on Friday, as the country's most populous state mulled sending..




Reuters - Published




Australia to retain coronavirus curbs for at least another four weeks

Australia will retain curbs on public movement for at least four more weeks, Prime Minister Scott Morrison said on Thursday, dashing speculation the sustained low growth in new cases could spur a..




Reuters - Published





Australia to keep coronavirus restrictions for four more weeks despite success

Australia will retain restrictions on public movement for at least four more weeks, Prime Minister Scott Morrison said on Thursday, dashing speculation the country's sustained low growth in new cases..




Reuters - Published





Australia says coronavirus restrictions to continue at least four more weeks

Australia will keep in place restrictions implemented to curb the spread of the coronavirus for at least four more weeks, Prime Minister Scott Morrison said on Thursday, despite signs that Canberra has..




Reuters - Published