Tripura
State in northeastern India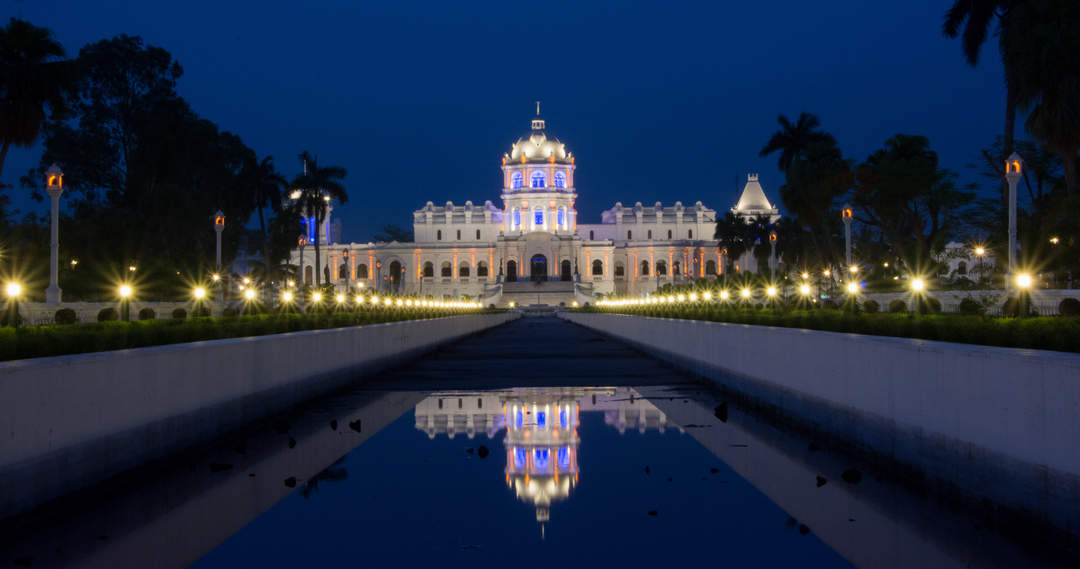 Tripura is a state in northeastern India. The third-smallest state in the country, it covers 10,491 km2 (4,051 sq mi) and is bordered by Bangladesh to the north, south, and west, and the Indian states of Assam and Mizoram to the east. In 2011 the state had 3,671,032 residents, constituting 0.3% of the country's population.


Free assisted-living devices distributed to ease lives of senior citizens in Tripura

Aiming to restore near normalcy in their bodily functions among senior citizens with infirmity, various assisted living devices were provided under the Rashtriya Vayoshri Yojana during a free..
Credit: ANI Duration: 03:31
Published
Tripura gets its first road constructed with plastic waste

Under Agartala Smart City Limited (ASCL) project, Tripura has begun its first plastic road construction by using non-recyclable plastic waste. Tripura Chief Minister Biplab Kumar Deb inaugurated the..
Credit: ANI Duration: 03:14
Published
International Mother Language Day: Students, teachers hold march in Agartala

Students and teachers from various schools, colleges and educational institutions held a march in Tripura's Agartala. They held a long march to mark the International Mother Language Day on February..
Credit: ANI Duration: 01:33
Published
Ahead of ADC polls in Tripura BJP ally IPFT announces alliance with TIPRA

The BJP received a major jolt in Tripura on Friday evening as its ally Indigenous People's Front of Tripura (IPFT) announced an alliance with newly-minted The Indigenous People's Regional Alliance..
Credit: ANI Duration: 03:10
Published
Watch: Beating retreat resumes at India-Bangladesh border after 10 months

Beating retreat ceremony resumes at India-Bangladesh border in Tripura after 10 months. The ceremony was stopped last year in March in view of Covid-19. BSF soldiers resumed the ceremony on the Indian..
Credit: HT Digital Content Duration: 02:09
Published
Beating Retreat resumes at India-Bangladesh border after 10 months

After more than 10 months, the Border Security Force (BSF) resumed Beating Retreat or lowering of the flags ceremony at Agartala-Akhaura border on Febraury 18. It is a daily military practice in which..
Credit: ANI Duration: 02:15
Published
Sacked govt teachers protest against police atrocities in Tripura

The Joint Movement Committee (JMC), a body formed by the terminated teachers on Feb 16 demonstrated a mass protest in front of the Rabindra Satabarshiki Bhavan in Agartala. The rally was held against..
Credit: ANI Duration: 01:40
Published
Kerala biker tours northeast to spread 'national integrity' message

Sudeep PR, a biker from Manippara village, Kerala is on a mission to spread the message of unity in the country. He began his All India Tour on November 3, 2020. Sudeep has covered 16 states in 100..
Credit: ANI Duration: 02:46
Published
Tripura launches online workshop to empower teachers with life skills

An online workshop on 'Empowering Teachers with Life Skills' was virtually inaugurated at New Secretariat Building in Agartala on Feb 9. The workshop was organized by Tripura Tribal Welfare Residential..
Credit: ANI Duration: 02:23
Published
Tripura's student association held sit-in protest, demands inclusion of Kokborok language

The tribal youth of Agartala under the banner of All Tripura Indigenous Students Association (ATISA) launched a two-day sit-in demonstration on demand of inclusion of Kokborok language in the 8th..
Credit: ANI Duration: 02:17
Published
At 76.6%, Bihar on top in vaccinating healthcare workers: Govt

Additional Secretary of Union Health Ministry, Manohar Agnani gave brief about states which have vaccinated over 60% of healthcare workers. He said, "Bihar 76.6%, MP 76.1%, Tripura 76%, U'khand 71.5%,..
Credit: ANI Duration: 01:36
Published
After years of opposition, natives of Tripura villages agree to border fencing

Border villages of Nabadeep Chandra Nagar, Durgapur, Sonapur, Srimantapur, and few others in northeastern state of Tripura have acceded to the long standing government persuasion of installing a fence..
Credit: ANI Duration: 04:16
Published
Police seize ganja worth Rs 1.2 crore at Tripura-Assam border

In yet another successful operation against drugs, the North Tripura district Police on February 01 seized 1200 kg ganja (marijuana) at the Tripura-Assam border. The consignment worth around Rs 1.2..
Credit: ANI Duration: 01:35
Published
Northeast India celebrates 72nd Republic Day

Along with the rest of the country, the northeast region celebrated the 72nd Republic day. Northeast tableau was displayed in India's capital New Delhi during the annual parade. In Manipur, Governor..
Credit: ANI Duration: 02:36
Published
You Might Like



India's daily Covid-19 deaths below 150 for last 10 days

17 states and union territories have not reported any deaths in the last 24 hours. These states and UTs include Arunachal Pradesh, Tripura, Mizoram, Nagaland, Lakshadweep, Ladakh (UT), Sikkim,..




IndiaTimes - Published





Tripura: Police used water cannon, tear gas to disperse teachers protesting near CM's residence




IndiaTimes - Published





PM Modi wishes people of Meghalaya, Manipur and Tripura on their Statehood Day

Prime Minister Narendra Modi extended his wishes to the people of Meghalaya, Manipur and Tripura on their Statehood Day. In a tweet, Prime Minister Narendra Modi expressed his wishes to people of..




IndiaTimes - Published




64% vaccine turnout after 2 days, government expects footfall to rise

Four states — Tamil Nadu, Punjab, Tripura and Puducherry — recorded low turnout of beneficiaries in the range of 22-34%, whereas other states reported more than 50% attendance of those who were..




IndiaTimes - Published





CBI arrests Senior Railways officer, two others for demanding bribe of Rs 1 crore

CBI launched a widespread search operation at 21 locations in five states - Delhi, Uttarakhand, Tripura, West Bengal and Assam.




DNA - Published





Cong accuses BJP workers of attacking Tripura party president's vehicle




IndiaTimes - Published





Nine states implement 'One Nation One Ration Card' system: Finance ministry

As many as nine states have completed One Nation One Ration Card reform following which the central government has allowed them to raise an additional Rs 23,523 crore, said an official release on..




IndiaTimes - Published





Rebel BJP MLAs raise 'Biplab Hatao' slogan in Tripura




IndiaTimes - Published





Normal classes not to resume in schools in most NE states

According to the officials, Tripura and Manipur have yet to decide on the reopening of schools on a regular basis




DNA - Published





Assam CM opens back channel to negotiate with protesters in Tripura




IndiaTimes - Published





90-year-old gang-raped in Tripura




IndiaTimes - Published





Nitin Gadkari to lay foundation stones of 9 national highway projects in Tripura today

The projects will generate a large number of employment and self-employment opportunities for the unskilled, semi-skilled, and skilled manpower of the region.




DNA - Published





Axe CM or give us bigger role, Tripura BJP rebels tell party

The BJP's first government in Tripura led by chief minister Biplab Deb seems to have run into some rough weather, with a rival faction in the newly formed party in the north eastern state demanding a..




IndiaTimes - Published





Tripura government launches Covid-19 testing drive in Agartala

The Tripura government has launched a special Covid-19 testing drive at various municipal wards in Agartala as the Covid-19 random testing Positivity Rate in the state capital reached 21 per cent.




IndiaTimes - Published





Satya Pal Malik appointed Meghalaya governor

Governor of Maharashtra Bhagat Singh Koshyari has been asked to discharge the functions of Goa governor in addition to his own duties, the communique said. Malik takes over from Roy, who completed his..




IndiaTimes - Published





3-day-old boy 'bleeds to death' after nasal swab test at Agartala hospital

A three-day-old baby died in Tripura on Wednesday, barely an hour after his swab sample was collected for testing at Agartala Government Medical College (AGMC).




IndiaTimes - Published





Dismissed Tripura teachers can join as cooks, guards




IndiaTimes - Published





Tripura CM undergoes Covid-19 test after kin test positive

Tripura Chief Minister Biplab Kumar Deb on Monday announced that he underwent testing for COVID-19 test, the result for which is awaited after two members of his family tested positive for the virus.




IndiaTimes - Published





Tripura seeks SC permission to appoint 10K terminated teachers as peons




IndiaTimes - Published





Tripura wants to make 'teachers' peons




IndiaTimes - Published





Northeast has potential to become India's growth engine: PM Modi

In Tripura and Mizoram too, youth have abandoned the path of violence and the Bru-Reang refugees are now moving towards a better life, PM Modi said in his address. The prime minister noted that the..




IndiaTimes - Published





Tripura CM apologises for statement comparing Bengalis with Jats and Punjabis

Tripura chief minister Biplab Kumar Deb on Tuesday apologised for his statements comparing Punjabis and Jats with Bengalis, and said he did not intend to hurt sentiments. ​​Deb had stirred a..




IndiaTimes - Published





118 fresh cases take Tripura's Covid-19 tally to 2,380




IndiaTimes - Published





PM Narendra Modi to interact with heads of 21 States, UTs today

Prime Minister Narendra Modi will interact with the Chief Ministers and heads of 21 States and Union Territories on Tuesday. The meeting with heads of Punjab, Assam, Kerala, Jharkhand, Chhattisgarh,..




IndiaTimes - Published





Corona-related searches on Google drop in May as people go back to films, weather

'Coronavirus' dropped to 12th most searched topic overall during May, behind topics like Film, Meaning, News and Weather. All these terms are consistently highly searched topics in India. This probably..




IndiaTimes - Published





Objections raised over Bru settlement in Mizo-dominated areas of Tripura




IndiaTimes - Published





SC entertains PIL questioning CAA applicability to six Assam districts

The Supreme Court on Wednesday sought the Centre's response to PILs challenging validity of its decision to exclude six districts of Assam from interline permit system, applicable to tribal areas of..




IndiaTimes - Published





102 new Covid-19 cases in Tripura, total rises to 423

The number of COVID-19 cases in Tripura rose to 423, with 102 people testing positive for coronavirus, officials said on Tuesday.




IndiaTimes - Published




BSF defied Covid-19 norms, 162 troopers, kin among infected: Tripura CM

Violation of COVID-19 protocols, including social distancing has taken place, Tripura Chief Minister Bipalab Kumar Deb said here on Monday, attributing it to the spurt in coronavirus cases among the..




IndiaTimes - Published





Central team in Tripura to study Covid-19 cases among BSF men, kin




IndiaTimes - Published





BSF personnel tests positive for coronavirus in Tripura; count 156

Deb tweeted on Wednesday night: "652 civilians & BSF officials have undergone COVID19 test, among them 1 BSF official of 86th Battalion, Ambassa found COVID-19 POSITIVE. We are conducting maximum..




IndiaTimes - Published





Western disturbance likely to cause thunderstorm in Himachal, Haryana, Delhi tomorrow: IMD

"Thunderstorm accompanied with lightning and gusty winds (speed reaching 40-50 kmph) likely at isolated places over Jharkhand, Manipur, Mizoram, Tripura, Rajasthan, Vidarbha, Chhattisgarh and West..




IndiaTimes - Published





Covid-19 cases in BSF increase to 67; max in Delhi, Tripura

Covid-19 cases in border guarding force BSF have climbed to 67, with the maximum reported in a Delhi battalion, deployed in the Jamia area for law and order duties, and from the frontier state of..




IndiaTimes - Published





Not considering withdrawal of lockdown now: Tripura CM

Tripura chief minister Biplab Kumar Deb has said the state government is not considering withdrawal of the ongoing lockdown in near future but will weigh options to relax some restrictions in a phased..




IndiaTimes - Published





Coronavirus latest updates: Tripura becomes COVID-19 free after patient recovers

The total number of confirmed cases of coronavirus infection in India reached 21,700 on Thursday evening while the death toll climbed to 686.




DNA - Published





Rajasthan couple stranded in Tripura names their newborn 'Lockdown'

The migrant couple who got stranded in Tripura said that the government officials suggested to name him 'lockdown' as he was born on April 13 during the lockdown.




DNA - Published





After weeks of closure, work in tea gardens in Assam, Tripura starts




IndiaTimes - Published





Tripura invokes ESMA after nurses complain of shortage of masks, PPEs




IndiaTimes - Published





Tripura man dies of coronavirus in Malaysia, claims family




IndiaTimes - Published

Also reported by •DNA


Assam, Tripura litigants hail SC for segregating anti-CAA cases

"We have been asking for separate hearings for Assam and the northeast as our issues are entirely different," Lurinjyoti Gogoi, the general secretary of the All Assam Students Union (Aasu), said.




IndiaTimes - Published





Centre facilitated development in Tripura by inking pacts with Bangladesh: Governor tells House




IndiaTimes - Published





PM Modi hails agreement to permanently settle Bru-Reang refugees in Tripura




IndiaTimes - Published





Bru tribals from Mizoram to permanently settle in Tripura; pact signed




IndiaTimes - Published

Also reported by •DNA


'Opposition parties trying to divert attention, tableaux of 4 BJP-ruled states also rejected'

The Union government on Thursday strongly denied charges levelled by West Bengal and Maharashtra governments that their tableaux proposals for Republic Day Parade were rejected as they were..




IndiaTimes - Published





Assam stir goes on unabated, BJP and CPM clash in Tripura




IndiaTimes - Published





Congress, allies stoking violence, says PM Modi

Speaking at a BJP rally in Dumka ahead of the last phase of elections in Jharkhand, Modi referred to vandalism and arson that began in Assam, Tripura and Meghalaya and later spread to Bengal and Delhi...




IndiaTimes - Published





Uneasy calm in North East, but protests spread to a few cities elsewhere

Violence in Assam and Tripura over the new citizenship law ebbed on Friday after 72 hours of mayhem on the streets even as new pockets of unrest emerged in Bengal, Delhi, parts of western UP and..




IndiaTimes - Published





NET on Sunday, 10K aspirants in Assam & Tripura left in the lurch




IndiaTimes - Published





Tripura stir called off but internet & SMS curbs remain




IndiaTimes - Published