Court
Judicial institution with authority to resolve legal disputes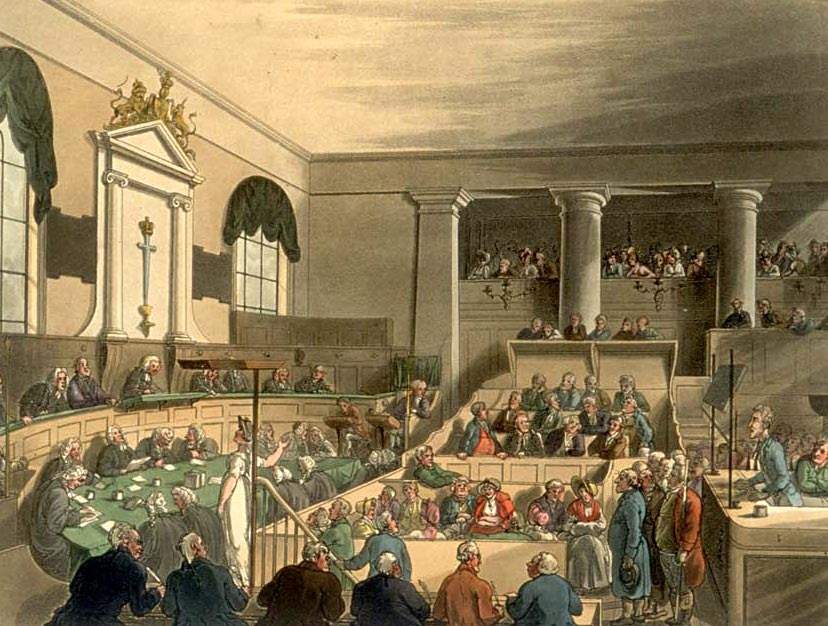 A court is any person or institution, often as a government institution, with the authority to adjudicate legal disputes between parties and carry out the administration of justice in civil, criminal, and administrative matters in accordance with the rule of law. In both common law and civil law legal systems, courts are the central means for dispute resolution, and it is generally understood that all people have an ability to bring their claims before a court. Similarly, the rights of those accused of a crime include the right to present a defense before a court.


Victory for Dutch government over legal challenge to COVID curfew

Court found government was entitled to use an emergency law to introduce the measures forcing residents indoors from 9 pm to 4:30 am
Credit: euronews (in English) Duration: 02:00
Published
MJ Akbar case: Court acquits Priya Ramani, quotes from Mahabharata & Ramayana

A Delhi court on Wednesday acquitted former journalist Priya Ramani in former Union Minister MJ Akbar's defamation case against her. The court said that a woman has the right to voice her grievance..
Credit: HT Digital Content Duration: 02:22
Published
Disha Ravi's arrest: Delhi Police acted depending on case's gravity, says Karnataka Home Min

On Disha Ravi's arrest in Toolkit matter, Karnataka Home Minister Basavaraj Bommai said, "Delhi Police had Court warrant, and information and material based on which they made arrest. There is no..
Credit: ANI Duration: 01:13
Published
Nikita, Shantanu attended Poetic Justice Foundation's Zoom meeting: Delhi Police

Delhi Police Cyber Cell Joint CP Prem Nath in a press conference on February 15 informed that environmentalist Nikita Jacob and Shantanu attended a Zoom meeting organised by pro-Khalistani Canada-based..
Credit: ANI Duration: 01:48
Published
Assam govt pointed out anomalies in implementation process of 1st NRC: Himanta Biswa

Assam government pointed out many anomalies in implementation process of 1st National Register of Citizens, said Transformation and Development Minister Himanta Biswa Sarma. "Citizenship Amendment Act..
Credit: ANI Duration: 01:39
Published
Relief by court saved 'Tandav' makers: MP Home Minister

Commenting on web series 'Tandav', which has invited a couple of controversies, Home Minister of Madhya Pradesh Narottam Mishra said makers would've been behind the bars, if they were not provided..
Credit: ANI Duration: 01:11
Published
You Might Like



R-Day protest: Court grants bail to 19-year-old




IndiaTimes - Published





Toolkit case: Court grants one week to Delhi Police to file reply to Nikita Jacob




IndiaTimes - Published





Did not participate in violence, pacified crowd during Red Fort incident on Jan 26: Deep Sidhu tells Court




IndiaTimes - Published





Toolkit Case: Court grants bail to activist Disha Ravi

Bengaluru-based climate activist Disha Ravi has been granted bail by a Session Court of Patiala House Court. The Court granted her bail on two sureties of Rupees one lakh each.




IndiaTimes - Published





Disha Ravi's bail plea: Court to pronounce order on Tuesday




IndiaTimes - Published





Delhi riots: Court rejects Pinjra Tod activist Devangana Kalita's bail plea in UAPA case

A court here has rejected the bail plea of Jawaharlal Nehru University (JNU) student and Pinjra Tod member Devangana Kalita, booked under the stringent Unlawful Activities (Prevention) Act (UAPA) in a..




IndiaTimes - Published





Black Attorney Gets Probation for Going into Court in Casual Street Clothes

A Black attorney claims he was racially profiled in court because he was wearing street clothes ... and while this video of his arrest seems to support that, he was just convicted for the whole thing...




TMZ.com - Published





TRP rigging scam: Court rejects bail plea of BARC's ex-CEO

A local court on Monday rejected the bail plea of Partho Dasgupta, former CEO of the Broadcast Audience Research Council (BARC), who was arrested in the alleged manipulation of TRP (Television Rating..




IndiaTimes - Published





Court summons Rajinikanth over controversial statement in Sterlite factory protest case

The case is related to the violence which took place in the year 2018 in Vedanta's Sterlite factory in Tuticorin, Tamil Nadu.




DNA - Published





US court rejects bail plea of 26/11 accused Tahawwur Rana

A US court has denied the bail plea of Pakistani-origin Canadian businessman Tahawwur Rana, a key accused in the 2008 Mumbai terror attack. "There is no question in the Court's mind that given Rana's..




IndiaTimes - Published





College Basketball Star Keyontae Johnson Collapses on Court, In Critical Condition

University of Florida basketball star Keyontae Johnson is in critical condition after collapsing on the court in the middle of a game. It's terrifying to watch. The game -- Gators vs. Seminoles -- was..




TMZ.com - Published





Lara Trump Says if Trump Can't Win in Court, Then Subverting Electoral Process is On the Table

The wheels have fallen off Donald Trump's court challenges, so his daughter-in-law now says they're entertaining the prospect of getting state legislators to subvert the democratic process -- and break..




TMZ.com - Published





Court adjourns Arnab bail plea in assault case




IndiaTimes - Published





Palghar lynching: Court to hear bail pleas of accused on November 3




IndiaTimes - Published





Court acquits 20 Tablighi foreign members stuck for 7 months




IndiaTimes - Published





Coal scam: Court convicts ex-Minister Dilip Ray, others

Special Judge Bharat Parashar convicted former union minister Dilip Ray, former minister of state (coal) in the Atal Bihari Vajpayee government, for criminal conspiracy and other offences. The court..




IndiaTimes - Published





Court's decision proves no conspiracy was hatched for Dec 6 incident in Ayodhya: Murli Manohar Joshi

"It is a historic decision by the court. This proves that no conspiracy was hatched for December 6 incident in Ayodhya. Our programme and rallies were not part of any conspiracy," the senior leader..




IndiaTimes - Published





Court drops Modi's name from Gujarat riot compensation suit




IndiaTimes - Published





Scott Peterson's Death Penalty Sentence Reversed

Scott Peterson just got a big break, because the California Supreme Court has reversed his death penalty sentence for murdering his wife and unborn child. The Court ruled the trial judge in the case..




TMZ.com - Published





'Every state has different policy': SC to not issue nationwide guidelines for COVID-19 compensation to kin of deceased

The Supreme Court on Monday refused to issue nationwide guidelines for adequate ex-gratia monetary compensation to families of those who died due to coronavirus disease (COVID-19) in India. The Court..




DNA - Published





High Court permits individuals to install & immerse Ganesha idols in Tamil Nadu, amid Govt ban on public celebration

Court has also emphasized that the Tamil Nadu's government's ban on public celebrations, processions, installation of idols in public on Ganesh Chaturthi will be in force.




DNA - Published





Bastar massacre: Court refuses to handover Jhiram conspiracy probe to NIA




IndiaTimes - Published





Rajasthan Political Crisis: Congress drops Supreme Court plea against Sachin Pilot, rebel MLAs

Earlier, the Rajasthan Governor had rejected Gehlot's request for calling an assembly session, citing reasons such as the petition involving rebel MLAs being heard in the apex court. Today, the..




DNA - Published





Tablighi Jamaat: Court allows 198 Indonesians to walk free on payment of fine

A Delhi court Thursday allowed 198 Indonesians to walk free on payment of varying fines, after they accepted mild charges under the plea bargain process, related to various violations including visa..




IndiaTimes - Published




Jamia violence: Court grants bail to local politician in two cases




IndiaTimes - Published





Court dismisses plea seeking FIR against Ramdev for falsely claiming to have found cure for Covid-19

A Delhi Court on Thursday dismissed a plea seeking lodging of an FIR against yoga guru Baba Ramdev and others for allegedly cheating people by falsely claiming that his firm Patanjali has found a cure..




IndiaTimes - Published





Tablighi Jamaat: Court allows foreigners from 14 countries to walk free on fine; some claim trial

A Delhi court Monday allowed foreign nationals from 14 countries to walk free on payment of different fines, after they accepted mild charges, under the plea bargain process, related to various..




IndiaTimes - Published





Tablighi Jamaat: Court allows 62 Malaysians,11 Saudis to walk free on fine of Rs 7k and Rs 10K

A lawyer, who appeared for the foreign nationals, said that Metropolitan Magistrate Siddharth Malik passed the order after the Malaysians sought lesser punishment under plea bargain process by..




IndiaTimes - Published





Court says Covid-19 not ending any time soon, grants bail to alleged bookie Sanjeev Chawla




IndiaTimes - Published





Court adjourns hearing in JNU sedition case due to pending sanctions by Delhi govt

Under the Code of Criminal Procedure (CrPC), the court cannot take cognizance of the police charge sheet without sanction from the state government.




DNA - Published





Court serves summons to Ravi Shankar Prasad in defamation suit filed by Shashi Tharoor




IndiaTimes - Published





Nirbhaya case: Tihar authorities move court for fresh death warrants, Court seeks convicts response




IndiaTimes - Published





Court's power to grant pre-arrest bail can't be curtailed, arbitrary arrests pervasive: SC




IndiaTimes - Published





Nirbhaya case: Court says no further directions required to supply documents to convicts

Additional Sessions Judge Ajay Kumar Jain said the convicts' lawyer can take pictures of the relevant documents, notebook and paintings or sketches from the Tihar jail authorities. The court noted that..




IndiaTimes - Published





Nirbhaya case: Court rejects convicts' plea seeking documents from Tihar Jail

Judge AK Jain said that no further directions are required as all the documents and all the documents that were sought have been provided by the authorities.




DNA - Published





Anti-CAA protests: Court asks police to verify if Bhim Army Chief has an office in Delhi




IndiaTimes - Published





Court's job to strike balance between liberty and security concerns in J&K: SC




IndiaTimes - Published





Court dismisses plea seeking FIR against sole witness in Nirbhaya rape case

A Delhi court on Monday dismissed an application filed by the father of one of the death-row convicts in the Nirbhaya rape case, who had questioned the credibility of the sole witness by claiming that..




IndiaTimes - Published





Seemapuri case: Accused claiming to be minor proved to the contrary by medical test, Court adjourns hearing of bail plea

Earlier, the individual had filed a bail application in the court, arguing that he was a minor.




DNA - Published





AgustaWestland case: Court to hear next month Michel's plea on entry of ED, CBI into Tihar

Christian Michel is currently lodged in Delhi's Tihar Jail in connection with Rs 3,600 crore AgustaWestland VVIP chopper deal. While the CBI is probing his alleged role as a 'middleman' in the deal,..




IndiaTimes - Published





Unnao rape case: Court to pronounce punishment for ex-BJP MLA Kuldeep Sengar today

Expelled BJP MLA Kuldeep Singh Sengar was convicted under 376 of the Indian Penal Code (IPC) along with Section 5 and 6 of POCSO.




DNA - Published




Unnao rape case: Court adjourns hearing on sentence order against Sengar till Friday

A Delhi court on Tuesday adjourned the hearing against former BJP MLA Kuldeep Singh Sengar, who had been convicted for raping a minor in Unnao in 2017. The hearing, adjourned till Friday, will decide..




IndiaTimes - Published





Unnao rape: Court pulls up CBI for delay in chargesheet, absence of women officers in probe

The gang rape case is separate from the rape case in which expelled BJP MLA Kuldeep Singh Sengar was convicted by the court on Monday. The woman was allegedly gang raped by three other persons on June..




IndiaTimes - Published





Unnao rape case: Kuldeep Sengar breaks down after hearing his conviction

He was seen crying beside his sister. Court convicted prime accused Sengar for rape under Indian Penal Code and POCSO Act for offence of public servant committing penetrative sexual assault against a..




IndiaTimes - Published





Supreme Court to hear petitions challenging Citizenship Amendment Act on December 18

As many as a dozen petitions challenging the Act have been submitted before the Court.




DNA - Published





Delhi court allows Robert Vadra to travel abroad

The Enforcement Directorate has told the court that Vadra, who is scheduled to fly today, approached Court in the last minute leaving inadequate time for the ED to verify details.




DNA - Published




Telangana rape-murder case: Court to issue order on Cyberabad Police's plea seeking 10-day custody of four accused

The incident in Telangana caused a major uproar in the Parliament.




DNA - Published





Telangana vet rape-muder case: Court sends four accused to judicial remand

Hundreds of locals staged a protest since morning outside the police station demanding that the accused be publicly hanged, with people even throwing slippers on police personnel.




DNA - Published





Delhi: Court approves plea seeking transfer of Nirbhaya case to another judge

Last year, Nirbhaya's parents had approached the court to expedite the process to hang all four convicts in the case.




DNA - Published





Court postpones hearing for eighth time for Tanzanian journalist

A Tanzanian court on Wednesday postponed the hearing for the eighth time of a prominent Tanzanian journalist arrested in July in a case his lawyers and rights group say is politically motivated.




Reuters - Published