Tottenham Hotspur F.C.
English professional association football club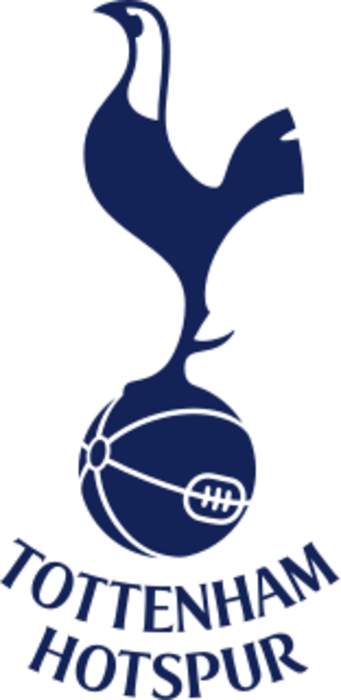 Tottenham Hotspur Football Club, commonly referred to as Tottenham or Spurs, is an English professional football club based in Tottenham, London, that competes in the Premier League, the top flight of English football. The team has played its home matches in the 62,850-capacity Tottenham Hotspur Stadium since April 2019, replacing their former home of White Hart Lane, which had been demolished to make way for the new stadium on the same site.


On This Day 1986: Alan Sugar Expands His Tech Empire

The entrepreneur behind the Amstrad computer brand bought Sinclair Research from his arch-rival Sir Clive Sinclair for £5m. Alan Sugar's rags to riches rise continued as he took over and ran..
Credit: ODN Duration: 04:23
Published
You Might Like



MOTD Top 10: Could trophies be on their way to Spurs at last?

This week's MOTD Top 10 features the best Premier League players from around the world. Could keeping one of those players, Son Heung-min, be the key to Tottenham winning trophies?




BBC Sport - Published





Tottenham: Why Antonio Conte is the key to Spurs keeping Harry Kane - Jermaine Jenas analysis

MOTD2 pundit Jermaine Jenas says Antonio Conte staying on as manager is the key to Tottenham keeping Harry Kane, not a top-four finish this season.




BBC Sport - Published





Tottenham 1-0 Burnley: Spurs penalty decision 'doesn't make sense' - Mike Jackson

Burnley boss Mike Jackson says the VAR decision which awarded Tottenham a penalty - scored by Harry Kane - "doesn't make sense" as his side's survival hopes remain in the balance.




BBC Sport - Published





Tottenham Hotspur 1-0 Burnley: Champions League spot is not in our hands - Antonio Conte

Tottenham Hotspur manager Antonio Conte says Burnley were the "worst kind of team to play against" in their search for a Champions League spot as the Clarets are fighting for their life at the bottom..




BBC Sport - Published





Tottenham 1-0 Burnley: Harry Kane penalty sends Spurs into fourth place

Harry Kane's penalty sees off a stubborn Burnley side as Tottenham move above Arsenal into fourth place and keep the Clarets' survival hopes in the balance.




BBC Sport - Published





MOTD Rewind: Watch Son Heung-min's Puskas award-winning goal for Tottenham against Burnley

Watch Son Heung-min's spectacular Puskas award-winning goal for Tottenham against Burnley in 2019 from all the angles.




BBC Sport - Published





Tottenham 3-0 Arsenal: Spurs increase top-four pressure on Gunners with victory

Arsenal boss Mikel Arteta says "a beautiful game was destroyed" as his side suffers a damaging blow in their top-four hopes with a north London derby defeat at Tottenham.




BBC Sport - Published





Tottenham 3-0 Arsenal: 'Antonio Conte belongs in Champions League and Spurs must keep him'

Tottenham have momentum in the short term after overpowering Arsenal, and they will have it in the long term if they keep manager Antonio Conte.




BBC Sport - Published





Tottenham 3-0 Arsenal: I cannot give my opinion because I would be suspended - Mikel Arteta

Arsenal boss Mikel Arteta says he would be "suspended for a long time" if he gave an "honest assessment" on his side's 3-0 defeat by Tottenham Hotspur.




BBC Sport - Published





Tottenham 3-0 Arsenal: Antonio Conte 'very happy' as Spurs stay in top-four race

Tottenham Hotspur boss Antonio Conte praises fans for the "amazing atmosphere" during a 3-0 win over Arsenal that ensures his side "continue to stay in the race" for a Champions League spot.




BBC Sport - Published





Tottenham 3-0 Arsenal: Harry Kane and Son Heung-min score as Spurs close in on top four

Harry Kane scores twice as Tottenham beat 10-man Arsenal in the north London derby and move to within one point of the Premier League top four.




BBC Sport - Published




Tottenham v Arsenal: Mikel Arteta says Gunners players 'do not need any more motivation'

Arsenal manager Mikel Arteta says his players "do not need any more motivation" in Thursday's north London derby at Tottenham.




BBC Sport - Published





Jurgen Klopp: Liverpool boss was looking for excuse, says Spurs' Antonio Conte

Antonio Conte says Jurgen Klopp was looking for an "excuse or an alibi" when he criticised Spurs' style in Saturday's 1-1 draw with Liverpool.




BBC Sport - Published





WSL highlights: Tottenham beat Leicester 1-0 to finish fifth

Ashleigh Neville scores the game's only goal as Tottenham beat Leicester at the Tottenham Hotspur Stadium.




BBC Sport - Published





Match of the Day analysis: How 'brilliant' Tottenham gameplan frustrated Liverpool

Match of the Day's Alan Shearer explains how Tottenham manager Antonio Conte's perfectly executed gameplan frustrated Liverpool in the 1-1 draw at Anfield.




BBC Sport - Published





Liverpool 1-1 Tottenham Hotspur: Antonio Conte 'happy' with Anfield draw

Tottenham manager Antonio Conte says his team should be happy with a 1-1 draw against Liverpool at Anfield, which keeps Spurs' top-four hopes alive.




BBC Sport - Published





Liverpool 1-1 Tottenham Hotspur: Jurgen Klopp vows Liverpool will 'keep going'

Liverpool manager Jurgen Klopp says the number of games his team have had to play makes winning four trophies "unlikely" after the draw with Tottenham.




BBC Sport - Published





Liverpool 1-1 Tottenham Hotspur: Luis Diaz equaliser sends Reds top

Luis Diaz salvages a point for Liverpool against Tottenham to take the Reds top of the Premier League on goal difference.




BBC Sport - Published





Liverpool v Tottenham: Victor Wanyama & Mohamed Salah star in best goals at Anfield

Watch five great goals scored in Liverpool-Tottenham games at Anfield over the past 12 years, including Victor Wanyama's wonder strike and Mohamed Salah's magic feet.




BBC Sport - Published





WSL highlights - Arsenal beat Tottenham to extend title race to final day

The Women's Super League title will be decided on the final day of the season after Arsenal's victory over rivals Tottenham at the Emirates Stadium.




BBC Sport - Published





Arsenal v Tottenham: Beth Mead gives Gunners lead in crucial WSL derby

Beth Mead gives Arsenal the lead in a crucial Women's Super League derby against Tottenham, with a draw or a win for the Gunners taking the title race to the final day.




BBC Sport - Published





Arsenal v Tottenham: Gunners not focusing on a potential WSL title, says Eidevall

Jonas Eidevall says Arsenal's only focus is facing Tottenham on Wednesday as the Gunners aim to keep their Women's Super League title hopes alive.




BBC Sport - Published





Fourth place in the Premier League is like a trophy for Arsenal and Tottenham - Jonathan Woodgate analysis

MOTD2 pundit Jonathan Woodgate explains why next week's north London derby will feel like a cup final - with the prize a place in next season's Champions League.




BBC Sport - Published





Tottenham 3-1 Leicester: Antonio Conte praises Son Heung-Min for 'fantastic' goal

Tottenham Hotspur head coach Antonio Conte says he is "delighted" for his strikers, including Son Heung-Min for his "fantastic" goal during their 3-1 win over Leicester City.




BBC Sport - Published





Tottenham Hotspur 3-1 Leicester City: Son Heung-min & Harry Kane clinch victory

Harry Kane and Son Heung-min rediscover their touch in front of goal as Tottenham beat Leicester to go fourth in the Premier League.




BBC Sport - Published





WSL highlights: Sam Kerr scores winner as Chelsea beat Spurs 2-1

Sam Kerr helps Chelsea beat Tottenham for the second time in five days to extend their lead at the top of the WSL to four points.




BBC Sport - Published





Chelsea 2-1 Tottenham: Emma Hayes' side go four points clear at top of WSL

Chelsea overcome Tottenham for the second time in five days to extend their lead at the top of the Women's Super League to four points.




BBC Sport - Published





Tottenham: Shelina Zadorsky plans to extend contract

Captain Shelina Zadorsky says she plans to stay at Tottenham next season by taking up the option of a one-year extension in her contract.




BBC Sport - Published





Tottenham 1-3 Chelsea: Blues fightback to maintain WSL title push

"How about that!" - Watch as Jessie Fleming seals a 3-1 win for Chelsea with a long range screamer as they come from behind to beat Tottenham




BBC Sport - Published





WSL Tottenham 1- 3 Chelsea: 'Incredible strike' - Fleming seals Chelsea comeback win with fine goal

Jessie Fleming completes Chelsea's comeback with a brilliant goal as Chelsea recover from being a goal and a player down to to win 3-1 at Tottenham.




BBC Sport - Published





WSL Tottenham v Chelsea: Spurs take shock lead over Chelsea with freak own goal

Tottenham's Molly Bartrip swings in a corner which clips the post with goalkeeper Ann-Katrin Berger stretching to reach it and bounces back off Chelsea's Sophie Ingle's shin and over the line.




BBC Sport - Published





Brentford 0-0 Tottenham Hotspur: Spurs boss Conte left frustrated with goalless draw

Spurs boss Antonio Conte says the 0-0 draw with Brentford was a fair result but admits his side can do "much better" after losing ground on Arsenal in top four race




BBC Sport - Published





Brentford 0-0 Tottenham Hotspur: Bees boss Frank proud of 'top performance' against Spurs

Brentford manager Thomas Frank says it's nice to reach 40 points in the Premier League but wants more after 'top performance' against Spurs




BBC Sport - Published





Brentford 0-0 Tottenham: Spurs' top-four hopes suffer blow

Tottenham's hopes of qualifying for the Champions League suffer a setback as they are held to a goalless draw by Brentford.




BBC Sport - Published





Southampton 1-0 Arsenal: Jan Bednarek strike condemns top-four chasing Gunners to third straight defeat

Arsenal miss the chance to move level on points with fourth-placed Tottenham as Southampton inflict a third successive defeat on Mikel Arteta's team.




BBC Sport - Published





Tottenham Hotspur 0-1 Brighton: Late Trossard goal stuns sluggish Spurs

Leandro Trossard scores a superb late goal for Brighton to deal a blow to Tottenham's hopes of finishing in the top four.




BBC Sport - Published





Tottenham move closer to Champions League qualification as Arsenal and Man Utd wobble

Antonio Conte has previously dismissed Tottenham's hopes of qualifying for the Champions League, but they are now on course to do it.




BBC Sport - Published





Aston Villa 0-4 Tottenham Hotspur: Spurs have a good 'chemistry' - Antonio Conte

Tottenham manager Antonio Conte says the "chemistry" between his players is good, after Spurs won 4-0 at Aston Villa.




BBC Sport - Published





Aston Villa 0-4 Tottenham Hotspur: Scoreline is harsh on Villa - Steven Gerrard

Aston Villa manager Steven Gerrard says the 4-0 defeat at home to Tottenham is "harsh" on his team, but accepts responsibility for the result.




BBC Sport - Published





Aston Villa 0-4 Tottenham Hotspur: Son Heung-min hat-trick keeps Spurs on track for top four

Son Heung-min's hat-trick keeps Tottenham's Premier League top-four destiny in their own hands as Spurs thrash Aston Villa.




BBC Sport - Published





Match of the Day 2: How Tottenham's Harry Kane 'ran riot' against Newcastle

Match of the Day 2 pundits Nedum Onuoha and Ian Wright explain how Harry Kane "ran riot" as Tottenham thrashed Newcastle 5-1 in the Premier League.




BBC Sport - Published





Tottenham 5-1 Newcastle: Has Harry Kane been given a dilemma by Antonio Conte's side?

Tottenham are rejuvenated under Antonio Conte and moved into the top four, leaving Harry Kane a dilemma about whether to stay or go at the end of the season.




BBC Sport - Published





Tottenham Hotspur 5-1 Newcastle United: Son, Doherty, Emerson on scoresheet

Tottenham come from behind to comfortably beat Newcastle and move up to fourth in the Premier League.




BBC Sport - Published





Jermain Defoe: Great FA Cup goals

Watch some great FA Cup goals from former England, Sunderland, West Ham, Tottenham and Rangers striker Jermain Defoe who has retired from professional football.




BBC Sport - Published





Jermain Defoe: Sunderland's ex-England, Tottenham & West Ham striker retires

Sunderland's former England, West Ham, Tottenham and Rangers striker Jermain Defoe retires from football at the age of 39.




BBC Sport - Published





Transfer rumours: Kane, Rice, Neymar, Botman, Azpilicueta, Saliba

Harry Kane refuses to commit to himself to Tottenham, Rice would prefer Chelsea over Man Utd if he leaves West Ham, Newcastle will not make Neymar move, plus more.




BBC Sport - Published





WSL: Chelsea v Tottenham called off

The London derby between Chelsea and Tottenham in the WSL is called off after a Covid-19 outbreak at Spurs.




BBC Sport - Published





Tottenham Hotspur 3-1 West Ham United: Spurs' mentality is growing - Antonio Conte

Tottenham manager Antonio Conte says his team's mentality is "growing", and believes Spurs are still in the race to finish in the Premier League's top four.




BBC Sport - Published





Antonio Conte: Tottenham manager critical of Arsenal boss Mikel Arteta's fixture complaints

Tottenham manager Antonio Conte says Arsenal boss Mikel Arteta has no right to complain about an unfair fixture list when January's north London derby was called off at their request.




BBC Sport - Published





Brighton & Hove Albion 0-2 Tottenham Hotspur: Harry Kane scores as visitors reignite top-four hopes

Harry Kane scores as Tottenham reignite their top-four hopes by condemning Brighton to a sixth successive Premier League defeat.




BBC Sport - Published