Tottenham Hotspur F.C.
English professional association football club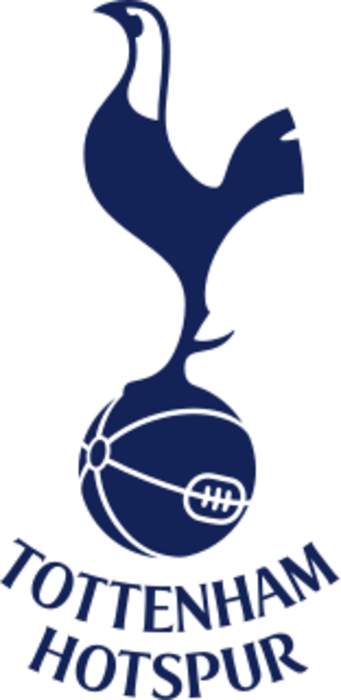 Tottenham Hotspur Football Club, commonly referred to as Tottenham or Spurs, is an English professional football club based in Tottenham, London, that competes in the Premier League, the top flight of English football. The team has played its home matches in the 62,850-capacity Tottenham Hotspur Stadium since April 2019, replacing their former home of White Hart Lane, which had been demolished to make way for the new stadium on the same site.


Former England striker Jimmy Greaves dies

Tottenham Hotspur's record goalscorer Jimmy Greaves has died at the age of 81. The World Cup-winning striker scored 44 goals in 57 appearances for England. Report by Jonesia. Like us on Facebook at..
Credit: ODN Duration: 01:29
Published
Tottenham: 2021/22 season preview

An in-depth preview at Tottenham as they head into the 2021/22 season. Nuno Espirito Santo has a rebuilding job in north London, but keeping star striker Harry Kane is the main priority.
Credit: PA - Press Association STUDIO Duration: 00:47
Published
Pep Guardiola says Harry Kane chase is 'finished' if Spurs will not negotiate

Pep Guardiola has confirmed Manchester City's interest in Harry Kane but accepts Tottenham may not want to sell the England captain.Kane is understood to want to leave Spurs and did not report back..
Credit: PA - Press Association STUDIO Duration: 00:57
Published
Nuno wants to solve Harry Kane situation internally to avoid 'public argument'

Tottenham boss Nuno Espirito Santo says the club will solve their Harry Kane problem internally rather than speak publicly about it.The striker did not report for pre-season tests on Monday and it..
Credit: PA - Press Association STUDIO Duration: 01:05
Published
Anthony Taylor: Simon Kjaer and medics 'real heroes' after Christian Eriksen collapse

Premier League referee Anthony Taylor insists he was no hero despite receiving widespread praise for his handling of Christian Eriksen's cardiac arrest at Euro 2020.Taylor was in charge of the game..
Credit: PA - Press Association STUDIO Duration: 01:49
Published
You Might Like



Wolverhampton Wanderers 2-2 Tottenham Hotspur (2-3 on penalties): Bruno Lage's side knocked out after shootout

Bryan Gil scores the decisive penalty as Tottenham beat Wolves in a shootout to reach the fourth round of the Carabao Cup.




BBC Sport - Published





Tottenham 0-3 Chelsea: Thomas Tuchel says his side need to improve level

Chelsea manager Thomas Tuchel says his side need to improve their level despite their 3-0 victory over Tottenham in the Premier League.




BBC Sport - Published





Tottenham Hotspur 0-3 Chelsea: Thomas Tuchel's side win London derby to extend unbeaten run

Chelsea stretch their unbeaten Premier League run to five games as Thomas Tuchel's team deservedly beat Tottenham.




BBC Sport - Published





Jimmy Greaves: Spurs, Chelsea and West Ham lead tributes for former striker

Tottenham and Chelsea lead the tributes for their former player Jimmy Greaves, who has died aged 81.




BBC Sport - Published





'The finest marksman this country has ever seen': Greaves' life in pictures

Jimmy Greaves, legendary Tottenham Hotspur, Chelsea and England striker, has died aged 81.




Sky News - Published





Jimmy Greaves: Watch great goals of Tottenham, Chelsea, West Ham & England striker

BBC Sport looks back at some great goals from Jimmy Greaves' career and highlights the statistics that made him a footballing legend.




BBC Sport - Published





Jimmy Greaves: Ex-Tottenham & England striker dies aged 81

Tottenham's record goalscorer and former England striker Jimmy Greaves dies at the age of 81.




BBC Sport - Published





Tottenham and England legend Jimmy Greaves dies aged 81

Tottenham Hotspur and England legend Jimmy Greaves has died aged 81.




Sky News - Published





Rennes v Tottenham Hotspur: Son Heung-min among Spurs players not to travel

Son Heung-min is among the Spurs players who will not feature against Rennes in the Europa Conference League on Thursday.




BBC Sport - Published





Transfer rumours: Kane, Tielemans, Martinez, Aouar, Nandez, Romero, Wijnaldum, Ramsay

Harry Kane could agree to sign a new Tottenham deal if a release clause is inserted. while Leicester's Youri Tielemans says he is "keeping his options open" as he negotiates a new deal, plus more.




BBC Sport - Published





Women's Super League: 'It's a blatant handball' - How Tottenham beat Man City with a controversial winner

Watch as Tottenham forward Rosella Ayane helps grab a controversial late winner in the Women's Super League which Man City boss Gareth Taylor describes as a "blatant handball."




BBC Sport - Published





Manchester City 1-2 Tottenham Hotspur: Controversial own goal gives visitors victory

Watch highlights as Tottenham Hotspur beat Manchester City 2-1 in the Women's Super League thanks to a late, controversial own goal.




BBC Sport - Published





Manchester City 1-2 Tottenham: Extraordinary late winner gives Spurs win at City

Tottenham upset title challengers Manchester City with a controversial late winner.




BBC Sport - Published





Crystal Palace 3-0 Tottenham: Nuno Espirito Santo offers no excuses

Tottenham Hotspur manager Nuno Espirito Santo offers no excuses for his side's 3-0 defeat by Crystal Palace, which saw Japhet Tanganga sent off for the visitors.




BBC Sport - Published





Crystal Palace 3-0 Tottenham Hotspur: Eagles beat leaders Spurs for first win of league campaign

Odsonne Edouard scores twice on his debut as Crystal Palace claim their first win of the season to end 10-man Tottenham's 100% Premier League start.




BBC Sport - Published





Women's FA Cup quarter-finals: Arsenal v Tottenham to be shown live on BBC Four

The Women's FA Cup quarter-final between 14-time winners Arsenal and north London rivals Tottenham will be broadcast live on BBC Four.




BBC Sport - Published





Tottenham Hotspur 1-0 Birmingham City: Kit Graham goal sees Spurs beat Birmingham

Tottenham Hotspur made a winning start to the 2021-22 WSL season by beating Birmingham City 1-0 at Tottenham Hotspur Stadium




BBC Sport - Published





Harry Kane: England captain has 'clear conscience' after Manchester City transfer saga

England captain Harry Kane says he has a "clear conscience" after a potential move to Manchester City from Tottenham Hotspur failed to materialise.




BBC Sport - Published





Emerson Royal: Tottenham sign Barcelona defender for £25.8m

Tottenham sign Brazil right-back Emerson Royal from Barcelona for £25.8m.




BBC Sport - Published




Transfer rumours: Mbappe, Bellerin, Kounde, Hudson-Odoi, Tagliafico, Edouard

Real withdraw from talks to sign Mbappe, Barcelona interested in Bellerin if Emerson joins Spurs, Leicester keen on Hudson-Odoi, plus more.




BBC Sport - Published





'Why Kane deserved move & how Spurs have bounced back from turbulent summer' - Jermaine Jenas

MOTD2 pundit Jermaine Jenas says Harry Kane deserved a move away from Tottenham and looks at how the club has bounced back after a difficult summer.




BBC Sport - Published





Nuno Espirito Santo: Tottenham boss seeks government red-list travel help for World Cup qualifiers

Tottenham boss Nuno Espirito Santo wants help from football and political bodies over red-list travel in the international break.




BBC Sport - Published





Tottenham Hotspur 1-0 Watford: Nuno Espirito Santo praises Spurs spirit but admits there are 'things to improve'

Tottenham Hotspur manager Nuno Espirito Santo says his side "still have things to improve" after they secured a 1-0 victory over Watford to move top of the Premier League table after three wins in..




BBC Sport - Published





Tottenham Hotspur 1-0 Watford: Son Heung-min winner maintains Spurs' 100% start

Son Heung-min marks his 200th Premier League appearance with the winning goal as Tottenham maintain their 100% start to the season against Watford.




BBC Sport - Published





Carabao Cup third-round draw: Man Utd host West Ham, Spurs visit Wolves

Manchester United will host West Ham while holders Manchester City draw League One Wycombe in the third round of the Carabao Cup.




BBC Sport - Published





Tottenham v Pacos de Ferreira: Harry Kane 'an option' for Europa Conference game

Harry Kane could make his first start of the season for Tottenham in their Europa Conference League qualifying play-off second leg with Pacos de Ferreira.




BBC Sport - Published





Harry Kane says he is 'staying at Tottenham this summer'

Harry Kane has said he is "staying at Tottenham this summer" after accepting he will not be joining Manchester City this season.




Sky News - Published





Harry Kane: Tottenham striker says he will stay at the club

England captain Harry Kane says he will be "staying at Tottenham this summer" and is "00% focused on helping the team achieve success".




BBC Sport - Published





Transfer rumours: Aubameyang, Kane, Saul, Rice, Kounde, Camavinga, Nketiah, Moore

Arsenal willing to listen to offers for Aubameyang, Tottenham chairman Levy will not drop Kane valuation, Chelsea weigh up late Saul move, plus more.




BBC Sport - Published





Harry Kane: 'He's one of our own' - but for how long will the striker be at Tottenham?

Harry Kane made his first Tottenham appearance of the season off the bench against Wolves, but how long will he remain at the club?




BBC Sport - Published





Wolves 0-1 Tottenham: Can Bruno Lage make quick impact at Molineux?

Wolves' new boss Bruno Lage is trying to implement a new approach, but after two defeats it is clear he will need time to make an impact.




BBC Sport - Published





Wolves 0-1 Tottenham Hotspur: Nuno praises Harry Kane after Molineux victory

Spurs boss Nuno Espirito Santo praises Harry Kane who returned to their squad for 1-0 win at Wolves as speculation over his future at the club continues.




BBC Sport - Published





Wolverhampton Wanderers v Tottenham Hotspur: Harry Kane travels with visitors' squad

Tottenham striker Harry Kane travels with the squad for Sunday's Premier League match at Wolves, as he continues to be linked with Manchester City.




BBC Sport - Published





Transfer rumours: Messi, Rice, Bernardo, Tolisso, Ndombele, Neves, Rodriguez

Beckham holds Messi talks, Rice unhappy with £100m price tag, AC Milan eye Bernardo Silva, Tottenham identify possible Kane replacement, plus more.




BBC Sport - Published





Transfer rumours: Mbappe, Ndombele, Sarr, Duarte, De Jong, Diallo

Man Utd target Mbappe in 2022, Ndombele wants to leave Tottenham, West Ham eye move for De Jong, plus more.




BBC Sport - Published





Pacos de Ferreira v Tottenham Hotspur: Harry Kane to miss Europa Conference League tie

Harry Kane will not play for Tottenham in Thursday's Europa Conference League play-off first leg against Pacos de Ferreira.




BBC Sport - Published





Tottenham: I've spoken with Harry Kane and everything is OK - Nuno Espirito Santo

Tottenham head coach Nuno Espirito Santo says he has "had a talk" with Harry Kane and "everything is OK".




BBC Sport - Published





Kevin de Bruyne: Manchester City midfielder set to miss Premier League opener

Kevin de Bruyne is likely to miss the start of Manchester City's Premier League title defence against Tottenham on Sunday.




BBC Sport - Published





Transfer rumours: Kane, Ronaldo, Coutinho, Rudiger, Locatelli, Ward-Prowse, Costa, Doku

Man City are prepared to pay Tottenham £127m for Harry Kane, while PSG could look to sign Cristiano Ronaldo next summer, plus more.




BBC Sport - Published





Bukayo Saka: Arsenal forward clapped on to pitch by Tottenham fans in pre-season friendly

Tottenham fans applaud Arsenal's Bukayo Saka on to the pitch on his first appearance since Euro 2020.




BBC Sport - Published





Cristian Romero: Tottenham on brink of completing deal for Atalanta defender

Tottenham are on the brink of confirming the signing of defender Cristian Romero from Atalanta for about £47m.




BBC Sport - Published





Harry Kane hits back at criticism saying he has 'never refused to train'

Tottenham striker Harry Kane has hit back at critics saying he has "never refused to train" for the club and will return "as planned" on Saturday.




Sky News - Published





Harry Kane: Tottenham striker says he would never refuse to train and will return to club on Saturday

Tottenham striker Harry Kane says he "would never and have never refused to train" and is planning to return to the club on Saturday.




BBC Sport - Published





Manchester City boss Pep Guardiola confirms Harry Kane interest, but says Lionel Messi 'not in thoughts'

Manchester City boss Pep Guardiola confirms the club's interest in Tottenham striker Harry Kane but says Lionel Messi is "not in our thoughts".




BBC Sport - Published





Tottenham Hotspur: No Harry Kane in team for Chelsea friendly

Tottenham line up for their friendly at Chelsea without striker Harry Kane, who failed to turn up to training this week.




BBC Sport - Published





Harry Redknapp says Tottenham chairman Daniel Levy 'will not budge' over Harry Kane transfer fee

Harry Redknapp says Tottenham chairman Daniel Levy doesn't "do emotions" and "will not budge" over his valuation of striker Harry Kane.




BBC Sport - Published





Harry Kane: Tottenham Hotspur striker continues stand-off with club

Tottenham striker Harry Kane has failed to report to the club's training ground for a second day as the stand-off over his future continues amid interest from Manchester City.




BBC Sport - Published





Tottenham face potential Larne tie in Europa Conference League play-offs

Tottenham are drawn against Northern Irish team Larne or Portuguese side Pacos de Ferreira in the inaugural Europa Conference League play-offs.




BBC Sport - Published





England captain Harry Kane misses Tottenham training as rumours swirl over Man City move

England football captain Harry Kane has failed to show up for pre-season training at Tottenham amid speculation around his future at the club.




Sky News - Published





Harry Kane: Tottenham striker fails to show up to Spurs' training ground

Harry Kane, a transfer target for Manchester City, fails to return to the Tottenham training ground as expected on Monday morning amid speculation over his future.




BBC Sport - Published