Sukhbir Singh Badal
Indian politician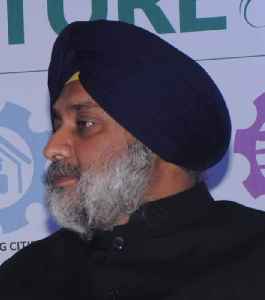 Sukhbir Singh Badal is an Indian politician and President of Shiromani Akali Dal, a Sikh political party. He served as Deputy Chief Minister of Punjab from 2009 to 2017. He is the son of Parkash Singh Badal, who has served several times as Chief Minister of Punjab.


Akali top gun Sukhbir Badal to battle it out with former colleague Ghubaya in Punjab's Ferozepur
Badal is up against his former colleague and sitting MP Sher Singh Ghubaya, who recently switched over to the Congress.
DNA - Published
We are not enemies, politics should not be like India vs Pakistan: Sukhbir Badal
"We politicians are not enemies...we are not like India-Pakistan...politics should not be like India versus Pakistan, which it is unfortunately becoming. Everyone has their own views but still we are..
DNA - Published
Ferozepur Lok Sabha constituency: Candidates for 2019 LS poll, past results, all updates
The key contest here is going to be held among SAD's Sukhbir Singh Badal and Congress' Sher Singh Ghubaya.
DNA - Published
Search this site and the web:
You Might Like