Bharti Airtel
Indian multinational telecommunications company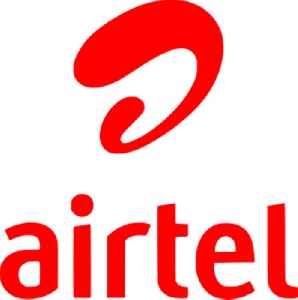 Bharti Airtel Limited, also known as Airtel, is an Indian global telecommunications services company based in New Delhi, India. It operates in 18 countries across South Asia and Africa, and also in the Channel Islands. Airtel provides GSM, 3G, 4G LTE, 4G+ mobile services, fixed line broadband and voice services depending upon the country of operation. Airtel had also rolled out its VoLTE technology across all Indian telecom circles. It is the largest mobile network operator in India and the second largest mobile network operator in the world with over 411.42 million subscribers. Airtel was named India's 2nd most valuable brand in the first ever Brandz ranking by Millward Brown and WPP plc.


You Might Like
Sensex, Nifty end lower as Airtel, IT stocks drag
Indian shares gave up early gains to end slightly lower on Tuesday, led by a fall in Bharti Airtel and information technology shares amid concerns over a sharp rise in domestic coronavirus cases.
Reuters India - Published
Sensex, Nifty end higher on Bharti Airtel boost; banks fall
Indian shares ended higher on Tuesday after three days of losses, spurred by a surge in Bharti Airtel and optimism around a potential coronavirus vaccine, but a late slide in banking stocks and..
Reuters India - Published
Bharti Airtel shares rise 10%; data demand, tariff hikes help
Shares of Bharti Airtel Ltd surged 10% to a record high on Tuesday, as customers upgraded their data and calling plans and the Indian telecom operator raised mobile tariffs, helping boost average..
Reuters India - Published
Indian shares jump on vaccine optimism; Bharti Airtel surges
Indian shares followed world markets higher on Tuesday, after three straight sessions of declines, spurred by gains in Bharti Airtel and positive data from an early trial of a potential COVID-19..
Reuters India - Published
Sensex, Nifty jump on vaccine optimism; Airtel gains
Indian shares tracked world markets higher on Tuesday, as the successful early-stage trial of a potential COVID-19 vaccine spurred optimism about a recovery in global economic growth, while a surge in..
Reuters India - Published
Bharti Airtel reports fourth quarter loss of 52.37 billion rupees
Indian telecom operator Bharti Airtel Ltd reported a loss for the fourth quarter on Monday, as it set aside 56.42 billion Indian rupees ($744.90 million) for one time spectrum charges.
Reuters India - Published
Covid-19 lockdown: Priyanka Gandhi urges telecom companies to provide free services to migrant labourers
Congress leader Priyanka Gandhi Vadra called upon telecom companies to make their services free for a month to enable the poor migrant labourers reach out to their near and dear ones. In separate..
IndiaTimes - Published
Telecom operators launch caller tune to spread awareness about Coronavirus
The Indian telecom operators BSNL, Airtel and Reliance Jio have already implemented the initiative so that it can raise awareness among its customers.
DNA - Published
Citizenship law protests: Airtel, Vodafone Idea, Jio suspended mobile services in parts of Delhi
As a nationwide protest against the Citizenship Amendment Act was scheduled to be held on Thursday, restrictions have been imposed on large gatherings in various parts of the country. As a..
DNA - Published
Calls, internet services suspended in parts of Delhi: Bharti Airtel customer care
Mobile carrier Bharti Airtel's customer care on Thursday told customers it had suspended voice calls, SMS and internet services in parts of the Indian capital following days of protests across the city..
Reuters - Published
Amid ongoing crisis, telecom operators Bharti Airtel, Vodafone Idea and Reliance Jio hike tariffs
According to reports, the telecom sector is under a debt of Rs 7.88 lakh crore as per data released by the Parliament last month.
DNA - Published
Telecom dept to look into rationalisation of levies
This has been a long standing demand of the industry mainly Airtel and Vodafone Idea since the entry of new player Reliance Jio in the telecom sector
DNA - Published