Dublin
Capital and largest city of Ireland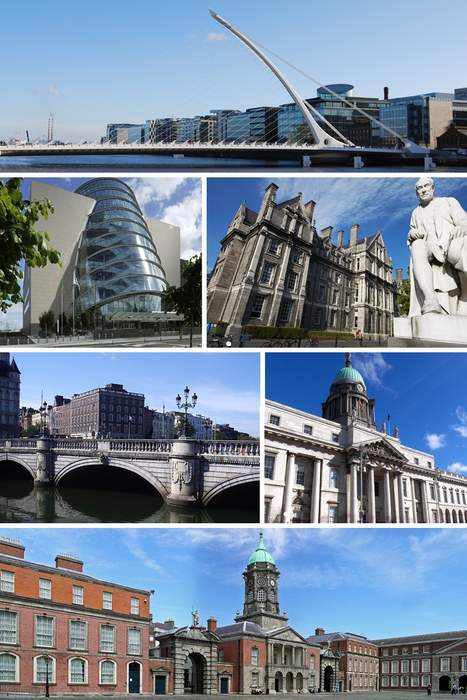 Dublin is the capital and largest city of Ireland. Situated on a bay on the east coast, at the mouth of the River Liffey, it lies within the province of Leinster. It is bordered on the south by the Dublin Mountains, a part of the Wicklow Mountains range. It has an urban area population of 1,173,179, while the population of the Dublin Region as of 2016 was 1,347,359. The population of the Greater Dublin Area was 1,904,806 per the 2016 census.


Ireland suffer another Six Nations against France

Ireland's Guinness Six Nations title aspirations were prematurely ended as France underlined their status as tournament favourites by grinding out a 15-13 win in Dublin.The Irish suffered successive..
Credit: PA - Press Association STUDIO Duration: 01:55
Published
EU reverses plan to restrict vaccines via NI border

The European Union on Friday abruptly reversed a plan to use emergency Brexit measures to restrict exports of COVID-19 vaccines from crossing the Irish border into the United Kingdom. Edward Baran..
Credit: Reuters - Politics Duration: 01:46
Published
Fox roams empty streets of Dublin

One eyewitness filmed a fox roaming the empty streets of Dublin on Saturday January 9.
Credit: Reuters Studio Duration: 00:30
Published
Family and friends pay tribute to 'kind' George Nkencho

The family of George Nkencho who was shot dead by armed gardai in Dublin havedescribed life as a "gift" and urged people "not to waste it". A memorial forthe 27-year-old, who died on December..
Credit: PA - Press Association STUDIO Duration: 01:19
Published
Protest outside garda station after shooting of George Nkencho

Supporters of the family of George Nkencho, who was shot dead by gardai onWednesday, hold a picket at the Spire on Dublin's O'Connell Street and outsidePearse Street Garda station. Mr Nkencho was shot..
Credit: PA - Press Association STUDIO Duration: 00:48
Published
Craft brewery set for expansion after Covid crisis canned beer success

A Dublin craft brewery is set to expand this year after refocusing on theproduction of canned beer to offset the impact of pub closures during theCovid-19 pandemic.
Credit: PA - Press Association STUDIO Duration: 00:49
Published
First ferries arrive in Dover and Dublin under post-Brexit rules

The first ferries have arrived in Dublin and Dover under new trade rulesbetween the UK and EU member states, following the end of the Brexittransition period. In Dublin, around a dozen freight trailers..
Credit: PA - Press Association STUDIO Duration: 00:50
Published
You Might Like



Ireland 13-15 France: France make it two out of two while Ireland remain without a win

France beat Ireland 15-13 in Sunday's game in Dublin to move top of the Six Nations table with two wins from two.




BBC Sport - Published





Row grows over post-Brexit NI protocol as Dublin says it 'won't be scrapped'

The Irish government has said the post-Brexit Northern Ireland protocol is not going to be scrapped, despite calls from the DUP for it to be replaced.




Sky News - Published





Conor McGregor Denies Wrongdoing After 2 Women File Lawsuits Against UFC Star

Two women in Ireland are suing Conor McGregor stemming from alleged incidents in 2018 ... but the UFC superstar is ADAMANT he did nothing wrong. The suits were filed Monday in Dublin, according to..




TMZ.com - Published





Etihad to operate special flights to Europe, Japan this month: statement

Abu Dhabi's Etihad Airways said on Sunday it would operate special flights to Brussels, Dublin, London, Tokyo and Zurich between April 14 and 22.




Reuters - Published





Nearly half Irish coronavirus cases in Dublin, growth rate eases

Nearly half confirmed cases of coronavirus in Ireland are in the capital Dublin, the health department said on Wednesday in its first detailed regional breakdown of figures as the daily growth rate..




Reuters - Published





Last orders... Ireland closes all pubs on eve of St Patrick's Day

The Irish government on Sunday said all bars in the country should close until at least the end of the month to curb the spread of coronavirus after videos of singing in packed Dublin venues on..




Reuters - Published





Last orders...Irish pubs close voluntarily after health outcry

Bars across Ireland are closing voluntarily to curb the spread of coronavirus after videos of singing in packed Dublin venues on Saturday sparked anger on social media and the threat of an outright..




Reuters - Published





Dublin rules out special help for Ireland's hospitality sector as coronavirus bites

The Irish government will not prioritize a particular part of its economy in its fiscal response to the coronavirus epidemic, the finance minister said on Wednesday after calls from the hospitality..




Reuters - Published





Irish St. Patrick's Day parades canceled over coronavirus: RTE

All Irish St. Patrick's Day parades, including Dublin's main celebration that draws around 500,000 revelers from all over the world each year, were canceled on Monday due to the risk of a further..




Reuters - Published





Prince William in Ireland on first senior UK royal visit since Brexit

Britain's Prince William arrived in Dublin on Tuesday with his wife Kate, making a symbolic show of friendship with a close neighbor on the first official trip abroad by senior royals since Brexit.




Reuters - Published





British region of Northern Ireland confirms first coronavirus case

Northern Ireland authorities on Thursday confirmed their first case of coronavirus, with the British region's chief medical officer Michael McBride telling journalists that the patient had traveled..




Reuters - Published





Ireland's Sinn Fein demands place in government at Dublin rally

Irish left-wing nationalists Sinn Fein demanded a place in Ireland's next government on Tuesday at a packed rally in Dublin, saying the country's two dominant centre-right parties were trying block..




Reuters - Published





Sacking of UK minister who broke Northern Ireland logjam dismays Belfast, Dublin

British Prime Minister Boris Johnson has sacked the minister who helped end three years of political paralysis in Northern Ireland, prompting criticism on Thursday that Johnson was indifferent to the..




Reuters - Published





Sinn Fein eyes government, Irish unity poll after election surge

Sinn Fein on Monday demanded inclusion in Ireland's next government after a record election showing, a move that would raise its central goal of reunification with Northern Ireland toward the top of..




Reuters - Published





Ireland's Fianna Fail pledges early preparations for unification vote

Ireland's main opposition party, Fianna Fail, leading in opinion polls ahead of a Feb. 8 election, pledged on Friday to start preparations on how Dublin should approach a possible referendum on the..




Reuters - Published





Irish farmers fire election warning shot with Dublin tractor protest

Irish farmers paralyzed parts of central Dublin for the second time in as many months by parking over 100 tractors in the streets on Wednesday in a protest against the government on the first day of..




Reuters - Published





Briton Ian Bailey held over 1996 murder as Irish court endorses extradition

British journalist Ian Bailey was arrested in Dublin on Monday after the Irish High court endorsed his extradition to France in connection with the murder of a French film producer in Ireland 22 years..




Reuters - Published





IS detainee deported from Turkey charged after return to Ireland

Irish police charged a woman aligned to Islamic State on Wednesday, three days after she was arrested on suspicion of terrorist offences when she returned to Dublin from Turkey.




Reuters - Published





Islamic State detainee arrested on her return to Ireland from Turkey

An Irish citizen aligned to Islamic State deported from Turkey along with her two-year-old daughter was arrested on her return to Dublin on Sunday on suspicion of terrorist offences, Irish police said.




Reuters - Published





Farmers bring central Dublin to a halt with tractor protest

Farmers shut down busy parts of Dublin's city center for a second successive day on Wednesday by parking dozens of tractors in the capital to protest against low beef prices and climate change..




Reuters - Published





UK police: man arrested in Ireland is of interest in truck death investigation

British police said a man arrested in Dublin on Saturday is a person of interest in their investigation into the deaths of 39 people who were found in a truck container.




Reuters - Published





DUP leader accuses EU and Dublin of trying to trap Northern Ireland

The leader of the small Northern Irish party that supports Prime Minister Boris Johnson's government accused the European Union and Ireland on Tuesday of trying to trap the British territory in a..




Reuters - Published





EU and Ireland sceptical of a Brexit breakthrough after UK PM Johnson's offer

The European Union and Ireland said on Thursday that Prime Minister Boris Johnson's Brexit proposals were unlikely to yield a deal, with Dublin bluntly warning that Britain was heading toward a no-deal..




Reuters - Published




UK PM Johnson brushes away EU criticism of Brexit plan

British Prime Minister Boris Johnson on Tuesday brushed away criticism of leaked plans to manage the Irish border after Brexit, saying comments from Brussels and Dublin were not aimed at Britain's..




Reuters - Published





EU prods Britain towards Northern Ireland backstop to break Brexit deadlock

The European Union has pressed Britain to give Northern Ireland special status within the bloc's trading orbit to unlock a Brexit deal, with Dublin promising a positive response should London shift its..




Reuters - Published





Ireland warns PM Johnson: no-backstop equals no-deal Brexit

Ireland told British Prime Minister Boris Johnson on Monday that he must make specific proposals on the future of Irish border if there is to be any hope of averting a no-deal Brexit, saying Dublin..




Reuters - Published





Irish border checks inevitably disruptive after no-deal Brexit: EU

The European Union is still in talks with Dublin over how to organize border checks on the island of Ireland in case of a no-deal Brexit but such controls would inevitably be "disruptive", according to..




Reuters - Published





UK PM Johnson says he will meet Ireland's Varadkar on Monday in Dublin

British Prime Minister Boris Johnson said on Tuesday he would meet Irish Prime Minister Leo Varadkar in Dublin on Monday as part of efforts to reach a deal to leave the European Union.




Reuters - Published





Irish PM awaits outcome of 'volatile' week in British parliament

There is time for Britain to put forward concrete Brexit proposals for the Irish border but Dublin will first wait and see how a "volatile" week in the British parliament pans out, Irish Prime Minister..




Reuters - Published





Ireland could try to block Mercosur trade deal on Amazon concerns: Varadkar

As wildfires rage through the Brazilian Amazon, Irish Prime Minister Leo Varadkar has said Dublin will vote against a trade deal between the European Union and South American trade bloc Mercosur unless..




Reuters - Published





UK PM Johnson and Ireland's Varadkar agree to meet in Dublin in early Sept

British Prime Minister Boris Johnson and his Irish counterpart Leo Varadkar spoke by phone for almost an hour on Monday and agreed to meet in Dublin in early September, the Irish and British..




Reuters - Published




DUP calls on the EU and Ireland to engage in talks

The deputy leader of the Northern Irish party that props up the British government on Tuesday called on Dublin and Brussels to engage with Britain on finding an alternative to the "backstop".




Reuters - Published





Sinn Fein says Brexit threat means Dublin should prepare for Irish unification

Northern Ireland's largest nationalist party on Tuesday called on the Irish government to prepare for the unification of the British region with EU-member Ireland, saying "bullish" Boris Johnson's..




Reuters - Published





New British PM calls Dublin for first time since taking charge

Irish prime minister Leo Varadkar and British Prime Minister Boris Johnson spoke by telephone on Tuesday, national broadcaster RTE has reported.




Reuters - Published





DUP calls for 'fresh start' in search for a sensible deal

The head of the Northern Ireland party that will prop up Prime Minister Boris Johnson's new British government said his appointment was a "fresh start" and called on London, Brussels and Dublin to..




Reuters - Published





'Trump Baby' blimp takes flight as president returns to Ireland

Protesters in Dublin on Thursday hoisted the "Trump Baby" inflatable blimp that has become a staple of rallies against the U.S. president, who was due to spend his second night in a row at a golf hotel..




Reuters - Published