FC Barcelona
Association football club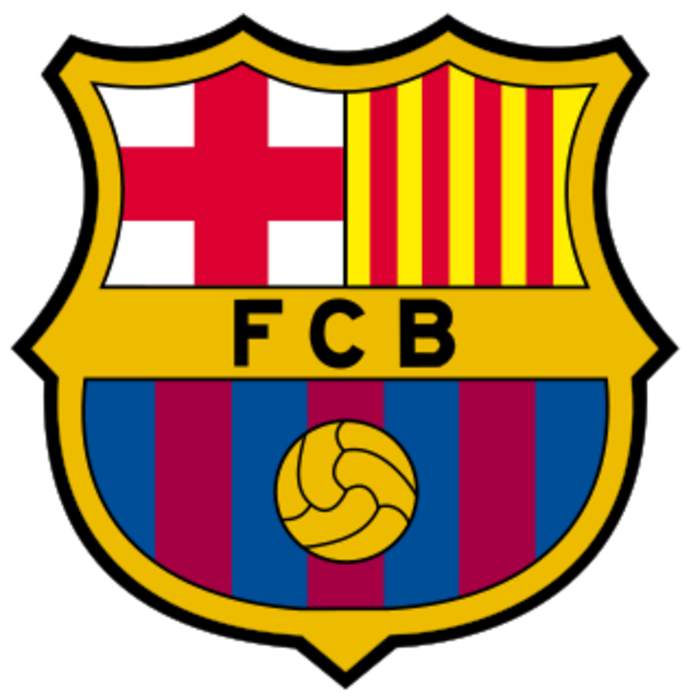 Futbol Club Barcelona, commonly referred to as Barcelona and colloquially known as Barça, is a Spanish professional football club based in Barcelona, Spain, that competes in La Liga, the top flight of Spanish football.


Meet the Barcelona striker that made Champions League history

FC Barcelona striker Asisat Oshoala made history by becoming the first African to lift the UEFA Women's Champions League trophy. The Nigeria-born speaks with CNN about her humble roots and incredible..
Credit: Bleacher Report AOL Duration: 03:17
Published
You Might Like



La Liga: Philippe Coutinho nets first goal in 11 months as Barcelona beat Valencia

Watch highlights as Barcelona recover from conceding an early goal to beat Valencia 3-1 with Ansu Fati, Memphis Depay and Philippe Coutinho all netting for the Catalan side.




BBC Sport - Published





Transfer rumours: Pogba, Barkley, Bale, Lewandowski, Haaland, Mbappe

Barcelona cannot afford Paul Pogba, Ross Barkley is on Burnley's radar, Arsenal to make Bale offer, plus more.




BBC Sport - Published





Balloon World Cup: Watch Francesco de la Cruz win first staging of competition

Peruvian teenager Francesco de la Cruz is crowned champion in the first Balloon World Cup tournament organised by Barcelona footballer Gerard Pique.




BBC Sport - Published





Pedri agrees new Barcelona contract with 1bn euro release clause

Barcelona say midfielder Pedri has agreed a contract extension with the club which includes a 1bn euro (£846m) release clause.




BBC Sport - Published





Lionel Messi: Barcelona president hoped 'he would play for free' before joining PSG

Barcelona president Joan Laporta says he had hoped Lionel Messi would stay at the club and "play for free".




BBC Sport - Published





Lionel Messi: The inside story of Paris St-Germain forward's first months in France

Lionel Messi spent 21 years at Barcelona. BBC Sport's Guillem Balague reports on his first two months with new club Paris St-Germain.




BBC Sport - Published





Gavi: Can Barcelona's shining light be future for Spain too?

He is already a ray of light through the storm clouds for Barcelona, but can Gavi also shine for Spain in the Nations League this week?




BBC Sport - Published





Barcelona 4-1 Arsenal: Asisat Oshoala haunts old club in Champions League win

Arsenal lose a game for the first time since February as Barcelona's Asisat Oshoala haunts her old club in the Women's Champions League.




BBC Sport - Published





Chelsea v Wolfsburg: Blues use Women's Champions League final loss as 'fuel' in new campaign

Magdalena Eriksson says Chelsea's Women's Champions League final defeat by Barcelona last season will "fuel" their latest bid for European glory.




BBC Sport - Published





Transfer rumours: Aurier, Ranieri, Gonzalez, Werner, Toure, Sanchez

Serge Aurier to sign for La Liga side, Ranieri set for Watford role, Manchester City keen on Barcelona midfielder, plus more.




BBC Sport - Published





Highlights: Suarez scores as Atletico beat Barcelona

Watch the highlights as Luis Suarez scores against his former club, Barcelona, to send reigning champions Atletico Madrid level with Real Madrid at the top of La Liga.




BBC Sport - Published





Atletico Madrid 2-0 Barcelona: Atletico increase pressure on Barca boss Ronald Koeman

Reigning champions Atletico Madrid go level with Real Madrid at the top of La Liga and inflict further damage on Ronald Koeman's struggling Barcelona with a deserved win.




BBC Sport - Published





Ronald Koeman sacking by Barcelona 'only a matter of time' - Guillem Balague

Barcelona are set to sack manager Ronald Koeman and it could even happen before they next play, says Guillem Balague.




BBC Sport - Published





Benfica 3-0 Barcelona: More pressure on Ronald Koeman after Champions League defeat

Benfica beat Barcelona in the Champions League to heap more pressure on boss Ronald Koeman with his side bottom of Group E.




BBC Sport - Published





European Super League: Uefa halts disciplinary proceedings against Barcelona, Juventus & Real Madrid

Uefa has halted its disciplinary proceedings against Barcelona, Juventus and Real Madrid over their involvement in the proposed European Super League.




BBC Sport - Published





Barcelona 3-0 Levante: Ansu Fati scores on La Liga return

Watch highlights of Barcelona's comfortable 3-0 victory over Levante as Ansu Fati scores on his return from a long-term injury.




BBC Sport - Published




Barcelona 1-1 Granada: Ronald Araujo's injury-time header rescues point

Watch highlights as Ronald Araujo's injury-time header rescues a point for Barcelona at home to a struggling Granada side in La Liga.




BBC Sport - Published




Transfer rumours: Pogba, Haaland, Olmo, Lingard, Bailly, Tchouameni

Barcelona want to bid for Paul Pogba, Erling Braut Haaland and Dani Olmo, Jessi Lingard and Eric Bailly could be sold by Manchester United, plus more.




BBC Sport - Published





Barcelona 0-3 Bayern Munich: Thomas Muller haunts Barca again as Bayern claim big win

Thomas Muller and Robert Lewandowski settle a battle of the big two in Champions League Group E as Bayern Munich claim a dominant opening-game victory at Barcelona.




BBC Sport - Published





Women's Champions League: Chelsea and Arsenal discover opponents

Chelsea face Wolfsburg in the Women's Champions League group stages, with Arsenal in with holders Barcelona.




BBC Sport - Published





Antoine Griezmann: Atletico Madrid sign Barcelona forward on loan

La Liga champions Atletico Madrid re-sign forward Antoine Griezmann from Barcelona on a one-year loan deal.




BBC Sport - Published





Emerson Royal: Tottenham sign Barcelona defender for £25.8m

Tottenham sign Brazil right-back Emerson Royal from Barcelona for £25.8m.




BBC Sport - Published




Transfer rumours: Mbappe, Bellerin, Kounde, Hudson-Odoi, Tagliafico, Edouard

Real withdraw from talks to sign Mbappe, Barcelona interested in Bellerin if Emerson joins Spurs, Leicester keen on Hudson-Odoi, plus more.




BBC Sport - Published





Barcelona 2-1 Getafe: Memphis Depay scores winner for Ronald Koeman's side

Memphis Depay scores Barcelona's winner as they beat Getafe in La Liga.




BBC Sport - Published





La Liga: Memphis Depay on target for Barcelona in best goals

Watch the top five goals from the latest round of La Liga action, including a ferocious strike from Barcelona's Memphis Depay.




BBC Sport - Published





Barcelona president Joan Laporta reveals club debt stands at £1.15bn

Barcelona president Joan Laporta has revealed the Spanish club is 1.35bn euros (£1.15bn) in debt, describing the situation as "very worrying".




BBC Sport - Published





Lionel Messi signs two-year Paris St-Germain deal after leaving Barcelona

Lionel Messi signs a two-year deal to join Paris St-Germain after leaving Barcelona.




BBC Sport - Published

Also reported by •Sky News


Lionel Messi agrees Paris St-Germain deal after Barcelona exit - Guillem Balague

Lionel Messi agrees a deal with Paris St-Germain to join the French club, says BBC Sport columnist Guillem Balague.




BBC Sport - Published





Lionel Messi agrees to join Paris Saint-Germain on two-year contract after leaving Barcelona

Lionel Messi has agreed to join Paris Saint-Germain on a two-year contract, according to Sky Sports News.




Sky News - Published

Also reported by •BBC Sport


Jack Grealish: Manchester City midfielder says he 'teared up' in Aston Villa exit

Jack Grealish says his departure from Aston Villa for Manchester City was as emotional as Lionel Messi's final Barcelona press conference and that he "teared up" as he left the team.




BBC Sport - Published





Lionel Messi in tears as he receives ovation from FC Barcelona at press conference

Lionel Messi is distraught as he receives a standing ovation from team-mates, journalists, officials and his family at a press conference confirming his departure from FC Barcelona




BBC Sport - Published





'So grateful': Lionel Messi in tears as he bids farewell to Barcelona

Lionel Messi was in tears as he held a news conference to confirm he is leaving FC Barcelona.




Sky News - Published




Lionel Messi to hold news conference in first public appearance since shock Barcelona exit announced

Outgoing Barcelona star Lionel Messi will hold a news conference today in his first public appearance since the club announced he would be leaving.




Sky News - Published




Lionel Messi: Barcelona president Joan Laporta says new deal would have risked club's future

Barcelona trying to keep Lionel Messi could have put the club at risk for 50 years, says president Joan Laporta.




BBC Sport - Published





Lionel Messi: Is this really the end for Argentina forward at Barcelona?

After Barcelona announce that Lionel Messi "shall not be staying", is this really the end for the Argentine at the Nou Camp?




BBC Sport - Published





Transfer rumours: Messi, Kane, Lukaku, Correa, Trippier, Aouar, Abraham, Armstrong

News that Lionel Messi is not staying at Barcelona opens the door for Man City and PSG, while Arsenal take interest in Lazio's Joaquin Correa, plus more.




BBC Sport - Published





Lionel Messi: Ten great goals for Barcelona

Watch 10 great goals by Lionel Messi for Barcelona in the 2020-21 season.




BBC Sport - Published

Also reported by •Sky News


Lionel Messi to leave Barcelona as club says contract 'cannot happen'

Lionel Messi is set to leave FC Barcelona after his club said a new contract "cannot happen".




Sky News - Published





Lionel Messi: Barcelona say Argentina forward will not stay at club

Barcelona say Lionel Messi will not be staying at the club "because of financial and structural obstacles".




BBC Sport - Published





European Super League: Barcelona, Real Madrid and Juventus 'will continue with plans'

Barcelona, Real Madrid and Juventus say they will carry on with European Super League plans, after a court ruling about potential Uefa punishment.




BBC Sport - Published





Transfer rumours: Pogba, Messi, Locatelli, Haaland, Gil, Trippier, Ronaldo

Paris St-Germain target Paul Pogba, Barcelona seek to raise Lionel Messi funds, Tottenham close to Bryan Gil deal, plus more.




BBC Sport - Published





Lionel Messi: Barcelona star agrees to stay on reduced wages

Lionel Messi agrees to stay at Barcelona by reducing his wages to half of his previous earnings until 2026.




BBC Sport - Published





Premier League alert! Lionel Messi's contract with Barcelona ends - leaving him a free agent

Lionel Messi is officially a free agent after his contract with Barcelona came to an end.




Sky News - Published





Lionel Messi contract: Barcelona 'raise urgency' to complete deal

Barcelona are pushing for Lionel Messi to sign a new contract before his current deal runs out on 1 July.




BBC Sport - Published





Transfer rumours: Messi, Kane, Rodriguez, Nuno, Ramos, Hakimi, Gilmour, Smith Rowe

Messi has yet to make decision on Barcelona deal, Man City prepared to wait to sign striker if they miss out on Kane this summer, Tottenham plan Nuno Espirito Santo talks, plus more.




BBC Sport - Published