Ashok Gehlot
Indian politician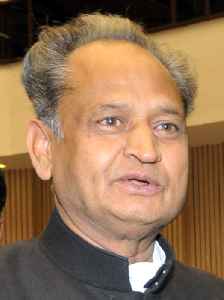 Ashok Gehlot is an Indian politician, currently serving his third term as Chief Minister of Rajasthan since December 2018. He was Congress Party's national general secretary and in-charge of organizations and training from March 2018 to 23 January 2019. He held this position from December 1998 to 2003 and from 2008 to 2013 and again from 17 December 2018. He hails from Jodhpur, Rajasthan. He represents Sardarpura constituency of Jodhpur as Member of Legislative Assembly of Rajasthan.


Accept people's mandate with humility: Ashok Gehlot
As the BJP heads for a clean sweep in the Lok Sabha elections in Rajasthan, chief minister Ashok Gehlot on Thursday said the people's mandate has to be accepted. "We accept the people's mandate with..
IndiaTimes - Published
Congress will accept LS poll results with humility: Ashok Gehlot
Rajasthan CM Ashok Gehlot said the Congress will accept the Lok Sabha election results with "humility", but maintained that exit poll projections have been wrong several times. He also accused the BJP..
IndiaTimes - Published
CM Ashok Gehlot wary as exit polls boost BJP in Rajasthan
The Congress won power in Rajasthan in December last year, claiming 100 seats in the desert state, much ahead of the BJP's 73.
DNA - Published
Ashok Gehlot mocks Modi for meditating in Kedarnath
Congress leader and Rajasthan chief minister Ashok Gehlot on Saturday mocked Prime Minister Narendra Modi for meditating in Kedarnath, wondering what message he wants to give now. After Modi offered..
IndiaTimes - Published
Sonia Gandhi invites non-NDA parties for meet on May 23
A team of four Congress leaders is said to have been formed for coordinating on the issue, sources said. The team, comprising senior Congress leaders Ahmed Patel, P Chidambaram, Ghulam Nabi Azad and..
DNA - Published
Rahul Gandhi meets Alwar gang-rape victim, promises justice
Gandhi was accompanied by Chief Minister Ashok Gehlot, deputy CM Sachin Pilot and Congress national general secretary Avinash Pandey.
DNA - Published
Also reported by •IndiaTimes
You Might Like