HIV
Human retrovirus, cause of AIDS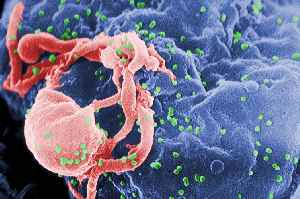 The human immunodeficiency viruses (HIV) are two species of Lentivirus that causes HIV infection and over time acquired immunodeficiency syndrome (AIDS). AIDS is a condition in humans in which progressive failure of the immune system allows life-threatening opportunistic infections and cancers to thrive. Without treatment, average survival time after infection with HIV is estimated to be 9 to 11 years, depending on the HIV subtype. In most cases, HIV is a sexually transmitted infection and occurs by contact with or transfer of blood, pre-ejaculate, semen, and vaginal fluids. Research has shown that HIV is untransmissable through condomless sexual intercourse if the HIV-positive partner has a consistently undetectable viral load. Non-sexual transmission can occur from an infected mother to her infant during pregnancy, during childbirth by exposure to her blood or vaginal fluid, and through breast milk. Within these bodily fluids, HIV is present as both free virus particles and virus within infected immune cells.


HIV, TB helpline favourite with fake callers who talk 'random topics'
'AUDIO PHOBIC': Many a time people call just to hear a female voice talking on the phone, claim MDACS staff
DNA - Published
'How can she have HIV?':Pakistan town struggles with surge in infections
Doctors in a town in Pakistan are struggling to cope with a surge in patients infected with HIV, the virus that causes AIDS, with nearly 700 cases since April, most of them children.
Reuters - Published
HIV Cure: Third Person Potentially Healed - Reports
by Alice Monroe - Research into the curing and treatment of infectious HIV has reportedly hit on a remarkable breakthrough in the last few days. At a medical conference in Seattle, it was confirmed..
One News Page Staff - Published
HIV-positive man in London becomes second person in world to be AIDS free after stem cell transplant
The London patient has not been identified. He was diagnosed with HIV in 2003. He developed cancer and agreed to a stem cell transplant to treat the cancer in 2016. His doctors found a donor with a..
Firstpost - Published
Search this site and the web:
You Might Like