Bill Gates
American business magnate and philanthropist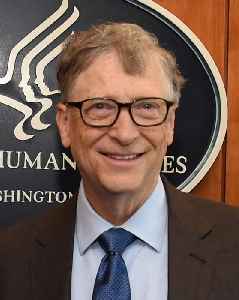 William Henry Gates III is an American business magnate, software developer, investor, and philanthropist. He is best known as the co-founder of Microsoft Corporation. During his career at Microsoft, Gates held the positions of chairman, chief executive officer (CEO), president and chief software architect, while also being the largest individual shareholder until May 2014. He is one of the best-known entrepreneurs and pioneers of the microcomputer revolution of the 1970s and 1980s.


Nitish Kumar refers to his praise by Bill Gates to hit back at critics
IndiaTimes - Published
Smriti Irani's hilarious dropout joke while sharing pic with Bill Gates is a befitting reply to trolls
Wittiness on point!
DNA - Published
Warren Buffett Told Bill Gates To Spend $370 Million On Melinda's Engagement Ring
According to Markets Insider, before Bill Gates got engaged to his wife in 1993, Warren Buffett tried to persuade him to shell out a cool $400 million on an engagement ring. Buffet talks about it in..
Credit: Wochit News Duration: 00:34Published
Bill Gates Once Again The Richest Person In The World
On Friday, Bill Gates regained the title of the richest person in the world from Jeff Bezos, according to the Bloomberg Billionaires Index. Gates' net worth is $110 billion. In July, Gates was..
Credit: Wochit News Duration: 00:35Published
Warren vs. billionaires: wealth tax fight heats up
A new commercial launched by Democratic presidential hopeful Senator Elizabeth Warren taking aim at billionaire critics of her wealth tax has sparked a war of words with several wealthy heavyweights..
Credit: Reuters Studio Duration: 02:31Published
Ashton Kutcher Not Setting Up Trust Fund For Kids
Actor Ashton Kutcher said in a recent podcast he's not leaving a trust fund for his kids, reported Mitch Tuchman for MarketWatch. Kutcher isn't the only high-profile person to take this approach —..
Credit: Wochit News Duration: 00:32Published
Elizabeth Warren Rolls Out 'Calculator For Billionaires'
Sen. Elizabeth Warren rolled out a "calculator for the billionaires" on Thursday in a not-so-subtle swipe at super-rich critics Bill Gates and Leon Cooperman, both of whom recently attacked her wealth..
Credit: Wochit News Duration: 00:39Published
Bill Gates Calls Multiple Meetings With Epstein A 'Mistake In Judgment'
Bill Gates apologized on Wednesday for his association with financier and sex offender Jeffrey Epstein. It was his first public statement since news surfaced that he had met with Epstein more often..
Credit: Wochit News Duration: 00:42Published
Farmers need info in climate fight: Bill Gates
"We can help the world's two billion smallholders (farmers) adapt to climate change much quicker if everybody in the agriculture sector has access to quality information," Microsoft founder and..
IndiaTimes - Published
Bill Gates calls on PM Modi
IndiaTimes - Published
India has potential for very rapid economic growth, says Bill Gates
India has the potential for "very rapid" economic growth over the next decade which will lift people out of poverty and allow the government to invest in health and education priorities in an "exciting..
IndiaTimes - Published
Bill Gates meets Bihar CM Nitish Kumar, both reiterate their commitment for continued partnership in state
IndiaTimes - Published
Bernard Arnault replaces Bill Gates as world's second-richest person with $39 billion gains in a year; Jeff Bezos retains top slot
Bernard Arnault added $39 billion to his fortune in 2019, which pushed his net worth to $107.6 billion, as he led Gates by more than $200 million.
Firstpost - Published
You Might Like