Bandipore district
District of Jammu and Kashmir in India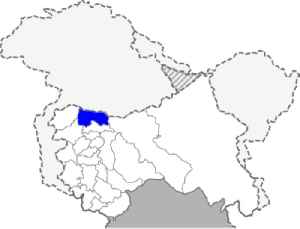 Bandipore district or is one of the 22 districts in the Indian union territory of Jammu and Kashmir. Bandipore town is the administrative headquarters of the district. Bandipore, a township with peculiar scenic beauty is located in the foothills of the snow-clad peaks of Harmukh overlooking the shores of Wular Lake has produced hundreds of scholars and intellectuals. Before 1947, this town was a big trade and literary centre of Kashmir. Bandipore, the birthplace of the great historian, Hassan Khoehami. This district was carved out from the erstwhile Baramulla district in 2007. The district is bounded by Kupwara district in the west, Baramulla district in the south and Kargil district in Ladakh, Srinagar and Ganderbal districts in the east. This district occupies an area of 398 km2. The district has a population of 392,232 as per 2011 census.


NGO in Srinagar providing ration to the needy amid lockdown

An NGO called "Serving Nations" in Srinagar is providing ration to the needy people amid coronavirus lockdown. The NGO provides its services in Anantnag, Pulwama, Srinagar, Budgam and Bandipora. Till..
Credit: ANI Duration: 02:58
Published
You Might Like
Around 150 girls in J&K's Bandipora stitch 1 lakh masks to fight pandemic
IndiaTimes - Published
Four more test positive for covid-19 in Kashmir; total cases rise to 11 in J&K
Four people, hailing from Bandipora district, tested positive for coronavirus on Wednesday, taking the the number of cases in Jammu and Kashmir to 11, officials said. "Four more persons, all from..
IndiaTimes - Published
Two arrested for pasting LeT posters in Bandipora
IndiaTimes - Published
At least three ceasefire violations in Poonch, Bandipora
IndiaTimes - Published
Police arrest 19-year-old LeT terrorist from Baramulla
Sajid Farooq Dar alias Adnan was arrested from Andergam village in Pattan area of the district during an operation on Monday, the official said. Dar, a resident of Bandipora, was affiliated with LeT.
IndiaTimes - Published
J&K: Two terrorists killed after encounter breaks out in Bandipora
The identities of the terrorists are being ascertained
DNA - Published
Jammu & Kashmir: Two terrorists killed in Bandipora encounter
IndiaTimes - Published
Encounter breaks out in J&K's Bandipora
An encounter broke out between terrorists and security forces in Bandipora district of north Kashmir on Sunday, said officials. The gunfight started when security forces launched a search operation in..
IndiaTimes - Published