Akhilesh Yadav
Indian politician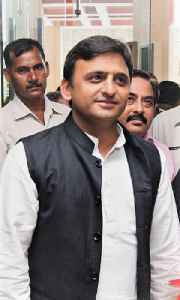 Akhilesh Yadav is an Indian politician and the current President of the Samajwadi Party. He served as the Chief Minister of Uttar Pradesh from 2012 to 2017. Having assumed office on 15 March 2012 at the age of 38, he is the youngest person to have held the office. His first significant success in politics was his election as a member of the Lok Sabha for the Kannauj constituency.


This govt needs to stop pretending to be Indian Army: Akhilesh Yadav
IndiaTimes - Published
Mulayam Yadav forged relationship with BSP, I only had to 'mend' it: Akhilesh
Samajwadi Party chief Akhilesh Yadav on Tuesday said his father and party patriarch Mulayam Singh Yadav had forged the relationship with the Bahujan Samaj Party (BSP) and he only had to "mend" it.
IndiaTimes - Published
After Mayawati, Akhilesh Yadav asks Congress not to spread confusion
IndiaTimes - Published
Maya, Akhilesh may not contest Lok Sabha polls
The hectic campaign schedule, which will leave them with little time to canvass for themselves, is purportedly why Mayawati and Akhilesh Yadav are rethinking their candidature. Akhilesh had earlier..
IndiaTimes - Published
Against Modi, pit leaders like Akhilesh, Mayawati or back me: Bhim Army chief to SP-BSP
IndiaTimes - Published
SP-BSP bonhomie unfurls common flag for polls
"There is hardly any sale of SP flags without a cutout of Mayawati.Everybody now wants both Mayawati and Akhilesh on the common flag.
IndiaTimes - Published
You Might Like