Akhilesh Yadav
Indian politician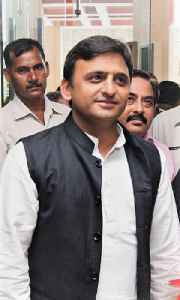 Akhilesh Yadav is an Indian politician and the current President of the Samajwadi Party. He served as the Chief Minister of Uttar Pradesh from 2012 to 2017. Having assumed office on 15 March 2012 at the age of 38, he is the youngest person to have held the office. His first significant success in politics was his election as a member of the Lok Sabha for the Kannauj constituency.


Lok Sabha polls will see end of 'Namo, Namo' chant: Mayawati
Mayawati was addressing a joint rally Kannauj with Samajwadi Party chief Akhilesh Yadav and RLD president Ajit Singh.
DNA - Published
There was condolence in Opposition camps during Balakot air strikes: BJP chief Amit Shah
Addressing a gathering in Ghazipur, Shah said that while the air strikes in Balakot led to cheers and celebrations across the country there was 'Matam' (condolence) in just two camps. "One in..
IndiaTimes - Published
EVMs across India malfunctioning or voting for the BJP: Akhilesh Yadav
EVMs across India malfunctioning or voting for the BJP: Samajwadi Party president Akhilesh Yadav.
DNA - Published
Akhilesh Yadav alleges EVM malfunction across India
IndiaTimes - Published
'Mayawati, Akhilesh Yadav's fake friendship will end on May 23': PM Modi's jibe at SP-BSP alliance
"After May 23, 'Bua' and 'Babua' will start part two of their enmity. They will again start reminding each other of the Guest House case. These people have done nothing for Dalits and Other Backward..
DNA - Published
Lok Sabha Election 2019 Uttar Pradesh: BJP rests hopes on 2014 laurels
But owing to the Grand Alliance between three key regional parties - Mayawati's BSP, Akhilesh Yadav led SP and Ajit Singh run RLD - the BJP is facing a tough fight on all the seats
DNA - Published
May campaign for Akhilesh Yadav and Dimple Yadav: Shatrughan Sinha
IndiaTimes - Published
If we're mahamilavati, what's NDA: Akhilesh Yadav
IndiaTimes - Published
You Might Like