Burj Khalifa
Skyscraper in Dubai, United Arab Emirates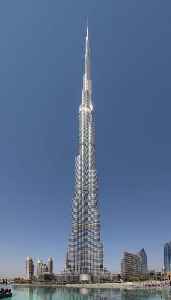 The Burj Khalifa, known as the Burj Dubai prior to its inauguration in 2010, is a skyscraper in Dubai, United Arab Emirates. With a total height of 829.8 m (2,722 ft) and a roof height of 828 m (2,717 ft), the Burj Khalifa has been the tallest structure and building in the world since its topping out in 2009.


Dubai turns world's tallest building into donation box

The world's tallest building, Dubai's 828-metre Burj Khalifa, has become a glowing charity donation box to buy food for residents of the United Arab Emirates suffering from the economic impact of the..
Credit: Reuters Studio Duration: 00:58
Published
'World's tallest donation box' lights up after Covid-19 appeal

The world's tallest building, the Burj Khalifa, was transformed into the world's tallest donation box in a spectacular light show to mark the United Arab Emirates smashing its target of fundraising for..
Credit: PA - Press Association STUDIO Duration: 00:30
Published
You Might Like
Search this site and the web: