Tiruchirappalli
Metropolis in Tamil Nadu, India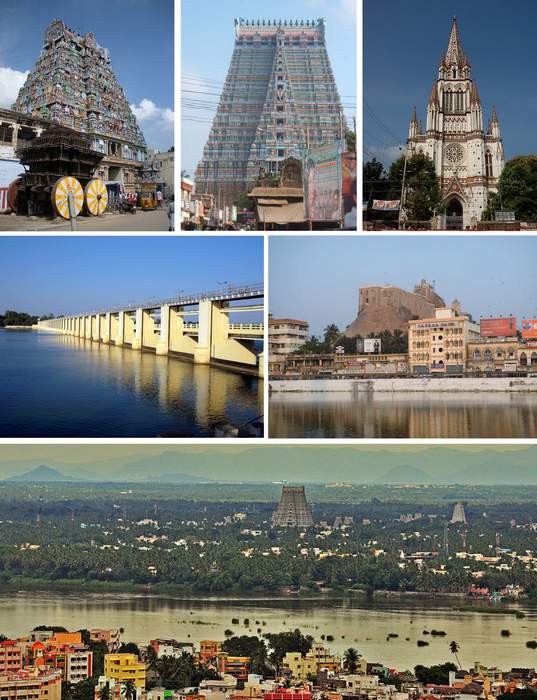 Tiruchirappalli, also called Tiruchi or Trichy, is a major tier II city in the Indian state of Tamil Nadu and the administrative headquarters of Tiruchirappalli district. The city is credited with being the best livable city and the cleanest city of Tamil Nadu, as well as the fifth safest city for women in India. It is the fourth largest city as well as the fourth largest urban agglomeration in the state. Located 322 kilometres (200 mi) south of Chennai and 374 kilometres (232 mi) north of Kanyakumari, Tiruchirappalli sits almost at the geographic centre of the state. The Cauvery Delta begins 16 kilometres (9.9 mi) west of the city where the Kaveri river splits into two, forming the island of Srirangam which is now incorporated into the Tiruchirappalli City Municipal Corporation. The city occupies an area of 167.23 square kilometres (64.57 sq mi) and had a population of 916,857 in 2011.


You Might Like
Commander's reclined seat led to AI Express crash at Trichy
IndiaTimes - Published
Mekedatu issue: Tamil Nadu BJP will stand by state govt, Annamalai says
"We are very clear about our stand on the Mekedatu issue, and we do not want to do politics over it," he said in Trichy en route to Chennai where he will assume office on Friday.
IndiaTimes - Published
Union home minister Amit Shah and PM Narendra Modi suspected of toppling the Puducherry government: Trichy MP Thirunavukkarasar
IndiaTimes - Published
Chennai: Income tax department detects Rs 700 crore evasion, seizes Rs 23 crore unaccounted cash
Searches at 60 premises located across Chennai, Trichy, Coimbatore, various places in Andhra Pradesh, Karnataka and Mumbai were carried out on Dec 9.
DNA - Published
177 Indians head home from Malaysia, to arrive in Trichy
IndiaTimes - Published
After Tamil Nadu CM declares Cauvery delta 'protected agriculture zone', DMK terms it 'farcical drama'
He announced that the Cauvery delta regions in Thanjavur, Tiruvarur, Nagapattinam, Pudukottai, Cuddalore, Ariyalur, Karur and Trichy districts would be categorized under a Protected special agriculture..
DNA - Published
Tamil Nadu: NIA searches 6 locations across 5 districts for IS links
The early morning searches were carried out at two locations in Coimbatore City, besides one location each in Sivaganga, Tiruchirapalli, Nagapattinam, and Toothukudi districts.
DNA - Published
3-yr-old boy trapped in abandoned borewell in TN dead: Official
The three year-old boy who was stuck in an abandoned borewell since Friday near Tiruchirapalli is dead, an official said on Tuesday. The body of the child was in a "highly decomposed" state, the..
IndiaTimes - Published
PM says praying for boy trapped in borewell in Tamil Nadu
Prime Minister Narendra Modi on Monday said his prayers are with the three-year-old Sujith, trapped in an abandoned borewell since Friday near Tiruchirapalli in Tamil Nadu, saying every effort is..
IndiaTimes - Published
Hindi sign boards smeared with black ink in Trichy
Barely a week after social media and political outrage in Tamil Nadu over the alleged attempt of the newly sworn-in BJP Government to impose Hindi on non-Hindi speaking states via the draft three..
DNA - Published