Pamela Anderson
Canadian-American actress and model (born 1967)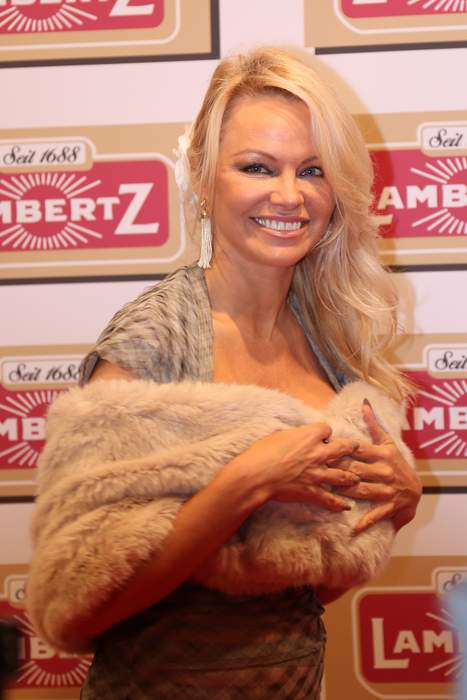 Pamela Denise Anderson is a Canadian-American actress, model, activist, and author. She is known for her numerous appearances in Playboy and for her work on the television series Home Improvement, Baywatch (1992–1997), and V.I.P. (1998–2002). She was the recipient of a star on the Canadian Walk of Fame in 2006.


You Might Like
Pamela Anderson Moonlighting as Dog Walker During Broadway Breaks
Yes, Pamela Anderson's a big Broadway star now, but she's still an animal lover at heart -- which is why she's going out of her way to walk someone else's dog during her downtime in NYC. Pamela's in..
TMZ.com - Published
Pam Anderson and Tommy Lee's Sons Sell Malibu Home for $3M
Brandon Thomas Lee and his brother Dylan unloaded their gorgeous Malibu home this week ... scoring $3 million for the pad. According to property records ... the remodeled 5-bed, 5-bath house sold..
TMZ.com - Published
Stephan Jenkins Reacts to Third Eye Blind Beef in 'Pam & Tommy'
Stephan Jenkins from Third Eye Blind is setting the record straight about the confrontation between his band and Mötley Crüe in "Pam & Tommy." It never happened, because he's never even met them. The..
TMZ.com - Published
Lily James transforms into Pamela Anderson in first trailer for Pam & Tommy
Fans have been given a first look at footage from the new Pamela Anderson and Tommy Lee comedy drama, which features Lily James and Sebastian Stan in the titular roles.
Sky News - Published
Pam Anderson Sells Malibu House and May Have Shattered Real Estate Record
Pam Anderson is out of the 'Bu ... because TMZ has learned she just sold her Malibu estate. The house -- located in the celebrity-riddled Malibu Colony -- sold for $11.8 million. Turns out the sale may..
TMZ.com - Published
Seth Rogen Looks Unrecognizable Filming 'Pam & Tommy' on Hollywood Blvd
Here's Seth Rogen shooting scenes for the upcoming Hulu series on the Pamela Anderson and Tommy Lee romance ... and his role's got him rocking jean shorts and a mullet. Ya gotta see Seth in character..
TMZ.com - Published
Pamela Anderson Malibu Mansion in Escrow
Pamela Anderson is just about to say bye-bye to the 'bu ... she's found a buyer for her beautiful estate and is leaving L.A. for good -- or at least, for now. The 'Baywatch' star has a buyer for her..
TMZ.com - Published
'I'm exactly where I need to be': Pamela Anderson marries her bodyguard
Pamela Anderson has spoken of how happy she is following her Christmas Eve wedding to her bodyguard.
Sky News - Published
Pamela Anderson Marries Her Bodyguard, Fell In Love in Lockdown
Pamela Anderson tied the knot -- for the fifth time -- and this time she said "I Do" to her bodyguard. The actress and her muscle, Dan Hayhurst, got married Christmas Eve in a private ceremony at..
TMZ.com - Published
Pamela Anderson says Donald Trump is 'debating' pardoning Julian Assange
Pamela Anderson has called on Donald Trump to pardon Julian Assange in his final days as US president, saying the move could be the "perfect way" to end his term.
Sky News - Published
Kendall Jenner as Pamela Anderson from 'Barb Wire' on Halloween to GOTV
Kendall Jenner's here to get you in the mood (to vote) just before the election -- and she's doing it with a '90s throwback that's sure to get your mouth watering ... again, all to vote. The supermodel..
TMZ.com - Published