Venkaiah Naidu
13th Vice President of India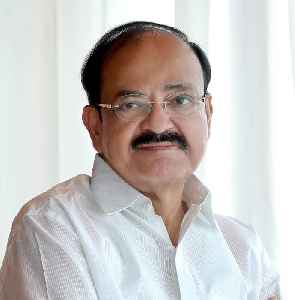 Muppavarapu Venkaiah Naidu is an Indian politician and the current Vice President of India and the Chairman of the Rajya Sabha, in office since 11 August 2017. Previously, he served as the Minister of Housing and Urban Poverty Alleviation, Urban Development and Information and Broadcasting in the Modi Cabinet. A prominent leader of the Bharatiya Janata Party, he also served as its national president from 2002 to 2004. Earlier, he was the Union Cabinet Minister for Rural Development in the Atal Bihari Vajpayee government. He took the oath as Vice-President of India and the Chairman of Rajya Sabha on 11 August 2017.


Rajnath Singh releases book chronicling VP Naidu's 3 years in office

Union Defence Minister Rajnath Singh released a book titled 'Connecting, Communicating, Changing' in Delhi on August 11. The book chronicles M. Venkaiah Naidu's three years in office as the Vice..
Credit: ANI Duration: 02:38
Published
VP Naidu unveils statue of Ambedkar in Delhi

Vice President M. Venkaiah Naidu unveiled the statue of Bharat Ratna, Dr. B R Ambedkar in New Delhi. He unveiled statue at Comptroller and Auditor General of India (CAG) office on July 22. "I feel..
Credit: ANI Duration: 01:57
Published
You Might Like



Venkaiah Naidu lays foundation stone for housing complex for Rajya Sabha employees




IndiaTimes - Published





On Quit India anniversary, Venkaiah Naidu calls for 'Knit India' for a stronger, united nation




IndiaTimes - Published





Vice President Venkaiah Naidu calls for reorienting agricultural priorities towards more nutrition-sensitive food




IndiaTimes - Published





Article 370 nullification India's internal matter, other countries should not interfere: Venkaiah Naidu




IndiaTimes - Published





Vice-President, PM greet people on Raksha Bandhan

Vice President M Venkaiah Naidu and Prime Minister Narendra Modi on Monday greeted people on Raksha Bandhan, saying the festival reaffirms the strong ties of love and affection that bind brothers and..




IndiaTimes - Published





VP Venkaiah Naidu, PM Modi greet CRPF personnel on force's 82nd raising day




IndiaTimes - Published





Fight prejudice against Covid patients, says vice president

Vice President M Venkaiah Naidu on Sunday expressed anguish over instances of stigmatising of Covid-19 patients and denial of dignified last rites to people who succumb to the virus.




IndiaTimes - Published





Ram Nath Kovind epitomises nobility and humility, his 3 years as President eventful: VP M Venkaiah Naidu




IndiaTimes - Published





CAG is an enabler of Babasaheb's vision: Venkaiah Naidu at statue unveiling event

"Babasaheb Dr B R Ambedkar was a multi-faceted genius and builder of modern India. The nation will be ever grateful to him for his stellar contribution in drafting the Constitution and for guiding the..




IndiaTimes - Published




45 newly-elected RS members take oath; Venkaiah Naidu urges them to uphold rules

Rajya Sabha Chairman M Venkaiah Naidu urged 45 newly-elected members of the House who took oath on Wednesday not to fall prey to disruptions and to uphold rules and procedures while discharging their..




IndiaTimes - Published





RS Chairman, LS Speaker explore options to conduct monsoon session of Parliament

Rajya Sabha Chairman M Venkaiah Naidu and Lok Sabha Speaker Om Birla discussed on Monday the possibility of accommodating MPs in both the Houses during a session to ensure physical distancing among..




IndiaTimes - Published





Print media on frontline of Covid battle, says VP Venkaiah Naidu

Vice-president M Venkaiah Naidu on Sunday praised the print media, saying it has been on the frontline of battling the novel coronavirus pandemic in the country. Referring to journalists as the fourth..




IndiaTimes - Published





Vice President Venkaiah Naidu asks people to promote Indian tradition of living, working together




IndiaTimes - Published





Vice President Naidu recalls SP Mookerjee's contribution on birth anniversary

Vice President M Venkaiah Naidu on Monday remembered Bharatiya Jan Sangh founder Syama Prasad Mookerjee on his birth anniversary, saying his love for the motherland will always remain an inspiration..




IndiaTimes - Published





Atmanirbhar Bharat call to help country capitalise on its inherent strengths: Vice President M Venkaiah Naidu

Naidu said it was quite appropriate that Prime Minister Narendra Modi announced the 'Atmanirbhar Bharat App Innovation Challenge' on Saturday as it would encourage Indian IT specialists to prepare apps..




IndiaTimes - Published





We should remain resolute while facing internal and external challenges: Venkaiah Naidu

In a veiled reference to the ongoing India-China border issue and the coronavirus pandemic, Vice President M Venkaiah Naidu on Sunday said that people should "remain resolute" in their response to..




IndiaTimes - Published





Venkaiah Naidu recalls role of 'Gurus' including veteran BJP leader LK Advani in moulding his life




IndiaTimes - Published





Vice President M Venkaiah Naidu pays tributes to Vivekananda on death anniversary




IndiaTimes - Published

Also reported by •DNA


Vice President Naidu condoles death of Sikh pilgrims in road accident in Pakistan

Vice President M Venkaiah Naidu on Friday condoled the death of Sikh pilgrims in a road accident in Pakistan. At least 29 people, mostly Pakistani Sikh pilgrims, were killed when a mini-bus carrying..




IndiaTimes - Published





PM Modi greets Vice President M Venkaiah Naidu on birthday




IndiaTimes - Published





Covid lockdown legitimate confinement, but Emergency was illegitimate: VP Naidu

Vice President M Venkaiah Naidu on Thursday said home confinement of people in order to cope with the rising Covid-19 cases was legitimate, but the Emergency in 1975 was "illegitimate" as people were..




IndiaTimes - Published





Yoga can be solution for stress created by Covid-19: Vice President M Venkaiah Naidu

"Yoga is a relatively low-risk, high-yield approach to improving overall health and its full potential must be harnessed," Vice President M Venkaiah Naidu said addressing an event to mark the..




IndiaTimes - Published





Rajya Sabha Chairman M Venkaiah Naidu urges new members to make good use of opportunity




IndiaTimes - Published





VP Venkaiah Naidu, PM Modi condole death of former top cop Marwah




IndiaTimes - Published





PM Modi, Venkaiah Naidu condoles death of Ajit Jogi




IndiaTimes - Published





Vice President M Venkaiah Naidu holds review meet to discuss drinking water, irrigation problems in Andhra's Udayagiri

Present in the meeting were NITI Aayog CEO Amitabh Kant, Parameswaran Iyer, Secretary, Drinking Water and Sanitation, and UP Singh, Secretary, Water Resources, River Development and Ganga Rejuvenation...




IndiaTimes - Published





M Venkaiah Naidu reviews preparedness for holding regular parliament panel meetings

It has been decided that officers of the Lok Sabha and the Rajya Sabha, and those of ministries appearing before such committees would be kept bare minimum, they said. Naidu had held detailed..




IndiaTimes - Published





Have to live in harmony with fellow humans and nature in 'corona times': VP Venkaiah Naidu




IndiaTimes - Published





'Humankind holds key to roll back pandemic': Vice President M Venkaiah Naidu pens essay on COVID-19

He suggested steps for living with a new normal even after all the corona-induced restrictions are lifted




DNA - Published





68th anniversary of first sitting of Parliament: Vice President, Lok Sabha Speaker, Union ministers visit Central Hall, Parliament Chambers

On the occasion of the 68th year of the first sittings of Parliament of India, Vice President M. Venkaiah Naidu, Lok Sabha Speaker Om Birla and several Union Ministers visited the historic Central Hall..




IndiaTimes - Published





Opposition dominated Rajya Sabha for 39 of 68 years, but law making not impacted: M Venkaiah Naidu

"The mode of elections to and tenures of Rajya Sabha and Lok Sabha are different. This could lead to a situation of the Government of the day having majority as required in the Lok Sabha and not having..




IndiaTimes - Published





Vice President M Venkaiah Naidu welcomes special economic package announced by PM Modi

"Bold reforms are the need of the hour to realise the dream of Atmanirbhar Bharat (self-reliant India)," Naidu wrote on Twitter. The vice president said he is sure that the "timely economic package..




IndiaTimes - Published





'Hopeful of 'normal schedule' for next session of Parliament': Venkaiah Naidu




IndiaTimes - Published





Sanjay Kothari takes oath of office as new Central Vigilance Commissioner

Prime Minister Narendra Modi, Vice President M Venkaiah Naidu were also present at the ceremony.




DNA - Published

Also reported by •IndiaTimes


Vice President, PM laud civil servants for leading fight against coronavirus

Vice President M Venkaiah Naidu and Prime Minister Narendra Modi on Tuesday extended greetings on Civil Services Day, saying like health professionals, the civil servants have also been leading the..




IndiaTimes - Published





Next 7 days critical in evolving lockdown exit plan: Vice President

Vice President M Venkaiah Naidu on Tuesday said the final week of the ongoing lockdown is "critical" for evolving an exit strategy as data regarding the spread of coronavirus will have a bearing on the..




IndiaTimes - Published





Vice President M Venkaiah Naidu, his wife light lamps in solidarity against coronavirus

"Through their overwhelming response to the prime minister's call, the people of India have once again reasserted the country's steely resolve to overcome the crisis caused by the pandemic," an..




IndiaTimes - Published





Venkaiah Naidu urges countrymen to show solidarity with COVID-19 warriors by lighting lamps tonight

Vice President M Venkaiah Naidu on Sunday urged 130 crore Indians to express solidarity with "the frontline warriors in the battle against the pandemic" when they light Diyas and lamps tonight at 9 pm..




IndiaTimes - Published





Coronavirus: Venkaiah Naidu puts on hold oath-taking of 37 newly elected members




IndiaTimes - Published





No time to quibble over issues, Vice President Venkaiah Naidu tells intellectuals




IndiaTimes - Published





No place for quibbling over lockdown: Venkaiah Naidu




IndiaTimes - Published





COVID-19 response: President, Vice President hold discussions with governors, LGs and administrators of states and UTs

President of India Ram Nath Kovind along with Vice President of India M. Venkaiah Naidu on Friday through video-conferencing held a meeting with all the governors, lieutenant Governors and..




DNA - Published





Rajya Sabha to be adjourned sine die in view of coronavirus: Venkaiah Naidu




IndiaTimes - Published





Manmohan seeks leave from Rajya Sabha citing ill health

Former Prime Minister Manmohan Singh sought leave from Rajya Sabha citing ill health, which has been granted by the House. This was mentioned by Chairman M Venkaiah Naidu in the House on Monday.




IndiaTimes - Published





Rajya Sabha: Venkaiah Naidu calls meeting of leaders to discuss session duration

Rajya Sabha chairman M Venkaiah Naidu has called a meeting of leaders of various parties on Monday to take a call on the continuation of the Budget Session in view of the coronavirus outbreak, sources..




IndiaTimes - Published





TMC MPs write to Venkaiah Naidu, Om Birla requesting to defer Parliament amid COVID-19 surge

Trinamool Congress MPs on Sunday wrote to Lok Sabha Speaker Om Birla and Rajya Sabha chairman M Venkaiah Naidu over the denial of the request to defer the working of Parliament as COVID-19 cases..




IndiaTimes - Published





Ranjan Gogoi takes Rajya Sabha oath amid 'shame on you' chant from opposition

As Gogoi's name was called by chairman Venkaiah Naidu for the oath, MPs in the opposition benches started chanting slogans like "shame on you" with some trooping into the well or crowding the..




IndiaTimes - Published





M Venkaiah Naidu asks Rajya Sabha members to respect legal provisions




IndiaTimes - Published





Venkaiah Naidu slams attempts by some international agencies to 'interfere' in India's internal matters

Vice-President M Venkaiah Naidu on Friday decried attempts by certain international agencies and bodies to "interfere" in India's internal affairs and described their actions as "unwarranted".




IndiaTimes - Published





India is on the move and every stakeholder should contribute:Venkaiah Naidu




IndiaTimes - Published