Vienna Convention on Diplomatic Relations
1961 international treaty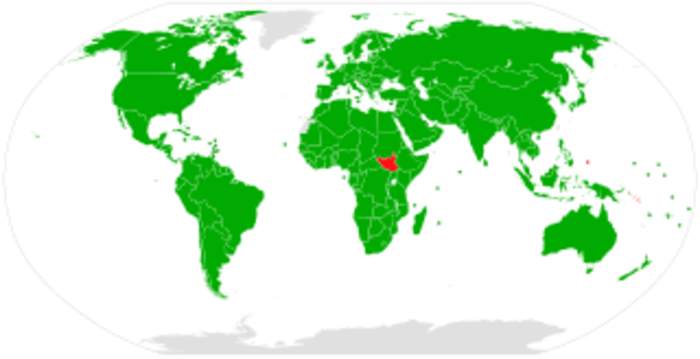 The Vienna Convention on Diplomatic Relations of 1961 is an international treaty that defines a framework for diplomatic relations between independent countries. Its aim is to facilitate "the development of friendly relations" among governments through a uniform set of practices and principles; most notably, it codifies the longstanding custom of diplomatic immunity, in which diplomatic missions are granted privileges that enable diplomats to perform their functions without fear of coercion or harassment by the host country. The Vienna Convention is a cornerstone of modern international relations and international law and is almost universally ratified and observed; it is considered one of the most successful legal instruments drafted under the United Nations.


You Might Like
Canada's support to extremism the key issue, Jaishankar tells Australia
Foreign minister, S Jaishankar, has stated that the real issue between India and Canada is the space given to extremism and radicalism by the counterpart. He briefed his Australian counterpart, Penny..
IndiaTimes - Published
India urges Canada to respect Vienna Convention amid reports of disturbances at Indian events
Speaking on the reports of an alleged attack on the Indian community during Diwali celebrations in Canada, the MEA spokesperson said that the consulate has not received any complaint regarding the..
DNA - Published
Trudeau attacks India again, but says don't want a fight now
Canadian Prime Minister Justin Trudeau has stated that Canada does not want to have a "fight" with India but wants to work constructively with them on a serious matter. Trudeau alleged that India..
IndiaTimes - Published
Canada row: Jaishankar signals India may resume visa services, says Vienna Convention allows parity
The Indian government is considering resuming visa services for Canadian nationals following the recent diplomatic row between the two countries. India had suspended visa services and the e-visa..
IndiaTimes - Published
US, UK back Canada, ask India to follow Vienna Convention
The Five Eyes countries, including the US and UK, have supported Canada in its diplomatic dispute with India. India recently expelled 41 Canadian diplomats, prompting both the US and UK to accuse India..
IndiaTimes - Published
'We do not agree with Indian decisions': UK on Canadian diplomats' exit
The UK government has expressed disagreement with India over the departure of Canadian diplomats amid a standoff between India and Canada. The UK believes that the Indian government's decisions have..
IndiaTimes - Published
Concerned over departure of Canadian diplomats from India: US State Department
The United States has expressed concern over the departure of Canadian diplomats from India and called on New Delhi to uphold its obligations under the Vienna Convention on Diplomatic Relations. Canada..
IndiaTimes - Published
India stands fully consistent with Vienna Convention says MEA
Canada has pulled out 41 diplomats from India, accusing the Indian government of violating the Vienna Convention on Diplomatic Relations. India, however, rejected Canada's argument and stated that the..
IndiaTimes - Published
Act against posts targeting Indian diplomats, Male told
India has sought action by the Maldivian government against social media posts and articles in the local media targeting Indian diplomats in Male. The government cited the Vienna Convention on..
IndiaTimes - Published