United Democratic Front (Kerala)
Political alliance in India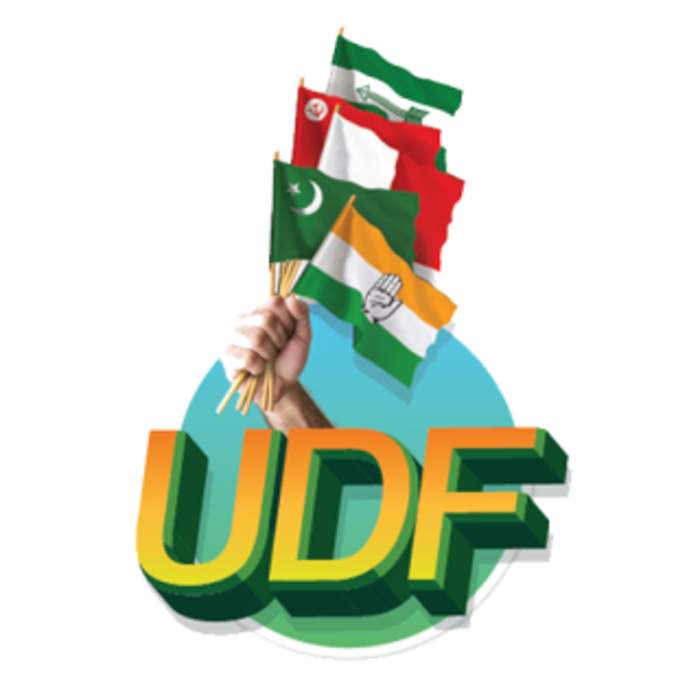 The United Democratic Front (UDF) is an alliance of Centre to centre-left political parties in the Indian state of Kerala. It is one of the two major political alliances in Kerala, the other being CPI(M)-led LDF, each of which has been in power alternately for the last four decades. UDF has won elections to the State Legislature of Kerala in the years 1982, 1991, 2001, and 2011. The alliance currently acts as the main opposition in the state legislature of Kerala post-May 2016 election. The alliance consists of Indian National Congress, Indian Union Muslim League, Kerala Congress, Revolutionary Socialist Party, Forward Bloc and a variety of other smaller parties. The front follows the principle of Social democracy. It is a part of United Progressive Alliance at national level.


CM Vijayan submits his resignation to Kerala Governor at Raj Bhavan

Kerala Chief Minister Pinarayi Vijayan met state Governor Arif Mohammed Khan at Raj Bhavan on May 03 after historic victory in Assembly election. He has submitted his resignation to the governor Khan...
Credit: ANI Duration: 01:22
Published
Nilambur UDF candidate VV Prakash dies at 56

Malappuram District Congress Committee president and Nilambur constituency's UDF candidate, VV Prakash passed away on April 29 at the age of 56. He died due to cardiac arrest. His friends and family..
Credit: ANI Duration: 01:00
Published
You Might Like
CWC meet on Monday to dissect dismal poll show
The defeats are viewed as serious because Congress failed to win Kerala which has a tradition to alternating between LDF and UDF, besides ending up behind ruling BJP in Assam and getting washed out in..
IndiaTimes - Published
All that's Left as UDF/BJP line blurs
IndiaTimes - Published
BJP has met its match in Bengal and lost: Shashi Tharoor
Senior Congress leader Shashi Tharoor on Sunday hailed Mamata Banerjee for her "spectacular victory" in the West Bengal assembly polls and said the BJP has met its match in Bengal and lost. Tharoor,..
IndiaTimes - Published
Metroman E Sreedharan set to lose from Palakkad, UDF candidate takes the lead
BJP's E Sreedharan, who was leading in Palakkad, has been pushed to second place by UDF candidate Shafi Parambil. UDF is leading by 178 votes.
DNA - Published
Rahul Gandhi rides auto to campaign venue at Nemom
K Muraleedharan, MP, is the Congress-led UDF candidate at Nemom, the lone seat won by the BJP in the 2016 assembly polls. The constituency is witnessing a fierce triangular fight between the LDF, UDF..
IndiaTimes - Published
PM Modi slams UDF-LDF, says they are twins
Continuing his attack on the ruling Left and the Opposition Congress-led UDF, Prime Minister Modi on Friday described the two fronts as twins of misgovernance, corruption and political violence, among..
IndiaTimes - Published
LDF/UDF made Kerala a 'den' of corruption: Amit Shah
Shah addressed two poll rallies at Kanjirapally in Kottayam district and Paravur in Kollam district, besides taking out road shows at Tripunithura in Kochi and Kanjikode in Palakkad. The LDF and UDF,..
IndiaTimes - Published
Kerala CM alleges Congress-led UDF and BJP have 'secret' alliance for local body polls
IndiaTimes - Published
Kerala governor reads government's speech under protest
Amid a high-voltage protest and boycott by the opposition Congress-led UDF, Kerala governor Arif Mohammed Khan presented his policy address and read out the references to the anti-CAA resolution,..
IndiaTimes - Published
Amid UDF's call for boycott, Kerala CM shares Rahul Gandhi's letter lauding 'Loka Kerala Sabha'
Ahead of addressing the delegate session of the ongoing second edition of Loka Kerala Sabha, state chief minister Pinarayi Vijayan tweeted on Thursday to thank Congress leader Rahul Gandhi for lauding..
IndiaTimes - Published
Congress to prepare 'white paper' on Kerala's financial status
A seven-member committee headed by VD Satheeshan MLA has been constituted by Opposition Leader Ramesh Chennithala, the United Democratic Front (UDF) Parliamentary party secretary Thiruvanchoor..
DNA - Published
Kerala Congress (M) splits; Jose K Mani 'elected' chairman
The Kerala Congress (M), a key partner of the Congress-led UDF, suffered a split Sunday with a faction in the party electing Rajya Sabha MP Jose K Mani, son of its founder late KM Mani, as the..
DNA - Published
Also reported by •IndiaTimes