Tehran
Capital and largest city of Iran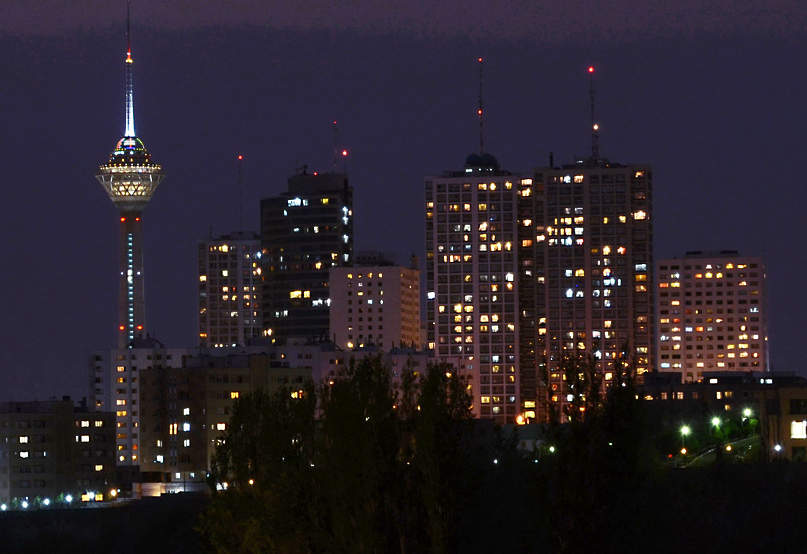 Tehran is the capital of Iran and Tehran Province. With a population of around 8.7 million in the city and 15 million in the larger metropolitan area of Greater Tehran, Tehran is the most populous city in Iran and Western Asia, and has the second-largest metropolitan area in the Middle East. It is ranked 24th in the world by the population of its metropolitan area.


Iran's Rouhani urges Biden to return to nuclear deal

Iranian President Hassan Rouhani urged the incoming U.S. administration on Wednesday to return to a 2015 nuclear agreement and lift sanctions on Tehran, while welcoming the end of President Donald..
Credit: Reuters Studio Duration: 00:54
Published
Thousands rally in Baghdad a year since Iran general's killing

Thousands of Iraqis converged on a landmark square in central Baghdad on theanniversary of the killing of a powerful Iranian general and a top Iraqimilitia leader in a US drone strike. The killing of..
Credit: PA - Press Association STUDIO Duration: 01:09
Published
Inside Iran's pandemic frontline

A look inside a Tehran hospital on the front lines of the coronavirus pandemic, through the eyes of 36-year-old nurse Somayeh Hosseinzadeh. Emer McCarthy reports.
Credit: Reuters Studio Duration: 01:50
Published
How close is Iran to producing a nuclear bomb?

A 2015 nuclear deal between Iran and world powers is being eroded and efforts to revive the pact face a new challenge with the killing of Tehran's top nuclear scientist. Megan Revell reports.
Credit: Reuters Studio Duration: 02:30
Published
Iran mourns slain nuclear scientist

A top advisor to Iran's Supreme Leader has warned that those responsible for killing one of the country's top nuclear scientists would face a "calculated and decisive" response. Tehran blames Israel..
Credit: Reuters - Politics Duration: 01:20
Published
Top Iranian nuclear scientist assassinated near Tehran

Iranian foreign minister condemns killing of Mohsen Fakhrizadeh as an 'act of state terror' and links Israel to the attack.
Credit: Al Jazeera STUDIO Duration: 03:01
Published
Suspected Iranian nuclear mastermind assassinated

An Iranian scientist long suspected by the West of masterminding a secret nuclear bomb program was killed in an ambush near Tehran on Friday that could provoke confrontation between Iran and its foes..
Credit: Reuters Studio Duration: 02:04
Published
Suspected Iranian nuclear mastermind Fakhrizadeh assassinated near Tehran


Credit: FRANCE 24 English Duration: 04:15
Published
You Might Like



Jaishankar holds talks with Iranian counterpart Zarif in Tehran

On his way to Russia, External Affairs Minister S Jaishankar on Tuesday made a stopover in Tehran and held talks with his Iranian counterpart Javad Zarif, covering various aspects of bilateral..




IndiaTimes - Published





Defence Minister Rajnath Singh meets Iranian counterpart in Tehran, discusses bilateral ties

Union Defense Minister Rajnath Singh on Sunday during his visit to Iran met the country's Defense Minister Brigadier General Amir Hatami in Tehran while returning from Moscow. Several important issues..




DNA - Published





Afghanistan, regional security top focus as Rajnath Singh meets Iranian counterpart in Tehran

Rajnath Singh's bilateral meeting with Iran's Defence minister in Tehran was at the latter's request.




DNA - Published





Rajnath talks to CAR ministers, next on diary is meet in Tehran




IndiaTimes - Published





Defence minister Rajnath Singh arrives in Iran

Defence minister Rajnath Singh on Saturday arrived in Tehran where he will meet his Iranian counterpart and discuss bilateral defence ties. India on Friday said that it was "deeply concerned" about..




IndiaTimes - Published




Rajnath Singh to make stopover in Tehran, to meet Iranian defence minister

Defence Minister Rajnath Singh's visit to Iran is significant in view of India's considering the country as part of its extended neighbourhood and also key to connectivity projects.




DNA - Published





U.S. thinks any extension of Iran arms embargo should be open-ended: U.S. envoy for Iran

The United States believes an extension of an arms embargo on Iran, currently due to expire in October under a 2015 nuclear deal, should be done so indefinitely without a fixed date, a top U.S...




Reuters - Published





France says working with partners to pressure Iran at IAEA on inspector access

France said it was working with Britain and Germany to see the U.N.'s nuclear watchdog board of governors push Iran this week to cooperate fully and immediately to grant its inspectors access to sites..




Reuters - Published





Iran urges Russia, China to resist U.S. push to extend arms embargo

Iran on Wednesday called on Russia and China to resist a push by Washington to extend a U.N.-imposed arms embargo due to expire in October under Tehran's 2015 nuclear deal with six powers.




Reuters - Published





Iranian-American freed in prisoner swap with U.S. arrives in Iran

An Iranian-American doctor has returned to Iran, Iranian state media reported on Monday, after a swap deal between Tehran and Washington that resulted in the release of a U.S. Navy veteran detained in..




Reuters - Published





Iranian Foreign minister challenges Trump to return to nuclear deal

Seizing on Donald Trump's conciliatory tone after Tehran released an American Navy veteran, Iran's foreign minister challenged the U.S. president on Friday to return to the nuclear deal that..




Reuters - Published





Macron demands release of French-Iranian academic Adelkhah

France demanded on Friday that Franco-Iranian academic Fariba Adelkhah, whom Tehran has sentenced to six years in prison, be released immediately, saying her detention was harming trust between the two..




Reuters - Published





Russian senator criticises U.S. for ending sanctions waivers on Iran nuclear sites

The United States' decision to end sanctions waivers that had allowed some work to proceed at Iranian nuclear sites will only provoke Tehran into developing nuclear weapons, Interfax cited Russian..




Reuters - Published





France says relations with Iran tougher after citizen sentenced

France's foreign minister said on Tuesday that relations with Iran had become more difficult after Tehran sentenced a French-Iranian academic to prison in what he said was a politically motivated..




Reuters - Published





U.S. targets Iran's interior minister in latest sanctions: Treasury Department

The United States has sanctioned Iran's interior minister in its latest action against Tehran, according to a notice posted on the U.S. Treasury's website on Wednesday.




Reuters - Published





Iran complains to U.N., summons envoy over U.S. threat on Venezuela shipment

Iran complained to the United Nations on Sunday and summoned the Swiss ambassador in Tehran, who represents U.S. interests in the Islamic Republic, over possible measures Washington could take against..




Reuters - Published





Vehicles, not marches, to mark Iran's annual anti-Israel rally: president

Rallies next week in Tehran to mark the annual Quds Day against Israel will involve Iranians driving in vehicles not marching through the streets, to avoid spreading the coronavirus, Iranian President..




Reuters - Published





China's rejects planned U.S. moves at U.N. on Iran sanctions

China rejected on Thursday a planned push by the United States to extend a United Nations arms embargo on Iran and, if that fails, Washington's assertion that it could trigger a return of all sanctions..




Reuters - Published





Iran dismisses U.S. threat to trigger return of U.N. sanctions

Iran's Foreign Minister on Thursday dismissed as "foolish claims" U.S. threats to trigger a return of all United Nations sanctions if the U.N. Security Council does not extend an arms embargo on..




Reuters - Published





Russia slams U.S. assertion at U.N. that it remains party to Iran nuclear deal

Russia's U.N. ambassador slammed the United States on Tuesday as "ridiculous" for arguing it was still a member of the Iran nuclear deal two years after it quit, so Washington could trigger a return of..




Reuters - Published





U.S. tells Iran to send plane so Washington can deport 11 Iranian nationals

The United States urged Tehran on Monday to send a charter plane to take home 11 Iranian nationals whom Washington wants to deport, and accused the Islamic Republic of stalling the repatriation..




Reuters - Published





Iran says United States yet to respond about prisoner swap

Washington has yet to respond to Iran about a prisoner swap, Iranian government spokesman Ali Rabiei was quoted as saying by the government's website on Sunday, reiterating that Tehran was ready for a..




Reuters - Published





Moderate Iran quake kills two, draws many into Tehran streets

Two people died after a 5.1 magnitude earthquake struck northern Iran in the early hours of Friday, sending people in and around the capital Tehran fleeing from their homes in panic, state television..




Reuters - Published





Switzerland seeks medical furlough extension of American detained by Iran: Pompeo

Switzerland, which represents the United States in Iran, has asked Tehran to extend the medical furlough from detention of U.S. Navy veteran Michael White, U.S. Secretary of State Mike Pompeo said on..




Reuters - Published





Iran says U.S. push to extend Tehran's arms embargo is "illegitimate"

Iran dismissed as "illegitimate" efforts by the United States to extend the U.N. Security Council arms embargo on Tehran, an Iranian Foreign Ministry spokesman said on Monday.




Reuters - Published





U.S. faces tough U.N. battle if it pushes plan to extend Iran arms embargo

The United States faces a tough, messy battle if it uses a threat to trigger a return of all United Nations sanctions on Iran as leverage to get the 15-member Security Council to extend and strengthen..




Reuters - Published





Iran's president says Tehran watches U.S. closely, but won't start conflict

Iranian President Hassan Rouhani said on Saturday that Tehran was closely following U.S. activities, but would never initiate a conflict in the region.




Reuters - Published





Iran summons Swiss ambassador as U.S. representative in Tehran over Gulf tensions: IRIB

Iran has summoned the Swiss ambassador in Tehran, who represents U.S. interests in the country, over recent Gulf tensions, Iran's Foreign Ministry spokesman Abbas Mousavi said on Thursday, according to..




Reuters - Published





Guards chief: U.S. warships will be destroyed if they threaten Iran in Gulf

Iran will destroy U.S. warships if its security is threatened in the Gulf, the head of Iran's elite Revolutionary Guards told state TV on Thursday, a day after U.S. President Donald Trump warned Tehran..




Reuters - Published





Pentagon officials say Trump's comment on Iran a warning, will maintain self-defense

Senior Pentagon officials said on Wednesday that President Donald Trump's comments on Iran were meant as a warning to Tehran, but suggested that the U.S. military would continue to abide by their..




Reuters - Published




Trump would be willing to give coronavirus aid to Iran if asked

U.S. President Donald Trump said Sunday he would be willing to provide aid to Iran to help deal with the coronavirus pandemic if Tehran requested it.




Reuters - Published





Iran partially reopens capital as coronavirus deaths hit one-month low

Iran allowed some businesses in the capital Tehran to re-open on Saturday as the country's daily death toll from the new coronavirus fell to 73, its lowest in more than a month.




Reuters - Published





Iran will never ask U.S. for coronavirus help: official

Iran will never ask the United States to help Tehran in its fight against the new coronavirus, Foreign Ministry spokesman Abbas Mousavi said on Monday, adding that Washington should lift its "illegal"..




Reuters - Published





Iran warns of coronavirus surge after many ignore 'stay home' rules

A senior Iranian health official said the greater Tehran area may face a coronavirus resurgence after many residents flouted advisories to stay home, crowding streets and causing traffic jams across..




Reuters - Published





Rouhani: U.S. has lost opportunity to lift Iran sanctions amid coronavirus

Iran's president said on Wednesday the United States had missed a historic opportunity to lift sanctions on his country during the coronavirus outbreak, though he said the penalties had not hampered..




Reuters - Published





U.S. renews sanctions waivers allowing Iran nonproliferation work

The United States has allowed Russian, Chinese and European companies to continue their work at Iranian nuclear sites to make it harder for Tehran to develop nuclear weapons, the U.S. State Department..




Reuters - Published




Iran urges U.S. to free Iranian prisoners amid coronavirus

The Tehran government on Friday urged the United States to release Iranians held in U.S. jails on sanctions-related issues due to fears about the coronavirus epidemic.




Reuters - Published





U.S. imposes fresh Iran-related sanctions despite coronavirus

The United States blacklisted five Iran- and Iraq-based companies and 15 individuals on Thursday for supporting terrorist groups, its third round of sanctions on Iranian targets in the last two weeks..




Reuters - Published





Tehran says missing former U.S. agent left Iran years ago

Tehran said on Thursday that a former FBI agent who disappeared in Iran 13 years ago had left the country a long time ago, despite his family saying a day earlier that he had died in Iranian custody.




Reuters - Published




Iran has no knowledge of former FBI agent's whereabouts: Iranian official

Tehran has no knowledge about the whereabouts of a former FBI agent who disappeared in Iran in March 2007, a spokesman for the Iranian mission at the United Nations said on Thursday.




Reuters - Published





Indian diplomats in coronavirus-hit Iran leave no stone unturned to help stranded citizens

Even as India is preparing to send 400 of its Indian citizens from Iran in the next few days, Indian diplomats at the mission are leaving no stone unturned to help the stranded Indian community. From..




DNA - Published





At Saudi music festival, Iran rivalry takes the stage

Exile Iranian musicians critical of religious hardliners in Tehran converged this month to perform in the most unlikely locale: Saudi Arabia.




Reuters - Published





U.S. sanctions Iran, seeks release of Americans amid coronavirus outbreak

The United States imposed fresh sanctions on Iran on Tuesday, keeping up its economic pressure campaign even as it offered to help Tehran cope with the coronavirus pandemic and called on the Islamic..




Reuters - Published





U.S. seen spurning China's coronavirus-linked call for Iran sanctions relief

The United States is unlikely to ease sanctions on Iran despite an appeal from China that it do so because of the coronavirus pandemic, sources familiar with the matter said, arguing that Tehran..




Reuters - Published





4th batch of 53 Indians evacuated from Iran moved to Army Wellness Centre in Jaisalmer

Fifty-three Indian nationals evacuated from the Iranian cities of Tehran and Shiraz were moved to the Army Wellness Centre in Rajasthan's Jaisalmer on Monday upon their arrival in the state.




IndiaTimes - Published





Fourth batch of 53 Indians arrive from Iran, says Jaishankar

External affairs minister S Jaishankar on early Monday said that the fourth batch of 53 Indians has arrived in India from Tehran and Shiraz in Iran. Out of the 53 Indians, 52 are students and one is a..




IndiaTimes - Published





Iran coronavirus death toll rises by nearly 100 to 611

The death toll from coronavirus infections in Iran rose on Saturday to 611, up nearly 100 from a day earlier, state TV said, while Tehran's governor-general denied plans to impose a lockdown on the..




Reuters - Published





Coronavirus makes Iran more dangerous: U.S. general

A top U.S. general said on Thursday that Iran is significantly underreporting the number of its coronavirus victims and he believed that the global pandemic is making Tehran more dangerous, a day after..




Reuters - Published





Shia militia likely to blame for killing U.S. troops in Iraq: U.S. general

Shia militia groups in Iraq were likely responsible for the attack on Wednesday that killed one British and two American troops at a base north of Baghdad, a top U.S. general said on Thursday, in..




Reuters - Published





U.S. gives details on Iran sites under scrutiny of U.N. nuclear watchdog

One of the three sites in Iran about which the U.N. nuclear watchdog says it has raised questions that Tehran has failed to answer may have hosted uranium metal, the United States said on Wednesday,..




Reuters - Published