Line of Control
Demarcation line between India and Pakistan over the disputed region of Kashmir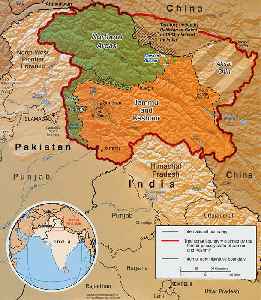 The term Line of Control (LoC) refers to the military control line between the Indian and Pakistani controlled parts of the former princely state of Jammu and Kashmir—a line which does not constitute a legally recognized international boundary, but is the de facto border. Originally known as the Cease-fire Line, it was redesignated as the "Line of Control" following the Simla Agreement, which was signed on 3 July 1972. The part of the former princely state that is under Indian control is known as the state of Jammu and Kashmir. The Pakistani-controlled part is divided into Azad Jammu and Kashmir and Gilgit–Baltistan. The northernmost point of the Line of Control is known as NJ9842. The India–Pakistan border continues from the southernmost point on the LoC.


Pakistan Army violates ceasefire for third consecutive day along LoC in Jammu & Kashmir
IndiaTimes - Published
Jawan killed as Pakistan violates ceasefire on LoC
Three others injured during heavy shelling in Sunderbani sector of Rajouri
DNA - Published
India, Pakistan exchange heavy border fire after pilot's release
Indian and Pakistani artillery fire near the Line of Control kills seven in the disputed region, officials say.
Credit: Al Jazeera STUDIO Duration: 02:25Published
Tensions Continue To Simmer As Pakistan & India Step Back From The Brink
According to a report by Reuters, on Saturday, a flare up between India and Pakistan appeared to be easing, after Islamabad returned a captured Indian pilot, and global powers urged restraint in an..
Credit: Wochit News Duration: 00:48Published
India Strikes Terror Targets in Pakistan Across Kashmir Line
India's airstrikes on Pakistani soil mark a dangerous escalation of the border conflict between two nuclear powers.
Credit: Newsy Studio Duration: 01:02Published
Kashmir tension: Anxiety along the Line of Control
Tensions are running hot along the Line of Control and although people in Pakistan-administered Kashmir try to go about their daily business, there is one thing on every mind.
Credit: Al Jazeera STUDIO Duration: 02:19Published
Soldier killed, 3 injured in Pakistan firing on LoC in Rajouri
A soldier was killed on Monday in Pakistan firing on the Line of Control (LoC) in Jammu and Kashmir's Rajouri district. "A soldier was killed and three others injured when Pakistan initiated unprovoked..
IndiaTimes - Published
Pakistan violates ceasefire along LoC in J&K's Rajouri
Mortar shelling and firing from small arms from across the LoC started in Sunderbani sector around 6.30 pm, prompting effective retaliation by the Indian Army, the official said. He said there was no..
IndiaTimes - Published
Bullet fired from across LoC injures Army porter in J-K's Rajouri
IndiaTimes - Published
Pak fighter jets go supersonic near LoC, India on high alert
IndiaTimes - Published
Pakistan moves terrorists near Line of Control
Intelligence report suggests that Pakistan Army may push terrorists to carry out shoot-and-scoot
DNA - Published
You Might Like