Line of Control
Demarcation line between India and Pakistan over the disputed region of Kashmir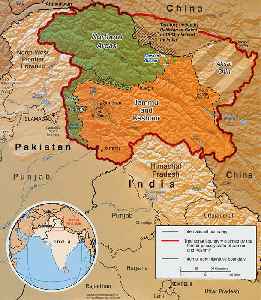 The term Line of Control (LoC) refers to the military control line between the Indian and Pakistani controlled parts of the former princely state of Jammu and Kashmir—a line which does not constitute a legally recognized international boundary, but serves as the de facto border. Originally known as the Cease-fire Line, it was redesignated as the "Line of Control" following the Simla Agreement, which was signed on 3 July 1972. The part of the former princely state that is under Indian control is known as the state of Jammu and Kashmir. The Pakistani-controlled part is divided into Azad Jammu and Kashmir and Gilgit–Baltistan. The northernmost point of the Line of Control is known as NJ9842. The India–Pakistan border continues from the southernmost point on the LoC.


Jammu and Kashmir gets back to work, Pak worked up
Frustrated neighbour violates ceasefire along LoC on a day restrictions were eased across Jammu & Kashmir
DNA - Published
Three Pak soldiers killed in Indian Army's 'punitive proactive response' to ceasefire violations along LoC
Major General Asif Ghafoor tweeted that three Pak soldiers were killed in firing along the LoC.
DNA - Published
In disputed Kashmir, a child mistakes a bomb for a toy
The small town of Jabri is usually far enough away from the routine exchanges of fire between India and Pakistan in the disputed Kashmir region. That changed last month, when Indian artillery hit the..
Credit: Reuters Studio Duration: 02:11Published
Stuck between India and Pakistan, Kashmiris worry about crossfire
Civilians living near the Line of Control between Indian and Pakistan-administered Kashmir often suffer when tensions escalate.
Credit: Al Jazeera STUDIO Duration: 02:20Published
India-Pakistan split deepens with train travel block
India has urged Pakistan to review its decision to downgrade diplomatic ties over the withdrawal of special status to Kashmir, as its neighbor halted the main train service between the two countries...
Credit: Reuters Studio Duration: 01:43Published
It is adversary's wish to activate Line of Control: Army chief General Bipin Rawat
Army chief General Bipin Rawat says Indian forces are fully prepared to tackle any misadventure by Pakistan
DNA - Published
Army prepared to deal with any security challenge along LoC: Gen Bipin Rawat
Army chief General Bipin Rawat downplayed Indian and Pakistani troop movements on either side of the 778-km long Line of Control (LoC) amidst heightened bilateral tensions over Kashmir, stressing they..
IndiaTimes - Published
Pakistan receives little traction globally on Kashmir issue: Sources
Islamabad is being bluntly asked not to use the development in Kashmir for cross border terrorism or infiltration across the Line of Control, a diplomat closely following the massive lobbying efforts..
IndiaTimes - Published
As LoC tension mounts, over a dozen terror camps reactivated in PoK
Top intelligence sources said Indian security forces have been put on high alert as terror camps in Kotli, Rawalkot, Bagh and Muzzafrabad in PoK area, bordering Line of Control (LoC), have been..
IndiaTimes - Published
You Might Like