Nagoya
Designated city in Chūbu, Japan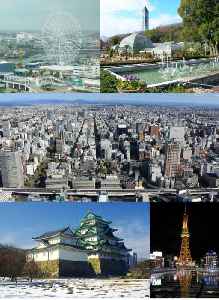 Nagoya
(名古屋)
is the largest city in the Chūbu region of Japan. It is Japan's fourth-largest incorporated city and the third-most-populous urban area. It is located on the Pacific coast on central Honshu. It is the capital of Aichi Prefecture and is one of Japan's major ports along with those of Tokyo, Osaka, Kobe, Yokohama, Chiba, and Kitakyushu. It is also the center of Japan's third-largest metropolitan region, known as the Chūkyō metropolitan area. As of 1 October 2019, 2,327,557 people lived in the city, part of Chūkyō Metropolitan Area's 10.11 million people. It is also one of the 50 largest urban areas in the world.
You Might Like
Central Japanese prefecture to declare state of emergency
The governor of central Japan's Aichi, which includes the city of Nagoya and also hosts Toyota Motor Corp, on Thursday said he would declare a state of emergency for his prefecture the following day.
Reuters - Published
Coronavirus cluster in Japan's Nagoya tied to elderly day care center
A cluster of coronavirus cases in Japan's Nagoya city has been linked to an elderly day care facility, underscoring the difficulty of shielding the aged from the outbreak in a country with the world's..
Reuters - Published
In Nagoya, scramble for hospital beds shows coronavirus challenge for aging Japan
Hospitals in Nagoya city in Japan's industrial heartland have more coronavirus patients than they can treat, forcing transfers to nearby areas and offering a glimpse of the challenges the outbreak..
Reuters - Published
Japan confirms six new coronavirus infections in Nagoya, Kyoto: Kyodo
Japan on Tuesday confirmed six new coronavirus infections in Nagoya in central Japan, and Kyoto further west, Kyodo newswire reported.
Reuters - Published
S Jaishankar holds talks with Japanese NSA on foreign policy cooperation
On Saturday, Jaishankar concluded his visit to Nagoya, Japan, where he interacted with his counterparts from several countries as he attended the G20 foreign ministers' meeting. He concluded the..
IndiaTimes - Published
Japan foreign minister says he plans to meet South Korean counterpart at G20
Japan's foreign minister plans to meet his South Korean counterpart during the Group of 20 meetings in the central city of Nagoya, he said on Friday, after Seoul decided not to end an..
Reuters - Published