Greater London
Administrative area, ceremonial county and region of England
Greater London is an administrative area in England governed by the Greater London Authority. It is organised into 33 local government districts: the 32 London boroughs and the City of London. Greater London is one of the regions of England, also known as the London Region. The Greater London Authority, based in Newham as of the start of 2022, is responsible for strategic local government across the area and consists of the Mayor of London and the London Assembly.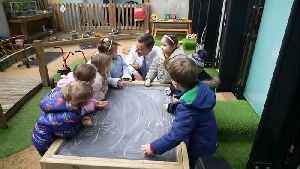 Hunt helps make Mother's Day cards with nursery children

Chancellor Jeremy Hunt has visited a nursery in south London following an announcement of sweeping childcare reforms in his Spring Budget. After joining an arts and crafts session where he was drawn..
Credit: ODN Duration: 01:49
Published
You Might Like



Fears two breakaway icebergs the size of Cornwall and London will impact marine wildlife

British scientists are tracking two of the world's biggest icebergs - one as big as Greater London and the other almost the size of Cornwall.




Sky News - Published




Man killed and second person injured after stabbings in east London

A 26-year-old man has been killed and another person has been injured after stabbings in east London.




Sky News - Published





Beterbiev v Yarde: Updates from unification fight

Briton Anthony Yarde challenges unified light-heavyweight champion Artur Beterbiev for the WBC, IBF, WBO belts at the OVO Arena in Wembley, London.




BBC Sport - Published





Giant iceberg breaks away from Antarctic ice shelf

A giant iceberg almost the size of Greater London has broken away from the Brunt Ice Shelf in Antarctica.




Sky News - Published




Two men dead and one critically injured in east London shooting

Two men have died and a third has been left critically injured in a shooting in Ilford, east London, the Metropolitan Police said.




Sky News - Published





British rapper Lady Leshurr charged with assault after fight breaks out in east London

British rapper Lady Leshurr has been charged with assault after a fight broke out in east London.




Sky News - Published





Woman fatally stabbed and another injured in east London

Police are searching for a man after two women were stabbed, leaving one dead in Newham, east London.




Sky News - Published





Boy, believed to be 12, stabbed in east London

A boy believed to be 12 has been stabbed in Newham, east London




Sky News - Published





Two people rescued as house collapses after fire and explosion in Croydon

Two people have been rescued as a house collapsed after a fire and explosion in Croydon, south London.




Sky News - Published





Woman, 27, stabbed in the back by cyclist in east London, near to where Zara Aleena was killed

A woman has been stabbed in the back by a cyclist in Ilford, east London, police have said.




Sky News - Published





Man charged with murder of Zara Aleena in east London

A man has been charged with the murder of Zara Aleena in Ilford, east London.




Sky News - Published





Bellator 281: Simon Biyong beats up-and-coming Britain Luke Trainer in Bellator 281 at Wembley Arena

Watch highlights as Simon Biyong beats up-and-coming Britain Luke Trainer in Bellator 281 at Wembley Arena, London.




BBC Sport - Published





Revealed: Number of meals wasted by UK households each week - and how much money could be saved

At a community kitchen in Lambeth, south London, a team of volunteers aren't just serving up hot three course vegetarian meals. They are watching the cost of living catastrophe begin to bite.




Sky News - Published





Teenage girl dies after e-scooter she was riding collides with a van in east London

A teenage girl has died after her e-scooter collided with a van in Newham, east London.




Sky News - Published





Mayor Khan 'incredibly concerned' about the number of Londoners with Omicron

London's mayor has said he is "incredibly concerned" about the increase of Omicron cases in the capital.




Sky News - Published





Man killed in drive-by shooting in south London named by police

A man who was killed in a drive-by shooting which also left two women injured has been named by police.




Sky News - Published





Murder investigation under way after man killed and two women injured in south London shooting

A man has been killed and two women were injured in a shooting in south London.




Sky News - Published





Police appeal after man in his 30s raped in south London park

Officers are appealing for information after a man was raped in a wooded area in Clapham Common, south London.




Sky News - Published





Dizzee Rascal charged with assault after woman is injured in south London

Rapper Dizzee Rascal has been charged with assault after a woman was injured in Streatham, south London.




Sky News - Published





Man arrested after woman, 36, stabbed to death

A man has been arrested on suspicion of murder after a 36-year-old woman was stabbed to death in south London.




Sky News - Published





Man stabbed to death near Tube station 'was filming music video'

A man who was fatally stabbed near Brixton Tube station in south London was filming a music video at the time, according to witnesses.




Sky News - Published





Three-year-old girl suffers life-changing injuries after being hit by e-scooter

A toddler has been left with life-changing injuries after being hit by an e-scooter in south London.




Sky News - Published





Police attacked at scene of suspected shooting and stabbing in Brixton

A crowd threw objects at police at the scene of a suspected shooting and stabbing in Brixton, south London.




Sky News - Published