MOVIE REVIEW: Rock Dog

Tuesday, 13 June 2017
by 👨‍💻 Graham Pierrepoint


ROCK DOG

Dir: Ash Brannon

Starring Luke Wilson, Eddie Izzard, J.K. Simmons, Lewis Black, Kenan Thompson, Mae Whitman, Jorge Garcia, Matt Dillon, Sam Elliot





2.5 STARS (out of 5)
If you cringed at the name of this movie or even at the trailer, then the likelihood is you won't be alone – but, as we've come to discover here at One News Page, it really doesn't pay to judge a book by its cover too often. Rock Dog comes to screens in the UK this week nationwide from the studio who brought us the likes of The Nut Job – meaning that, already, perceptions of just how good an animated movie about a guitar-playing canine could be weren't exactly flying high. That being said, an impressive cast and a cute style should hopefully bring some balance – but does it?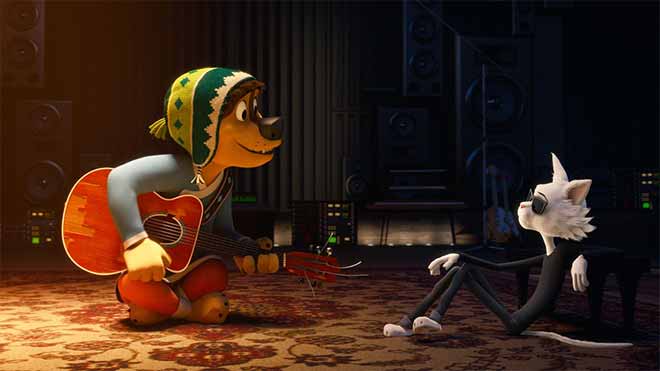 Rock Dog is the tale of a young anthropomorphic dog living with other Tibetan Mastiffs deep in the back of beyond – however, to his father's chagrin, Bodi (Wilson) finds himself dreaming of a grander, more exciting life out in the city – as a rock star – largely thanks to a radio falling from the sky. Despite his father's reservations, Bodi finds himself on the hunt for a reclusive feline star (Izzard), who just so happens to need a band to help him record a song to keep his contract afloat. On top of that, there's further difficulty ahead as his home is threatened by wolves – can Bodi become an overnight sensation and the hero his family needs?
It's perhaps understandable to go into this one not expecting something of Illumination, Dreamworks or even Disney standards. The animation is basic, fairly predictable and altogether safe – it doesn't have a look that is particularly striking, though it does manage to carry across a very cute aesthetic which will likely play well with younger viewers. Certainly, the soft, cute looks of the characters help to put their characters across – which moves us onto my next point.
Unlike some of Reel FX's other features (let's take Free Birds) – the characters aren't immediately obnoxious or blatantly striving to appeal to a younger demographic. Sure, the characters here are nothing special – and neither is the story, let's face it – but major kudos has to be levelled with the cast for fleshing out their characters as much as possible. There is some genuine talent here – while Bodi may not be the most interesting hero, Izzard's Angus is colourful and captivating, while the ensemble cast is backed up by genuinely capable stars such as Lewis Black, Mae Whitman and Kenan Thompson. For once, while many a movie has been trotted out with a good cast and has failed spectacularly, this formula works in a movie's favour.
As movies go, Rock Dog isn't that memorable – it's a story older kids and adults will see coming from a long way away, and it barely even trots away from the tried-and-tested storyline routes that so many animated movies travel down. As stated, Rock Dog is impeccably safe – it teeters on the point of mediocrity so carefully that it could be considered poorer than your average Secret Life of Pets, say – yet better than the likes of, again, Free Birds. The story is hokey and the themes and messages it relays have been stomped to death so many times that it's hard to see why they considered rattling them out again for the millionth outing. That being said, Rock Dog isn't a movie that relies much upon originality – which is why, thankfully, it does so well in the charm department.
Rock Dog - Official Trailer (Lionsgate)
Fans of animation may likely see this as something of a cheap outing. Reviews from other critics are largely panning the movie – it has a rating below 50% on Rotten Tomatoes at the time of writing – but we have to consider the key audience when it comes to just how well it comes across. Rock Dog is never going to be the genre-challenging masterpiece Ratatouille was. It's not going to convert the same merchandising ministry and worldwide appeal that Despicable Me and the Minions have over the years – but all things considered, Rock Dog is a movie with heart. Unlike some of the other movies Reel Fx have trotted out in recent years, this one at least tries to lead with a charming cast first and clichéd catchphrases and tropes second.
Sure, you won't find anything new here – those who are deep into the Disney canon or whom even find Illumination's recent work trite will likely struggle to make it to the finish – but for young kids, seven and below, there's plenty of charm, funny moments and more to keep the interest. Comparing with some of 2016's efforts – Norm of The North and Top Cat Begins, I'm looking at you – Rock Dog may not be original in the slightest, nor even technically proficient, but it never insults its audience. On these grounds, it'll make a great day out for the family.