Hinduism
Religion and way of life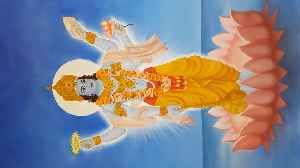 Hinduism is an Indian religion and dharma, or way of life. It is the world's third-largest religion with over 1.25 billion followers, or 15–16% of the global population, known as Hindus. The word Hindu is an exonym, and while Hinduism has been called the oldest religion in the world, many practitioners refer to their religion as Sanātana Dharma, which refers to the idea that its origins lie beyond human history, as revealed in the Hindu texts. Another, though less fitting, self-designation is Vaidika dharma, the 'dharma related to the Vedas.'


Shrine of Hazrat Baba in Shimla spreads communal harmony

India has remained a land of great saints, assimilating in its fold various cultures and faiths from time to time. It is a land where Sufism has not only flourished in its true spirit but has also..
Credit: ANI Duration: 02:38
Published
Hindu man in Lucknow donates money for Ayodhya mosque

Displaying mutual tolerance and having regards for each other's beliefs, this is what forms the foundation of Indian culture. Even today, several examples can be found across the nook and corner of the..
Credit: ANI Duration: 03:13
Published
'More grand than Ayodhya Ram temple...': LJP chief's Sita temple pitch

Chirag Paswan sought a temple in honour of Hindu goddess Sita in Bihar's Sitamarhi. He said that the Sita temple should be more grand than the Ram temple currently under construction in Uttar Pradesh's..
Credit: HT Digital Content Duration: 02:14
Published
Hindu festival season scaled down due to coronavirus

The colourful Hindu festivals of Durga Puja and Dussehra have been scaled down this year in India due to the coronavirus pandemic.View on euronews
Credit: euronews (in English) Duration: 00:50
Published
Protests held as India observes Black Day to mark Pak invasion of J&K in 1947

Protests were held by PoJK refugees in Jammu as India observed black day to mark Pakistan's invasion of Jammu and Kashmir In 1947. The protesters slammed the Pakistan government and said that their..
Credit: HT Digital Content Duration: 04:10
Published
#BoycottErosNow trends after pervy Navratri posts; when naughty turns raunchy

Eros Now has stirred a massive controversy with raunchy social media posts around the Hindu festival of Navratri. The posts, which have now been taken down, have created a massive furore on social..
Credit: HT Digital Content Duration: 08:49
Published
Cycle race in Srinagar spread message of peace, togetherness

India is a country that carries in its abode, incredible stories of peace and brotherhood. Visuals of a Muslim celebrating Diwali and a Hindu observing Eid often make rounds on social media here...
Credit: ANI Duration: 02:42
Published
'Mathura temple case has nothing to do with RSS or VHP,' says lawyer Hari Shankar Jain

Hari Shankar Jain, counsel for the petitioners in Mathura temple case slammed All India Majlis-e-Ittehadul Muslimeen (AIMIM), chief Asaduddin Owaisi over his tweet against Rashtriya Swayamsevak Sangh..
Credit: ANI Duration: 02:40
Published
Nepal's idol makers get low sales ahead of annual Hindu festivals amid pandemic

Made with clay and hay straws, these life-like Durga idols are the product of days of hard labour of the idol-makers. The idols-makers start in much ahead of the biggest festival Durga Puja in the..
Credit: ANI Duration: 02:51
Published
Mahant Balak Das slams Congress's Udit Raj over tweet against Kumbh Mela spending

The Peethadheeshwar of Patalpuri Math, Mahant Balak Das slammed Congress leader Udit Raj over his tweet against 'Kumbh Mela'. "Nowadays, new trend is going around leaders to be secular. These kinds of..
Credit: ANI Duration: 01:14
Published
Watch: Tanishq store alleges threat calls over TV ad, made to write apology

A Tanishq store in Gujarat's Kutch allegedly received threat calls over its latest advertisement. The store is Gandhidham had put up an apology note on its door over the TV ad. The handwritten note in..
Credit: HT Digital Content Duration: 02:33
Published
Locals to celebrate 'virtual' Dussehra this year in Bengaluru

Amid COVID-19 pandemic, people decided to celebrate Dussehra from their homes in Bengaluru and due to this, the sales of idols have hit by nearly 50% in the city. Earlier, idol sellers were facing..
Credit: ANI Duration: 02:53
Published
COVID-19: Indian American Trump supporters outside Walter Reed Hospital call for prayers as President is being treated

A prayer vigil was held on Sunday evening for President Trump and First Lady Melania Trump by the Indian American community to wish them a speedy recovery. His supporters not only gathered outside the..
Credit: ANI Duration: 02:59
Published
UN must intervene to protect minorities from persecution in Pakistan, asks woman activist

A rights activist from Pakistan, Anila Gulzar has requested the United Nations to intervene and protect minority rights in Pakistan as they have been facing persecution foe the past seven decades...
Credit: ANI Duration: 01:20
Published
You Might Like



RSS chief Mohan Bhagwat's address on Dussehra: Key points

RSS chief Mohan Bhagwat said that the organisation acknowledges the country as Hindu and Hindutva as the essence of this country's selfhood. The RSS chief addresses the Sangh's 'swayamsevaks' or..




IndiaTimes - Published





Assam crackdown on 'marriage by deception'

The BJP-led government in Assam has decided to crack down on the "emerging trend of marriages by deception", usually involving a prospective groom lying about his religion to marry a Hindu girl,..




IndiaTimes - Published





Another Love Jihad? Harassed by Muslim in-laws, Hindu woman attempts self-immolation outside UP assembly

She has been admitted to the civil hospital in Lucknow and her condition is said to be critical.




DNA - Published





Pakistan intelligence agency ISI conspiring to attack Hindu leaders

The ISI has approached Punjab's gangsters and the criminals in the jails to carry out such incidents.




DNA - Published





Hindu academic makes first donation of Rs 21K for Ayodhya mosque

Meanwhile, all accused in the Babri Masjid demolition case acquitted by the Special CBI Court in Lucknow on September 30.




DNA - Published





1st contribution for Ayodhya mosque comes from a Hindu




IndiaTimes - Published





Babri verdict: Pawaiya says victory of 110cr Hindus, Chouhan says truth prevails




IndiaTimes - Published





Pakistan 'epicenter of terrorism'; persecutes Hindus, Sikhs, Christians: India at Geneva

Describing Pakistan as an "epicenter of terrorism", India has said that no one deserves an unsolicited lecture on human rights from Islamabad that has consistently persecuted its ethnic and..




IndiaTimes - Published





Days after JP Nadda's attack, Mamata Banerjee tries to woo Hindus

Mamata Banerjee announced the establishment of a Dalit Academy and expansion of the Hindi Academy and the Rajbanshi Academy. Besides, she unveiled a scheme to restore mandirs, masjids and gurdwaras in..




IndiaTimes - Published





Mamata Banerjee-led West Bengal government announces stipend for Hindu priests

The West Bengal Chief Minister Mamata Banerjee announced a stipend of Rs 1,000 per month for Hindu priests on Monday.




DNA - Published





Ahead of 2021 West Bengal polls, Mamata announces monetary help, housing for Hindu priests

Under frequent attack by opposition parties for "minority appeasement", West Bengal chief minister Mamata Banerjee on Monday announced monthly financial assistance of Rs 1,000 and free housing for over..




IndiaTimes - Published





India highlights 'culture of violence' in Pakistan at UN Forum

India also pointed out how blasphemy laws are used against religious minorities such as Hindus, Christians and Sikhs, to violate their human rights and dignity.




DNA - Published





JP Nadda accuses Mamata Banerjee government of being anti-Hindu

Trinamool's Rajya Sabha leader Derek O'Brien refuted Nadda's allegations that the state government was hindering development in Bengal. He said the Trinamool government had launched Swasthya..




IndiaTimes - Published





Bengal govt has 'anti-Hindu' mindset, its policies driven by 'minority appeasement': JP Nadda

BJP chief J P Nadda on Wednesday launched a scathing attack on the Trinamool Congress government in West Bengal, accusing it of having an "anti- Hindu" mindset and pursuing "minority appeasement"..




IndiaTimes - Published





'Michhami Dukkaddam & Kshamavani': Joe Biden wishes members of Jain faith; launches campaign to woo Hindus in US

US Democratic presidential candidate Joe Biden extended his wishes to the Jain community on the concluding day of Paryushan and Daslakshan festival. The Biden campaign also announced the launch of..




DNA - Published





SC notice to Centre on PIL to frame guidelines for identifying minorities at state level

The Supreme Court on Friday sought the Centre's response on a PIL seeking directions to the Centre to frame guidelines for identifying minorities at the state level as Hindus are in a minority in 10..




IndiaTimes - Published





YouTuber Heer Khan arrested for making derogatory remarks against Hindu deities

Content creator Heer Khan was nabbed by Prayagraj police officials for making objectionable remarks against Hindu gods and goddesses.




DNA - Published





After Reserve Bank of Kailaasa, Nithyananda plans to set up Hindu parliament

Absconding godman Nithyananda now aims to follow up on his 'Reserve Bank of Kailaasa' with a Hindu parliament in the next six months, he said on Sunday.




DNA - Published





Krishna Janmashtami 2020: President Ram Nath Kovind, PM Modi extend greetings on auspicious occasion

Among the pantheon of Hindu Gods that are worshipped by Hindu devotees and celebrated through rituals and festivals, Janmashtami is a festival dedicated to the worshipping of Lord Krishna.




DNA - Published





SC gives equal inheritance right to daughters from 1956

Putting the last nail on male primacy in division of Hindu ancestral property, the Supreme Court in a landmark judgment on Tuesday cleared the legal cobwebs to declare that daughters will have..




IndiaTimes - Published





Nearly 180 Afghan Hindu and Sikhs likely to be evacuated in the near future




IndiaTimes - Published





Rajasthan: 11 members of Pakistani Hindu migrant family found dead in Jodhpur; probe underway

Eleven members of a family of Pakistani Hindu migrants were found dead at a farm in Rajasthan's Jodhpur district on Sunday morning, police said.




DNA - Published





Union minister Shekhawat slams Gehlot government over deaths of 11 Hindu migrants from Pakistan

"The deceased include two men, four women and five children. One after other, very frightening incidents reflecting the deteriorating situation of the state, are coming to the fore. The government..




IndiaTimes - Published





I don't discriminate as CM, but as Hindu won't attend mosque event: Yogi

Hours after the 'bhoomi pujan' for the Ram temple, UP CM Yogi Adityanath, when asked if he would attend a similar function for the construction of a mosque in Ayodhya, he said that as a CM, he did..




IndiaTimes - Published





Pakistan govt pressurising Hindus to convert for jobs




IndiaTimes - Published





Congress slams Owaisi for his tweet against Priyanka Gandhi, says Congress ideology is Hindu-Muslim bhai bhai




IndiaTimes - Published





Control of State by Hindus is essential for sustenance of Dharma: MP Surya




IndiaTimes - Published





Wait of centuries has ended: PM Modi after Ram temple 'bhoomi pujan'

The wait of centuries has ended, Prime Minister Narendra Modi said after performing the groundbreaking ceremony in Ayodhya for the Ram temple.Across the country, people remained glued to their..




IndiaTimes - Published





Hindus celebrate Raksha Bandhan in Pakistan's Peshawar




IndiaTimes - Published





On Sanskrit Day, PM thanks everyone involved in promoting, using language

Sanskrit Day is observed every year on the full moon day of the Hindu calendar month of Shravan.




IndiaTimes - Published





'It's Lord Ram's wish': Ayodhya dispute litigant Iqbal Ansari gets first invite for Ram Temple 'bhoomi pujan'

"I believe it was Lord Ram's wish that I receive the first invitation. I accept it. Hindus and Muslims live in harmony in Ayodhya. The temple's land is being worshipped and Prime Minister Narendra Modi..




IndiaTimes - Published





Delhi Riots: Cops say ex-AAP councillor Tahir Hussain confessed to being mastermind behind communal violence

Police said that during the interrogation the now suspended AAP councillor revealed that he wanted to teach Hindus a lesson using his political power and money. He told police that he was the..




DNA - Published




Akhil Bharatiya Sant Samiti calls Maha CM Uddhav Thackeray 'Nalayak' for suggesting virtual 'Bhoomi Poojan'

Ahead of the 'Bhoomi Pujan' ceremony in Ayodhya, Akhil Bharatiya Sant Samiti, one of the highest bodies of Hindu sadhus and sants, attacked Uttar Pradesh Chief Minister Uddhav Thackeray for suggesting..




DNA - Published





Temples in North America to hold virtual prayer to celebrate Ram Temple's foundation laying ceremony

Hindu temples in North America will hold a virtual national prayer to celebrate the foundation laying ceremony of the Ram Temple in Ayodhya, religious groups have announced. The Hindu Mandir..




IndiaTimes - Published





Israeli PM Benjamin Netanyahu's son apologises after his tweet offends Indians

Israeli Prime Minister Benjamin Netanyahu's eldest son Yair has apologised to Hindus after he faced flak from some Indians who found one of his tweets to be "quite offensive". On Sunday, the..




IndiaTimes - Published





MEA thanks Afghanisthan for safe return of of 11 Afghan Sikhs, Hindus

Eleven members of the Sikh community from Afghanistan, who were granted short-term visas by the Indian Embassy in Kabul, including Nidan Singh Sachdeva, who was abducted from a gurudwara in Paktia..




DNA - Published




Rise in attacks on Hindus, Sikhs in Afghanistan; India facilitating those who want to come: MEA




IndiaTimes - Published





Harela festival 2020: All you need to know about the auspicious day

It is celebrated in the Hindu calendar month of Shravan which marks the rainy season.




DNA - Published





Hindutva leader Tapan Ghosh dies battling Covid-19

A former RSS leader, Ghosh is the second politician in the state to die due to Covid-19. Last month, Trinamool Congress MLA succumbed to the contagion. Condoling Ghosh's death, senior BJP leader Swapan..




IndiaTimes - Published





Kanwariyas barred from entering Haridwar; 14 days quarantine on arrival

Kanwar Yatra is an annual pilgrimage of Lord Shiva's devotees known as Kanwars, who visit Haridwar, Gaumukh and Gangotri in Uttarakhand and Sultanganj in Bihar to fetch holy waters of the River Ganga..




DNA - Published





Now Hindu gods get dragged into debate about 'whiteness'




IndiaTimes - Published





Indian woman, 29, wins £5,000 Commonwealth short story prize for Hindu-Muslim love story

A woman from Ranchi currently studying in the US has won £5,000 after her tale about a Hindu girl falling in love with a Muslim boy beat more than 5,000 entries from 49 countries to win the 2020..




IndiaTimes - Published





Muslims, Jews have higher Covid death rate, UK figures indicate

The death rate from Covid-19 in England and Wales is higher among people who identify as Muslims, Jews, Hindus or Sikh than Christians or those with no stated religion, Britain's statistics office said..




IndiaTimes - Published





Living on the edge, Pakistani Hindus still feel safer in India

In the 15 months through March 2019 India's home ministry dealt with 16,121 applications from Pakistani nationals for long-term visas. In preceding years, the number of visas granted rose from hundreds..




IndiaTimes - Published

Also reported by •Reuters •Reuters India


Jamiat moves SC, opposes petition to scrap law on shrines

A Hindu organisation's PIL seeking scrapping of a 1991 law prohibiting alteration of the character of religious places, ostensibly to revive litigation on disputed religious sites in Varanasi and..




IndiaTimes - Published





Muslim body moves SC opposing Hindu organisation's plea against Place of Worship Act, 1991




IndiaTimes - Published





Demarche to Pakistan on demolition of Hindu homes




IndiaTimes - Published





ISKCON registers complaint against comedian Surleen Kaur for derogatory remarks against Hindu faith

The comedian had linked ISKCON with pornography and also made a remark on Lord Ganesha, following which she received a heavy backlash on social media.




DNA - Published





Denied burial, Muslim man finds place in Hindu graveyard




IndiaTimes - Published





Karnataka to open temples from June 1

Temples in the state that were closed for devotees for over two months due to the Covid-19 induced lockdown will be opened for public from June 1, state minister Kota Srinivas Poojary said on..




IndiaTimes - Published