Hinduism
Religion and way of life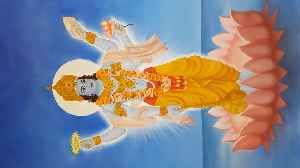 Hinduism is an Indian religion and dharma, or way of life. It is the world's third-largest religion with over 1.25 billion followers, or 15–16% of the global population, known as Hindus. The word Hindu is an exonym, and while Hinduism has been called the oldest religion in the world, many practitioners refer to their religion as Sanātana Dharma, "the eternal way" which refers to the idea that its origins lie beyond human history, as revealed in the Hindu texts. Another, though less fitting, self-designation is Vaidika dharma, the 'dharma related to the Vedas.'


Devotees flock to Delhi's Bankhandi Mahadev Temple on 1st Monday of 'Sawan' month

Prayers were offered at Bankhandi Mahadev Temple in Delhi's Chandni Chowk on the first Monday of 'sawan' month. Precautionary measures are being taken by temple authorities in view of COVID spread...
Credit: ANI Duration: 01:05
Published
Muslim man in MP develops contactless sensor bell for a Hindu Temple

Harmonious coexistence and regards for other religions is an integral part of Indian ethos. And as a result, examples of communal harmony can be witnessed in every nook and corner of the country. One..
Credit: ANI Duration: 03:16
Published
Silent protest held outside UN highlighting the plight of Christian persecution in Pakistan

A silent demonstration was held infront of the United Nations Office in Geneva alongside Broken Chair to raise a voice in solidarity to eradicate the malicious blasphemy law and forced conversions in..
Credit: ANI Duration: 01:01
Published
Attacks on Hindu funeral procession, church portray plight of minorities in Pakistan: India at UNHRC

Vimarsh Aryan, First Secretary, India's permanent mission to United Nation's Office at Geneva (UNOG) exercised India's Right of Reply to Pakistan at 43rd Session of UNHRC in Geneva. Aryan said, "It's..
Credit: ANI Duration: 01:47
Published
US welcomes nation's tallest statue of Hindu deity Hanuman in Delaware

The United States got its tallest Lord Hanuman statue, built in Delaware. The 25-feet tall statue, weighs around 45 tonnes and costs more than $100,000 for construction and logistics. It has been..
Credit: ANI Duration: 02:38
Published
A Hindu and a Muslim man in Kanpur come together to help migrants

As the Indian government is busy battling coronavirus pandemic, the citizens too are not behind in extending their support and making sure that the poor survive even through these hard times. People..
Credit: ANI Duration: 03:01
Published
Centuries-old Hindu-Muslim bond continue to inspire people in Rajkot

India displays an amazing characteristic of mutual tolerance and peaceful coexistence. Examples defining this unique identity of the country are to be found at its every nook and corner. So, today we..
Credit: ANI Duration: 02:55
Published
Sacred Indian river flows again as pollution subsides

One of India's holiest rivers is able to breathe again after a 10-week lockdown that temporarily stopped the discharge of toxic waste into its waters. Gloria Tso has more.
Credit: Reuters Studio Duration: 01:37
Published
In Alappuzha, people across faiths come to the aid of an ailing man on Eid

The streets of Vattayal locality in Kerala's Alappuzha district were lying almost barren this Eid-ul-Fitr due to coronavirus lockdown. As Muslims in the area didn't go for any grand celebrations this..
Credit: ANI Duration: 03:05
Published
Hindu Shrine prepares sehri, iftari for the quarantined Muslims amid Ramadan

Epitomising communal harmony, the Shri Mata Vaishno Devi Shrine Board was working overnight to provide sehri and Iftari to around 500 Muslims quarantined at Aashirwad Bhawan in Katra. Sehri is a small..
Credit: ANI Duration: 02:27
Published
Ganga Dussehra: Ghats remain deserted in Varanasi due to COVID-19 pandemic

Ganga Ghats remained deserted on the occasion of Ganga Dussehra in Uttar Pradesh' holy city Varanasi on June 01. The gathering of devotees is restricted to prevent the spread of coronavirus and police..
Credit: ANI Duration: 01:13
Published
Ganga Dussehra: Social distancing norms flouted at Prayagraj's Sangam Ghat

Amid coronavirus pandemic, devotees flouted social distancing norms and gathered at Sangam Ghat in Praygraj on June 01. They gathered in large numbers at the Ghat to celebrate Ganga Dussehra...
Credit: ANI Duration: 01:17
Published
Women offer prayers on occasion of 'Vat Savitri Pooja' in UP's Prayagraj

Several married women offered prayers on the occasion of 'Vat Savitri Pooja' in Uttar Pradesh's Prayagraj on May 22. 'Vat Savitri Pooja' has great significance and this auspicious day falls on Amavasya..
Credit: ANI Duration: 02:33
Published
You Might Like



Kanwariyas barred from entering Haridwar; 14 days quarantine on arrival

Kanwar Yatra is an annual pilgrimage of Lord Shiva's devotees known as Kanwars, who visit Haridwar, Gaumukh and Gangotri in Uttarakhand and Sultanganj in Bihar to fetch holy waters of the River Ganga..




DNA - Published





Now Hindu gods get dragged into debate about 'whiteness'




IndiaTimes - Published





Indian woman, 29, wins £5,000 Commonwealth short story prize for Hindu-Muslim love story

A woman from Ranchi currently studying in the US has won £5,000 after her tale about a Hindu girl falling in love with a Muslim boy beat more than 5,000 entries from 49 countries to win the 2020..




IndiaTimes - Published





Muslims, Jews have higher Covid death rate, UK figures indicate

The death rate from Covid-19 in England and Wales is higher among people who identify as Muslims, Jews, Hindus or Sikh than Christians or those with no stated religion, Britain's statistics office said..




IndiaTimes - Published





Living on the edge, Pakistani Hindus still feel safer in India

In the 15 months through March 2019 India's home ministry dealt with 16,121 applications from Pakistani nationals for long-term visas. In preceding years, the number of visas granted rose from hundreds..




IndiaTimes - Published

Also reported by •Reuters •Reuters India


Jamiat moves SC, opposes petition to scrap law on shrines

A Hindu organisation's PIL seeking scrapping of a 1991 law prohibiting alteration of the character of religious places, ostensibly to revive litigation on disputed religious sites in Varanasi and..




IndiaTimes - Published





Muslim body moves SC opposing Hindu organisation's plea against Place of Worship Act, 1991




IndiaTimes - Published





Demarche to Pakistan on demolition of Hindu homes




IndiaTimes - Published





ISKCON registers complaint against comedian Surleen Kaur for derogatory remarks against Hindu faith

The comedian had linked ISKCON with pornography and also made a remark on Lord Ganesha, following which she received a heavy backlash on social media.




DNA - Published





Denied burial, Muslim man finds place in Hindu graveyard




IndiaTimes - Published





Karnataka to open temples from June 1

Temples in the state that were closed for devotees for over two months due to the Covid-19 induced lockdown will be opened for public from June 1, state minister Kota Srinivas Poojary said on..




IndiaTimes - Published





Supreme Court grants protection to lawyer Prashant Bhushan in a case

The FIR was lodged by former Army personnel Jaidev Rajnikant Joshi at Rajkot alleging that Bhushan hurt religious sentiments of the Hindus by tweeting against re-telecast of Ramayana and Mahabharata..




IndiaTimes - Published





UP Muslims take out funeral procession of Hindu priest




IndiaTimes - Published





Police file case against Indian news anchor for inciting hatred

Indian police have registered a case against a top television news anchor for inciting religious discord after he criticised opposition leader Sonia Gandhi during a show about a vigilante attack in..




Reuters - Published





'Virtual wedding' a hit in the times of coronavirus

The lockdown has prompted many couples to try the idea of 'virtual wedding'. Avinash and Kirti had an online wedding which was virtually attended by 80 close friends & relatives. They also held an..




IndiaTimes - Published





Pak-migrant Hindu docs plead with govt to let them join India's anti-corona fight




IndiaTimes - Published





In Modi's India, virus fallout inflames divisions between Muslims and Hindus

The purple ink stamped on Iqbal Hussain Siddiqui's hand by Indian health workers was supposed to ensure he stayed home under quarantine.




Reuters - Published





India slams US body for fake news, says stop communalising war on Covid-19

India on Wednesday slammed the United States Commission on International Religious Freedom (USCIRF) for spreading false media reports after the US body expressed concern over reports that Hindu and..




IndiaTimes - Published





Akhil Bharatiya Akhara Parishad supports COVID-19 lockdown extension

Akhil Bharatiya Akhara Parishad, the apex body of 'Hindu sants and ascetics', on Wednesday supported of the extension of coronavirus lockdown announced by Prime Minister Narendra Modi on Tuesday.




IndiaTimes - Published





Muslims take body of Hindu neighbour for cremation in UP

A crowd of mourners, most of them wearing white and brown skull caps, baffled onlookers as they carried a body to the cremation ground in UP's Bulandshahr amid chants of "Ram naam satya hai". Videos of..




IndiaTimes - Published





In Indian capital, riots deepen a Hindu-Muslim divide

For years, Hindus and Muslims lived and worked peacefully together in Yamuna Vihar, a densely populated Delhi district.




Reuters - Published





Hindu group offers cow urine in a bid to ward off coronavirus

A Hindu group hosted a cow urine drinking party on Saturday as they believe it wards off the coronavirus, as many Hindus consider the cow sacred and some drink cow urine believing it has medicinal..




Reuters - Published





Action against Delhi riots accused will serve as example: Amit Shah

Home minister Amit Shah on Wednesday vowed to ensure punishment for those responsible for the Delhi riots irrespective of their religion, caste and political affiliation. Speaking in Lok Sabha, Shah..




IndiaTimes - Published





There is 'tsunami of Hindutva hate', says Asaduddin Owaisi in Lok Sabha

Participating in a discussion in Lok Sabha on the Delhi violence, he urged Hindus to "save the soul" of the country and claimed that around 1,100 Muslims are under illegal detention. Owaisi said..




IndiaTimes - Published





India's celebration of festival of colors muted amid coronavirus fears

India's Hindu festival of Holi was subdued on Tuesday with fears of the coronavirus putting a damper on the usually boisterous celebration marked by the throwing of colored powder and dousing with dyed..




Reuters - Published





Google marks International Women's Day with a doodle

Google on Sunday dedicated a doodle to mark the International Women's Day. The doodle is an animated video of a multilayered 3D paper mandala animation. The mandala, as we all know, is a circular..




IndiaTimes - Published





Banking crisis: Hindus in danger in true sense, says Cong neta




IndiaTimes - Published





Iran's Ayatollah Khamenei slams India for Delhi riots

Freedom House, a US think tank, also flagged concerns about India. "The Indian government has taken its Hindu nationalist agenda to a new level with a succession of policies threatening the..




IndiaTimes - Published





Iran's Khamenei asks India to stop attacks on Muslims after deadly riots

Iranian Supreme Leader Ayatollah Ali Khamenei urged India on Thursday to "confront extremist Hindus" and "stop the massacre of Muslims", adding to the international fallout over deadly Hindu-Muslim..




Reuters - Published





Iran's supreme leader Ayatollah Khamenei asks India to 'confront extremist Hindus and their parties'

Iranian supreme leader Ayatollah Ali Khamenei on Thursday asked the Indian government to confront what he called "extremist Hindus and their parties", saying the hearts of Muslims all over the world..




IndiaTimes - Published





Delhi's displaced scrape a living after deadly riots

Mohammed Anees fled his home in northeastern New Delhi last week as Hindu-Muslim clashes erupted in his area, escaping with his family of four to a relative's home. He had only a few hundred rupees in..




Reuters - Published





Ayodhya readies for mandir construction

Heavy earthmoving machines rolled into the Ramjanmabhoomi premises in Ayodhya on Saturday afternoon, marking the beginning of construction of the Ram Mandir. The chief priest of the makeshift temple,..




IndiaTimes - Published





Indian police detain hundreds after Hindu-Muslim clashes in New Delhi

Indian police said on Friday they had detained hundreds of people and were keeping a heavy presence in northeast New Delhi, days after the worst bout of sectarian violence in the capital in decades.




Reuters - Published





Gautampuri sets example of love and unity in time of NE Delhi violence

In the aftermath of violence, that ripped through North-East Delhi, the residents of Gautampuri area presented a picture of love and unity. Home to about 4500 Hindu and Muslim families, residents came..




IndiaTimes - Published





A mob out for blood: India's protests pit Hindus against Muslims

Mohammad Zubair was on his way home from a local mosque in northeast New Delhi when he came across a large crowd. He turned towards an underpass to avoid the commotion; it proved to be a mistake.




Reuters - Published




U.S. citizens warned to be cautious after New Delhi clashes

The U.S. Embassy in New Delhi urged its citizens https://bit.ly/2VpoJlS on Wednesday to be cautious after violent clashes broke out between Hindus and minority Muslims in parts of the city this week.




Reuters - Published





India's Modi appeals for calm as riot toll rises to 20

Indian Prime Minister Narendra Modi appealed for calm on Wednesday after days of clashes between Hindus and minority Muslims over a controversial citizenship law in some of the worst sectarian violence..




Reuters - Published





Death toll rises to 20 from riots in New Delhi; hundreds badly injured

At least 20 people have been killed in the Indian capital during violent clashes between Hindu and Muslim groups over a new citizenship law, a hospital official told Reuters, even as an eerie calm..




Reuters - Published




Indian PM Modi calls for calm in Delhi after sectarian clashes

India Prime Minister Narendra Modi appealed for peace in Delhi on Wednesday after days of violent clashes between Hindus and minority Muslims over a citizenship law left at least 20 people killed.




Reuters - Published





Ask Donald Trump if extraditing 19 lakh people from Assam is possible: Chidambaram to Modi

Addressing a meet here against the Citizenship Amendment Act, the former Minister, citing the BJP's brute majority in Parliament, asked what was the guarantee that the government would not bring in an..




IndiaTimes - Published





Maha Shivratri: What is the significance of Hindu festival - Watch video

Devotees from Kashmir to Kanyakumari, observe the festival and throng Shiva temples to offer fruits and milk to the Shivaling, an iconic representation of Shiva.




DNA - Published





Don't mistake Hindu tolerance for weakness: Devendra Fadnavis to AIMIM's Waris Pathan

Former Maharashtra chief minister and senior BJP leader Devendra Fadnavis on Friday condemned AIMIM leader Waris Pathan's reported remarks that 15 crore Muslims are more than a match for the country's..




IndiaTimes - Published





India paying price for not sending Muslims to Pakistan: Giriraj Singh

The country is paying the price for failure to send Muslims to Pakistan and bring Hindus to India after the Islamic state came into being at the time of Independence, Union minister Giriraj Singh has..




IndiaTimes - Published





When Mata Hari's Hindu dance captivated Europe




IndiaTimes - Published





Approach HC, says SC on minority tag for Hindus




IndiaTimes - Published





Avoid use of word 'nationalism', it refers to 'Hitler, Nazism': RSS chief Mohan Bhagwat

RSS chief Mohan Bhagwat on Thursday said people should desist from using the word "nationalism" as it has connotations of "Hitler and Nazism". "Do not use the word 'Nationalism'. Use 'National',..




IndiaTimes - Published





26/11: After Maria's 'Hindu terror' claim, BJP MLA seeks fresh probe




IndiaTimes - Published





BJP seizes upon ex-cop Maria's book to attack Congress

BJP members alleged that the term was coined at the behest of former home minister P Chidambaram, whose bid in this direction had helped Pakistan-based terror outfits, which tried to disguise Kasab as..




IndiaTimes - Published





Indian diaspora protest outside Pakistan High Commission in London over forced conversion of Hindu Pakistani




IndiaTimes - Published





Piyush Goyal says 'terror has no religion', slams Congress for 'trying to raise Hindu terror bogey'

Union minister Piyush Goyal on Tuesday said that terror has no religion and condemned what he said was a "conspiracy" by the United Progressive Alliance (UPA) and the Congress party to raise the "bogey..




IndiaTimes - Published