Hinduism
Religion and way of life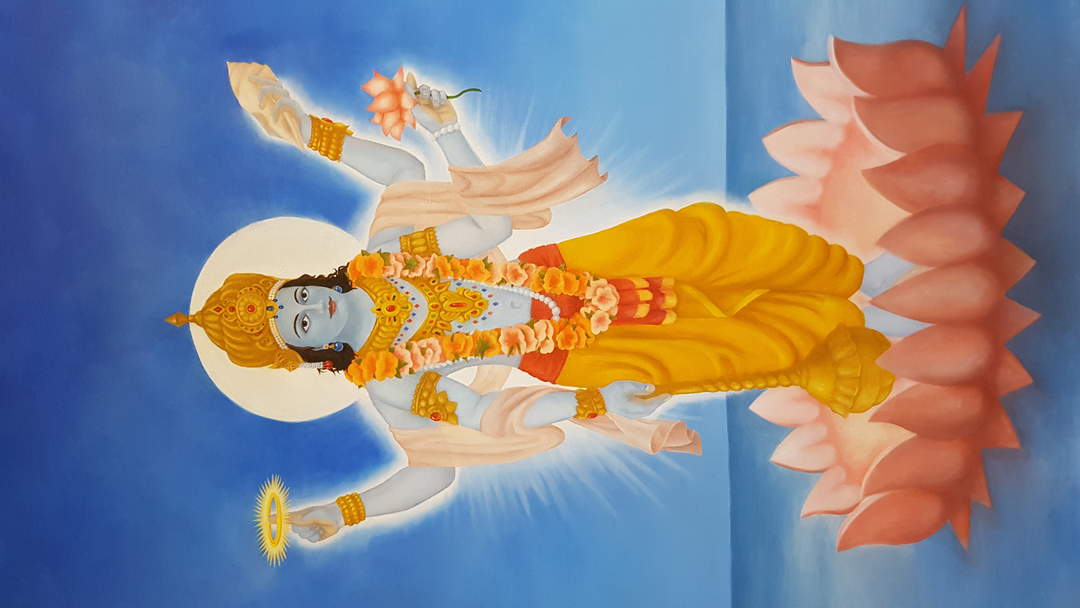 Hinduism is an Indian religion and dharma, or way of life. It is the world's third-largest religion, with over 1.25 billion followers, or 15–16% of the global population, known as Hindus. The word Hindu is an exonym, and while Hinduism has been called the oldest religion in the world, many practitioners refer to their religion as Sanātana Dharma, which refers to the idea that its origins lie beyond human history, as revealed in the Hindu texts. Another, though less fitting, self-designation is Vaidika dharma, the 'dharma related to the Vedas.'


Karachi Bakery in Mumbai shuts store, Raj Thackeray party takes credit

Mumbai's Karachi Bakery shut shop months after being attacked by Maharashtra Navnirman Sena (MNS) over its name. MNS leader Haji Saif Shaikh had sent a legal notice in Nov 2020 to owner of the Bakery...
Credit: HT Digital Content Duration: 02:49
Published
How a London community is bridging the gap to reach minorities hard-hit by the pandemic

The UK's Vaccination Program is moving at breakneck speed, but a lack of reach to communities in need of vaccine and virus information have impacted case numbers and infection rates – particularly..
Credit: Bleacher Report AOL Duration: 05:45
Published
'Durga Puja curbed, forced cow slaughter on Eid': Yogi's poll pitch in Bengal

Uttar Pradesh Chief Minister Yogi Adityanath campaigned for the Bharatiya Janata Party in West Bengal's Malda on March 2. One of the main themes of his speech was the claim that the Hindu religion is..
Credit: HT Digital Content Duration: 02:31
Published
Restoration work at Seto Macchindranath Temple in Nepal begins with India's support

The restoration work of Seto Macchindranath Temple, one of the 28 heritage sites which will be reconstructed with the help of India's assistance, has begun on Sunday in Kathmandu. Indian Ambassador..
Credit: ANI Duration: 03:07
Published
'Centre used NEP 2020 as weapon to communalise': Rahul Gandhi in Tamil Nadu

Congress leader Rahul Gandhi slammed Centre over the National Education Policy 2020. Rahul said that the Centre introduced NEP 2020 without consulting teachers and students. He added that NEP is used..
Credit: HT Digital Content Duration: 06:12
Published
Magh Purnima: Devotees offer prayers | Flower petals showered from helicopter | Oneindia News

Devotees from across the country took holy dips today on the occasion of magh purnima, the full moon night in the magha month of the hindu calender. The devotees in Prayagraj and Haridwar were seen..
Credit: Oneindia Duration: 01:18
Published
'Magh Purnima': Flower petals showered on devotees in Prayagraj

Prayagraj district administration showered flower petals on devotees at Triveni Sangam, on the occasion of 'Magh Purnima'. According to Hindu calendar, 'Magh Purnima' falls on full moon day.
Credit: ANI Duration: 01:18
Published
Devotees celebrate 'Magh Purnima' in Haridwar, Prayagraj

The nation is celebrating 'Magh Purnima' on Feb 27. Devotees took holy dip on the auspicious occasion in Haridwar and also offered prayers at the ghat. Similarly, devotees took holy dip on occasion of..
Credit: ANI Duration: 01:35
Published
Protests in Canada against attack on Hindus allegedly by Khalistani elements

Canadians of Indian origin protested against attacks by alleged Khalistan supporters on Hindu minorities over the ongoing farmers' protest in India. The protesters gathered outside NDP MP Jagmeet..
Credit: HT Digital Content Duration: 02:07
Published
NRIs stage protest for allegedly being targeted by Khalistan supporters in Canada

Some people of Indian origin staged a protest outside NDP MP Jagmeet Singh's office in Canada's Burnaby. They said that they are being targetted by Khalistan supporters due to ongoing farmers' protest..
Credit: ANI Duration: 01:14
Published
Gujarat to table 'love jihad' bill during budget session: CM Rupani

Gujarat Chief Minister Vijay Rupani on February 25 said that the state government is going to bring a bill against 'love jihad' in Vidhan Sabha in March during the budget session. He said that the bill..
Credit: ANI Duration: 01:18
Published
Nepal President participates in 'Kshama Puja', inaugurates new 'Jalahari' at Pashupatinath Temple

Nepal President Bidhya Devi Bhandari on Wednesday participated in "Kshama Puja" and administered the inauguration of the new 'Jalahari' at Pashupatinath Temple. President Bhandari reached the revered..
Credit: ANI Duration: 02:09
Published
BJP calls for shutdown in protest against alleged killing of RSS worker in Alappuzha

BJP and Hindu outfits have called for a shutdown in Alappuzha from 6 am to 6 pm on Feb 25 in protest against the killing of an RSS worker allegedly by SDPI worker. The clash between the groups had..
Credit: ANI Duration: 01:11
Published
'1000 minority women every year...': India exposes Pakistan at UN

India lambasted Pakistan at the UN Human Rights Council. India hit out at Pakistan for again raking up Jammu & Kashmir issue. India also slammed Turkey for trying to interfere in internal matters...
Credit: HT Digital Content Duration: 03:46
Published
Tandav: Amazon India Originals' head records statement at UP police station

Amazon Prime Video's India Originals Head Aparna Purohit recorded her statement in connection with an FIR registered against her and others over alleged derogatory depiction of Hindu deities in web..
Credit: HT Digital Content Duration: 01:13
Published
'If Tamil has to survive…': BJP's Tejasvi Surya calls DMK anti-Hindu

BJP leader Tejasvi Surya launched a fierce attack on the DMK accusing it of being anti-Hindu. 'DMK represents a bad, virulent ideology which is anti-Hindu. Every Tamil is a proud Hindu. This is the..
Credit: HT Digital Content Duration: 03:18
Published
You Might Like



Parental-side kin can inherit property of Hindu widow: SC

The Supreme Court has said family members on the parental side of a Hindu widow can't be held to be 'strangers' and her property can devolve upon them under the Hindu Succession Act. Referring to..




IndiaTimes - Published





OTT platform's head records statement in UP

Head of Amazon Prime India (original content) Aparna Purohit got her statement recorded at the Hazratganj police station here on Tuesday in connection with the FIR against her for alleged objectionable..




IndiaTimes - Published





CAA after Covid vaccine drive ends: Shah in Bengal

Reaching out to rural Bengal with a bounty of guaranteed or conditional sops, Union home minister Amit Shah on Thursday promised citizenship to Hindu refugee communities once the Covid vaccination..




IndiaTimes - Published





BJP leaders using Rath Yatra to divide society: Mamata

West Bengal chief minister Mamata Banerjee on Wednesday mocked BJP leaders for travelling on raths "as if they are gods", and alleged that their political agenda is to create division in society on the..




IndiaTimes - Published





Supreme Court grants interim bail to stand up comic Munawar Faruqui

The Supreme court on Friday granted interim bail to stand-up comic Munawar Faruqui in a case pertaining to him making 'insulting' comments against Hindu gods during a show in Indore. The apex court..




IndiaTimes - Published




Centre should find way to end farmers protest, send them back respectfully: Shiv Sena

"Thousands of farmers have been lying on the roads at the Delhi border for the last 90 days. All those farmers are Hindus. When will you send those farmers back to their home respectfully," the Saamana..




IndiaTimes - Published





Muslim girl raised as Hindu reunited with kin after 15 years




IndiaTimes - Published





Mamata created Hindu-Muslim divide, did more harm than good to Muslims: Abbas Siddiqui




IndiaTimes - Published





Netaji was devout Hindu, but respected all faiths: Daughter




IndiaTimes - Published





'Irony', says India as Pakistan moves UN resolution to protect religious sites

In another India-Pakistan face-off at the UN, after Pakistan co-sponsored a resolution promoting a culture of peace, India described as a matter of great irony that a country where a Hindu temple was..




IndiaTimes - Published





India highlights 'irony' after Pakistan co-sponsors UN resolution on safeguarding religious sites

India has taken up several times the abduction of Hindu, Sikh, Christian girls in the country by summoning Pakistani diplomats.




DNA - Published





India calls out Pakistan over Hindu temple vandalism, says Islamabad can't hide behind UN resolution

India on Thursday slammed Pakistan for being one of the co-sponsors of a United Nations resolution on promoting a culture of peace even as Pakistan authorities remained "mute spectators" as a mob..




IndiaTimes - Published





All about 'Bhagwaanji' app which gives information about Hindu religion and Dharma-Karma

'Bhagwaanji' app was launched at the ongoing Magh Mela and it will be useful for those who are unable to undertake pilgrimage due to COVID-19.




DNA - Published





Veteran BJP leader Tathagata Roy files case against actress for 'hurting sentiments of Hindus'

Former Meghalaya Governor Tathagata Roy has filed a police complaint against Bengali actor Saayoni Ghosh for 'hurting sentiments' of Hindus.




DNA - Published





ETPB to bear vocational training fee of Sikh and Hindu children




IndiaTimes - Published





UP cops start probe into hate speech at 'Hindu panchayat'




IndiaTimes - Published





Made to wait for over a year to convert, Gujarat man moves HC

A 32-year-old Hindu man wanting to convert to Islam has moved the Gujarat HC for redress after being kept waiting more than a year for permission to change his religion, as mandated by the state's..




IndiaTimes - Published





UK-based Hindu groups call upon Prime Minister Boris Johnson to act against persecution of Hindus in Pakistan

Hindu community groups based in the United Kingdom on Tuesday wrote a letter to Prime Minister Boris Jhonson seeking urgent action against "rampant persecution of Hindus in Pakistan." Hindu Forum of..




IndiaTimes - Published





All you should know about Swami Vivekananda, the saint who introduced Hinduism to the world

January 12 marks the 158th birth anniversary of Swami Vivekananda, the revolutionary who changed the way the world looks at India.




DNA - Published





Comedian Munawar Faruqui, 4 others held for 'indecent' remarks on Hindu deities; sent to judicial custody

Faruqui along with four other event organisers was arrested on Friday for allegedly insulting Hindu deities during a New Year show in Indore.




DNA - Published





Only Hindu families will be approached for donations to Ram Temple fund: VHP

The fundraising campaign will run nationwide till February 27 with the exception of Uttarakhand where it will conclude on February 5.




DNA - Published





Not trying to appropriate Bapu: Bhagwat

RSS chief Mohan Bhagwat on Friday said patriotism is the central theme of Hinduism as love for the nation is the basic character of being a Hindu, while citing Mahatama Gandhi who had said his..




IndiaTimes - Published





India lodges complaint with Pakistan against destruction of Hindu temple




IndiaTimes - Published





Uttar Pradesh's 'Love Jihad' law denounced by 104 ex-IAS officers in open letter

Vigilantes from Hindu groups were intimidating and harassing Indians, especially Muslim men, and 'acting as a power unto themselves'.




DNA - Published





UP epicentre of hate politics: 104 former bureaucrats to Yogi

Over 100 former bureaucrats have written a letter to UP chief minister Yogi Adityanath, saying the anti-conversion ordinance had transformed the state into an "epicentre of politics of hate, division..




IndiaTimes - Published





HC junks FIR, unites UP interfaith couple

Quashing an FIR accusing a Muslim youth from UP's Etah of kidnapping and inducing a Hindu girl into marriage, the Allahabad HC has reunited the interfaith couple on the ground that a girl proven to..




IndiaTimes - Published





Muslim boy walks Hindu girl home; thrashed, arrested




IndiaTimes - Published





Hindu jatha cancels pilgrimage to Katas Raj, alleges 'deliberate' delay in clearing of names




IndiaTimes - Published





An adult is free to marry on her own, convert: Calcutta high court

There can be "no interference if an adult marries as per her choice, converts and refuses to return to her parents", the Calcutta high court said on Monday while hearing the plea of a Hindu man..




IndiaTimes - Published





Ayodhya struggle a bid to make Hindus mentally strong: Fadnavis

The campaign held over years for the construction of Lord Ram's temple in Ayodhya was aimed at helping Hindus rid their "defeatist mentality", senior Maharashtra BJP leader Devendra Fadnavis said...




IndiaTimes - Published





Badal: BJP real 'tukde-tukde' gang, plotting Hindu-Sikh rift




IndiaTimes - Published





BJP out to set Hindus against Sikhs in Punjab: Sukhbir Badal

Launching a scathing attack on the BJP over farmers' protest against the three central farm laws, SAD chief Sukhbir Singh Badal on Tuesday dubbed the saffron party as "real tukde tukde gang" and..




IndiaTimes - Published





Ayodhya moves on: No 'shaurya diwas' or 'black day' on Babri anniversary

The 28th anniversary of the Babri Masjid demolition was unlike previous years with both Hindus and Muslims refraining from holding any special event to mark the day on Sunday even as there was a heavy..




IndiaTimes - Published





SIMI member Abdullah Danish wanted in sedition case arrested by Delhi police

According to Delhi Police, Danish's parents converted from Hinduism to Islam and he was also inclined towards Islam.




DNA - Published





Coronavirus trims strength of Hindu jatha's going on pilgrimage to Pakistan




IndiaTimes - Published





Seven held under anti-conversion law in UP

Seven people were arrested under Uttar Pradesh's new anti-conversion law for allegedly abducting a Hindu girl from her home in Sitapur district, police said on Saturday.




IndiaTimes - Published





Uttar Pradesh: Interfaith wedding consented by parents stopped by cops in Lucknow

The 22-year-old Hindu bride and the 24-year-old Muslim bridegroom are now awaiting approval from the District Magistrate for the marriage.




DNA - Published





Those plotting 'love jihad' will be destroyed: Shivraj Singh Chouhan

In a warning against 'Love Jihad', Madhya Pradesh chief minister Shivraj Singh Chouhan today said that anyone who plots religious conversion, will be destroyed. The warning comes as Madhya Pradesh has..




IndiaTimes - Published





Muslim man converts, marries Hindu girl; both get police protection

The man married feared threat to his life from the girl's family and thus sought help from the court.




DNA - Published





In Haryana, Muslim youth converts to marry Hindu girl




IndiaTimes - Published





Ayodhya, Sabarimala, Varanasi glow on eve of Kartik Purnima

Kartik Purnima is also celebrated as Dev Deepawali and marks the fifteenth lunar day of the Hindu month of Kartik.




DNA - Published





Moradabad MP terms 'love jihad' political stunt, asks Muslim boys to consider Hindu girls their 'sisters'

Samajwadi Party (SP) MP from Moradabad ST Hasan has termed "love Jihad" a political stunt and asked Muslim boys to consider Hindu girls their "sisters".​




IndiaTimes - Published





Right to choose a partner intrinsic to right to life: HC

The Allahabad high court has held that "right to choose a partner, irrespective of religion, is intrinsic to right to life and personal liberty." Justice Pankaj Naqvi and Justice Vivek Agarwal made..




IndiaTimes - Published





Don't See Priyanka, Salamat as Hindu-Muslim, says Allahabad High Court

Unhappy with the decision, the parents of Priyanka filed an FIR against Salamat, accusing him of "kidnapping" and "abduction to compel a marriage".




DNA - Published





Hindu non-profit organisation raises over $100,000 for scholarships for low-income young adults




IndiaTimes - Published





Canada to return statue of Hindu goddess stolen over 100 years ago from India




IndiaTimes - Published





Ancient Hindu temple discovered in northwest Pakistan




IndiaTimes - Published





Bail plea of YouTuber Heer Khan, arrested for making derogatory remarks against Hindu deities, rejected

The content creator, Heer Khan, based out of Khulbad in Prayagraj, was arrested by police officials on August 24 after she sparked a controversy on social media for making derogatory remarks against..




DNA - Published





After UP, Haryana plans law against 'love jihad'

A day after UP chief minister Yogi Adityanath announced his intent to bring a law against "love jihad", his Haryana counterpart Manohar Lal Khattar said his state, too, was contemplating a..




IndiaTimes - Published





Triumph of Hindutva movement would mark end of 'Indian idea': Tharoor

A 'Hindu India' would not be Hindu at all, but a "Sanghi Hindutva state", which is a different country altogether, says Tharoor in his new book 'The Battle of Belonging' that was released on Saturday.




IndiaTimes - Published