"New CEO"
Latest news and video coverage curated from trusted media outlets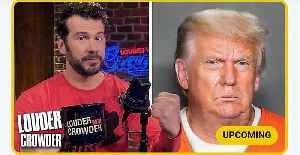 WE'RE BACK! WAIT, TRUMP IS GOING TO JAIL?! | Louder with Crowder

MUG CLUB IS FINALLY BACK! Will the left finally get Trump arrested? Is anyone paying attention to Rachel Levine or the Drag Queens anyways? Also, YouTube has a new CEO and he's even WORSE than the..
Credit: Rumble Duration: 02:09
Published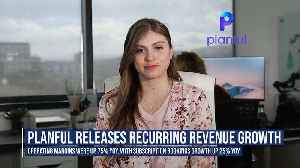 The ERP Minute - Episode 76

Workday made headlines with its Super Bowl commercial this last weekend, enlisting the help of major Rockstars to oppose the use of the term "rockstar" to describe executives reaching success with..
Credit: Rumble Duration: 02:37
Published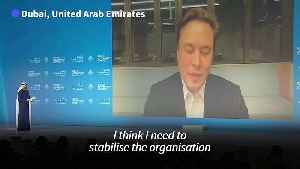 Twitter could have a new CEO by the end of the year, says Musk

"Probably towards the end of this year should be good timing to find someone else to run the company" says Twitter CEO, Elon Musk, hinting that he could step back just a year after buying the platform...
Credit: AFP English Duration: 00:30
Published
You Might Like



Starbucks shareholders to vote on proposals for labor probe, succession planning

Starbucks investors will vote Thursday on whether the coffee giant is respecting its workers' rights and if its board is doing enough to plan for executive transitions. The shareholder meeting is the..




Upworthy - Published





Meet Arnab Banerjee, IIT-IIM alumnus, who is new CEO of CEAT, his whopping salary is...

CEAT has appointed Arnab Banerjee as the new MD and CEO of CEAT.




DNA - Published




Meet K Kirthivasan, IIT alumnus and new CEO-designate of multi-billion dollar company TCS

TCS CEO Rajesh Gopinath has resigned from his post, and K Kirthivasan will take over as MD and CEO designate.




DNA - Published




Silicon Valley Bank 'conducting business as usual', new CEO says




IndiaTimes - Published





Meet Rohit Jawa, the new CEO of Hindustan Unilever ltd, check his St Stephen's College connection

Rohit Jawa has been appointed as the new CEO of Hindustan Unilever LTD (HUL), A senior official of the UK-based parent entity Unilever, as its next managing director and chief executive officer.




DNA - Published




Elon Musk likely to appoint Boring Company CEO as the new Twitter head

Amid the continuing layoffs at Twitter, Elon Musk may have zeroed in on its new CEO — Steve Davis who is a long-time associate of Musk and currently the CEO of The Boring Company. The Boring Company..




BGR India - Published





BVR Subrahmanyam is new CEO of Niti Aayog




newKerala.com - Published

Also reported by •DNA


Youtube's new CEO was a shy boy,recall his Lucknow school mates

When the name of Neal Mohan, 49, was announced as the next CEO of YouTube, there were celebrations thousands of kilometers away in Lucknow. His batchmates from St Francis' College, where he studied for..




IndiaTimes - Published





New YouTube CEO Neal Mohan to get this whopping amount as monthly salary; know his net worth

Joining the long list of companies, now YouTube has also gotten an Indian-origin CEO. New CEO Neal Menon is set to make waves and is expected to get a whopping salary.




DNA - Published




Who is Indian-American Neal Mohan, YouTube's new CEO? Here are 5 Interesting Facts

Neal Mohan is currently working as chief product officer with Youtube since 2015. There he was responsible for YouTube products, user experience, trust and safety globally.




Zee News - Published





Meet Neal Mohan, the new CEO of YouTube, know his salary, net worth, India connection

Indian-American Neal Mohan previously served as YouTube's Chief Product Officer.




DNA - Published




Who is Neal Mohan? An Indian-American named new CEO of YouTube




IndiaTimes - Published





'The new CEO of Twitter is Amazing': Elon Musk Unveils the new Head of Platform With a Catch

Elon Musk had acquired Twitter last year and fired top executives including Ex-CEO Parag Agrawal and legal advisor Vijaya Gadde. Since then, he is the CEO of Twitter.




Zee News - Published





Elon Musk posts photo of new Twitter CEO, claims he is better than ex boss Parag Agrawal, check viral tweet

According to Twitter owner Elon Musk, the new CEO of Twitter is better than his predecessor "other guy" Parag Agrawal.




DNA - Published




BAFTA film awards to see best celebrity turnout ever, promises new CEO




newKerala.com - Published





Clix Capital Eyes Big Turnaround, Aims for INR 100 Cr. Profit in FY24

*Clix Capital Services Pvt. Ltd.* ('*Clix Capital*') - one of India's leading non-banking financial services companies, under a new leadership has made huge strides in turning around its business this..




NewsVoir - Published





Meet Ravi Kumar, Cognizant's new CEO whose salary is 4 times Mukesh Ambani's 2020 pay; his joining bonus is Rs 6 crore

Who is Ravi Kumar? Ravi Kumar has been the President of another IT giant Infosys between 2016 and 2022.




DNA - Published




Cognizant appoints Infosys veteran Ravi Kumar S as new CEO




IndiaTimes - Published





WWE: Who is Nick Khan? Know all details about the new CEO after Stephanie McMahon's resignation

WWE news: Know all details about WWE's new CEO Nick Khan below




Zee News - Published





Paytm bank gets RBI nod for new CEO




IndiaTimes - Published





RSPO Certification Grows from Three Countries in 2008 to 21 in 2021, Representing 4.5 Million Hectares of Sustainable Oil Palm Plantations

Global stakeholders from the palm oil industry gathered for the RSPO Annual Roundtable on Sustainable Palm Oil (RT2022), the first physical meeting to take place since the onset of the COVID-19..




NewsVoir - Published





Cyient ropes in new CEO, COO for DLM business to boost electronics manufacturing capabilities




IndiaTimes - Published





Prasar Bharati appoints Gaurav Dwivedi as new CEO




newKerala.com - Published





DNA Explainer: Why has Elon Musk's Twitter been delisted from New York Stock Exchange?

Twitter is set to be delisted from the New York Stock Exchange today, just days after Elon Musk took over the company as the new CEO.




DNA - Published





Twitter layoffs: #OneTeam trends as ex-employees bid emotional goodbye after getting fired by Elon Musk

As the Twitter layoffs are happening in full force under new CEO Elon Musk, ex-employees bid a tearful goodbye to the microblogging website.




DNA - Published




Elon Musk tweets lyrics of Bhojpuri song in Hindi? Know here

Netizens were perplexed when Twitter's new CEO Elon Musk was seen tweeting in Hindi and Bhojpuri - until it was revealed that the entire thing was fak




DNA - Published





Stephen Vaughan appointed as new CEO at Yorkshire




newKerala.com - Published




Elon Musk wore a 6 lakh Halloween costume

Elon Musk, Twitter's new CEO and owner, seems to love the fact that not many get his sarcasm and humour at times. The Tesla promoter, who is known for his incomprehensible tweets, went all dressed to..




IndiaTimes - Published





Richard Gould apppointed ECB's new CEO




newKerala.com - Published




Technicolor Creative Studios Becomes an Independent, Publicly Traded Company on the Paris Euronext Stock Exchange

· The global network of leading creative studios will focus on the creation of Feature Film, Episodic, Gaming and Advertising content · Technicolor Creative Studios is the home of award-winning..




NewsVoir - Published





India big enough to have two mega airlines: IndiGo new CEO




IndiaTimes - Published





DocuSign hires seasoned Google executive as new CEO




newKerala.com - Published





Pieter Elbers takes charge as IndiGo's new CEO




newKerala.com - Published

Also reported by •Zee News


Starbucks names Indian-origin Laxman Narasimhan as new CEO




newKerala.com - Published

Also reported by •IndiaTimes


Indian-born Laxman Narasimhan is new CEO of Starbucks




newKerala.com - Published





Who is Laxman Narasimhan? Know all about Indian-born new CEO of Starbucks

Laxman Narasimhan currently heads health and hygiene company Reckitt and will join Starbucks in October.




DNA - Published




Sheryl Sandberg officially steps down as Meta COO

Meta chief operating officer (COO) Sheryl Sandberg has finally moved on from the position after spending 14 years as the second-most-important executive at the social network. Meta has appointed chief..




BGR India - Published