Remdesivir
Antiviral drug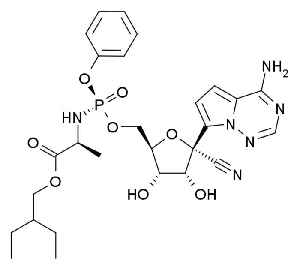 Remdesivir, sold under the brand name Veklury, is a broad-spectrum antiviral medication developed by the biopharmaceutical company Gilead Sciences. It is administered via injection into a vein. Remdesivir is being tested as a treatment for COVID‑19, and has been authorized for emergency use in the US, India, Singapore, and approved for use in Japan, the European Union, and Australia for people with severe symptoms. It also received approval in the UK in May 2020; however, it was going to be rationed due to limited supply. It may shorten the time it takes to recover from the infection.


You Might Like
Zydus' 'budget' injection costs 2,800/shot
Ahmedabad-based Zydus Cadila announced the launch of its anti-viral Remdesivir drug at Rs 2,800 per injection, making it the "most economical" brand in the country.
IndiaTimes - Published
Mylan launches its COVID-19 drug Remdesivir under brand name DESREM in India
Pharmaceutical company Mylan on Monday announced the commercial launch of its Remdesivir under the brand name DESREM.
DNA - Published
Mumbai: Seven arrested for selling Remdesivir injections at higher cost
The accused were identified as Vikas Dubey and Rahul Gada.
DNA - Published
Hetero Healthcare Ltd starts supply of generic Remdesivir
Hetero Healthcare Ltd is supplying 60,000 vials of Covifor, generic version of Remdesivir injection in the country from July 13 to 20, the company website said. ​​​​Covifor is the first generic..
IndiaTimes - Published
Govt seeks Covid drug's stock info to curb overcharging
The health ministry has asked the three companies making generic versions of Covid-19 drug Remdesivir in India to regularly give details of production, stocks and sales in the wake of complaints of..
IndiaTimes - Published
Six Indian firms applied to CDSCO for permission to manufacture Remdesivir drug: Govt
The CDSCO is awaiting the data and is providing complete support to these companies.
DNA - Published
Remdesivir included in 'investigational therapy' for restricted emergency use on Covid-19 patients: Health ministry
IndiaTimes - Published
Also reported by •DNA
Govt adds 'loss of smell, taste' to its list of Covid symptoms
India has revised the protocol for clinical management of Covid-19 to include "loss of smell and taste" to the list of nine other symptoms and has also allowed use of investigational therapies like..
IndiaTimes - Published
India to soon begin domestic production of Remdesivir to fight COVID-19
Country's top drug regulator is evaluating the application submitted by four domestic pharma giants.
DNA - Published
5 firms await regulator's nod to make Remdesivir
Despite rapidly rising Covid-19 deaths and an approval to use Remdesivir for treatment of severe cases, Indian patients are still waiting for the drug to be available in the country as companies are..
IndiaTimes - Published
Maharashtra govt to buy 10,000 vials of Remdesivir for treating COVID-19 patients
The expensive medicine will be made available to the poor and needy patients across the state.
DNA - Published
Remdesivir close to EU's initial authorisation as COVID-19 treatment
The head of the European Union's medicines agency Guido Rasi said on Monday an initial authorisation for U.S. pharmaceutical company Gilead's remdesivir as a COVID-19 treatment could be granted in..
Reuters India - Published
Corona: 'Encouraging' results for drug, India joins trials
India is part of the WHO 'solidarity trials' for the drug Remdesivir, which has shown encouraging results in serious Covid-19 patients needing enhanced oxygen and ventilator support, and will be..
IndiaTimes - Published