Mahagathbandhan
Political alliance in the 2019 Indian general election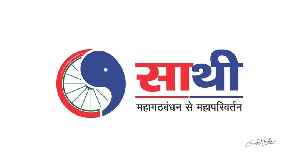 The Mahagathbandhan, or MGB, or simply the Gathbandhan (Alliance), is an anti-Congress, anti-BJP, Indian political alliance formed in the run-up to the 2019 general election under the leadership of two former Chief Ministers of Uttar Pradesh, Akhilesh Yadav of the Samajwadi Party and Mayawati of the Bahujan Samaj Party, along with Ajit Singh's Rashtriya Lok Dal and several other political parties, contesting in different states of India. Its leader, Mayawati can be first dalit Prime Minister of India in case of fractured mandate and no clear majority to any single party in elections by the voters.


Jharkhand: BJP-Ajsu alliance ahead in 12 of 14 seats
The BJP-Ajsu Party alliance is comfortably striding ahead in twelve out of 14 seats in Jharkhand, while the Mahagathbandhan allies — the Congress and the JMM — are leading in one constituency each,..
IndiaTimes - Published
Lok Sabha election results: BJP continues to dominate Hindi Heartland, Mahagathbandhan fails to leave an impact
IndiaTimes - Published
Akhilesh and Maywati: Will the Mahagathbandhan survive till 2022?
With the BJP on course for a comprehensive victory across the country, particularly in Uttar Pradesh where it has consolidated its lead, the writing is on the wall for the bua-bhatija combine of..
IndiaTimes - Published
#VerdictWithTimes: Chandrababu Naidu calls on Mamata Banerjee, discusses formation of non-BJP govt in case of hung verdict
Naidu held a 45-minute-long meeting with Banerjee on the future strategies of the "Mahagatbandhan" (Grand Alliance), sources said. The leaders also discussed possibilities of forming a non-BJP..
IndiaTimes - Published
Poll of polls: BJP set to win 43 seats in Uttar Pradesh
The NDA is expected to win 43 seats in Uttar Pradesh while the Mahagathbandhan of SP, BSP and RLD is projected to get 35 seats, according to the poll of polls. According to Times Now-VMR poll..
IndiaTimes - Published
Four Union Ministers in fray as 8 Bihar seats go to polls in last phase of Lok Sabha elections
Seven of these seats were won by the NDA last time, five by the BJP and two by the RLSP, which is now with the "Mahagathbandhan".
DNA - Published
You Might Like